Daily maths warm-ups are intended to be a quick warm-up of the brain. They are not meant to be something that is going to take a long time to organise or plan, but rather something that can be used quickly for the whole class! Maths warm-ups are for students to practise concepts they've learnt in previous classes, but still need continued practise such as counting, addition, subtraction, place value etc.
Here is a list of 28+ quick and easy ideas to create valuable maths warm-ups in your class.
---
Maths Warm-Ups on the Whiteboard
It's as simple as using your current classroom whiteboard and writing quick maths word problems on the board.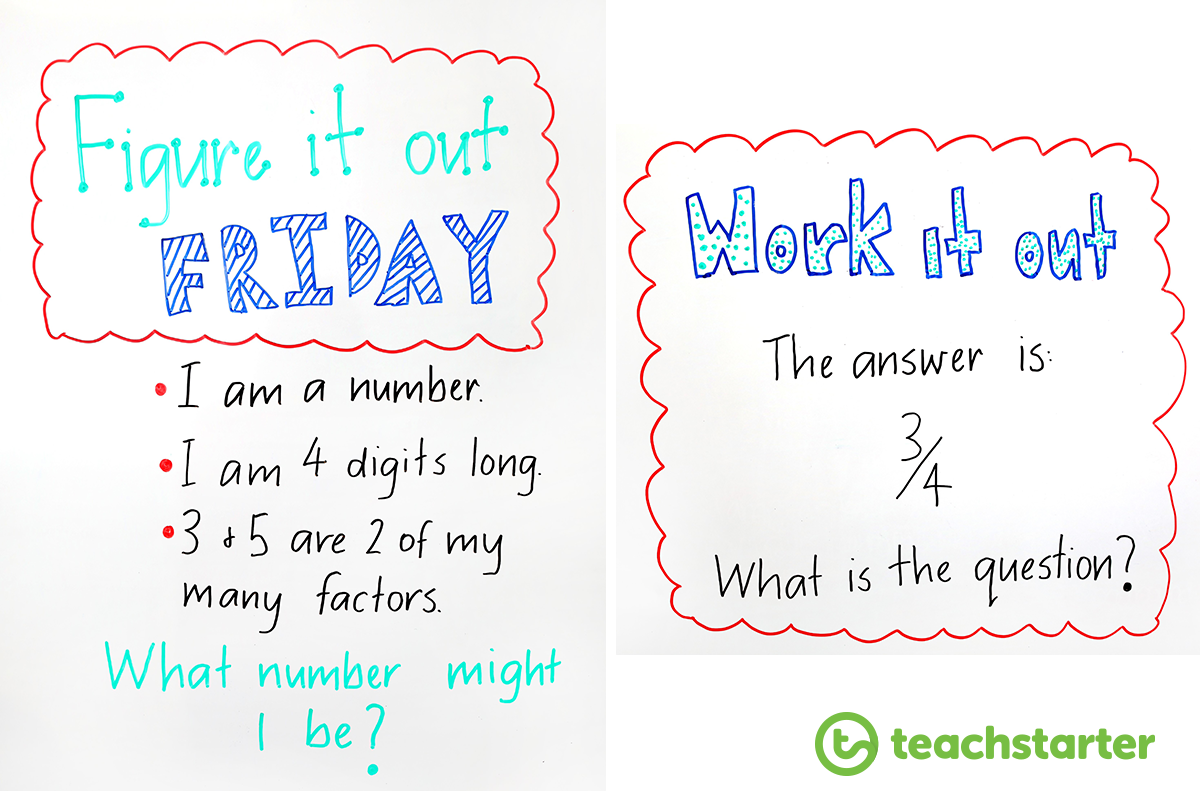 Whiteboard Maths Warm Up Ideas
(1) Who Am I using numbers
I am a number. I am 4 digits long. 3 & 5 are 2 of my many factors. What number could I be?
(2) Work it out – the answer is… what is the question?
The answer is 3/4. What is the question?
(3) Use numbers to get an answer.
The answer is 345. Use these numbers to work out a number of questions – 10, 3, 4, 5, 2, 1, 100.
(4) Balance an even group of numbers using addition.
Use addition to balance these numbers so both sides are equal – 56, 38, 24, 32, 18, 19, 40, 6, 16, 22.
(5) Make a number using different methods and provided numbers.
Make 126. Use all of the numbers (200, 5, 4, 2, 6) to arrive at an answer of 126. You can use addition, subtraction, multiplication or division, but each number may only be used once.
(6) Play Games 
A fun maths warm-up that can be played as a whole class or in groups of 3. Students stand up and without looking at the other player's numbers, write a number between 2 and 9. The third player calls out the sum of the numbers and the winner is the person who can figure out what number the other player has first. This can be differentiated by increasing or decreasing numbers, or by having the third player find the product instead of the sum.
Add some sticky notes to your whiteboard and you have another exciting maths warm-up idea!! In Emma's awesome blog, 36 Tricks to Make Learning Stick, she shared some fantastic ways to utilise some everyday items found in any classroom.
Whether it be long division, regrouping, missing addends or simple sums, write them on the whiteboard. Then, students can choose from a selection of sticky notes to fill in the blanks.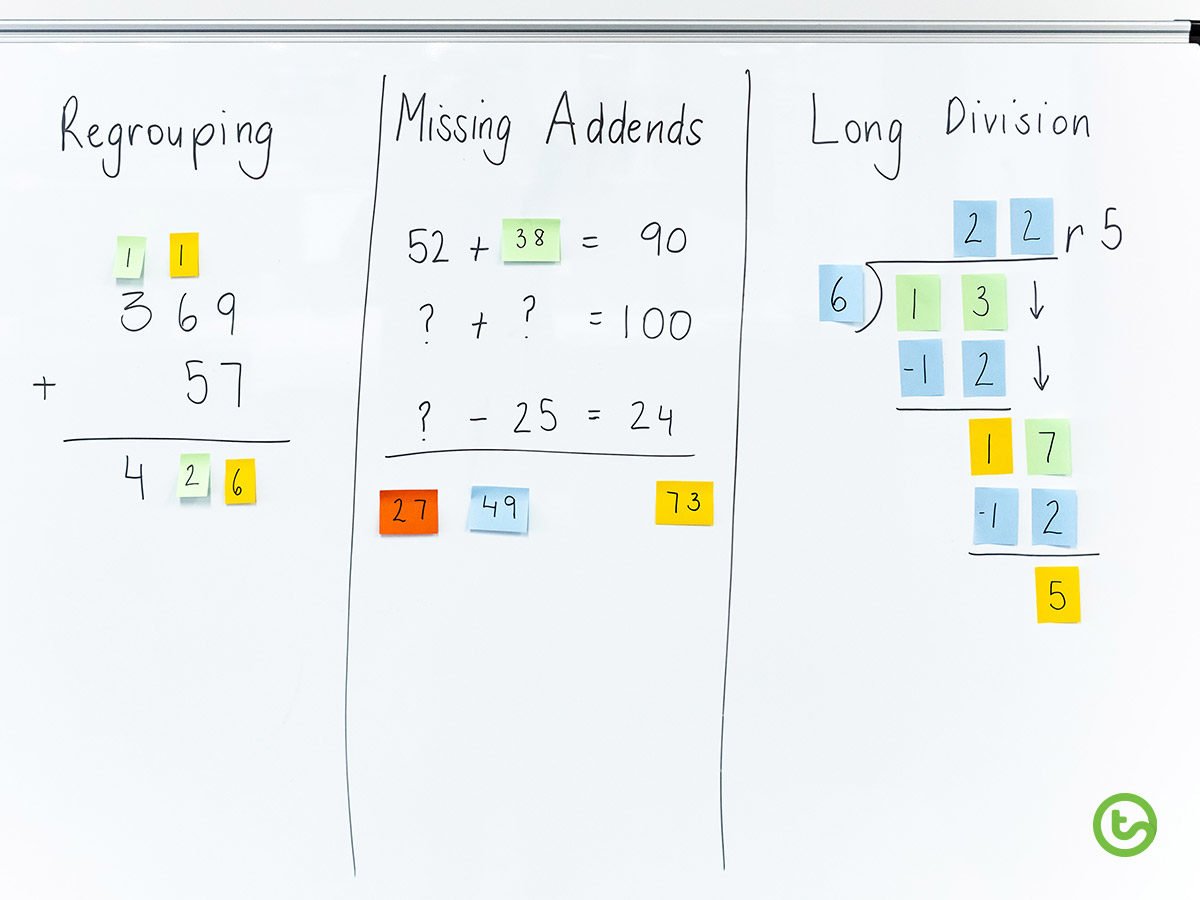 ---
Maths Warm-Up PowerPoints
Using a variety of different methods for each day's maths warm-up keeps it interesting for your students. Having a bank of different interactive PowerPoints is another fantastic way to get those little minds thinking mathematically! We have a variety of maths interactive powerpoints, covering a range of topics including;  place value, money and multiplication and division.
Our Number of the Day Warm-Up PowerPoint is the perfect addition to your maths warm-up collection. All you need is a chosen number and there are more than 20 different activities included in the PowerPoint. Easily change the level of this maths warm-up by changing the number used.
---
Maths Matching Activities
Having a collection of match-up activity cards ready to go is also another quick and easy maths warm-up idea.
I liked using the whiteboard for these activities. As the students entered the classroom they would match one set of cards.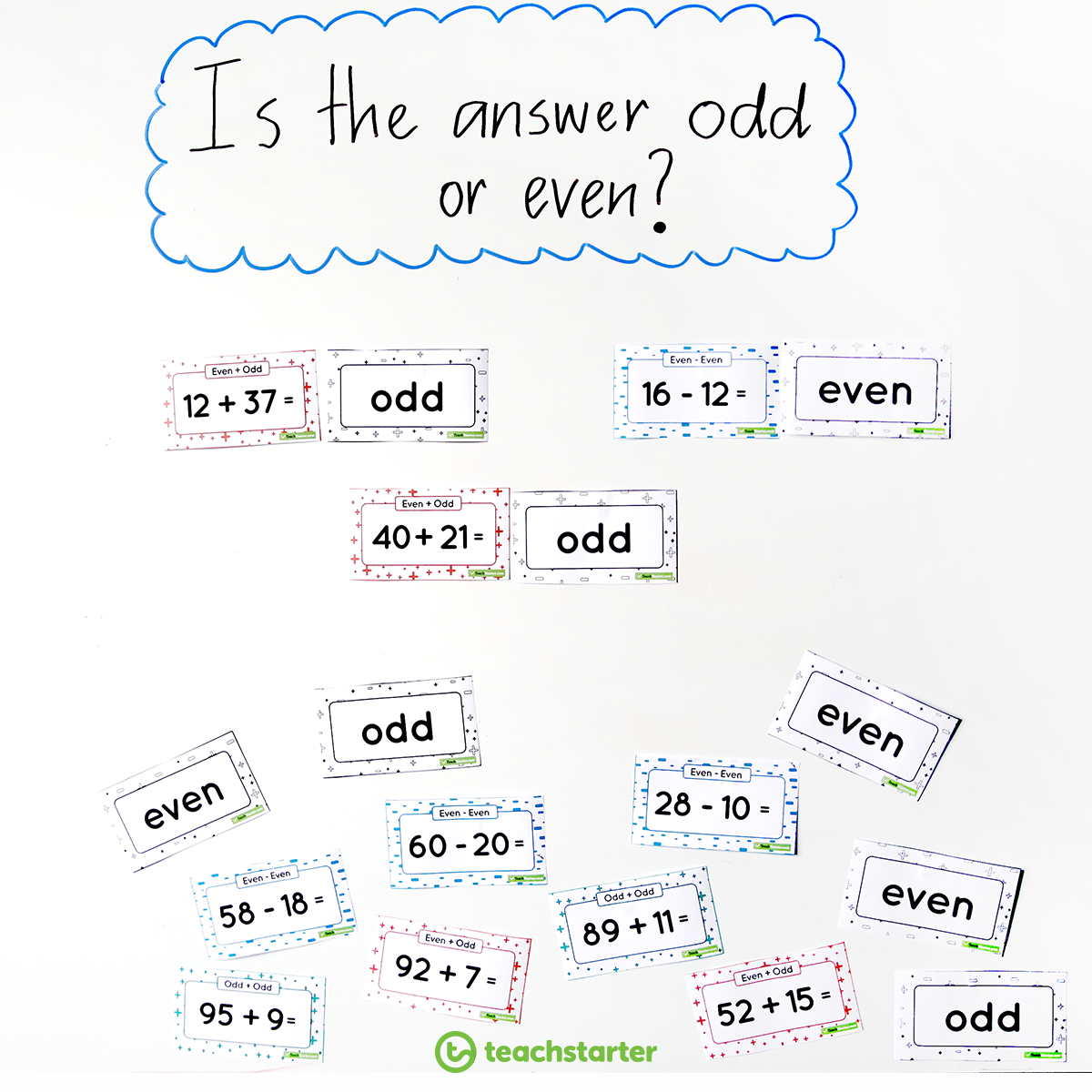 Here are some great maths matching activities you can use: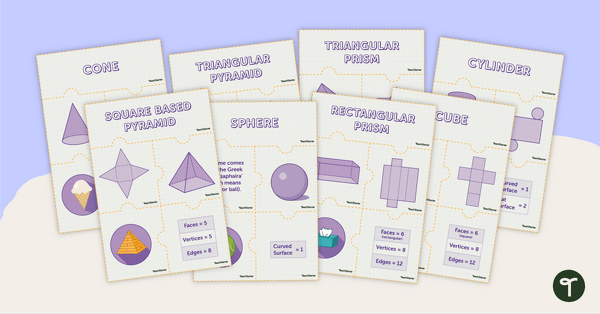 teaching resource
A set of 8 match up puzzles to use in the classroom when exploring the properties of 3D objects.
---
'I Have, Who Has' Maths Warm-Up Game
This game was one of my favourite maths warm-ups to do with my class.
A quick, yet fun game that students loved playing! So many different variations of it and we would keep track of how quickly the class got through the cards. They kept wanting to beat their record time!
The student that has the sentence 'I am the starter' begins the game by standing up and reading their card. Once they have read their clue, the student that has the matching number on their card stands up and reads what is on their card. The game continues until the last person reads out 'I am the last number!'.
The best part about this is that once you have printed and laminated these game cards, you can use them again and again! Perfect!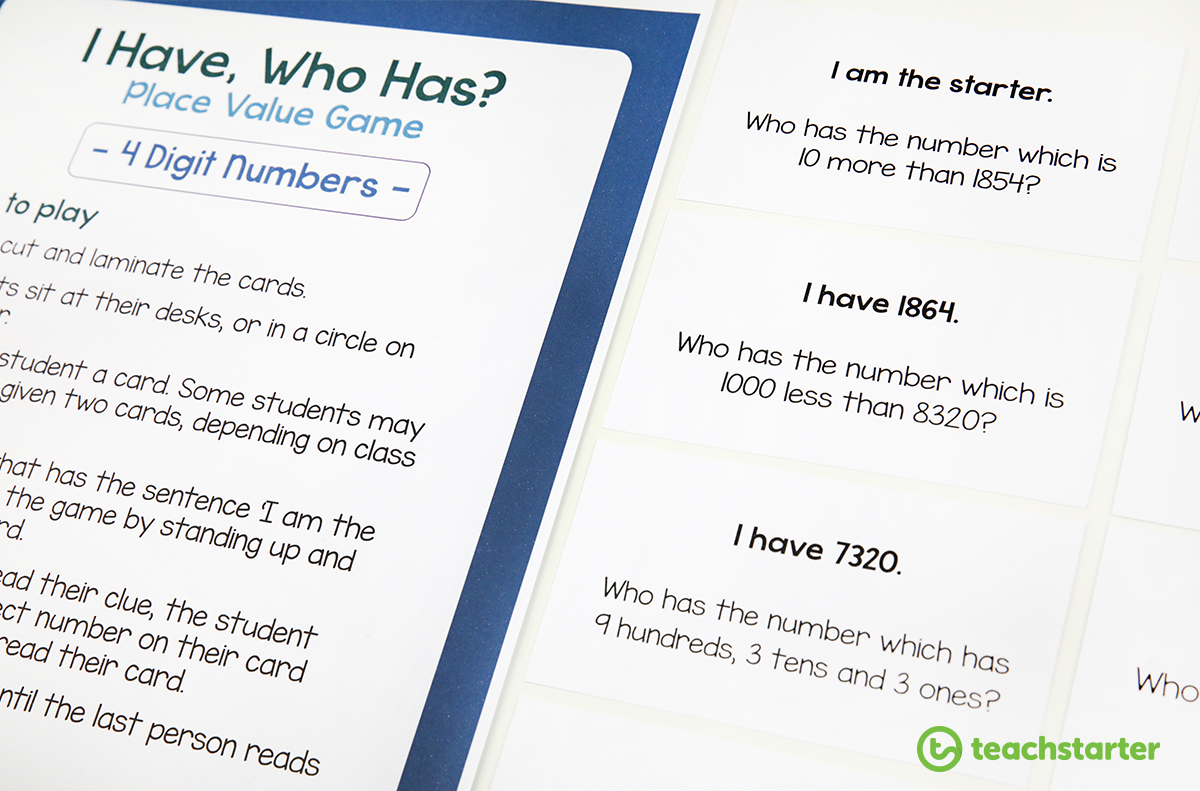 We have a huge collection of I Have, Who Has game cards. Plus, an editable word version of 'I Have, Who Has' game cards that you can use to create your very own, depending on the topic you want to cover.
Here is our collection of I Have, Who Has cards:
teaching resource
A whole-class game to consolidate students' understanding of place value.
---
Play Simple Games
Playing simple games on the carpet that don't require any preparation is another simple way to get your students in the right frame of mind for some mathematics thinking.
One game I used to play a lot of in the classroom was – Around the World. It's quick, easy and can be changed to suit whatever you may be learning in the classroom. Also, if you feel your students need some outdoor fresh air – you can easily take this maths warm-up outdoors!
Maths warm-ups and fresh air = a match made in heaven!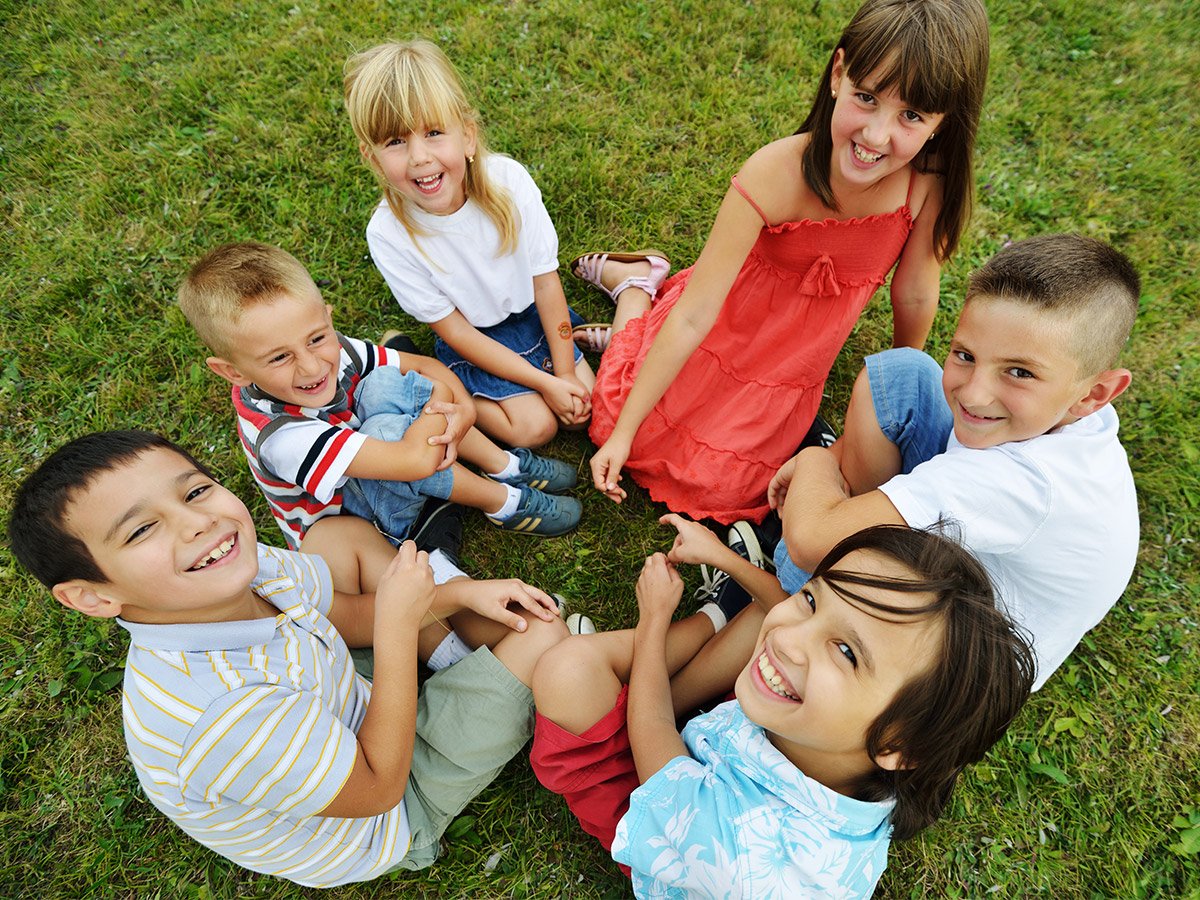 Here's how to play Around the World:
Students sit in a circle.
One student is picked to stand behind the class member next to them (these two students will play first).
The teacher asks a question such as, what is double 5?
The student who answers correctly first moves 'around the world'.
If the winner is the student standing they simply move to the next student sitting down.
If the winner is the student sitting down they then stand and move around the outside of the circle.
---
Use a Deck of Cards
The old faithful, a deck of cards, can be used in a multitude of ways! For some awesome games check out our blog, Nine Nifty Ways to Use a Pack of Cards in the Classroom.
Here's just one simple way you could use a deck of cards as a maths warm-up. Project our printable place value mat onto your interactive whiteboard, then, randomly pull out four cards from your deck of cards.
Here's what you can get your students to do with the four cards:
Students make the largest number they can with the four numbers.
Make the smallest number they can with the four numbers.
Get students to add the four numbers together.
Students pick two numbers to create a fact family tree.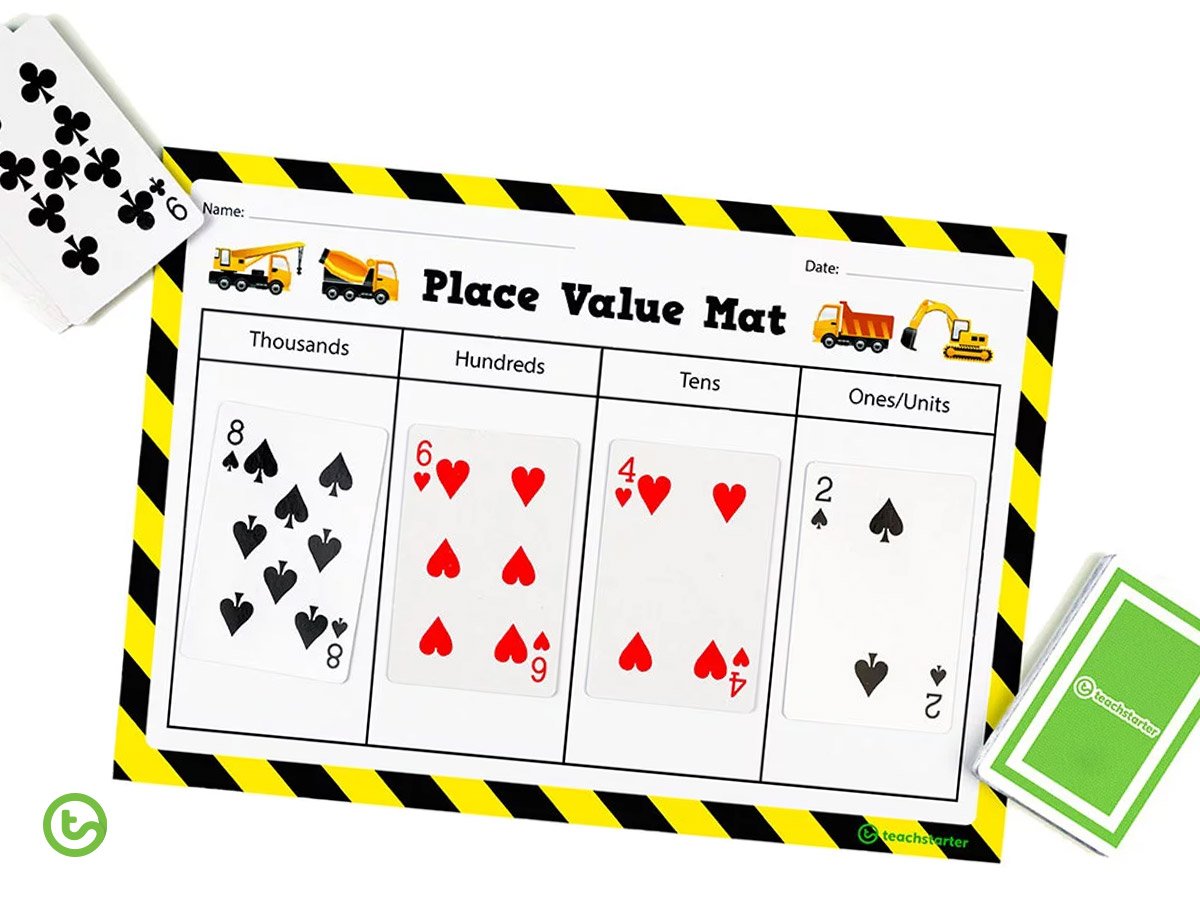 ---
Number Charts
Utilising hundreds charts and number charts in the early years' classroom is another simple way to get your students' mathematics brains active! Use our Numbers 21-130 charts in a variety of ways. Print the black and white versions and laminate them so they can be used again and again.
Here are some activity ideas:
Get students to fill in the gaps on the hundreds chart.
Have students circle all of the even numbers on the first row in green.
Then ask the students to circle all of the uneven numbers pink on the second row.
Get students to close their eyes and point to a number – that is their number of the day and they can fill out our Number of the Day worksheet.
The options are endless with a number chart!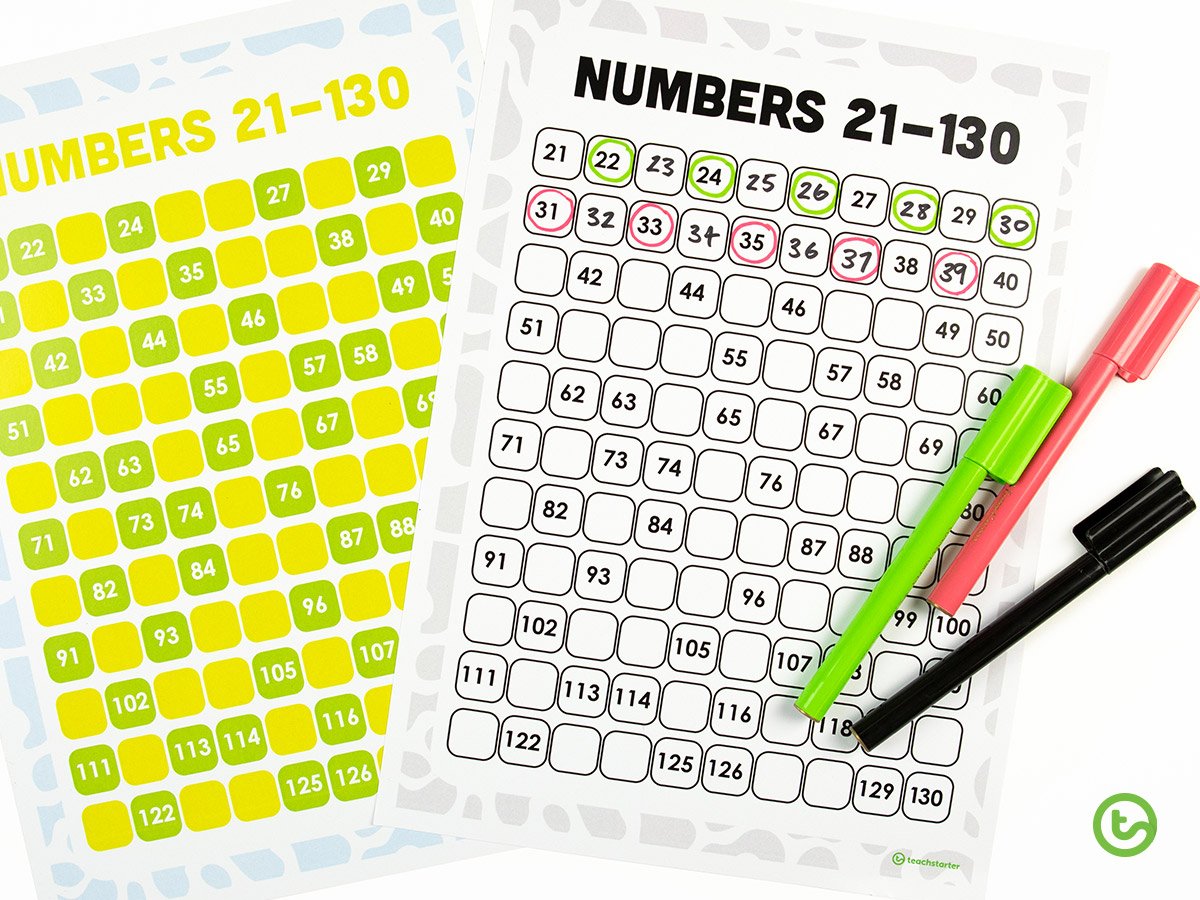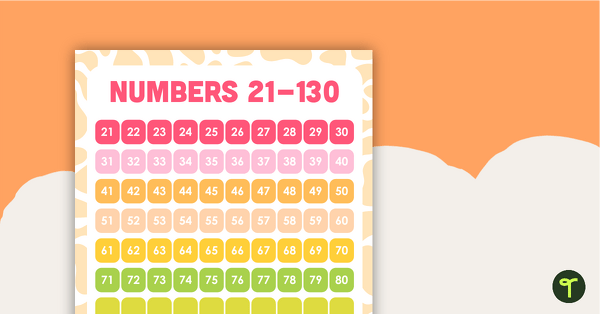 teaching resource
A numbers 21-130 chart with missing numbers from 80 to encourage your students to count beyond 100.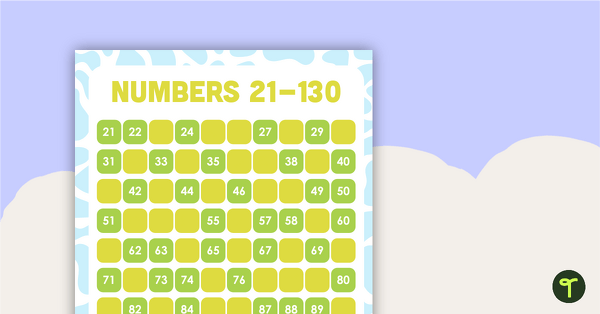 teaching resource
A 21-130 chart with missing numbers to encourage your students to count beyond 100.
teaching resource
A 21-130 number chart to encourage your students to identify odd and even numbers beyond 100.
teaching resource
A number 21-130 chart to encourage your student to count beyond 100.
---
Target Number Activity
Target number is a great maths warm-up activity where students brainstorm sums that equal a 'target number'.
Once printed and created this takes no time to set up! I would suggest printing the target backdrop on an A3 piece of card so you can use it again and again.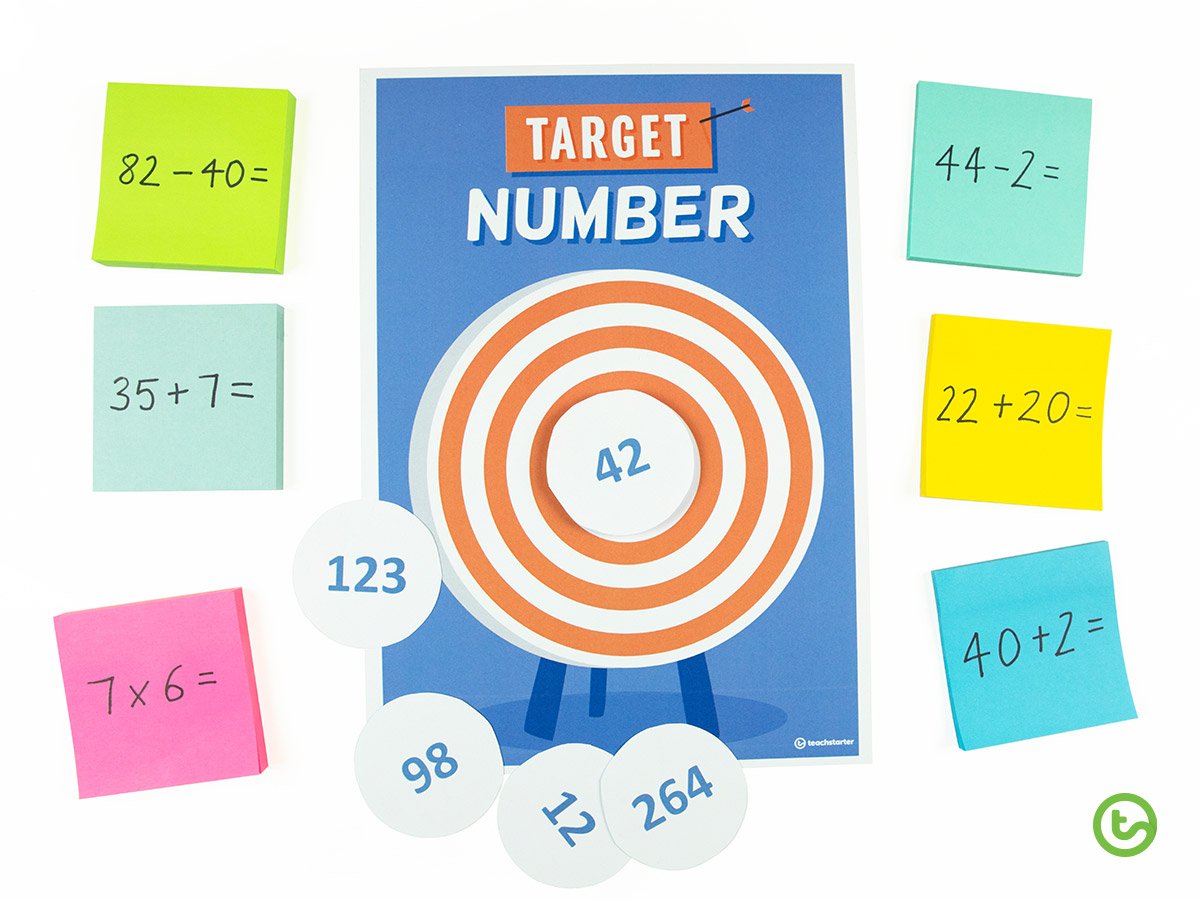 Use the editable circles to print numbers for the middle of the target. This can suit the needs and requirements of your students.
Students then have to write as many different sums that equal the target number as they can.
Turn it into a faster activity by getting students to write one sum on a sticky note and sticking them around the target poster.
---
Pop Stick Ladder Activity
This maths warm-up idea is gold! Yes, it takes a little time with the initial making of the activity, however, no time to set up once it has been created.
Try and make a class set so that each student has their own each time. Alternatively, in pairs is another great option!
The basic concept is that students get handed the full set and the begin with the pop stick that has 'start' and then find the matching answers to the maths questions until all pop sticks are in order.

Put a rubber band around each set in a basket and students can randomly pick a set for a quick maths warm-up idea.
---
Number Talks
We have recently added a huge collection of number talks for each year level on the website. Having a collection of these stored in a basic folder at the front of the classroom will provide an endless amount of maths warm-ups for your classroom.
The aim of our number talks flashcards is to develop your students' mental maths and flexible thinking about numbers and operations.
 
Use Dominoes
Another super easy and effective maths warm-up idea is to use dominoes! We have a huge collection of printable dominoes cards.
Provide each student with a card and have the students work together to put the dominoes together.

teaching resource
A set of subtraction dominoes to use in the classroom when applying the split strategy.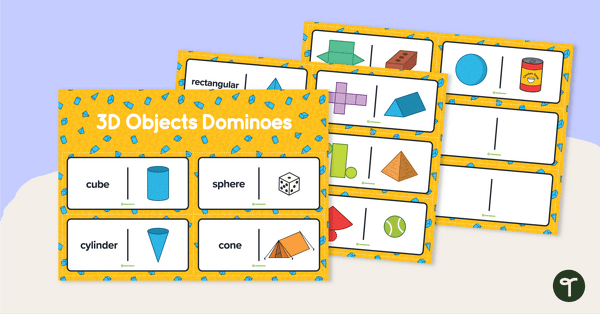 teaching resource
A set of dominoes to help students consolidate their understanding of 3D objects.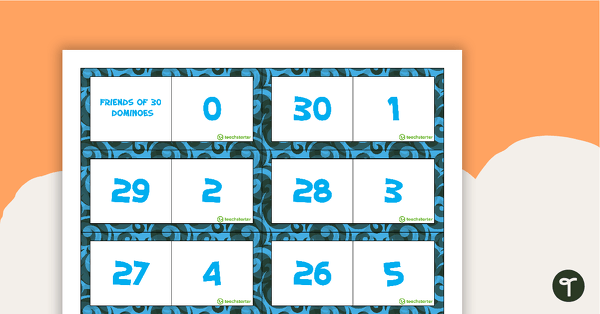 teaching resource
A set of dominoes to use in the classroom when matching friends of 30.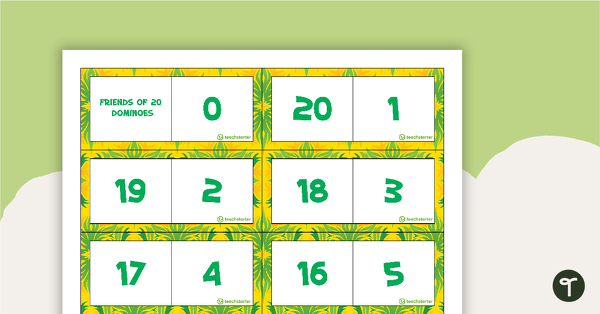 teaching resource
A set of dominoes to use in the classroom when matching friends of 20.
Over to you…
We hope these super easy and simple maths warm-up ideas have inspired you to get creative with your own collection. Again, the only time you'll need is the initial set up of these ideas. Then, you'll feel in control again… I promise!
We'd love to hear from you… what are some simple ways you organise your maths warm-ups?
Share in the comments section of this blog.