Reconciliation is about building better relationships between the wider Australian community and Aboriginal and Torres Strait Islander peoples for the benefit of all Australians.
In schools, steps towards reconciliation include:
Developing an environment that encourages a high level of knowledge and pride in Aboriginal and Torres Strait Islander histories, cultures and contributions
Fostering relationships based on respect
Creating opportunities in the classroom, around the school, and in the community.
This movement of positive change is a journey that all Australians are on, and as teachers, we have an especially important role in ensuring that reconciliation is embedded in our students' and whole school community's everyday experiences.
Reconciliation in Schools and Early Learning
What is Narragunnawali?
Narragunnawali is a word from the language of the Ngunnawal people, Traditional Owners of the land on which Reconciliation Australia's Canberra office is located. Narragunnawali means alive, wellbeing, coming together and peace.
Reconciliation Australia's Narragunnawali platform is free-to-access and features a comprehensive suite of curriculum and professional learning resources, alongside a Reconciliation Action Plan framework for driving whole-scale change towards reconciliation.
The Narragunnawali platform is freely accessible for anybody who is interested in reconciliation in education – including teachers, educators, parents, students, or wider members of schools and early learning service communities across Australia!
---
There are four key components of the Narragunnawali program that can support individual teachers and educators, as well as whole schools, early learning services, and communities, further their own commitment to, and progress towards, reconciliation. They include:
 Reconciliation Action Plans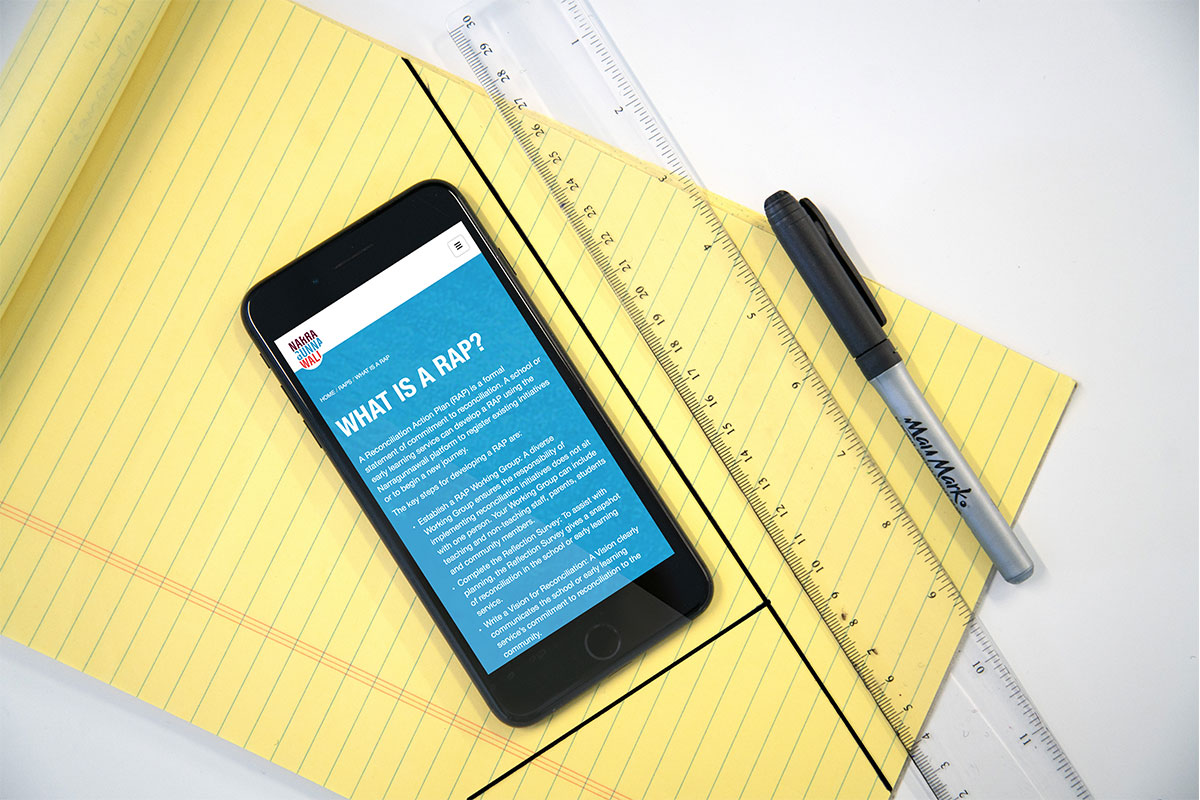 To make a formal and holistic commitment to embedding a reconciliation in your school or early learning service, you can opt to develop a Reconciliation Action Plan (RAP). Through the Narragunnawali platform, schools and early learning services that are developing a RAP are supported by a self-guided, self-paced and step-by-step process based on a whole-scale framework for taking Action and fostering relationships, respect, and opportunities in the classroom, around the school, and with the community alike.
Professional Learning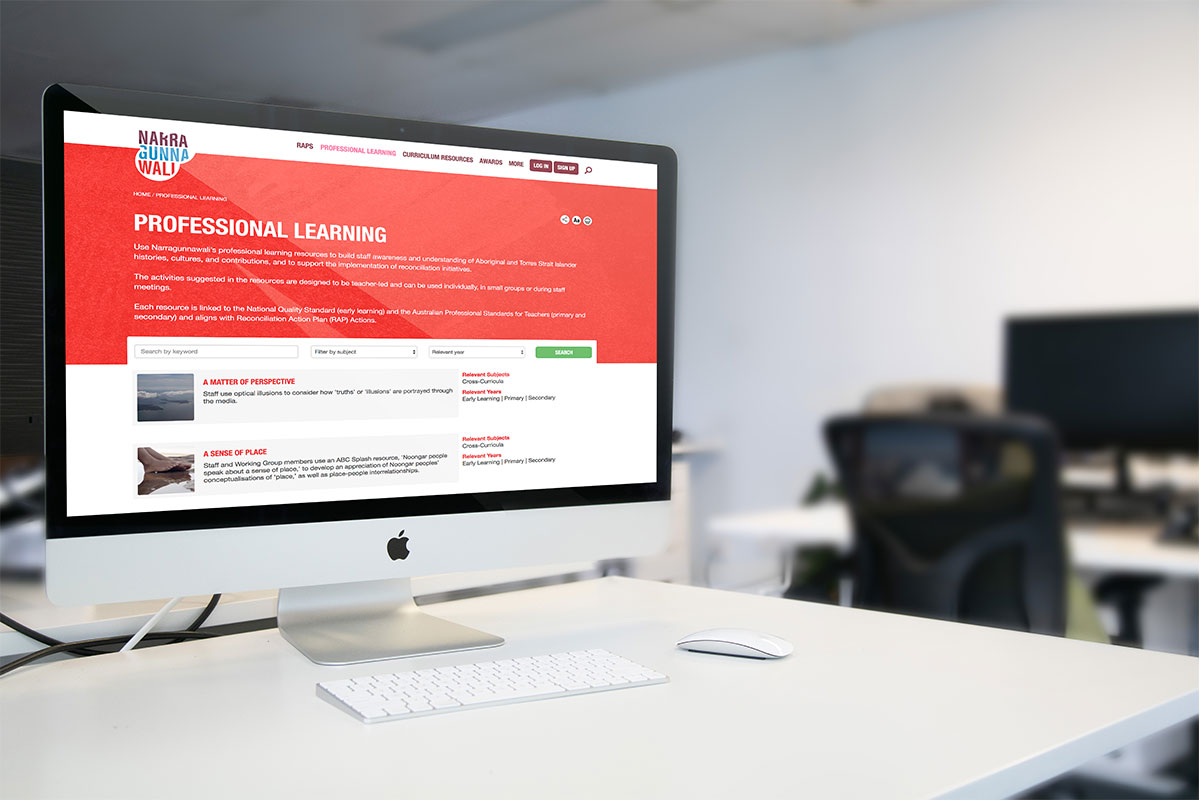 Narragunnawali recognises that ongoing teacher education and professional learning is a crucial part of reconciliation too. As well as accessing curriculum resources, teachers and educators can access the Narragunnawali professional learning resources to support their own critical reflection, knowledge, and skill development either individually or in small groups.
The professional learning activities are perfect for staff meetings and RAP Working Group meetings. They are linked to the National Quality Standard for Early Learning and to the Australian Professional Standards for Teachers, as well as aligning with RAP Actions.
To give a couple of examples of the range of professional learning resources available through Narragunnawali:
As part of professional learning, Narragunnawali also offers regular webinars about reconciliation in education. Take a look at the upcoming Narragunnawali webinar schedule and register to attend, free of charge.
Curriculum Resources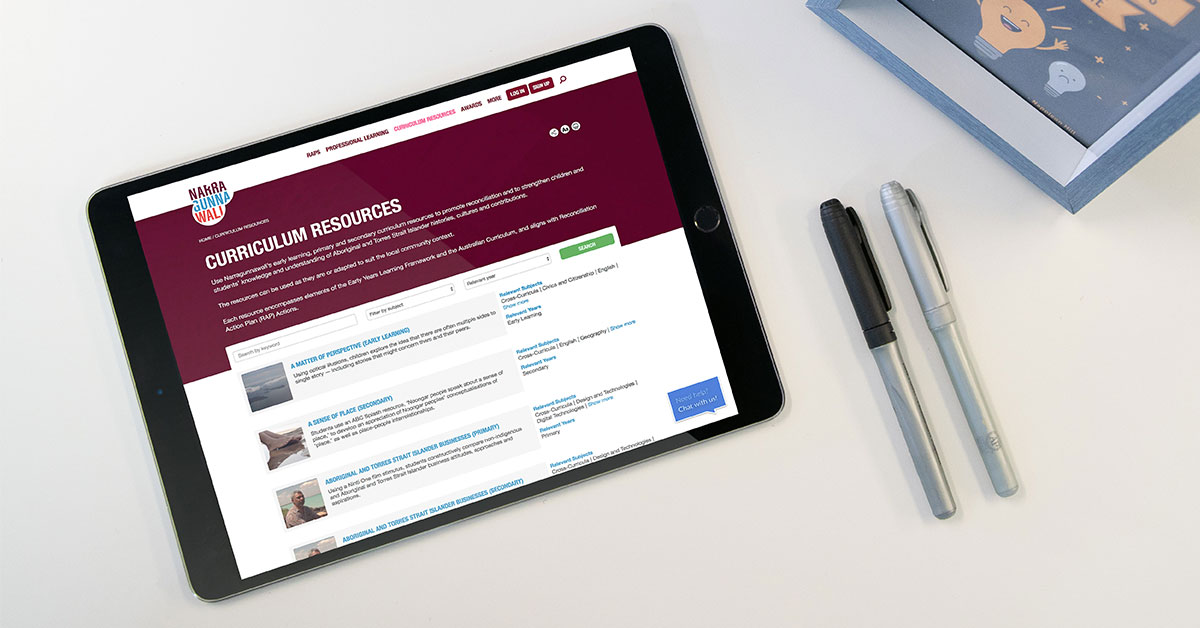 To access the Narragunnawali curriculum resources in their entirety, you'll simply need to sign up to create a free user account. Then you'll be able to search by keyword, subject, or year level and peruse a range of learning experiences and activity ideas that can be done with your students in the classroom, around your school, and with your community.
Every Narragunnawali curriculum resource contains an overview, learning outcomes, inquiry questions for students, an activity description, and curriculum links. Each learning experience is aligned to one or more RAP Action and, in effect, steps towards one or more of the five integral and interrelated dimensions of reconciliation in Australia.
Just a couple of examples of the excellent curriculum resources available on the Narragunnawali platform include:
Head to the Narragunnawali Curriculum Resources page to explore the full suite of learning experience ideas.
You may also wish to engage with the suite of subject guides shared in this Narragunnawali News article for further ideas around embedding Aboriginal and Torres Strait Islander histories and cultures across all subject areas, and all year levels.
Narragunnawali Awards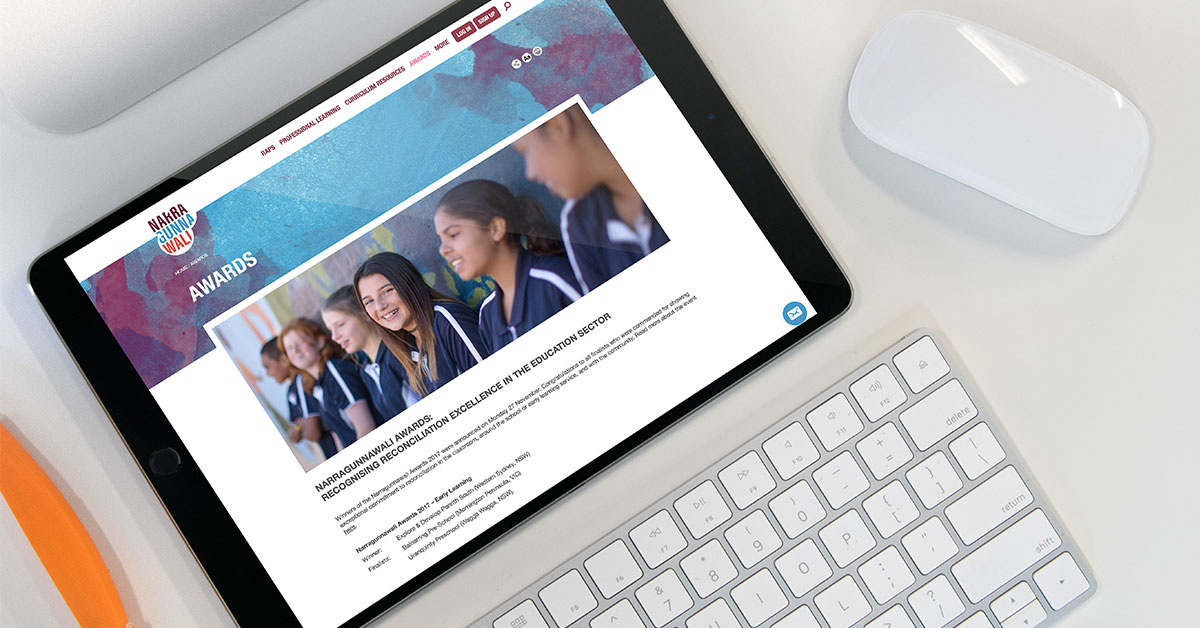 The Narragunnawali Awards are held biennially and celebrate schools and early learning services that show exceptional dedication to reconciliation. Find out about, and take inspiration from, the 2017 Awards Finalists and Winners by watching the film clips on the Awards page of the Narragunnawali platform.
---
There really are a host of fantastic resources available to support you in engaging with Aboriginal and Torres Strait Islander peoples and perspectives and driving reconciliation in your students' and whole school community's everyday educational environments and experiences.
The Narragunnawali online platform is definitely one to add to your professional toolkit.