Have you planned any classroom activities for Planet Ark's National Recycling Week?
The dates for National Recycling Week 2020 are 9-15 November.
Why is Recycling Important?
Waste has a huge negative impact on the natural environment. Harmful chemicals and greenhouse gasses are released from rubbish in landfill sites. Recycling helps to reduce the pollution caused by waste. Recycling reduces the need for raw materials so that the rainforests can be preserved.
Statistics from Planet Ark report that:
 Australia is one of the most wasteful countries in the developed world, producing more waste and recycling less than most other developed nations.
Approximately 85% of soft plastics from bags and packaging ends up in landfill
When food rots in landfill it lets off methane, which is 25 times more potent than the C02 produced by cars
Australia is the fourth highest food-wasting country – only USA, Canada and Belgium waste more
The average Australian produces nearly 22kg of e-waste per year, with only 10% of this being recycled
88% of packaging material is recyclable in Australia, however, less than 50% is actually being recycled. Primarily this is due to materials either not being collected for recycling, or lost in the recovery process.
Bin contamination is a big problem in Australia, with 84% of surveyed councils reporting people placing plastic bags in their recycling bin
National Recycling Week Activities and Ideas
Investigate Waste
Start by investigating how much waste is thrown away by your class. Download our Mass Maths Investigation – How Much Do We Throw Away?
This open-ended mathematics investigation has been designed to deepen students' understanding of mass.
In this investigation, the students measure and record the classroom waste for each class in their school. They must then present their data as a column graph to be presented to Mrs. Eco, the school principal, for further analysis.
This teaching resource includes:
teacher notes, detailing a range of important information about the investigation
a detailed description of the investigation for students, including step-by-step instructions
various recording worksheets
reflection questions.
Inspire Your Students to Make a Difference
There's nothing more inspiring and motivating than seeing others take positive action. Get National Recycling Week off to a cracking start by watching this BTN video that shows how a school just like yours is taking incredible steps to wipe out waste.
Conduct a Lunch Box Audit
Encourage your class to clean up their act during National Recycling Week by conducting a lunch box audit.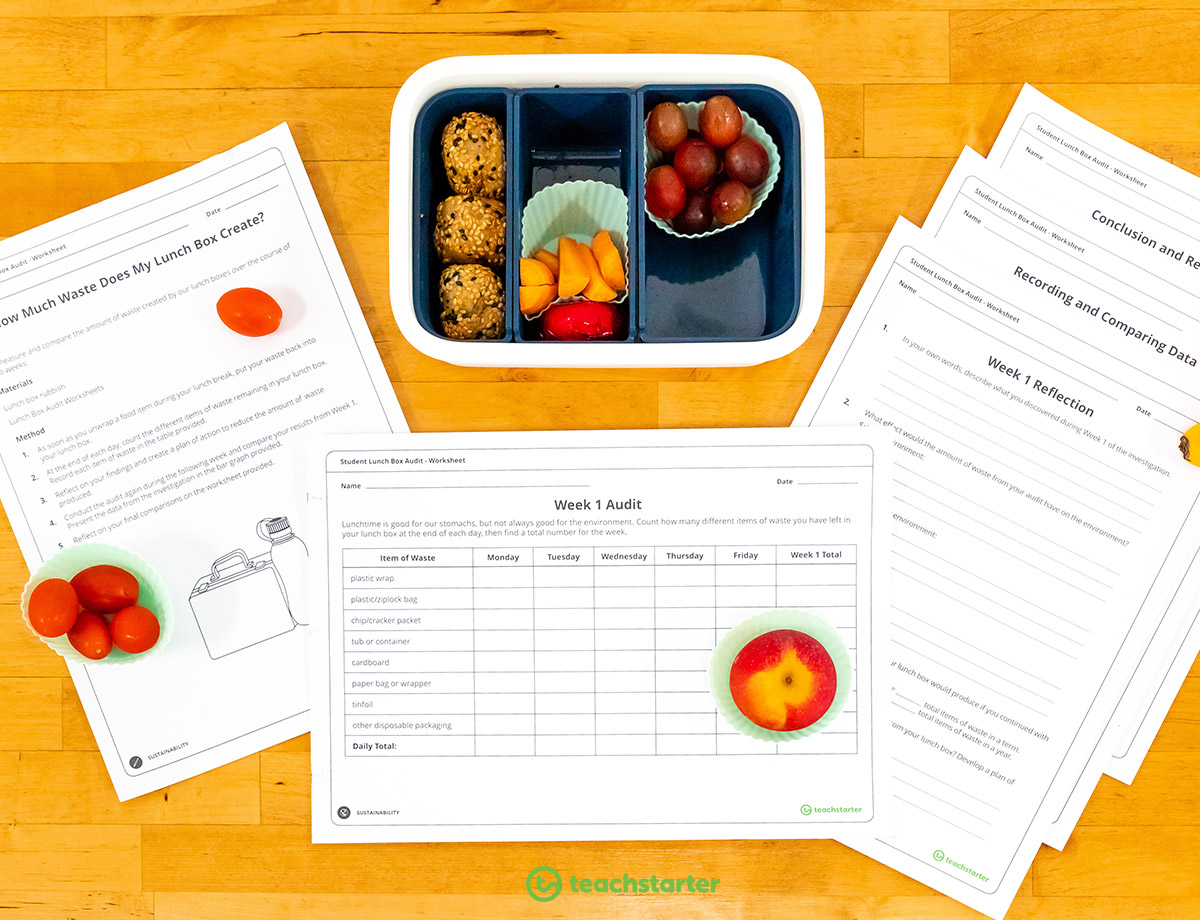 Reducing, re-using and recycling waste is one of the most valuable practices to put in place when trying to improve your carbon footprint. Teach your students about better managing their lunch box waste with our Student Lunch Box Audit Worksheet.
Students will:
collate the amount of waste produced in your lunch box over one week in the table provided
reflect on the impact that their waste would have on the environment
create a plan of action to reduce their waste
conduct the waste collection a second time, measure and compare their waste collection over both weeks
graph the data collected
reflect on their results.
Read our blog 45 Sustainable Practices for the Environmentally Friendly Classroom for more tips and ideas for teaching the principles of Sustainability.
Have a Recycling Reboot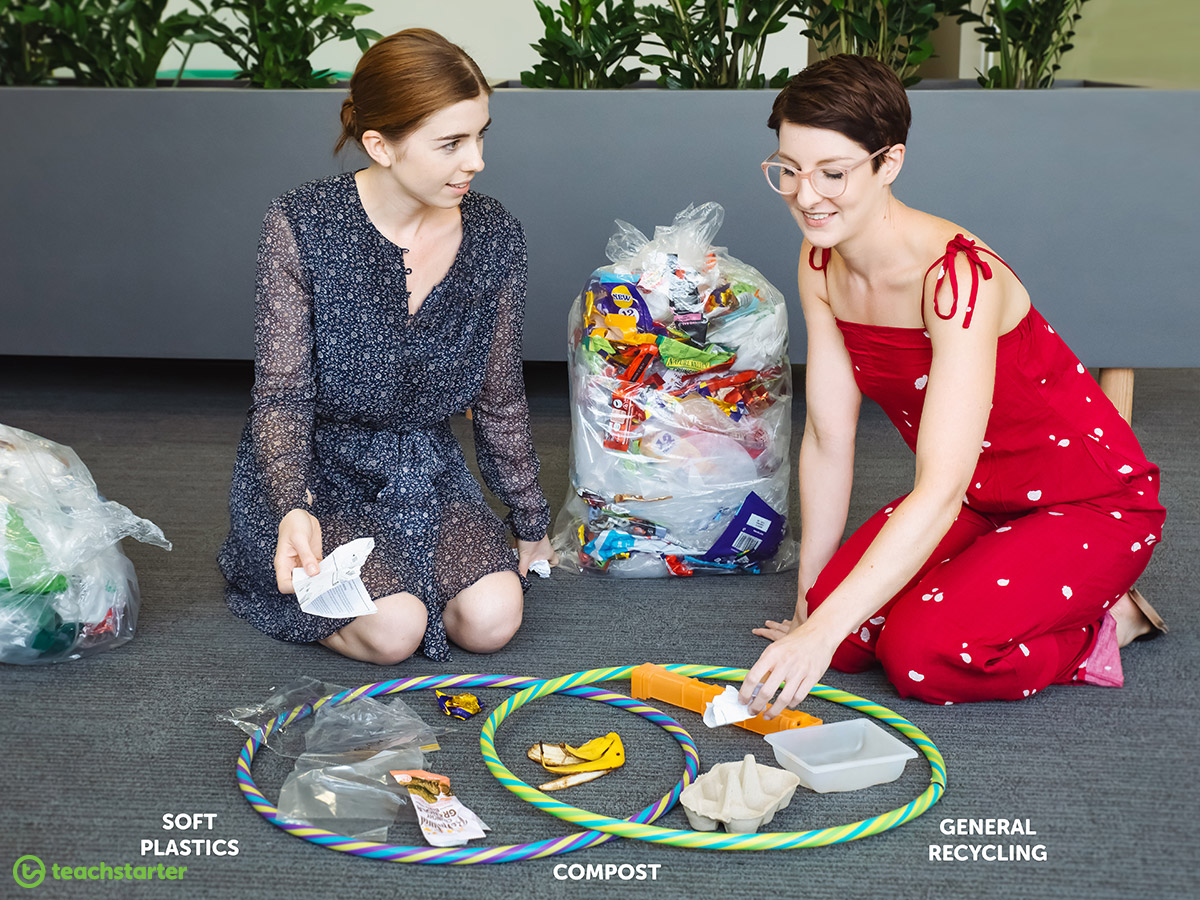 National Recycling Week is the perfect time to ramp up the recycling system in your classroom. Sadly, gone are the days when having a paper recycling bin in your classroom is enough. Instead, aim to establish three recycling bins in your classroom:
General Recycling.
Soft Plastics.
Food Waste.
Let's face it, deciding what goes into the general recycling bin can be confusing for adults!
Help your students to work out what goes where by displaying and discussing our What Can Be Recycled? Poster in your classroom.
Learn About Soft Plastics
Soft plastics can cause a bit of confusion! This is why, especially for National Recycling Week, we have created a new poster called Recycling Soft Plastics Made Simple Poster.
 It's actually pretty simple…just use the scrunch test!  If you can scrunch a plastic item up and it does not return to its original state, it's s soft plastic. But wait! Don't forget to make sure that it is clean and dry before you put it into the soft plastic waste bin.
Host a Swap Party
Swap parties are a fantastic and easy way to celebrate National Recycling Week. This activity is a great way to learn about reusing waste.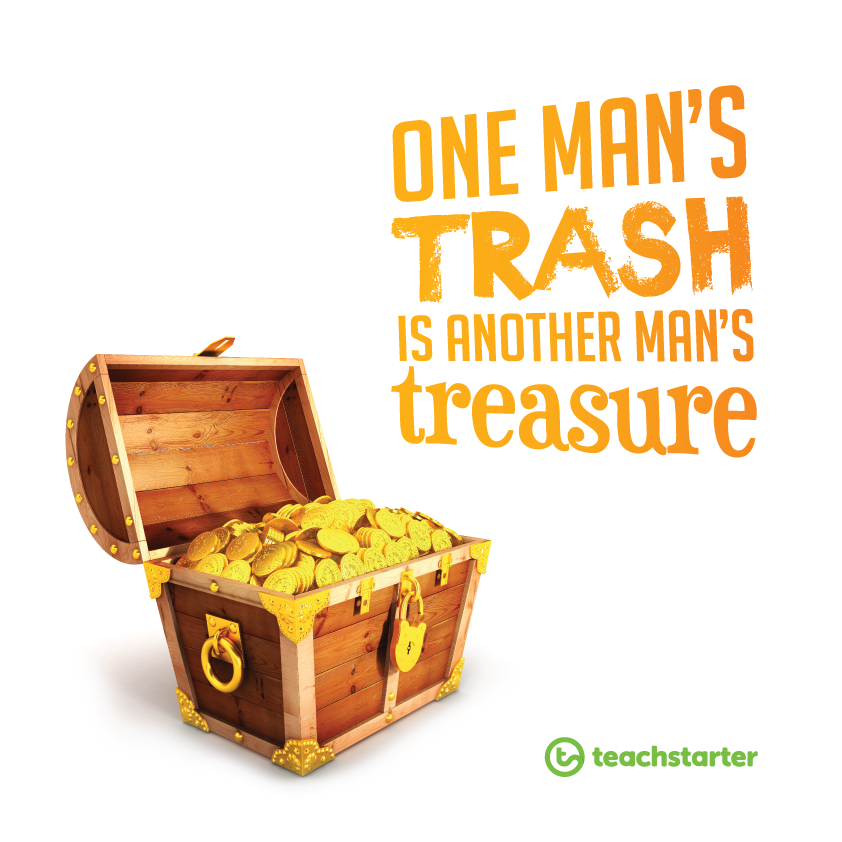 Students bring in one or two unwanted items such as toys or clothes from home to swap. This National Recycling Week event is easy to run and popular with students who love to swap their toys. Make sure that set up some important ground rules with your students such as:
get permission from an adult to swap items
limit the items that each student can swap to one or two
swap and drop (no turning back once you've committed to a swap)
swap each item once only
make it clear when the swap starts and finishes.
It's also a good idea to provide a bucket of swappable items for those students who are unable to bring something in from home.
Don't forget to display our Reduce, Reuse, Recycle, Rethink and Repair posters at your party. Use these posters in conjunction with our Reduce, Reuse, Recycle, Rethink and Repair – Brainstorming Sheets to make your swap party a rich learning experience.
Recycling Physical Activity – Trash Dash
Outdoors learning or playing active games can help to engage students more.
Your students will love to play our cool active game –Trash Dash!
To set up this National Recycling Week active game, we used On Your Marks dots, four clearly identifiable bins and clean, dry rubbish.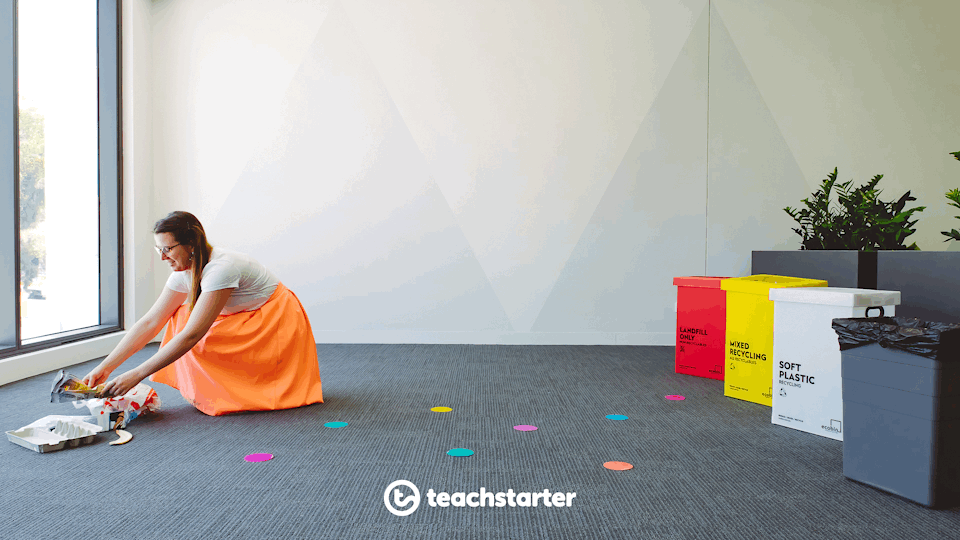 This game is ideal to play in small groups. For an extra challenge, why not add an element of competition? Have a recycling relay race, timing each group and awarding the quickest time.
If you're looking for more brilliant active game ideas for other areas learning areas, check our Active Learning Resource Pack. 
For more information about the benefits of taking learning outdoors read our blog Outdoor Classroom Day | 10 Lessons to Teach in the Great Outdoors.
Rubbish Bin Sorting Activity
For another easy-to-set-up National Recycling Week activity, check out our Rubbish Bin Sorting Activity.
Print the Rubbish Bin Sorting Activity. Cut out the waste products and instruct students to put each of the products on the correct bin.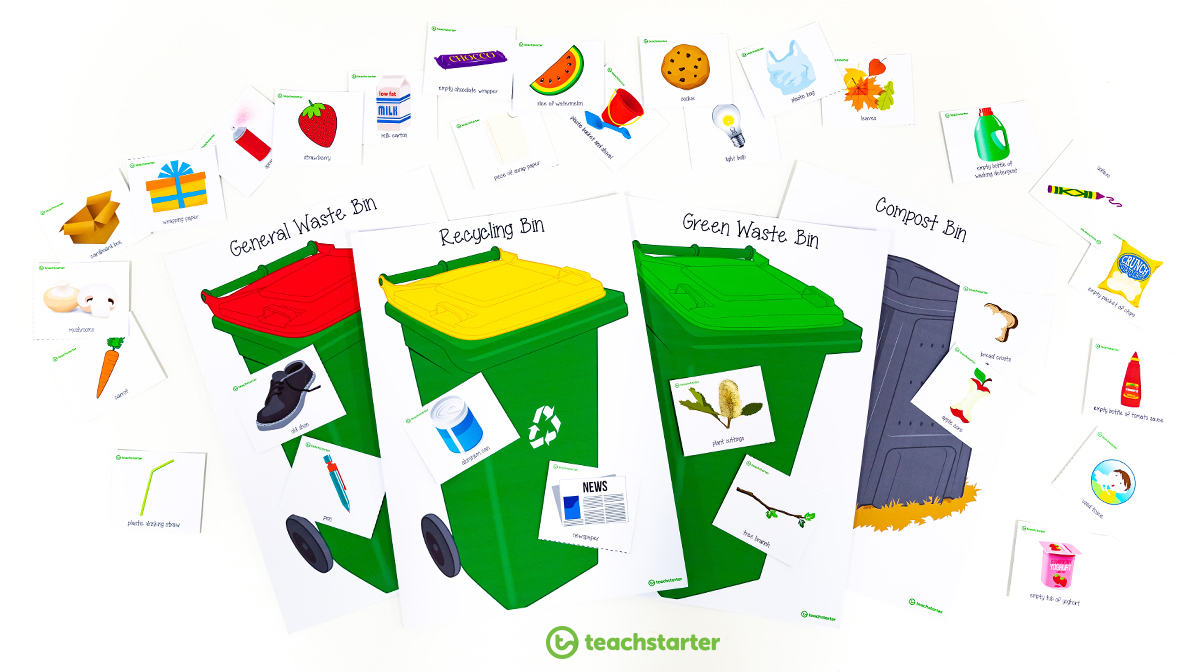 There are 2 versions of the bins provided. One version has the name above the bin and the second version is blank to assist in aligning with your local waste solutions.
 Art and Craft Recycling Activity
Meet our new Teach Starter pet – Scraps
Your students will love turning junk into funky creations. Rather than using new craft materials, many of which are likely to end up in our oceans, why not reuse your classroom waste. Design and create a classroom pet that doesn't need feeding.
I hope that one or two of these ideas have inspired you to get involved in National Recycling Week 2018.  It's never too late to make small changes in your home, school, and classroom.
If time is not on your side, don't dismiss it. Make any week a recycling week and do the little things that make a big difference every day.
Please share your photos and suggest a middle name for Scraps on Instagram #teachstarter