The benefits of an outdoor classroom have been documented time and again. Better academic performance, enhanced attention, increased enthusiasm and engagement, and improved behaviour are just some of the positive outcomes you can expect if you take your lessons outdoors.
Some of the great advantages of an outdoor classroom include:
enlarged spaces to facilitate more physical learning
opportunities for 'wet' play
greater sensory stimulation 
fresh air and sunlight
engagement of student's social skills
increased awareness of their natural environment.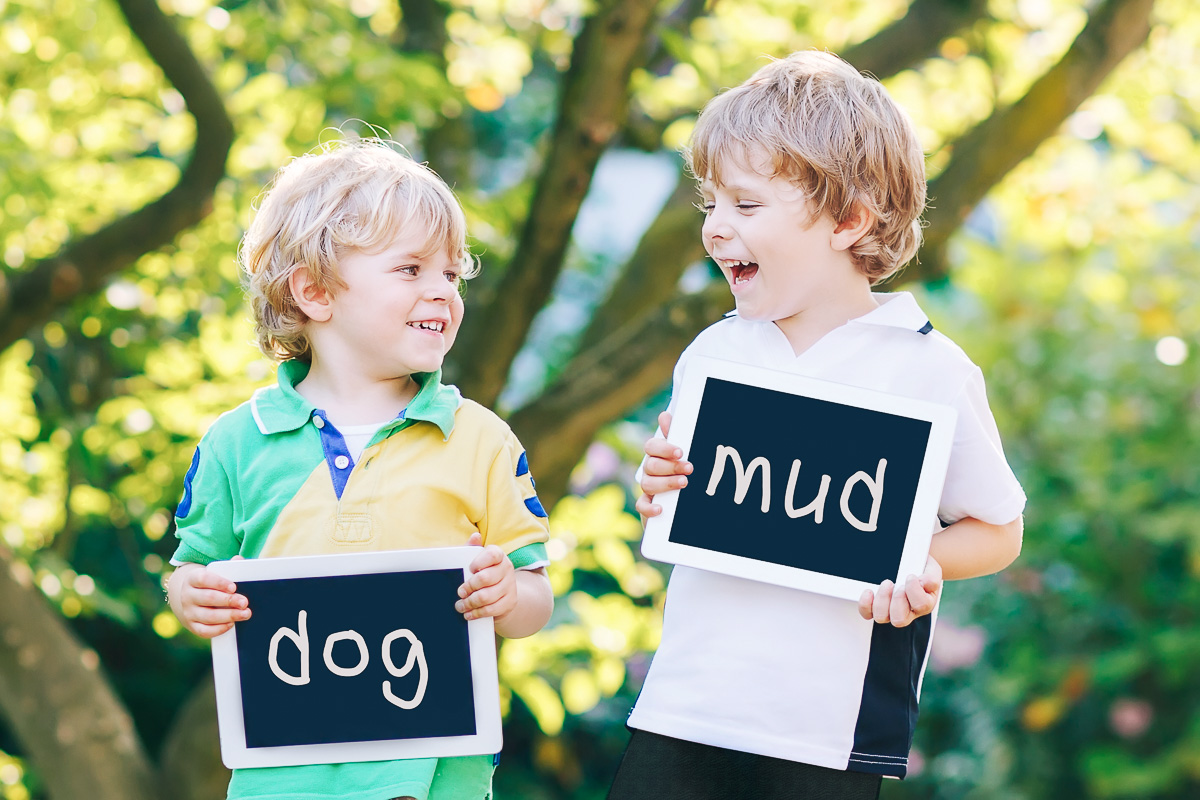 The wonderful thing is that there is no real prescription for an outdoor learning space! As long as it's outdoors in nature and it's got enough room for you and your students, it fits the bill.
Once you realise that most indoor lessons can also be taken outdoors, your teaching will change forever!
But don't rush out the door just yet! Ensuring you're adequately prepared for these transitions is the key to their success.
---
Creating an Outdoor Classroom
If you catch your students (or yourself!) wistfully staring out the window, it might be time to move to an outside learning space. Give the class a stretch, a change of scenery, and some fresh air to re-engage them in your content!
Whether it's for a reading comprehension lesson or nature walk, your outdoor learning space will likely require some additional equipment to maximise its potential. We have put together a functional and fun Outdoor Lesson Box Cut and Assemble Kit to assist you with transitioning your students out of the classroom and into nature.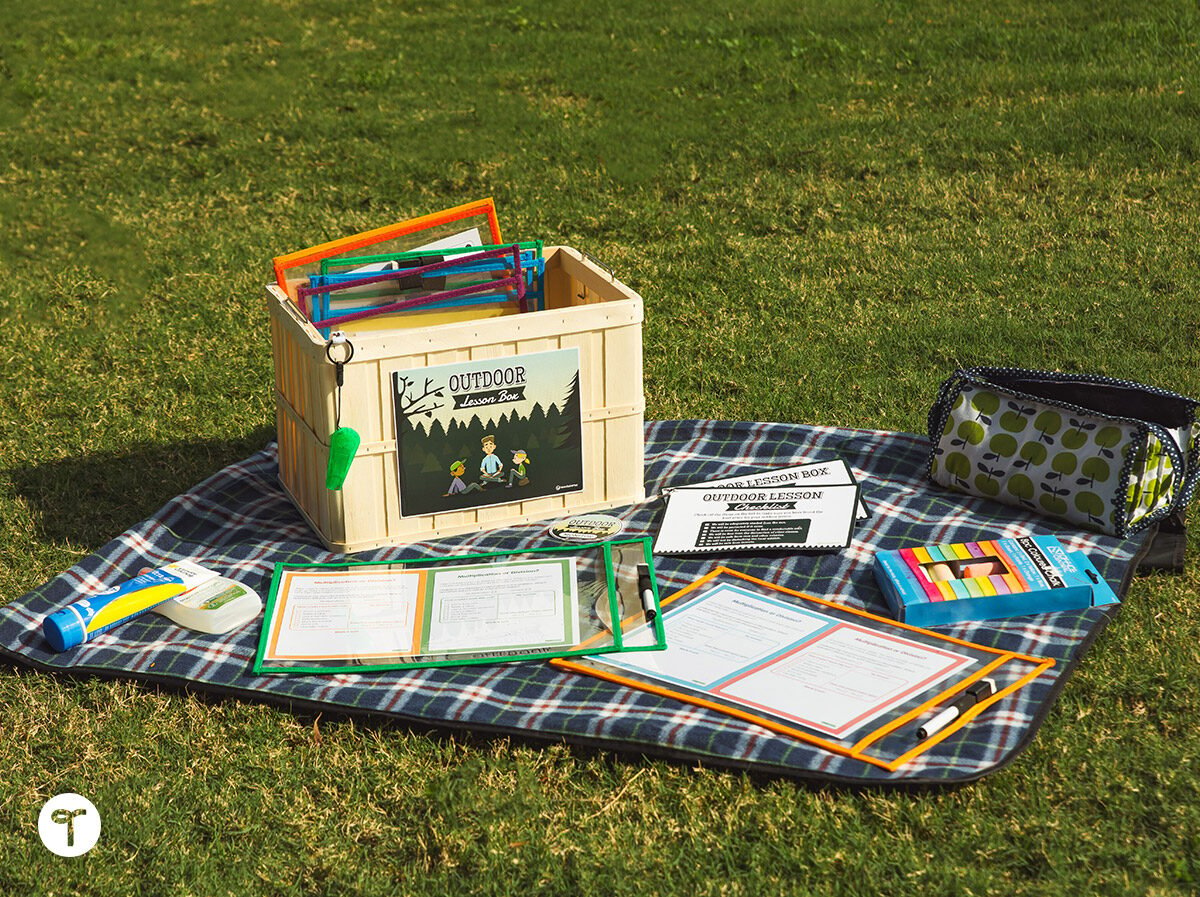 ---
Outdoor Lesson Box
Choosing the perfect Outdoor Lesson Box for your classroom is really a matter of personal taste. As long as it fits everything you need and is easily transportable, the possibilities are endless! I prefer a natural look, so I chose this lightweight and conveniently sized Brankis Basket from Ikea.
Attach your Outdoor Lesson Box Sign to your box and you're ready to fill it with handy things for all your outdoor classroom needs!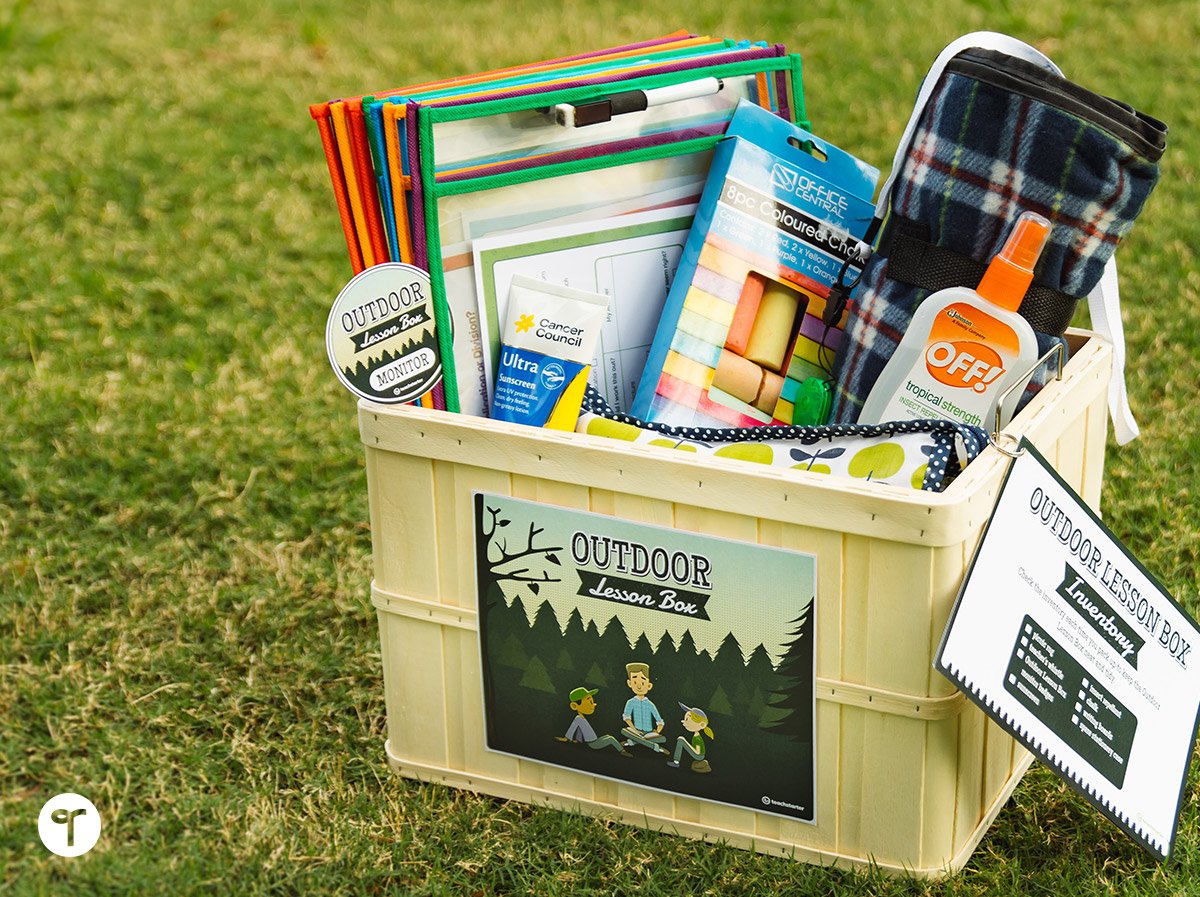 ---
Outdoor Lesson Box Inventory List
Your Outdoor Lesson Box should contain everything you need to ensure your outdoor classroom is as functional as your indoor classroom!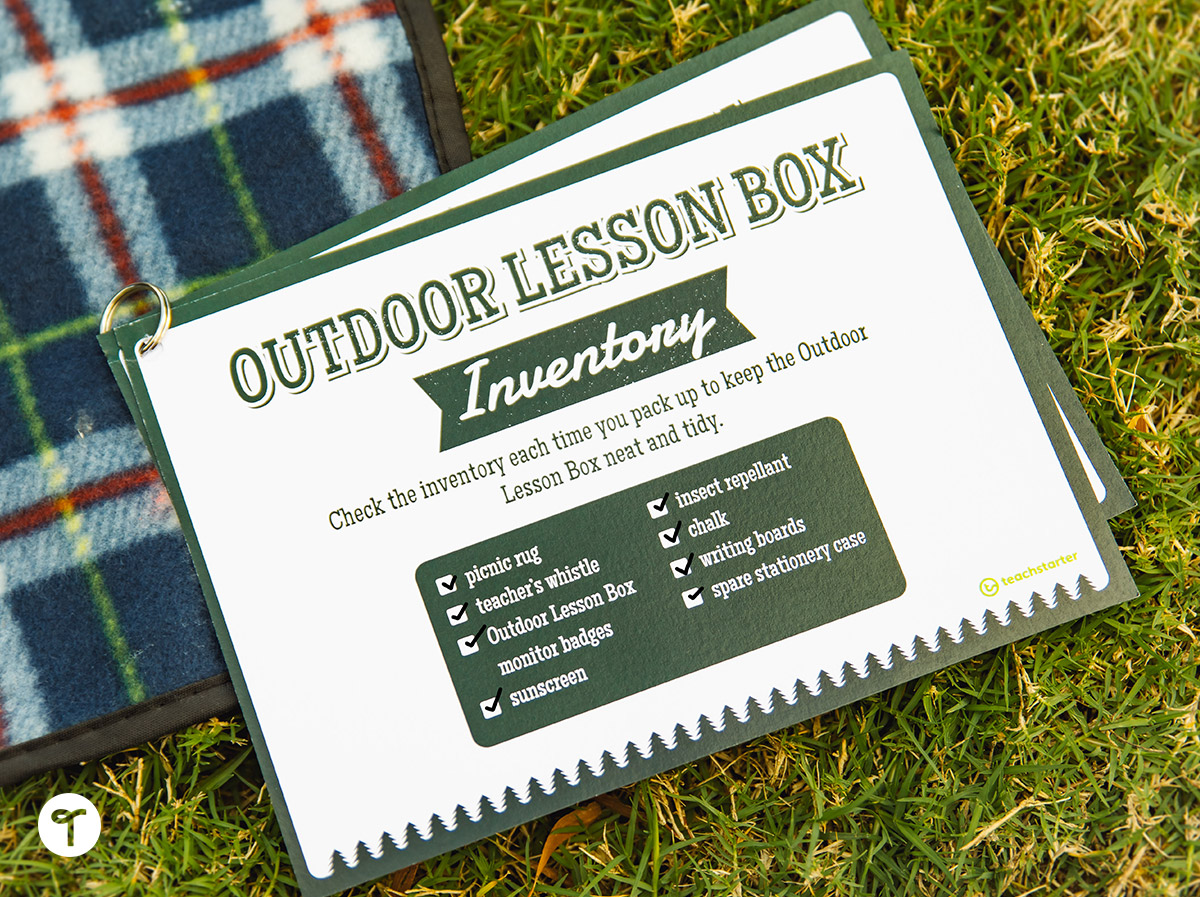 Sunscreen and Bug Repellent – Ensure your students are safely enjoying the sunshine with the protection of some sunscreen and insect repellent. Check everyone for allergies to make sure you're not doing more harm than good.
Whistle – The benefit of having a lovely, large working space means you need to have an easy way to capture your students' attention. A whistle provides the perfect method to be heard without losing your voice.
Why not change things up a bit? Have different whistle blows to cue your students to move stations, stop and listen, self-check their progress, or return to base.
Picnic Blanket – Comfort is key when you're learning in a new environment. Ensure your students are safe from ants and grass allergies by providing a picnic blanket. Extra-large picnic rugs make great focus areas for whole class work, and if you get a waterproofed blanket you won't have to worry about wet grass! Flat sheets provide a cheaper and easier-to-wash alternative!
Surface for Writing  – While grass is comfy for our bodies, it isn't all that great for our handwriting. Allow your students to make the most of their space by providing them with a firm surface to lean on while they work, such as clipboards or mini-whiteboards. Lean worksheets on them or save paper and slot your work inside for re-writable fun!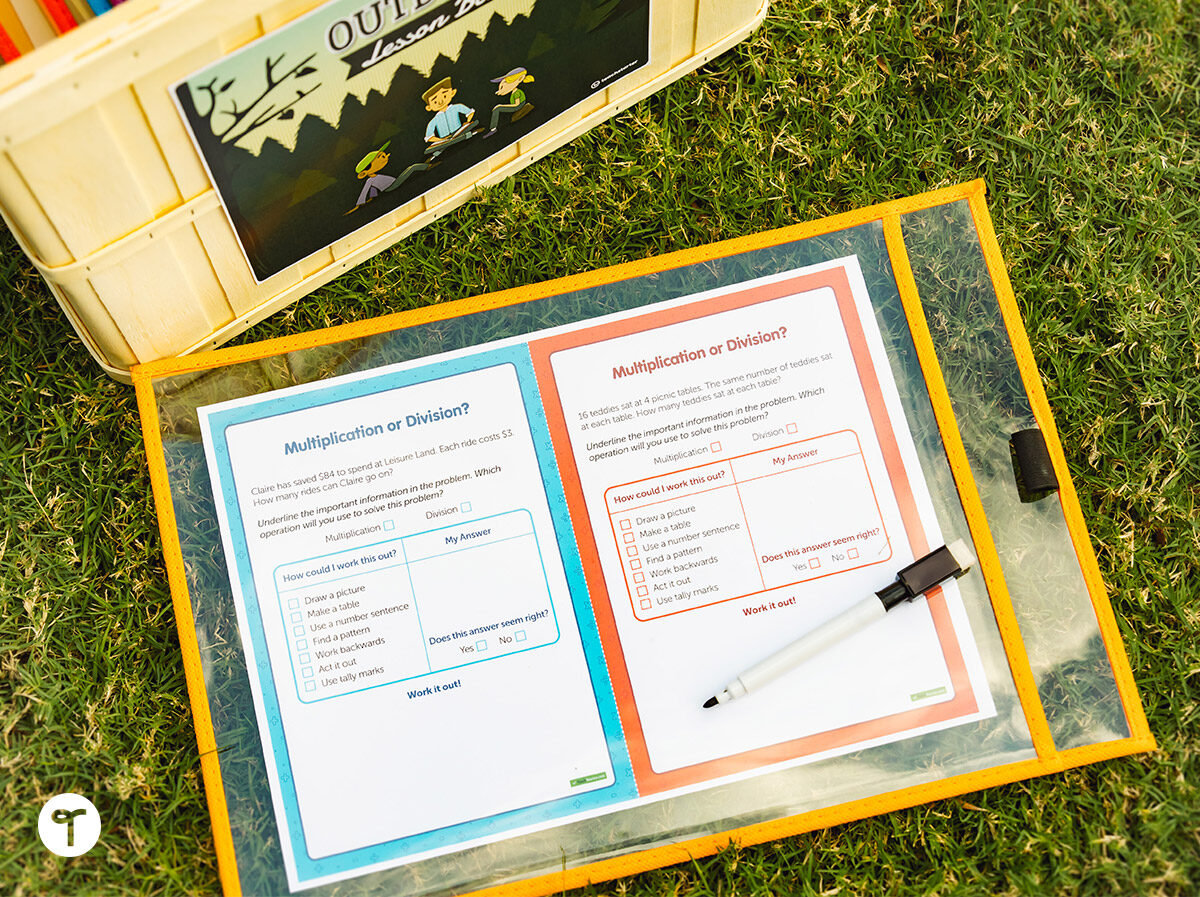 Spare Stationery – Avoid the toing and froing back to your indoor classroom, and have some spare stationery on standby. A small pencil case is perfect for holding onto a few pencils, rubbers, scissors and glue for those forgetful little darlings.


and the best thing…
Chalk – This one's a game changer! Save on paper and utilise every element of your outdoor area by canvassing your footpaths and playgrounds with your students' thinking. Check with your Principal that they don't mind the temporary educational graffiti first!
---
Outdoor Lesson Checklist
Once you've grabbed your Outdoor Lesson Box, you'll need to find the perfect spot for your outdoor lesson! As I mentioned, there is no particular space that is perfect for an outdoor classroom.
There are some health and safety requirements that need to be taken into consideration, however, when finding the perfect location.
Make sure your students will be as comfortable as possible by taking into account some of the following questions:
Will the class be protected from the elements?
Is there adequate space for the activity I have planned?
Will we disturb another class? Will another class disturb us?
Are we far enough away from vehicle thoroughfare?
Is there any flora or fauna nearby that will cause us issues?
When you introduce the outdoor classroom routine to your class, be transparent about your selection process for their learning area.
Once they understand your requirements, older students can be sent ahead to ensure there is a suitable learning space available before you haul the whole class outside!
---
Outdoor Lesson Box Monitor Badges
Collaborating with your students is the ideal way to ensure the outdoor classroom works for your whole class. As all good teachers know, a great way to develop responsible and autonomous learners is to give students ownership of their tasks.
Once you have established an outdoor lesson routine, give one or two students the role of Outdoor Lesson Box Monitor. Our Outdoor Lesson Box Cut and Assemble Kit includes Monitor Badges to give your students a defined role and make them feel important.
Responsibilities in this job can vary, dependent on the age level and maturity of your students.
Some responsibilities for the Outdoor Lesson Box Monitor can include:
selecting the outdoor classroom space for the lesson
carrying the box to the outdoor lesson
handing out equipment to their classmates
checking the inventory of the box at the end of the lesson.
So there you have it! Make an Outdoor Lesson Box a staple in your classroom and tell us how it works for you!