Procedural texts can be some of the most engaging text types.
Yes, really! Procedural text activities are amazing, even for middle to upper years!
Don't believe me? Well, you will after reading this blog.
As one of the more straight forward of the non-fiction genres, procedural text activities often get overlooked or rushed through when covering the curriculum.
It is a common mistake (one which I have been guilty of making during my time in the classroom) but nevertheless an understandable one, when more 'meaty' text types, such as persuasion or narrative require so much care and time to teach effectively.
This can be a great shame, as procedural texts can often help build a sense of confidence and understanding in students who don't necessarily possess an affinity for writing.
Luckily, there are many engaging and meaningful ways to teach procedural texts to middle and upper years students!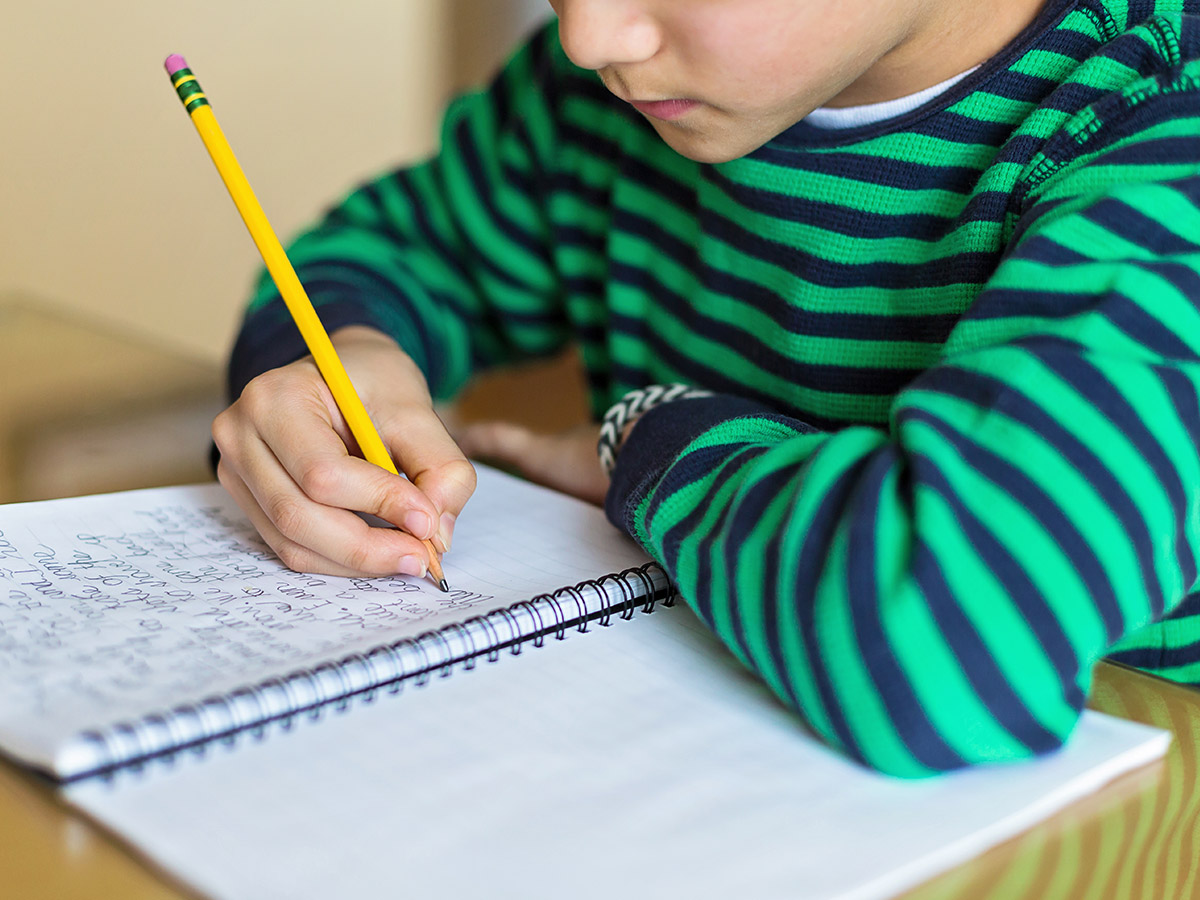 Fun Procedural Text Activities
To write an effective procedural text, students need to have a good grasp of:
writing in the second person
organising sequenced steps and the language of sequencing
straightforward and succinct sentence writing
paragraphing
writing in the present tense with imperative verbs
structuring a variety of procedure texts (such as manuals and recipes, but also agendas, directions and game rules!).
When you look at it, it's no surprise that teaching procedural texts requires a little bit of time and attention!
So, how do we make this engaging for our students?
Excellent question! Read ahead for some wonderfully fun activities to teach your middle to upper years students all they need to know.
---
Make A Pirate Hat – Introducing Procedural Texts
Introducing procedural texts has never been more fun!
Task your students with a Pirate Hat making competition. Read through the How to Make a Newspaper Pirate Hat Craft Activity with your students, discussing their experience with procedural texts as you go.
Ask your students:
What type of text is this?
Who can tell me the purpose and features of a procedural text?
Where else might I see this text type?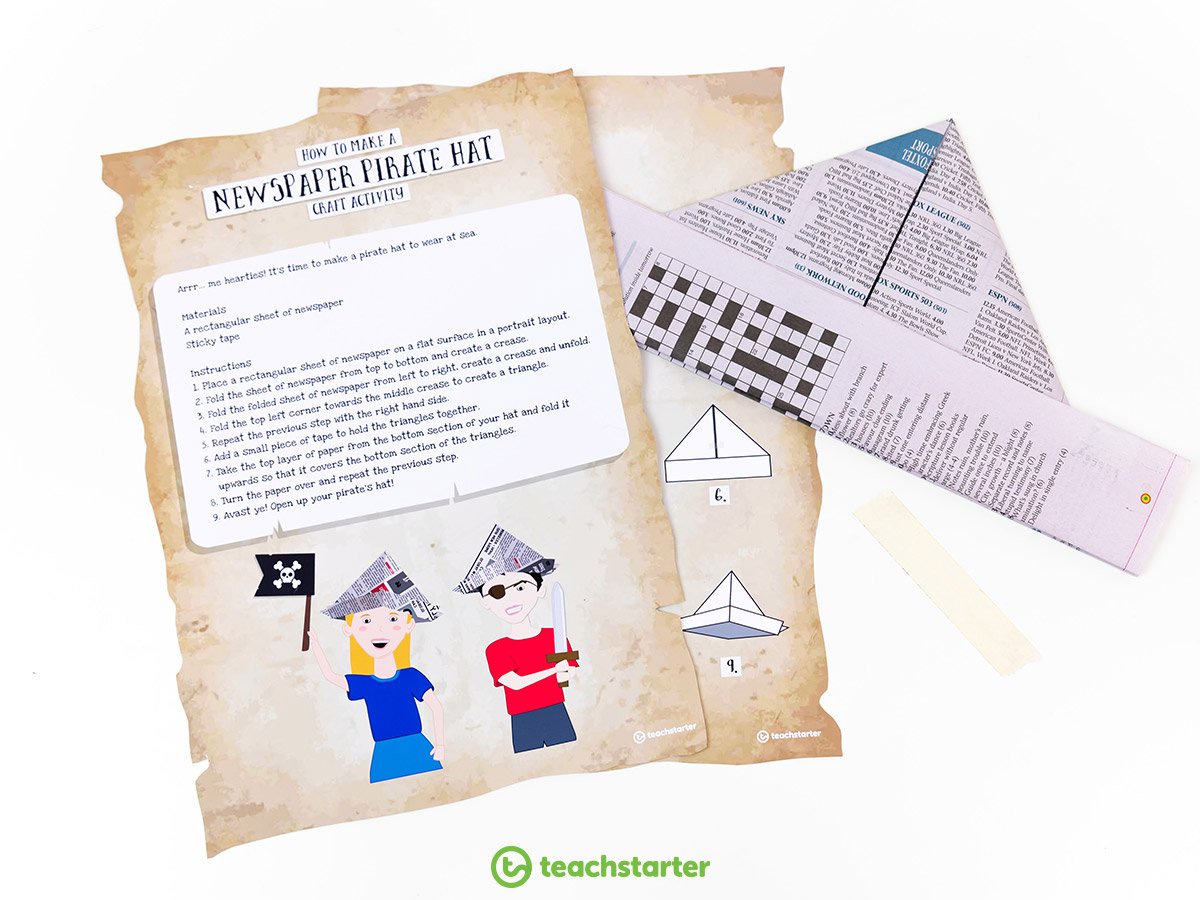 Ensure they follow the steps to create the newspaper pirate hat, then have a fun lesson decorating with feathers and fake jewels!
---
Study Procedural Texts
Once your students have refreshed their knowledge of procedural texts, take a more in-depth look at the language and features of the text type.
We have so many Procedural Text Resources at Teach Starter to can help you cover all the bases. Why not study a lesson on Understanding Sequence – Comprehension Task with your students?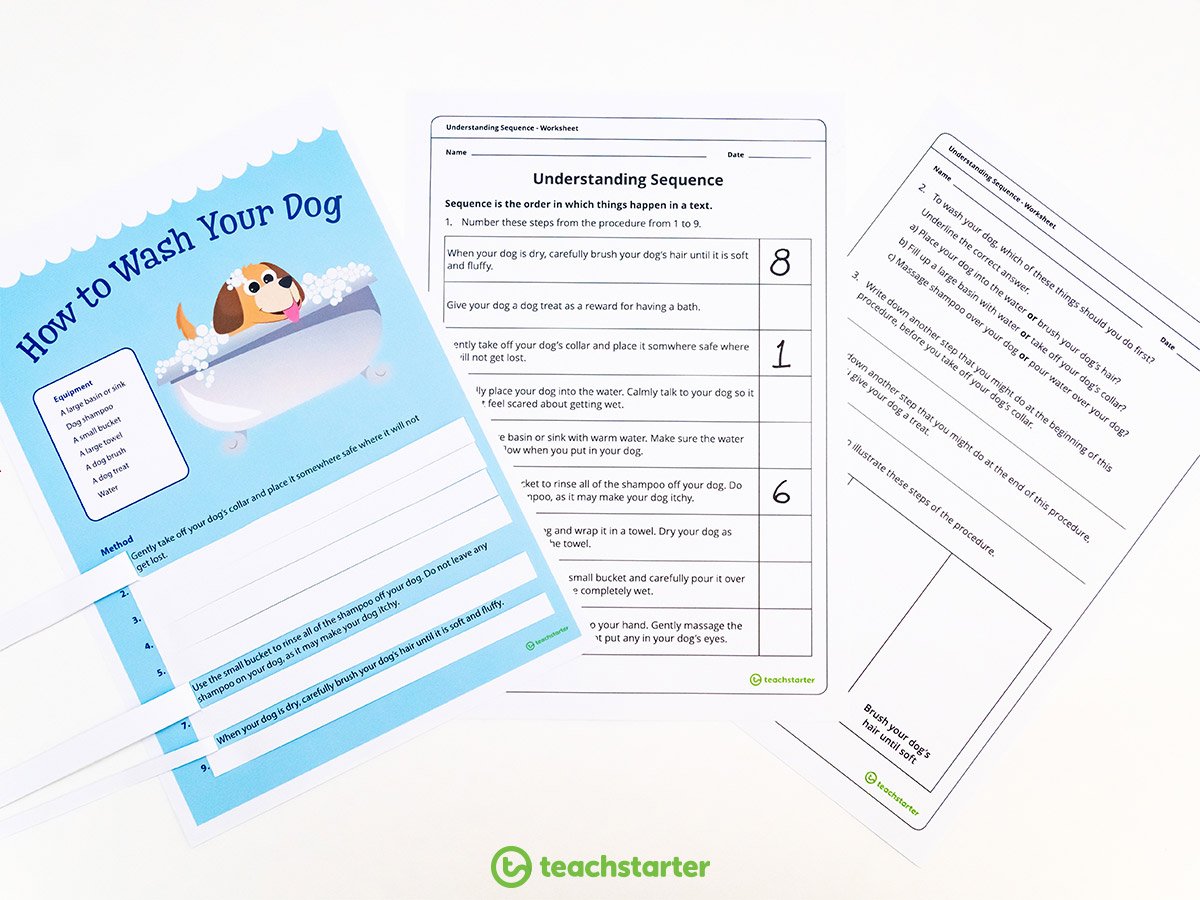 This resource would also make a great rotational activity! Simply cover up the sequence of the text, ask your students to complete the worksheets, then they can self-assess their work once they're done.
Studying the language of procedure texts is also a must.
Part of our comprehensive Procedure Text Unit Plan, Lesson 3: Procedure Texts – Language Features provides an excellent set of resources to study nouns, verbs and adjectives with your students. Use this lesson with our amazing Procedure Writing Word Wall to help your students pinpoint vocabulary related to procedure texts.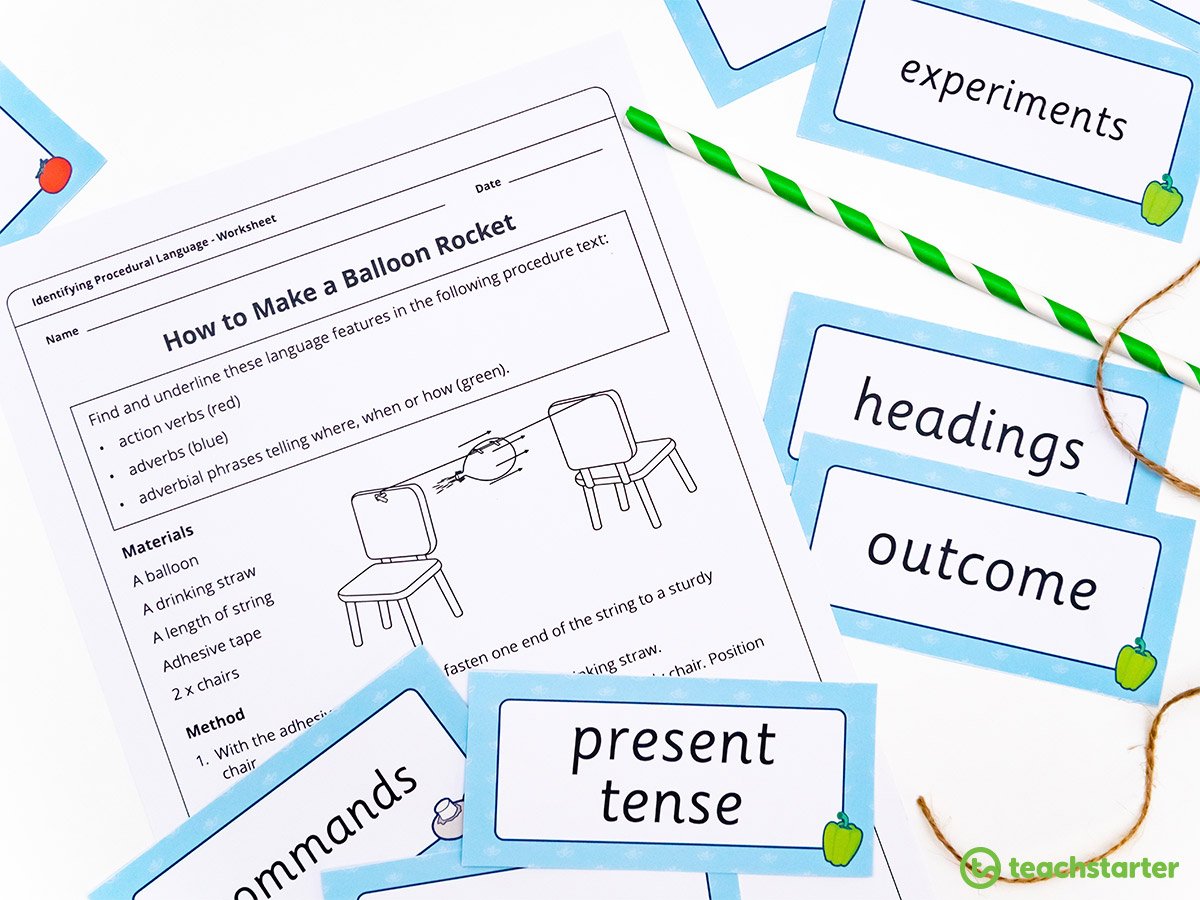 Follow this up with our Identifying Procedural Language Worksheets to give your students a hands-on opportunity to examine the use of this language in context!
---
Shared Writing – How to Build a…
This fun activity will have your students creating interesting and unique procedure texts in pairs!
Using our 5 Procedure Writing Stimulus Sheets, brainstorm ideas for procedural texts with your class. These stimulating posters leave will have your students' minds whirring with ideas!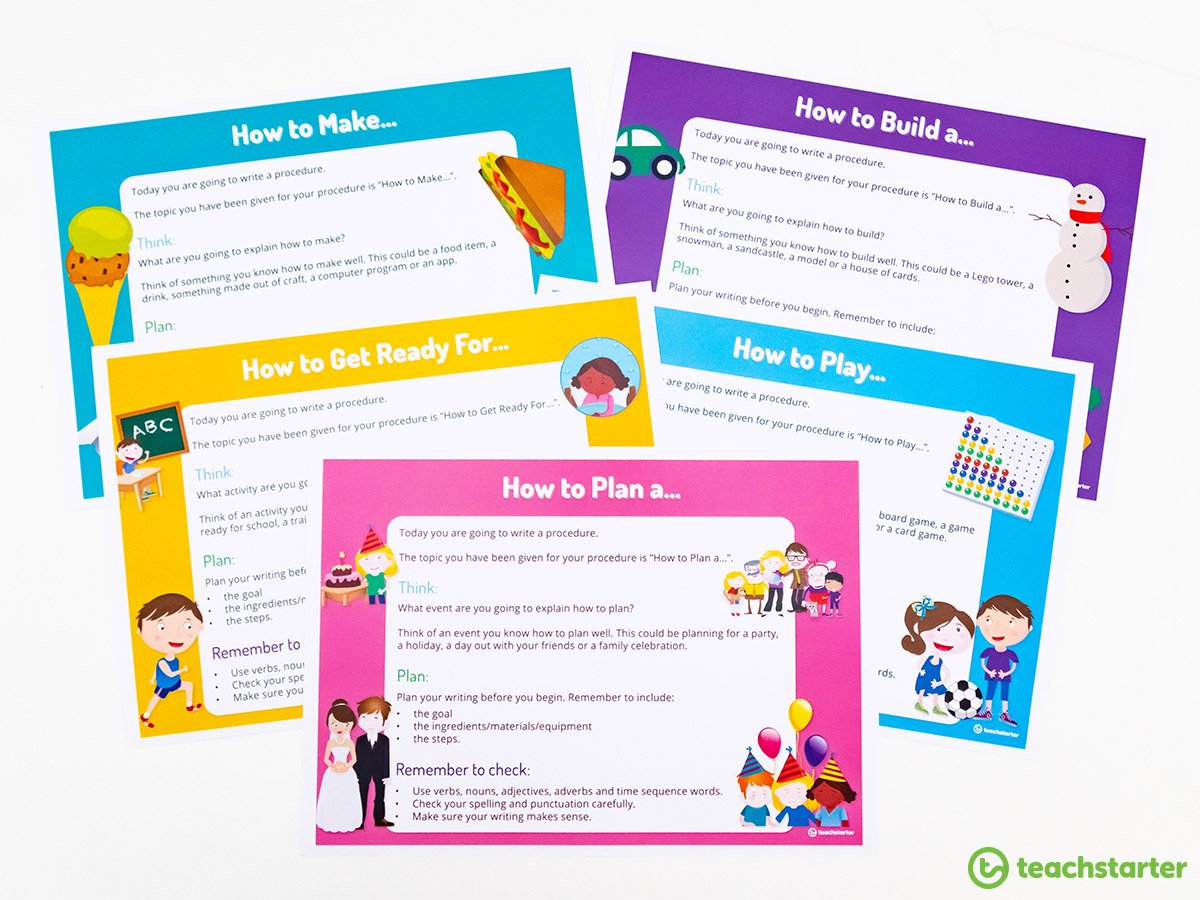 Once your students are buzzing with procedural prompts, print out our Procedure Texts Writing Scaffold on A3 sized paper. Split your students into pairs and get them writing!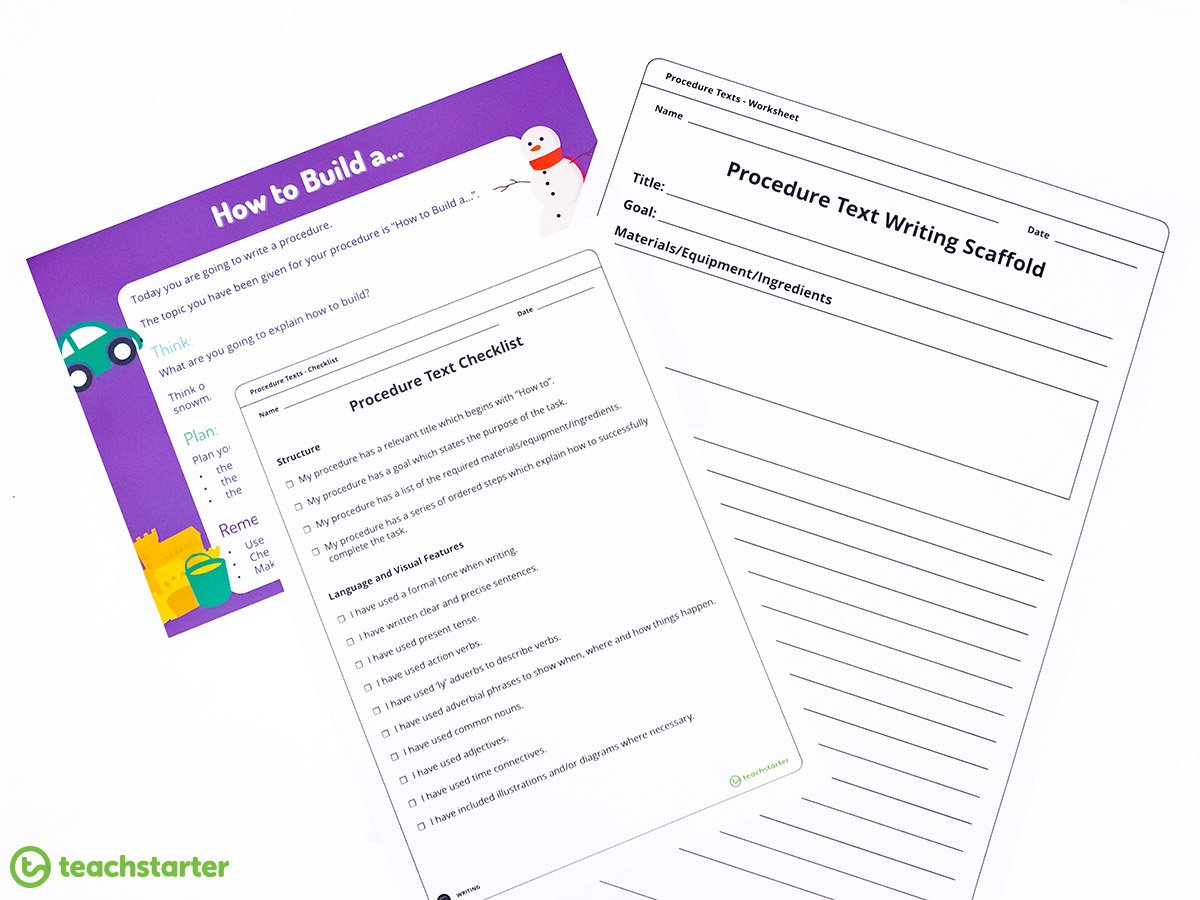 Don't forget to provide them with a copy of our Procedure Text Checklist – Structure, Language and Features so they ensure they don't miss a thing!
---
Cooking Day – Make Your Favourite Food
Your students will soon be ready for the challenge of writing their own procedural text!
A super fun way to encourage your students to create their own unique procedural text is to hold a cooking day!
Using the activity Comprehension – How To Make Pancakes as a prompt, ask your students to think of a simple recipe they could demonstrate in front of the rest of the class.
Students will be eager to plan their recipe prior to the day using the Procedure Texts Writing Scaffold. Ask them to design their good copy as a real-life recipe!
Project each students' recipe on the whiteboard as they demonstrate how to follow the recipe in front of the class.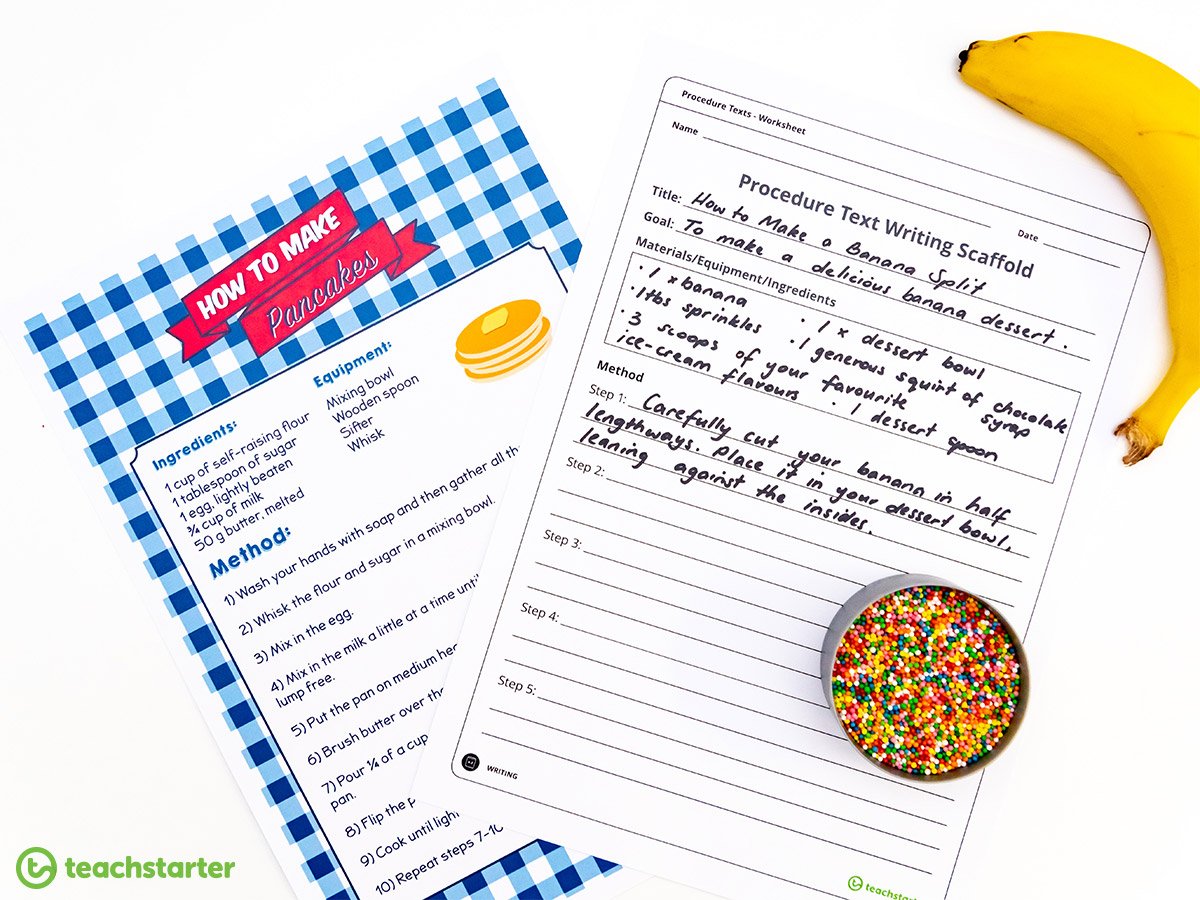 While this does take some organising, it's truly a worthwhile experience – a lesson on procedures your students won't soon forget! Just make sure to check for allergies first before approving any recipes.
---
An Extra Challenge – Tangram Treats
How about giving your students an extra challenge?
Not only are our Tangram Treats – Task Cards and Templates great for exploring geometric shapes and their properties, but they also make amazing resources for procedural texts!
With a range of difficulties, these cards make amazing visual prompts for writing a procedure.
Ask your students to swap their procedures with their friends to see if they can create the geometric shape without looking at the visual prompts!
---
Developing Procedural Writing Skills Unit Plan – Year 3 and 4
To tie all of these amazing resources together (AND MORE!) we've put together an amazing unit plan!
The Developing Procedural Writing Skills Unit Plan – Year 3 and 4 is jam-packed with activities and resources! It has everything you need to teach your students all they need to know about procedural writing.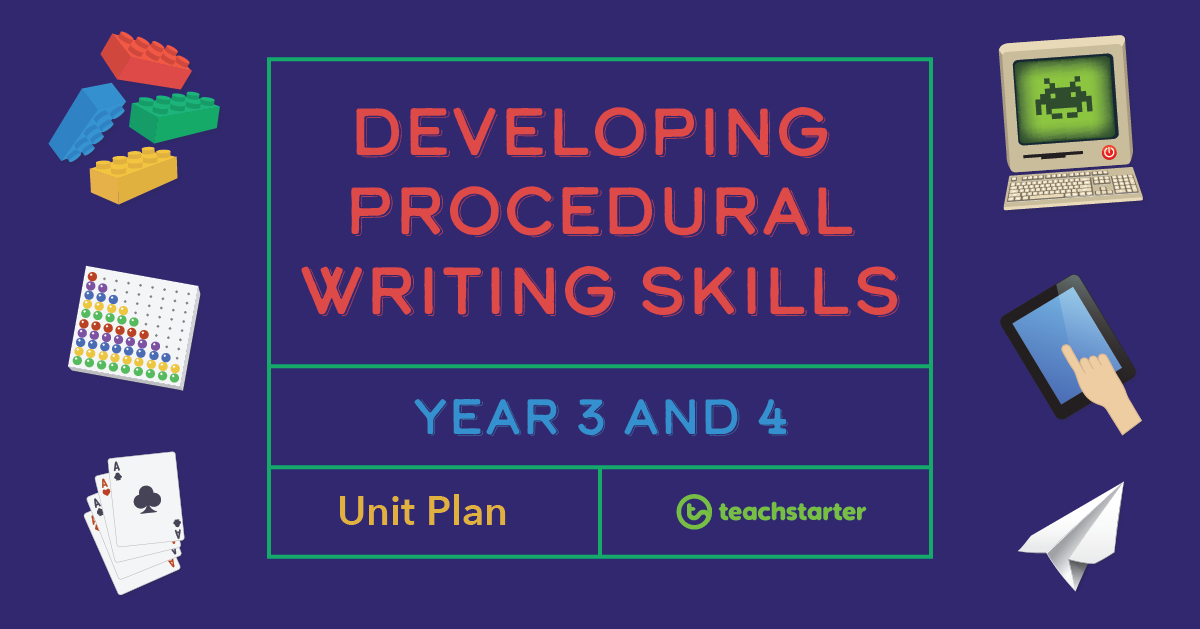 With 7 lessons addressing the purpose, structure and language of the procedure text type, you won't need to go anywhere else.
---
Take the stress out of teaching procedural text with these fun and engaging activities!