Answer questions related to renewable and nonrenewable resources with this printable board game.
What Is the Difference Between a Renewable and Nonrenewable Resource?
Is this a question your students have been asking you in class lately? Whether your students are learning about natural resources or ways to make the environment cleaner, we want to ensure you can help guide your students with this topic.
The main difference between renewable and nonrenewable resources is that renewable resources can be replenished or regenerated relatively quickly. In contrast, nonrenewable resources cannot be replenished or regenerated in a reasonable amount of time.
Renewable resources, such as solar, wind, hydropower, biomass, and geothermal energy, are derived from sources constantly replenished and renewed by natural processes. These resources are typically sustainable and have a lower environmental impact than nonrenewable resources.
Nonrenewable resources, such as fossil fuels (coal, oil, and natural gas) and minerals (copper, iron, and aluminum), are derived from sources that are finite and cannot be replenished at a rate that keeps up with their consumption. These resources are typically unsustainable and have a greater environmental impact than renewable resources.
Review Natural Resources with a Printable Game
This exciting board game is perfect for students interested in learning about the importance of natural resources. Students will answer questions such as:
Coal is used to provide energy no matter what season, time of day, or weather it is. Unfortunately, coal mining is dangerous and harmful to people and the Earth. What alternative energy source could be used to create cleaner and safer energy?
The game includes a beautifully designed game board that can be easily printed and 36 game cards featuring illustrations and questions about renewable and nonrenewable resources.
How to Play our Renewable and Nonrenewable Resources Game
To play, begin by having each player select a game piece and place it at the starting line. The oldest player will go first. 
Player 1 should spin the spinner and move the appropriate number of spaces forward.
If the player lands on a space that has a picture of a renewable resource, draw a card and answer the question. The next player in line should check the answer key to see if the answer is correct. 
If the player is correct, they may stay in their space. If the player is incorrect, they must return to the previous space they were at before taking a turn.
If the player lands on a space that has a picture of a nonrenewable resource, they lose their turn.
The first player to reach the finish line successfully is the winner!
Through this activity, students will identify and classify Earth's renewable resources, including air, plants, water, and animals, and nonrenewable resources, including coal, oil, and natural gas.
Easily Prepare This Resource for Your Students
Use the dropdown icon on the Download button to choose between the PDF or editable Google Slides version of this resource. An answer key is also included with this download. 
Print on cardboard for added durability and longevity. Place all pieces in a folder or large envelope for easy access. 
---
This resource was created by Kaylyn Chupp, a Teach Starter Collaborator. 
Don't stop there! We've got more activities and resources that cut down on lesson planning time: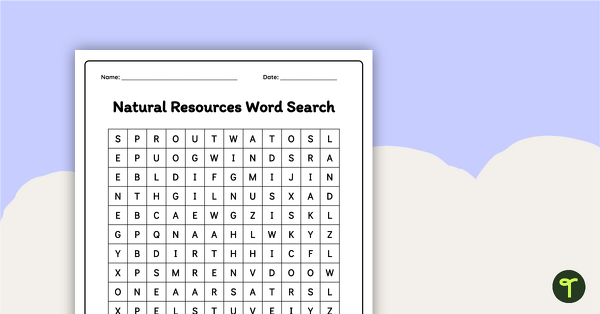 teaching resource
Review the different natural resources with a word search.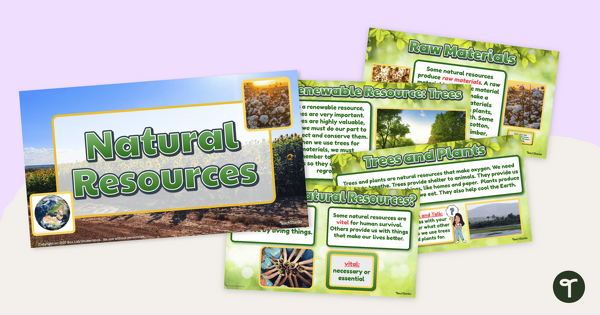 teaching resource
A teaching presentation that explores what natural resources are and where they come from.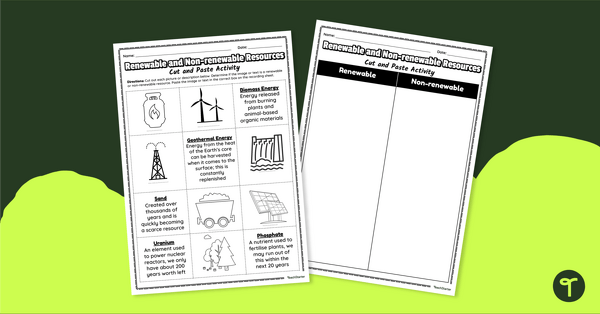 teaching resource
Sort renewable and non-renewable resources with this cut-and-paste worksheet.