If you've been looking for a silver lining to the pandemic, consider this: Access to virtual field trips for kids has exploded since early 2020, making it easier than ever before to take your class on an educational adventure across the state or across the country without having to leave the classroom.
Not only are remote field trips less stressful — no more worrying about a student getting lost — but there's less instruction time lost overall, and you don't have to worry about getting 30 permission slips back from parents in time. Plus, digital field trips tend to be more cost-effective too, and more accessible for students living in poverty who may not be able to swing an expensive overnight excursion. Some destinations do charge educators an "admission" fee for a digital field trip, but they tend to be a fraction of the cost of busing, meals, and more that goes into a physical trip.
We looked at some of the best virtual field trips that are available for kids – including some free adventures you can take with your students on rainy or snow days when recess had to be canceled.
How Do You Do a Virtual Field Trip?
Is this your first foray into taking your class on a digital field trip? Welcome to the fun! Like many teachers who've had to — sorry, we're going to say it — pivot because of the pandemic, you're in good company. Here's what you need to know to kick things off!
Start With Your Budget
While many virtual field trips are free, some do have an admission cost and that varies wildly. You can hop on Amazon to visit wild animals in Costa Rica for less than $28, while a virtual trip to the Pacific Science Center will cost $200 for 50 participants.
Focus on Your Lesson Plans
This may seem a bit obvious … or maybe not. The pandemic has changed plenty in education, and we're all still adjusting, so you might not have had time to sit down to explore all the new opportunities for teachers to explore locations around the world with students that are tied directly into lessons. But even if you're just looking to take a digital trip with your students because it's snowing outside, and the kids are stuck inside during what should have been your prep period, there's probably an adventure out there that will sync right up with the topic you've been talking about!
Ask Your Students
Do they want to go to Disneyland? How about visiting a volcano? The beauty of virtual field trips is you can really go anywhere your students' imaginations can take you!
The Best Virtual Field Trips for Kids
Colonial Williamsburg
When it comes to learning American history, a trip to Colonial Williamsburg is right on top of the list. The largest outdoor living museum in the country, the Virginia non-profit portrays 18th-century experiences in their virtual field trips. Not only are there several free virtual tours for kids to learn about architectural preservation and colonial art, but there's a virtual scavenger hunt too!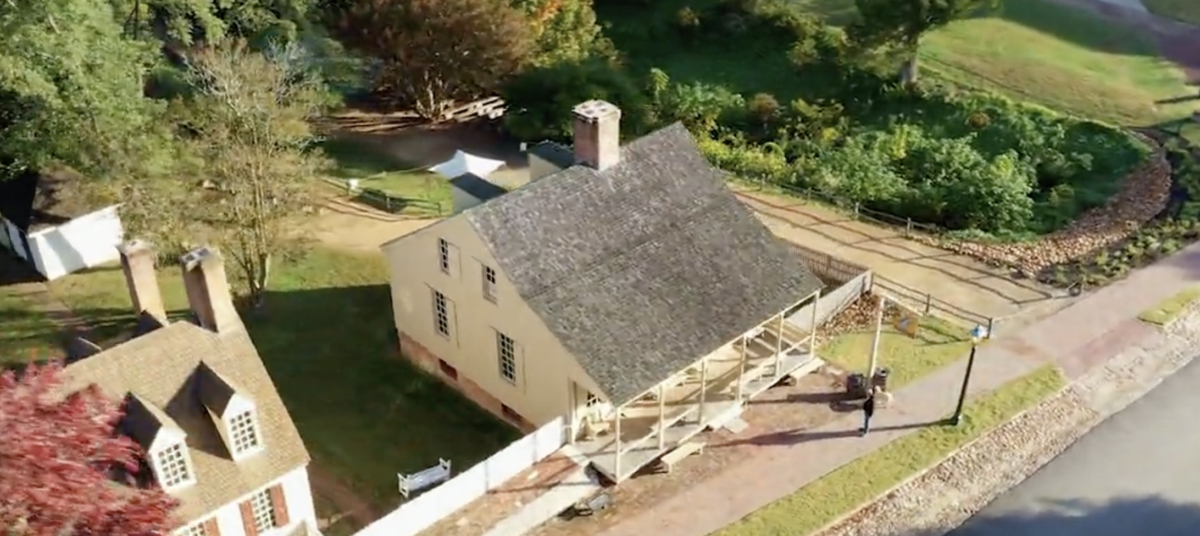 Cost: Free
---
Head to The Met
New York City may be a bucket list kind of trip for the students in your class, but there's no reason they can't visit right now — virtually that is. The city's Metropolitan Museum of Art has dozens of videos online now that take kids into the world of famous fashion designers, painters, and more. Best of all, they're all free via Google's Arts and Culture collection!
Cost: Free
Try these art projects for kids inspired by the famous artists they learn about!
---
Visit the San Diego Zoo
The San Diego Zoo hosts 12,000 animals of more than 650 species and subspecies on its campus in California, and it's known around the world for housing 3,700 rare and endangered animals. Supplement your science lessons with the zoo's free videos that put you front and center with pandas, apes, penguins, elephants, and more! Check out the live cams to spot animals in their natural habitats, and try the online games. Play Polar Bear Plunge, Elephant Odyssey, and more fun games for kids.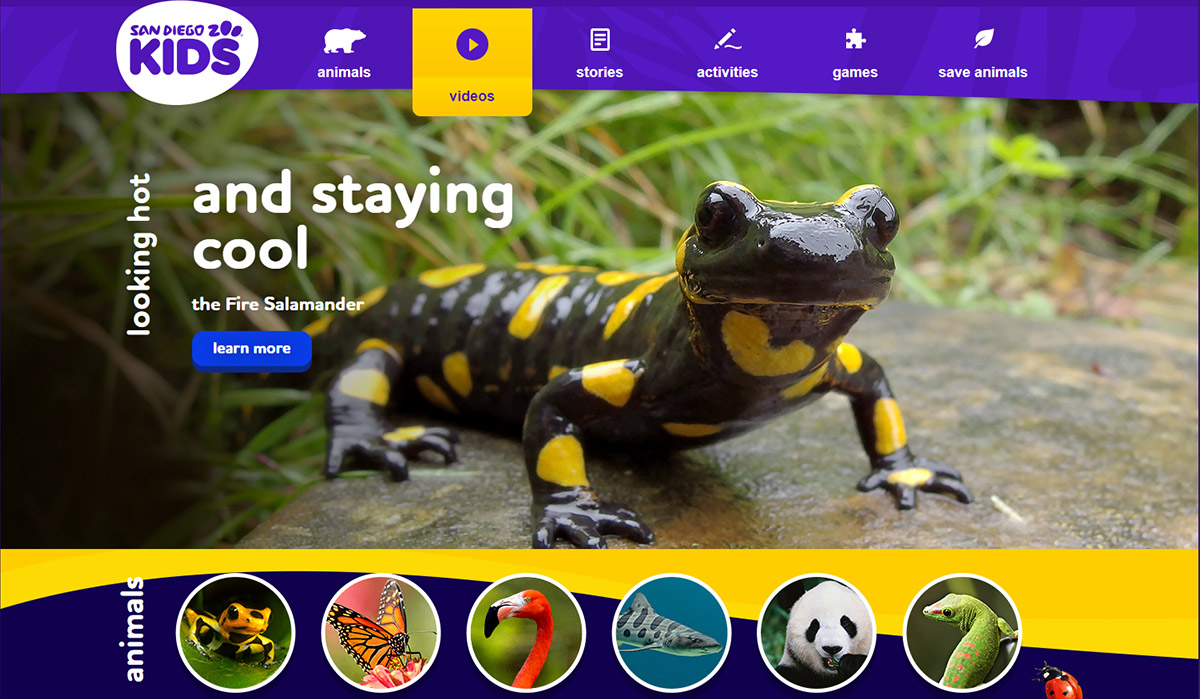 Cost: Free
Supplement your field trip with some fun animal resources!
---
Smithsonian Natural History Museum
T-rexes, and pterodactyls, and stegosaurus, oh my! The Smithsonian Natural History Museum's virtual field trips include a deep dive into dinosaurs and other permanent exhibits at the Washington D.C. mainstay.
Cost: Free
Take a peek at more din-0-mite activities for your dinosaur lessons:
---
Take a Mission to Mars
Forgive us if we're wrong, but chances are the board of education is not going to approve a field trip to Mars. This is why this virtual field trip to the Red Planet is the perfect supplement to your solar system lessons. Access Mars was created by NASA, and it offers a free virtual reality experience of the Red Planet, with interactive landmarks and narration by a NASA scientist.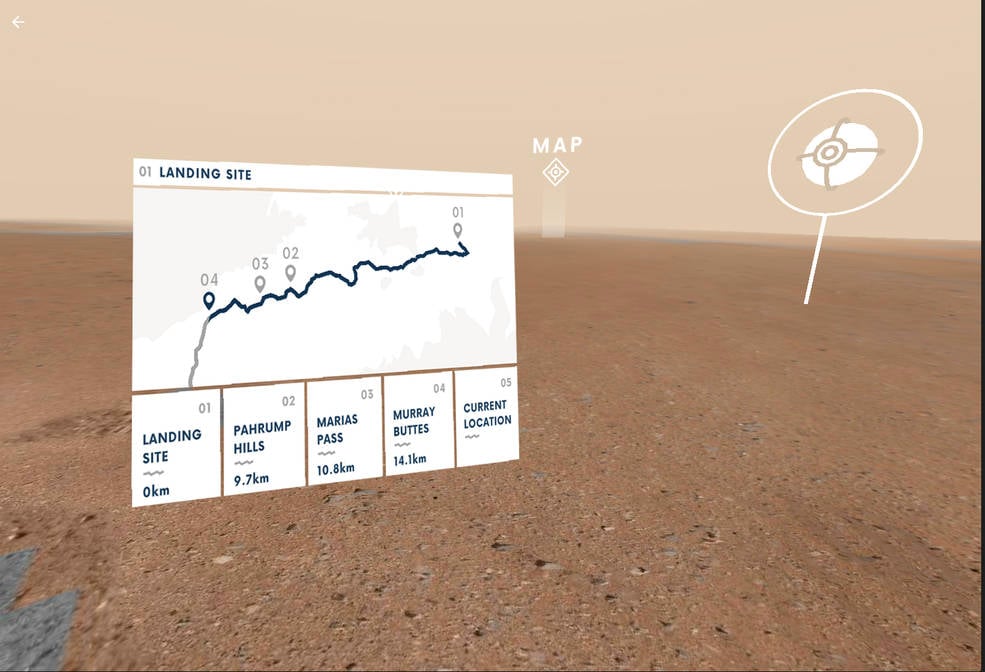 Cost: Free
Take off with some space and solar system resources!
---
Visit the Slavery and the Making of America Museum
Although we recommend this virtual field trip as a Black History Month activity, focusing on the experience of Black Americans shouldn't be limited to one month out of the year. Add this trip to your history lessons, and your kiddos will also get a chance to learn about making their own virtual museum!
Cost: Free
Explore more Black History Month resources!
---
Visit an Aquarium
The Monterey Bay Aquarium stands out among aquariums in the US for its work to protect the Pacific Ocean, its scientists' work to rebuild the sea otter population, and its free programs to educate kids about aquaculture. When COVID-19 closed the aquarium's doors in 2020, educators at the center focused on creating virtual field trips to teach kids about African penguins, the survival strategies of the creatures that live on rocky shores, and more.
They now offer free virtual education for pre-K up through grade 12, including some programs in Spanish!
Cost: Free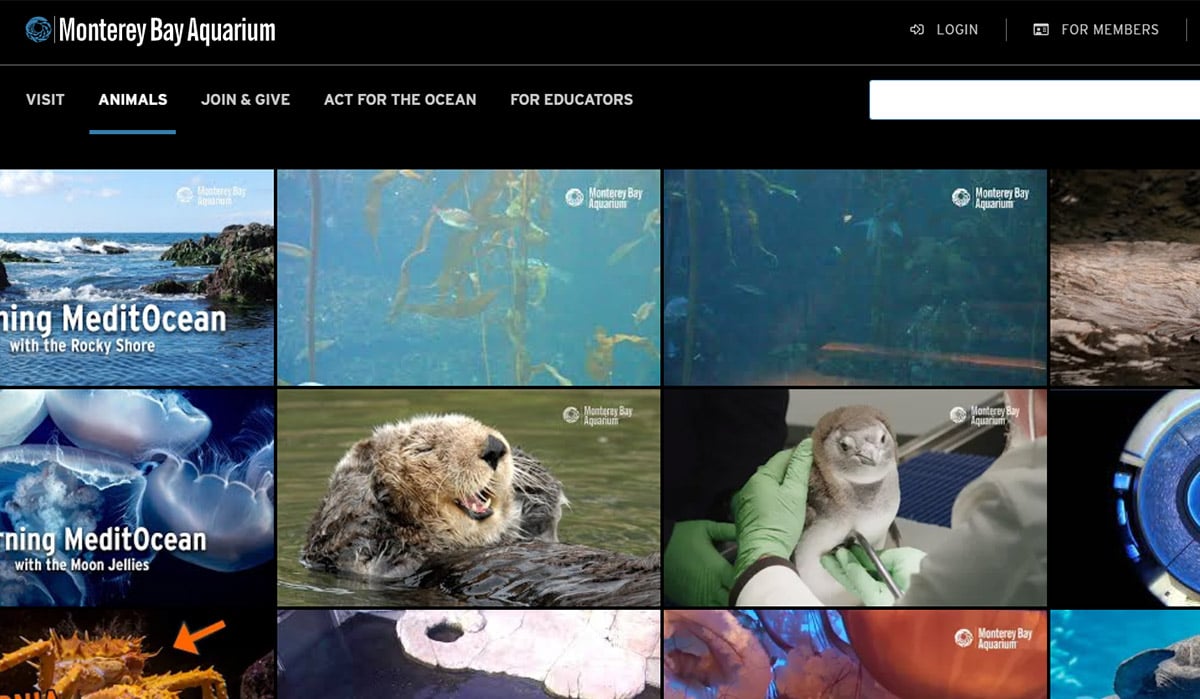 Head into the water with some water cycle resources!
---
Go Deep Sea Diving
Teaching your students about the oceans and marine ecology? This free virtual field trip under the sea was created by a coder named Neal Agarwal, and it lets you venture deep into the sea, plumbing the depths typically only seen by fish and kelp. The site introduces you to the types of animals that live at each level with fun facts like this bit of trivia: Did you know the coelacanth was thought to be extinct until found alive in 1938?
Cost: Free
Supplement the adventure deep down deep with these resources:
---
Explore Famous Landmarks on Google Earth
We have searched around for different virtual tours that are available of historic landmarks such as The Great Wall of China and The Eiffel Tower, but nothing compares to what Google Earth can provide in terms of imagery and accessibility for everyone. Explore a range of human-made and natural landmarks around the world!
Cost: Free
Check out other fun activities you can do with Google Earth.
---
Become an Engineering Pioneer
Dive deep into the wonders of STEAM, and take your students on a journey to places outside their city, country … even the planet with Boeing. This virtual field trip opportunity is a partnership between Boeing and Discovery Education. Behind the scenes videos transport children to places where innovation meets creativity and shows there isn't just one path towards success in a STEM career.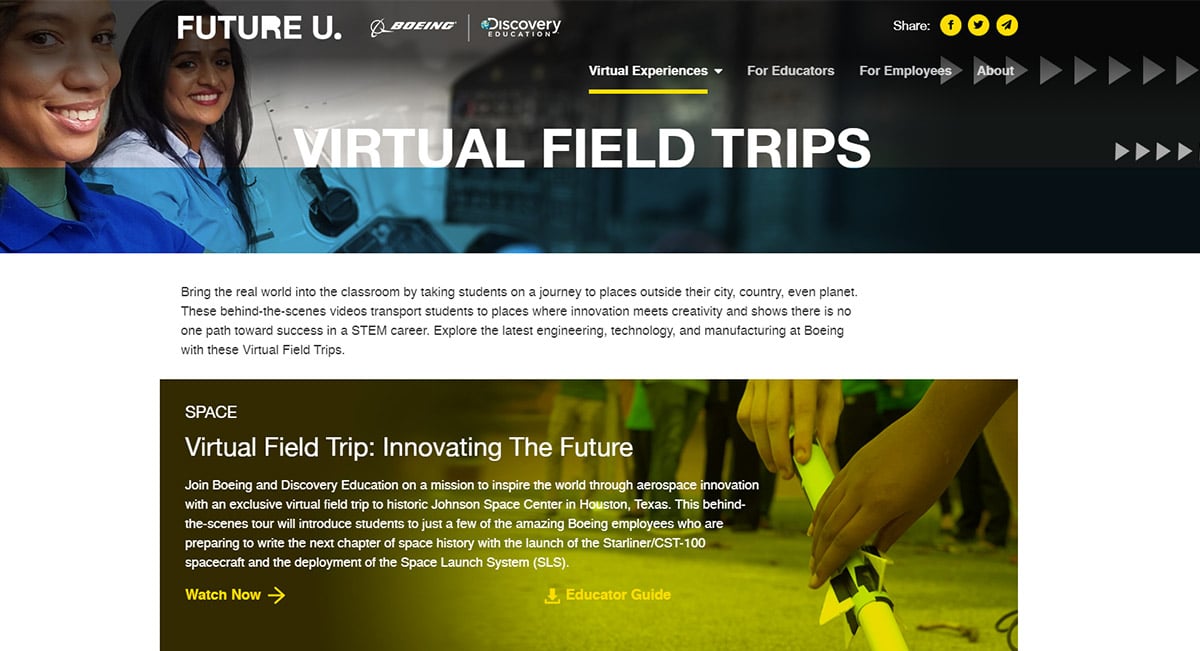 Cost: Free
Help kids become their own engineers with some of these cool STEM resources!
---
Visit the Van Gogh Museum
Inspire little artists and go on a virtual tour all the way across the ocean to the Van Gogh Museum located in Amsterdam. The museum houses the largest collection of artwork by Vincent Van Gogh in the world, and its website has a multitude of visual images plus a number of virtual tours you can go on through Google Earth.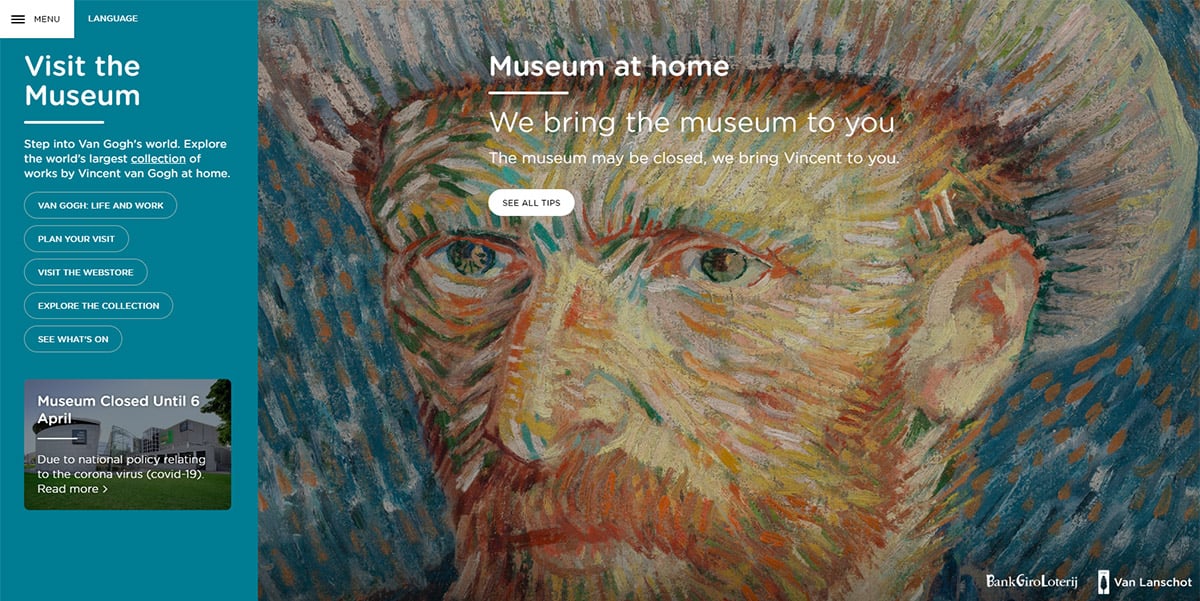 Cost: Free
---
Famous Storytellers
Storyline Online is a great website that has a huge number of children's storybooks being read by famous people. While it's not necessarily a place that your students will visit, listening to stories read by celebrities like national treasure Betty White is a whole lot of fun and an adventure in and of itself.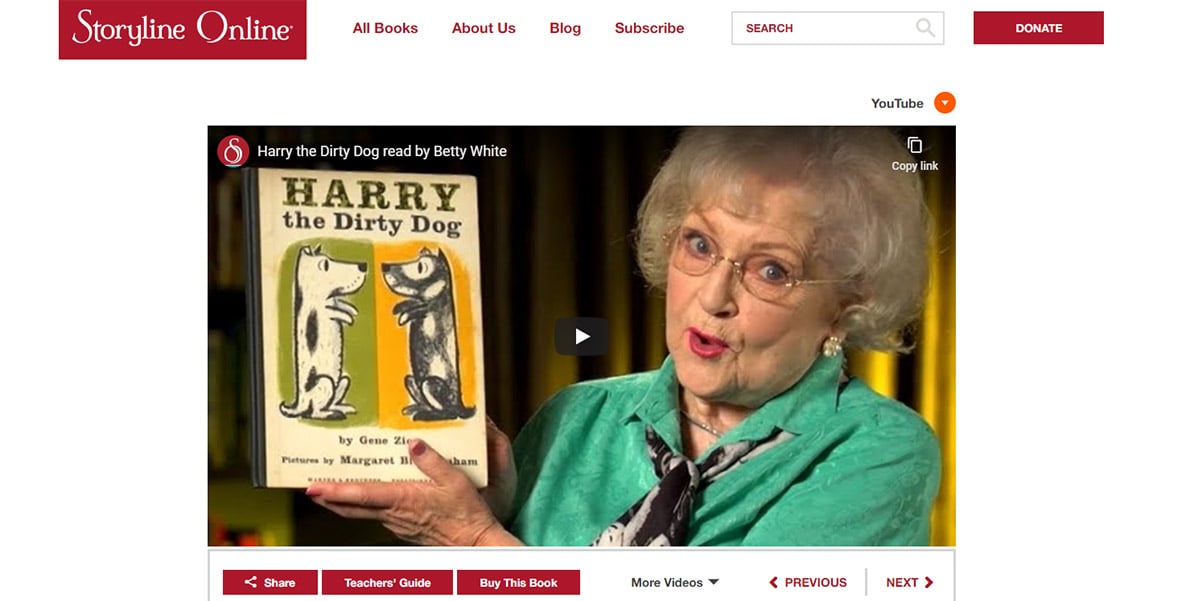 Cost: Free
After a storybook has been read, there are a huge number of activities you can do, such as some simple comprehension questions.
---
Go Down on the Farm
Investigate agriculture and learn more about the food chain with a trip down on the farm. The Dairy Alliance offers free virtual field trips to a dairy farm to learn about how milk makes its way from the cow to their breakfast table, how important clean water is to farming, and more, plus opportunities for your class to adopt a cow!
Cost: Free
---
Head to the International Space Station
Visit the International Space Station with Nickelodeon, and see how slime acts in microgravity. Although it's super silly, the video created by Nickelodeon with cooperation from NASA is a supremely fun way to get kids excited about space!
Cost: Free
---
Visit Disney World
Sure to be a hit with your students, Disney World Orlando has virtual tours you can take, including Magic Kingdom, Animal Kingdom, and Epcot.
It is so much fun to look around and pretend you are there.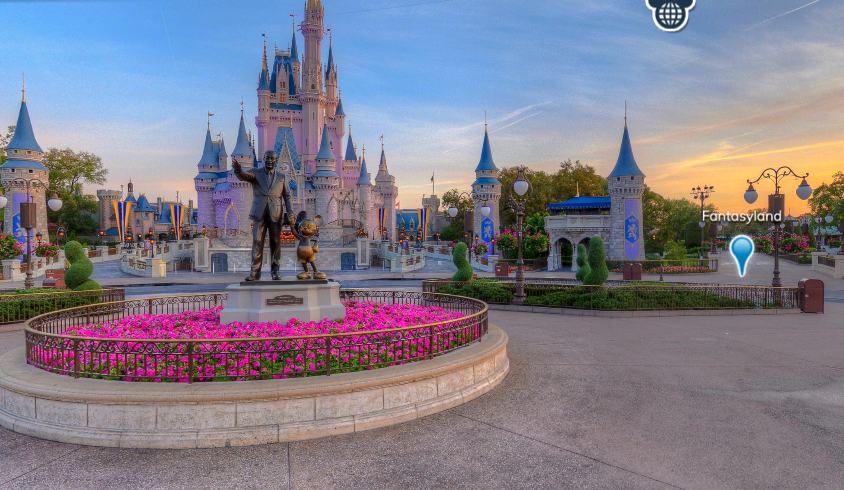 Cost: Free
What are your favorite virtual field trips to take with your class?
Blog Banner: Shutterstock.com/Olena Yakobchuk