When it comes to teaching elementary school during Black History Month, there's a lot that teachers do right. Then again, there are a lot of things that go wrong — we've all seen the news reports over the years of schools advertising problematic Black History Month meals or inappropriate assignments handed out to students.
So how do you strike just the right tone in the classroom this February with Black History Month activities for kids that aren't just appropriate but also truly meaningful and reflective of the Black experience and Black Americans' huge role in the history of our nation?
The teachers of Teach Starter have spent decades in the classroom, and they've put together this guide for making Black History Month 2023 count in your classroom, as well as some activities for kids that will save you lesson planning time this year. Read on for tips from our team plus a few freebies!
Short on time? Explore teacher-created Black History Month printables and activities now! 
Black History Month Do's and Don'ts
Maybe you feel you've already got a handle on this as a culturally responsive teacher, and if so, bravo! You clearly are doing something right, and we applaud an inclusive and diverse approach to teaching. Feel free to skip right to the activities.
Still feeling a little trepidatious? That's OK too. It means you care to get this right. So let's talk about this.
Do Take Time to Evaluate Your Teaching As a Whole
No, we're not looking to attack anyone here. But we're more than halfway through the school year (the 100th Day of School is typically around now), and it's a good time to reflect back on the past few months of the school year.
Is Black History Month the first time you've talked about Black Americans in your classroom? Have you read a book featuring Black children or adults this school year? Some 7.4 million American public school students are Black, and another 2.2 million are biracial. These students deserve to see themselves in the books read in their classroom, the stories told, and the history taught … all year round.
If you haven't been doing that all year, don't panic. You have recognized it, and now's a great time to make adjustments.
Don't Single Out Black Students
Some Black students may come to you and ask to share stories of their cultural heritage, and that's OK, but Black students should never be forced to represent their race for the sake of teaching white classmates.
Do Address That Black History Is American History
The month may be called Black History Month, but what you are teaching is really American history. It's important that white students understand that this is part of their history as well, and not just something for Black classmates to care about.
Don't Treat This as the Past
While Black history is, well, history, it's important not to put some rose-colored glasses "this happened a long, long time" ago focus on Black History. For example, we only saw the first Black American president in 2008 and the first Black American vice president in 2020, and the fight for equality is ongoing.
Black History Month Activities for Kids
Looking for specific activities for your classroom? From read-alongs and PowerPoints about Black history to biography projects about Black Americans, here are a range of Black History Month activities for kids that can be done with children from pre-K on up through upper elementary school.
Print Out Pocket Chart Cards
We'll start with a freebie for primary-grade teachers!
Print out these free pocket chart cards, and display them for an interactive read-aloud during Black History Month, or have students glue them in their reading journals to read aloud to an adult at home. There are a host of reading center activities you can do with these, and there's plenty of vocabulary to be learned too!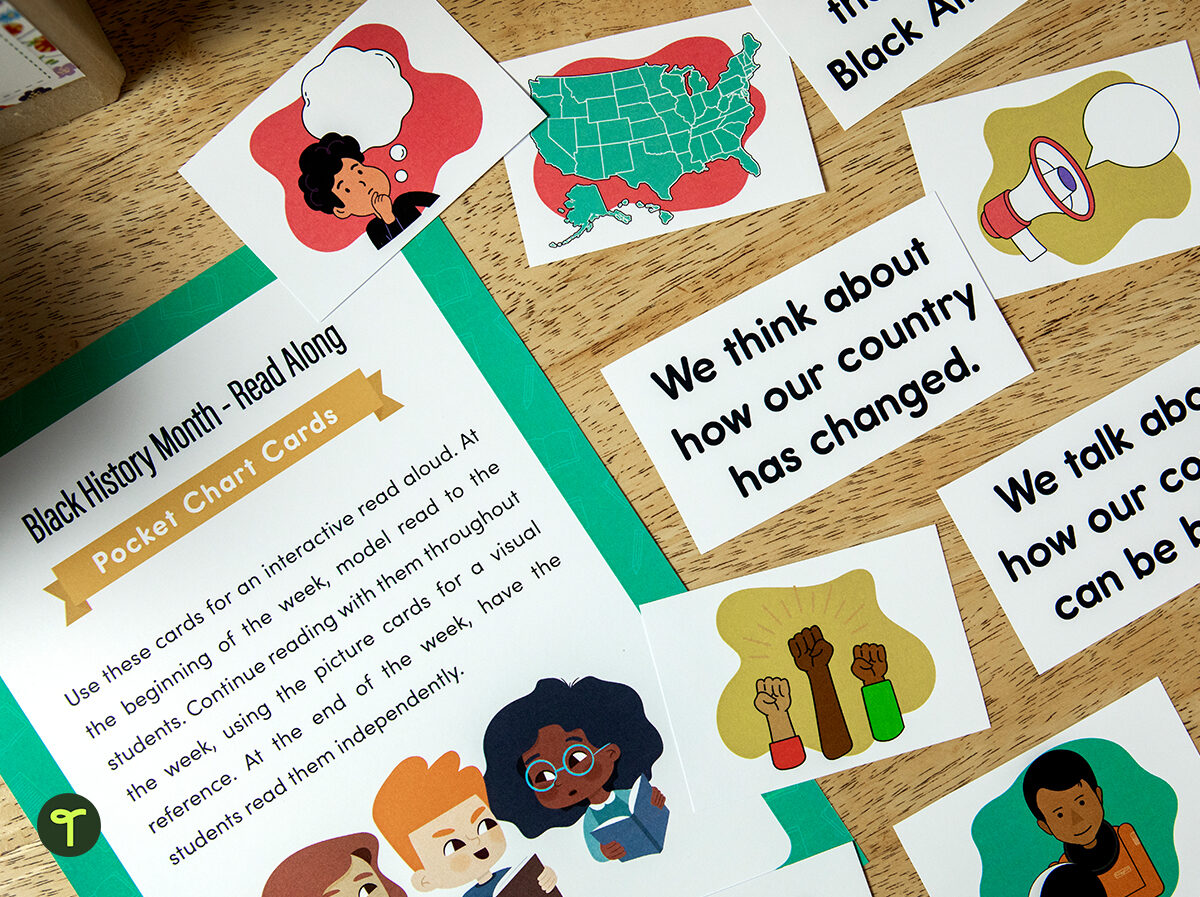 Study the Civil Rights Movement & Segregation
Don't worry upper elementary teachers, we've got you covered with a freebie too!
Help older kids demonstrate their understanding of the Civil Rights leaders who helped put an end to racist segregationist laws  and important moments in the fight for equal rights with a brochure project that covers:
Black History Timelines
Are you thinking of assigning a timeline activity for students to explore some of the most important events and figures in Black history?
Timeline activities can help kids learn about the order and sequence of events in history, as well as the cause-and-effect relationships between them. They also help kids learn about different time periods and historical figures, and develop critical thinking and problem-solving skills by analyzing and interpreting historical information.
Timeline activities can help children develop their organizational and research skills by gathering and arranging historical information in a logical and coherent way.
Save lesson planning time with this worksheet for upper elementary students that looks at the timeline of the civil rights movement, or focus on one notable figure with younger students such as Rosa Parks.
Focused on Rosa Parks' life, this cut and paste template can be used when teaching about timelines or when teaching about Parks herself and her impact on the Civil Rights movement. This Rosa Parks PowerPoint is another way to teach kids about Parks and her contributions to American history.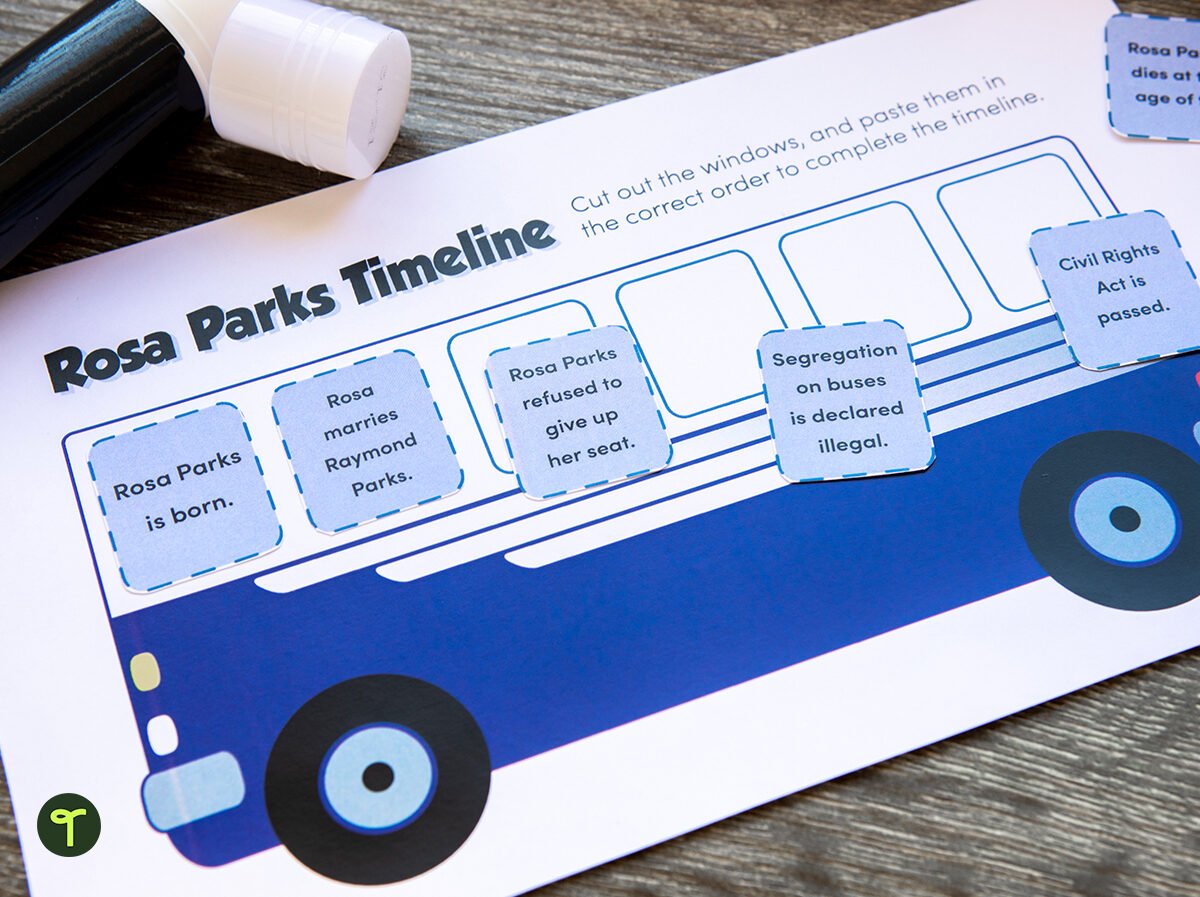 Bonus: Like many of the resources we're sharing here, these activities can be used during Black History Month in February or throughout the year.
Play Guess Who
Do you have an old Guess Who game sitting in your classroom? We love hacking the gameboard to help kids learn CVC words, shapes, and more, but they're also a great way to help kids learn more about important people in American history.
Replace the game cards with photos of famous Black Americans (you can use this editable template), and have students narrow down the person on their opponent's card by asking yes or no questions related to when that person lived, what their job was, and more.
Take a Virtual Field Trip
Visit the Slavery and Making of America Museum, a virtual museum created with donations from a number of members of the Association of African-American Museums. The free "field trip" includes resources for kids to make their own virtual museum exhibits.
Or head to the New York Public Library — virtually of course — where exhibits from the Schomburg Center for Research in Black Culture in Harlem are free to browse and introduce kids to historic figures from Nat Turner to Emmett Till.
Comprehension Worksheets
It doesn't have to be Black History Month for your comprehension worksheets to be inclusive and show representation of important Black Americans, but February is a great time to start adding these to the rotation.
Work on students' understanding of the main ideas, characters, events, and details in a text with a focus on Black Americans who have made an impact on our country's history.
To get you started, we've put together comprehension activities featuring former President Barack Obama, Amelia Boynton, and more.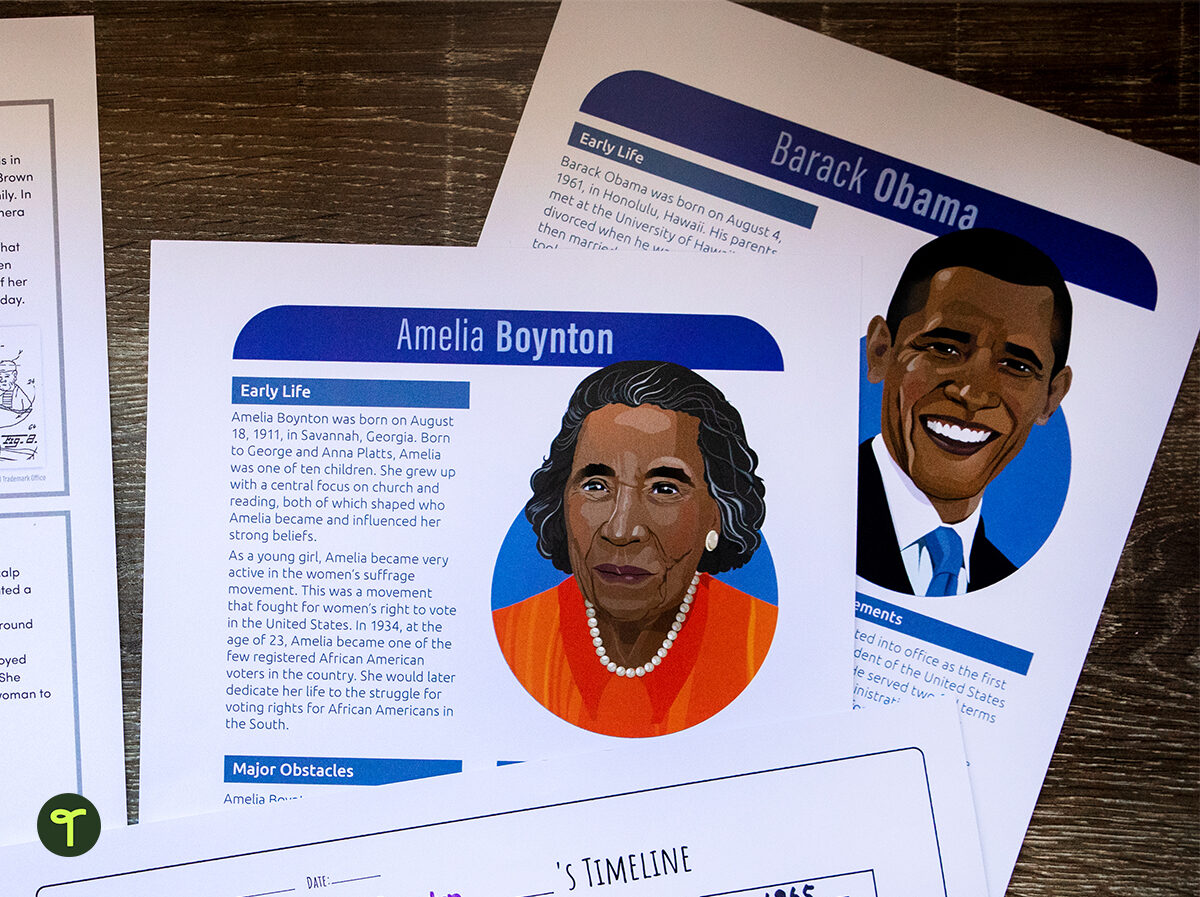 Not only will students boost their ability to identify important information, make inferences, and understand the relationships between characters and events in a story, they'll have a better understanding of some of the Black figures throughout history.
Explore more printables about famous historical figures in American history!
Read Books With Black Protagonists
Does your classroom library reflect the faces of the children in your classroom and the people in your community? These powerful books are perfect to use in the classroom to celebrate Black authors and Black stories.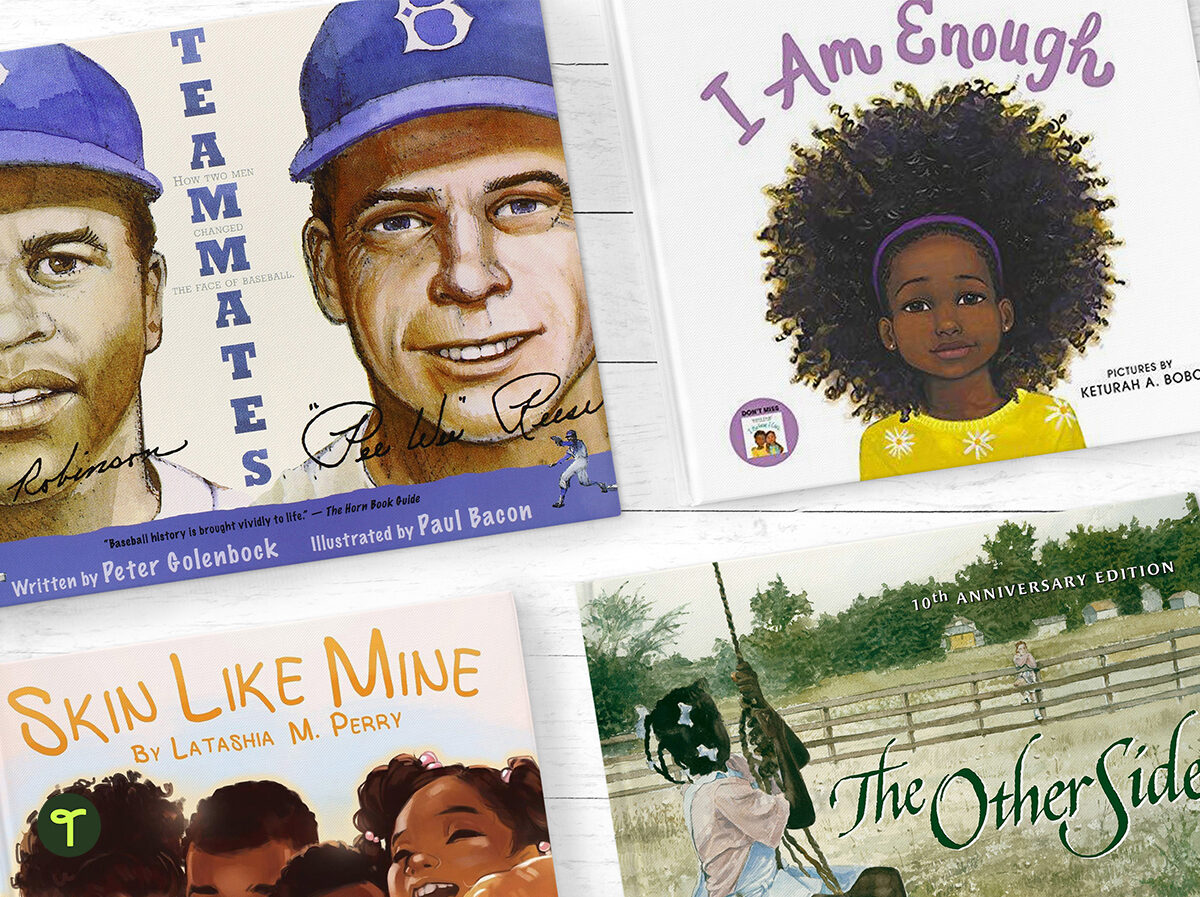 For more books to add to your library, check out Marley Dias' expansive list of 1,000 Black Girl Books featuring Black girls front and center. Dias was just 11 when she created the  #1000BlackGirlBooks drive, collecting books for schools while also bringing attention to the importance of including Black girls in literature and the lack of diversity in children's books.
Consider using Dias' story and her book Marley Dias Gets It Done as a prompt for your young writers.
What lesson did they learn from Marley?
What is something they can do in their own communities to be like her?
Everyone Belongs Flip Book
Use the Everyone Belongs Vocabulary Flip Book template with your students to discuss vocabulary associated with diversity and equality.
This works nicely during Black History Month and is something your students can refer back to throughout the year. The vocabulary explored includes compassion, inclusiveness, respect, empathy, care, diversity, culture, belonging, unity, and equality.
---
Black History Month Craft Activities
Some students learn and express themselves better artistically. Having a craft activity to incorporate into your Black History Month activities is a fantastic way to reflect on learning with your students. You also have the added bonus of creating a meaningful display in the classroom.
Alternatively, those students doing remote learning can hang up their finished art in their homes and discuss the meaning behind these crafts with their families.
Diversity Heart Activity
Art teacher Cassie Stephens (@cassie_stephenz) shared this heartwarming diversity activity back in June 2020. She wanted to help her students see that all people are worthy of kindness, acceptance, empathy, and love.
Show your students the video in this blog for the steps of this craft activity – Creating an Inclusive Classroom | Diversity Heart Art Activity.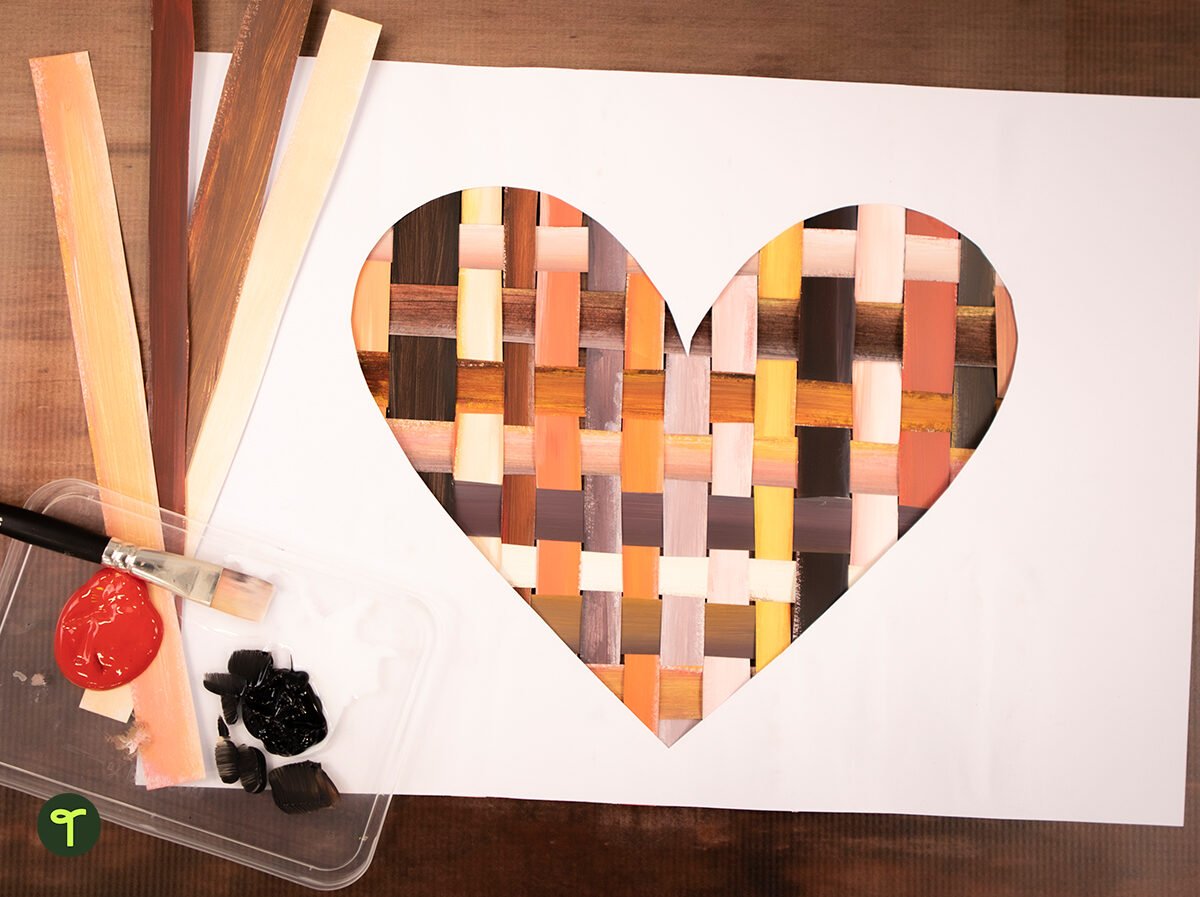 Everyone Belongs Hand Activity (FREE Download)
Use our free Diversity Craft Templates to create a visual representation of your class and for students to write down their hopes and dreams for the world.