Why do you put up bulletin boards in your classroom or school hallway? Is it to add a little something pretty to the atmosphere and make the space more welcoming to your students? There's certainly value in that, but if you're looking to hop on the interactive bulletin board train, there's plenty of fun to be had there.
What Is an Interactive Bulletin Board?
Maybe you've heard of them, maybe not. That's OK. Interactive bulletin boards are designed to get kids up out of their seats and moving. They aren't just meant to look good (although they can be!). This style of classroom bulletin board is meant to be seen and USED by students!
Interactivity on bulletin boards can run the gamut from fun flaps that students flip over to learn more information about a subject to the inclusion of QR codes that students can scan with their tablets to dig into the story behind the scene on the bulletin board before them.
Transforming your classroom with an interactive bulletin board takes a little time and care, but it's well worth the effort.
An interactive bulletin board can:
Capture student interest about a particular teaching topic
Mentally challenge students
Help students practice skills related to their learning
Be used to help students calm down and refocus when they need a break from learning
Give students something fun to do while waiting in line
How to Make an Interactive Bulletin Board Display
There's really only one rule you need to follow to create an interactive display — it needs to be accessible to your students! The level of interaction that your display allows is up to you, but it needs to have an element that can be changed or manipulated in order to encourage student involvement. That's it!
With the guardrails so wide on this classroom concept, the teachers who create all the resources for Teach Starter decided to sit down and have some fun creating a few interactive bulletin board ideas, as well as talking to teachers around the country to add a few more ideas to the pile! We hope these interactive bulletin boards are just what you and your students need this school year! 
Morning Brainstorm
Get your students' brains fired up with a morning brainstorm wall! Just place a new 'answer' onto your brainstorm wall each morning. What the answer is, is up to you!
Your answers can be as simple as a number (The answer is 42…what's the question?) or an answer specific to a unit of work you are doing. Your students' brains will be buzzing with all the possibilities, and their questions may surprise you!
As your students come into the classroom each morning, give them the task of being a 'brainstorm detective'! Ask them to read the answer and formulate a possible question. Once they've come up with a question, they can add their question to the morning brainstorm wall.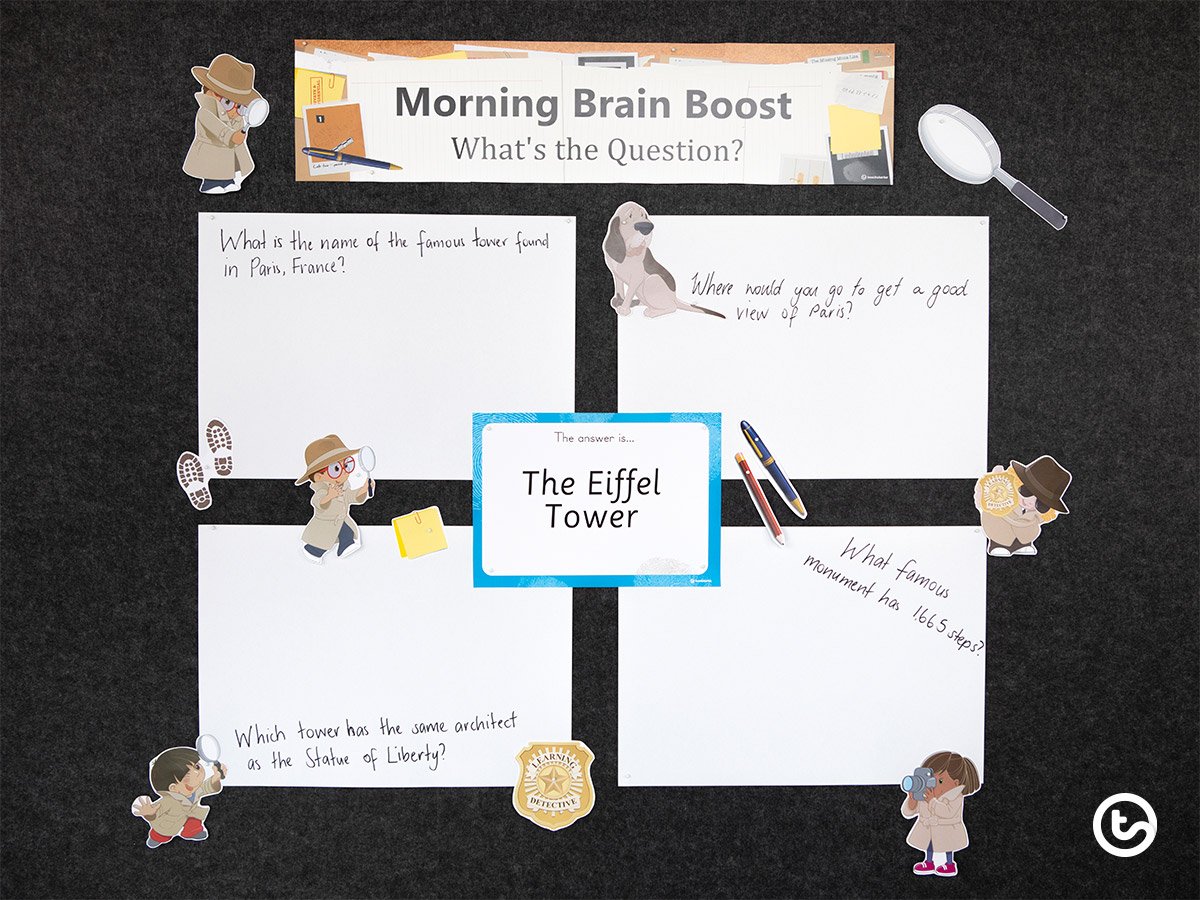 Create an "I Wonder?" Wall
Engage your students at the beginning of a new unit of work by creating an "I Wonder…?" Wall!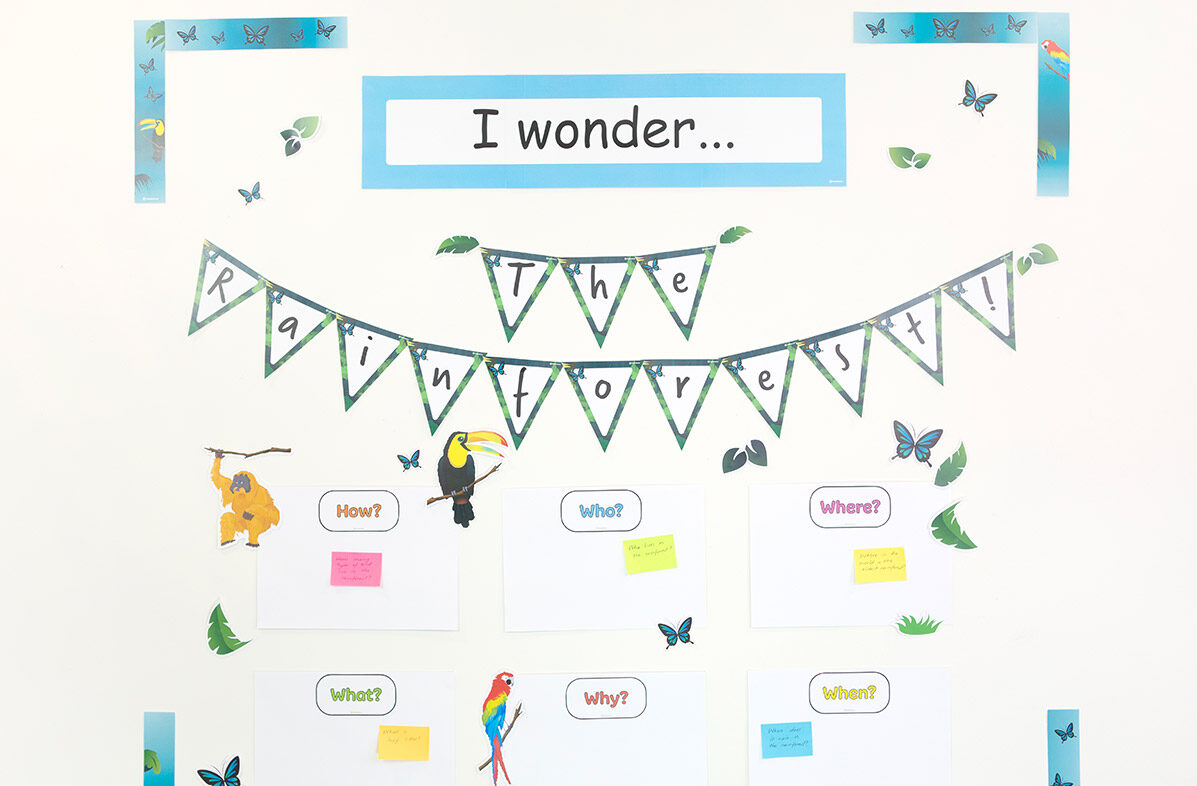 Create a space for your students to jot down their questions and thoughts as you introduce a new topic to your lessons. This can be used at the beginning of any unit and is a great way to encourage higher-order thinking and inquiry-based learning.
Here are just a few questioning resources, including the ones used in this display along with our Rainforests Classroom Theme Pack and Rainforest Teaching Resource Pack:
Build a Board That Asks Who Am I?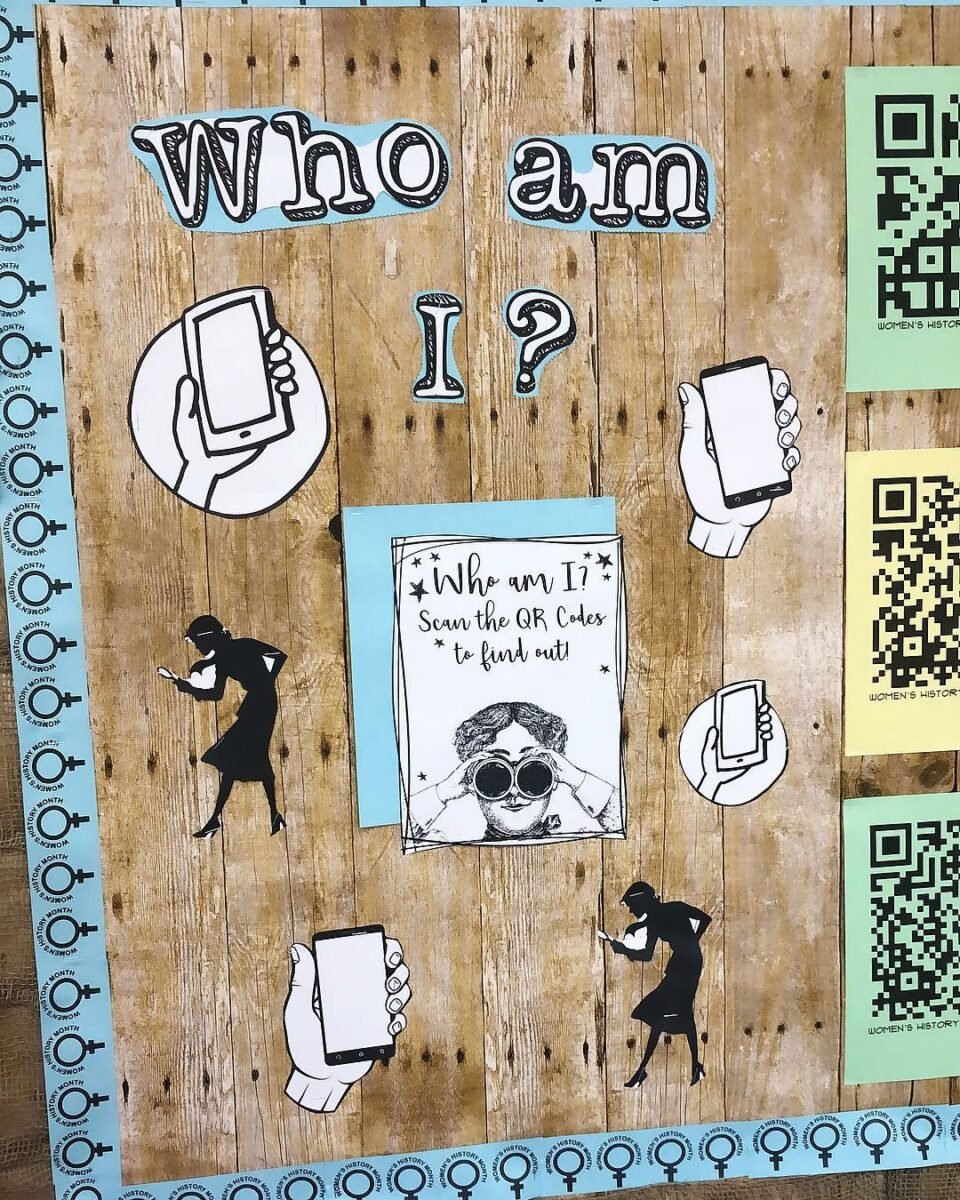 Tell your students to put their thinking caps on, and grab their tablets with this fun interactive bulletin board idea from teacher Jess Porter. A third and fourth-grade learning support teacher in Western Pennsylvania, Porter put this bulletin board together for Women's History Month, but you can make it happen any time of the year — and make it match any lesson — with some QR code magic.
Check out these fun QR code resources for more ideas!
---
What Does It Cost?
Take the QR code idea, and apply it to financial literacy with QR Code Price Tags. Print photos of the item, post the code, and your students can start learning the values of their favorite cereals, cookies, and more.
---
Measuring Madness
The thing about teaching math is that there are so many concepts to cover in a year, you often teach something for a few weeks and then move on without a great chance to consolidate your students' learning. Putting together a manipulative wall can help draw your students into a topic, and then review and revise their understanding for weeks to come!
For this wall, we used a Measurement Classroom Decoration Pack and Units of Measurement Word Wall Vocabulary. Then, we just put as many random things on the wall as we could find!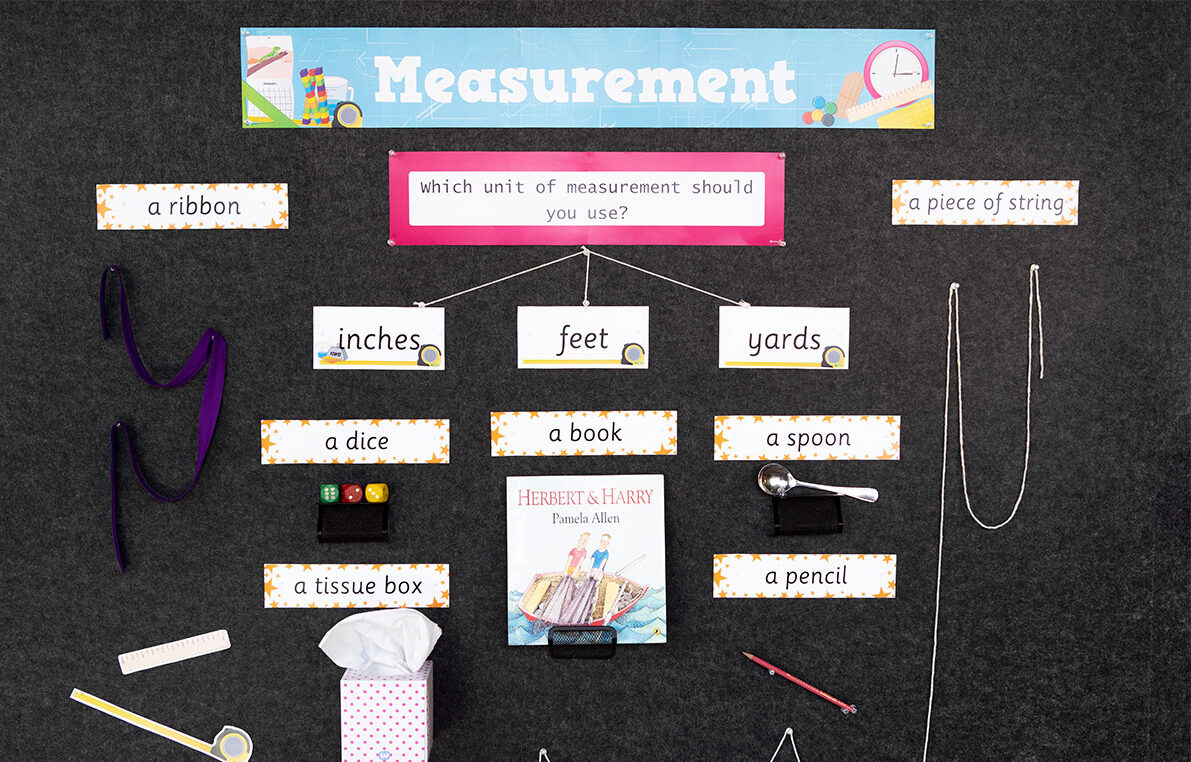 Why not provide the students with some rulers or tape measures to actually measure the objects? Happy measuring, class!
Famous First Lines
Are your students novel-ready? Get them pumped for chapter books with this fun interactive bulletin board idea from teacher Stephanie Ryder. Set up the famous first lines of some classroom classics on your board, and make them flip up to see if they guessed right.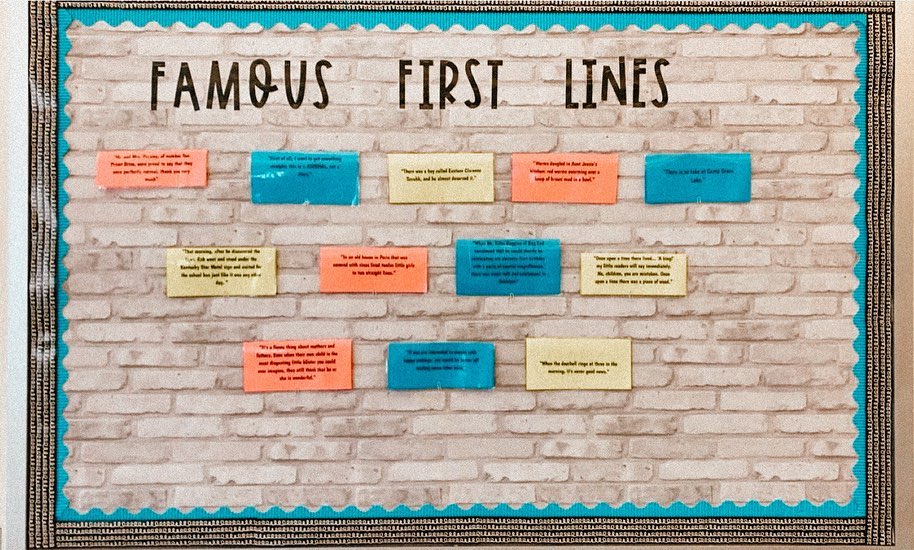 ---
Giant Coloring Fun
Give students something purposeful to do that encourages teamwork with an interactive classroom bulletin board that's really a giant classroom coloring sheet! Mounting a Giant Coloring Sheet on your wall can create a station in your room where students can go when they need a bit of a mindful brain break, or calm down area.
The best thing is that you can also print out this resource on a single letter-size paper so each student can have their own copy!
Check out an array of collaborative coloring sheets to use on your interactive bulletin board: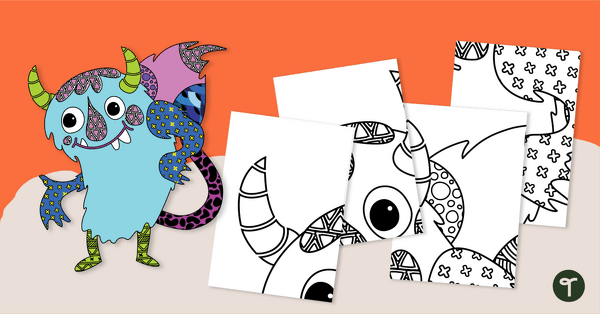 teaching resource
A collaborative whole-class art activity to create a curious creature.
teaching resource
A large printable coloring sheet for your whole class.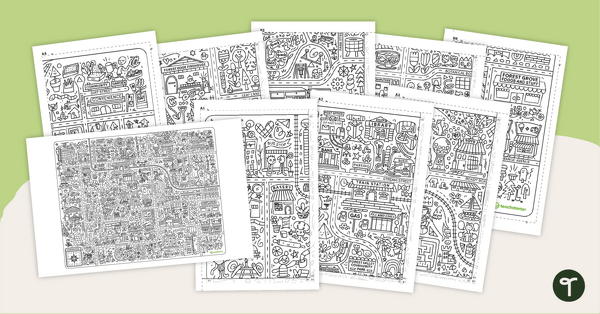 teaching resource
A large, printable coloring sheet featuring a map of a community for your whole class to use in a variety of ways.
---
Make a Nonsense Word
If your students are up for some nonsense-word fun, then this is the interactive bulletin board idea for you! Nonsense words are a great way to teach students about word decoding, syllables, and sounds.
To make this wall, simply print some word parts, place them in easily accessible envelopes or baggies, and let the fun begin! Students pull out and combine word parts to create some wild, mixed-up words to read!
Depending on your students' abilities, you can either print off whole word parts or single phonemes. We used our Suffixes Puzzles Match Up Cards and Prefixes Puzzles Match Up Cards to create some easy word beginnings, middles, and endings.
For an extra bit of learning, have your students add their nonsense word creations to a class list for the whole class to read!. They can also try to figure out how many letters, sounds, and syllables each nonsense word has.
---
Search-a-Rooney Wall
What on Earth is a search-a-rooney. This interactive bulletin board challenges students to use their powers of observation and deduction to find interesting items! If a student needs a moment to focus, send them to the search-a-rooney board on your wall.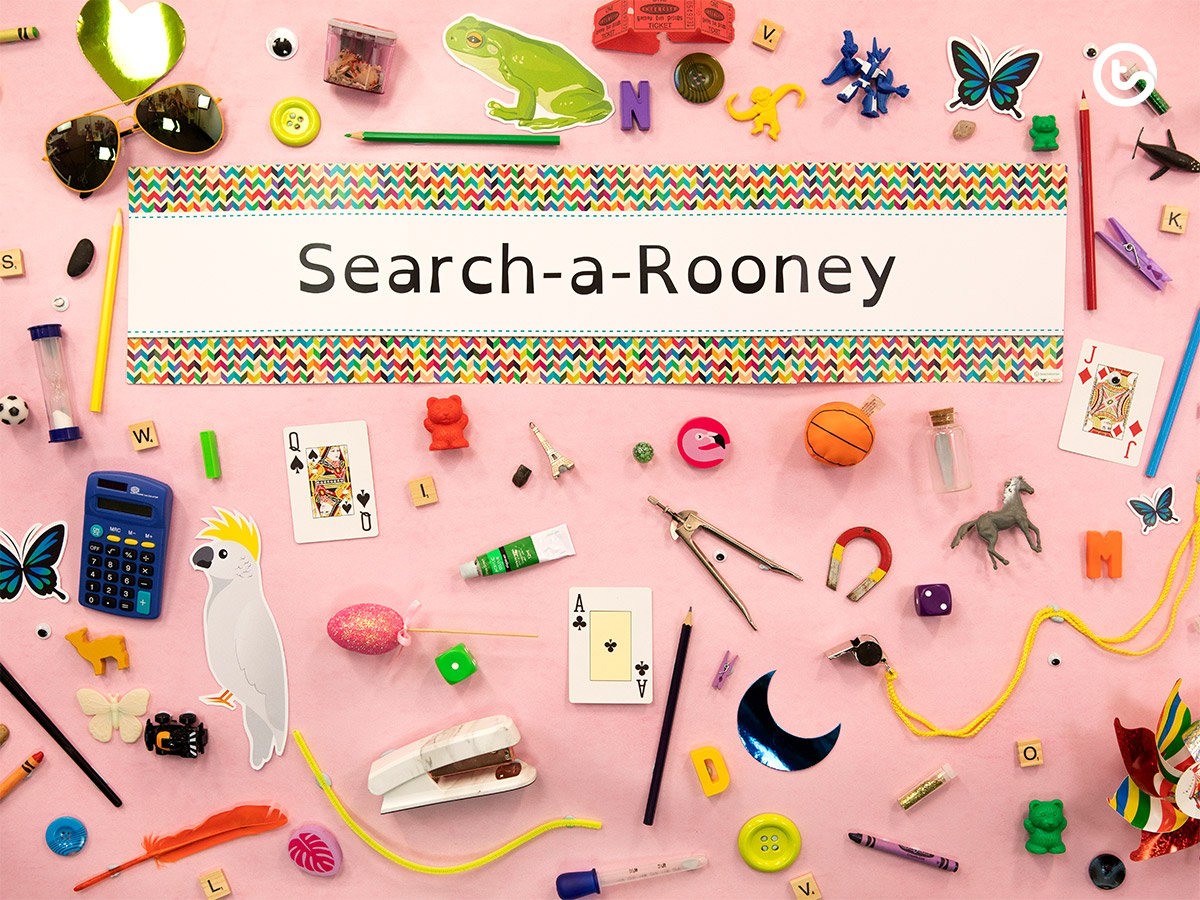 You can create a search-a-rooney from anything you can attach to a wall!
Can you find 5 things beginning with the letter 'p'?
How many crayons are on the display?
What are some things would you use outside?
Can you find the words 'Find Me'?
You can even change the visual challenge to suit your lesson topic or theme for the term, so it can be as interchangeable as you want.
---
Count Down Calendar
This last interactive classroom display is sure to get your class excited!
Create a count down calendar to an event or occasion that your class is working towards! Looking forward to a celebration? Going on a field trip? Count down to the day with fun activities and resources linked to that occasion. Reveal a new surprise activity to your class each day.
We put together an excitement-building count-down display for a class field trip to the planetarium using our Classroom Decoration Pack – Space Theme!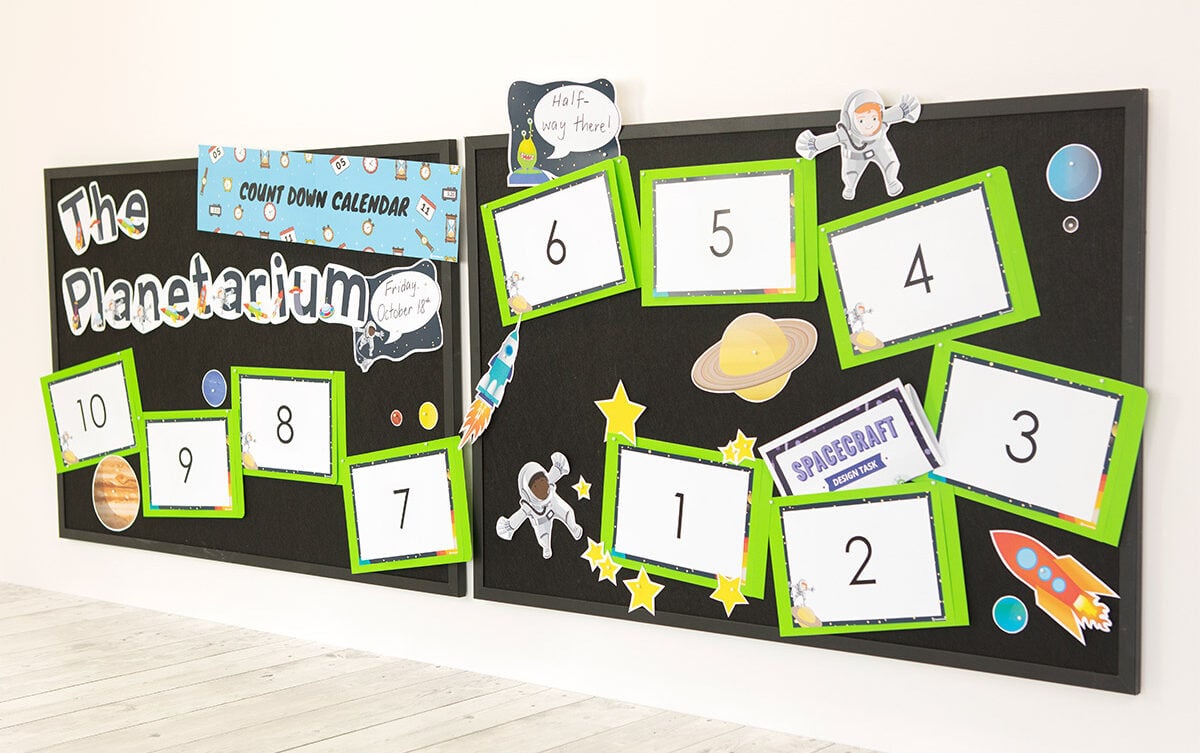 Or check out some interactive bulletin board kits created by teachers and ready to be downloaded for your classroom!