Bitmoji classrooms really took off when COVID-19 turned education upside down, and it seems like these virtual teaching communities and the fun cartoon-like versions of teachers aren't going away anytime soon. If you're new to all of this and wondering what is bitmoji or you've been using them for a while and want some fresh bitmoji ideas for the school year, we've got you covered! 
What Is Bitmoji?
Bitmoji are essentially virtual versions of you and/or your classroom — fun digital stickers that can also be printed out. They are created with the Bitmoji app, a personal emoji app that's available for both iOS and Android, and they're largely free — which is in part how they became so popular in education. 
Teachers customize mini-me type avatars that run virtual classrooms and make their students laugh, something we have needed a lot more of during this pandemic. They can also be used in the real world too — printable version of Bitmoji have been popping up on popsicle sticks as "flat teachers," appearing on classroom doors to wave hello to students, and a whole lot more.
How to Make a Bitmoji for Free
So how do you get started with Bitmoji. Here's what you'll need to know to make a Bitmoji for free (note: the app has some in-app purchases).
Download the Bitmoji app onto your phone (it's a green icon with a white winking chat bubble).

Design your Bitmoji character by picking between a huge variety of skin tones, eye shapes, hair color, jaw shape, and accessories such as glasses and an outfit!

Make sure you save your avatar once you are happy.
You can search for a variety of keyword phrases in the Bitmoji app to get the desired image of your Bitmoji. Once you have an image that suits what you are using it for, click the image for the variety of ways you can save/copy and share that Bitmoji image.  The easiest way to do this is to save the image to your phone and then email the images to yourself. This will allow you to use the images in a variety of ways on a desktop.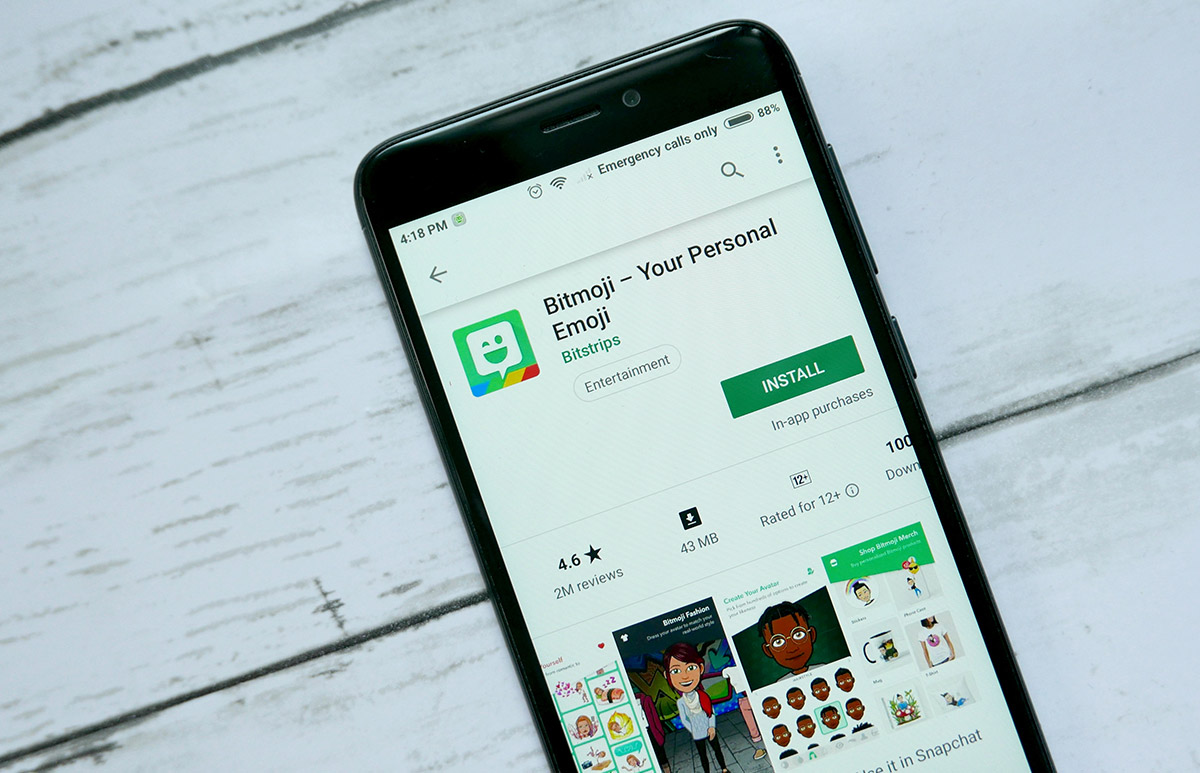 Faizai Ramli/Shutterstock.com
How to Use Bitmoji in the Classroom
Once you have downloaded the app and created your Bitmoji – the fun can start! Here are some fun ideas you may like to start with, many of which can be adapted to suit teaching virtually as well!
Add Your Bitmoji to Your Pencil Display
As teacher Melissa Katharina Reynolds (@teacher_by_day_crafts) puts it, "someone will always need a pencil because third grade." Insert any grade you like in there, but isn't that the truth? Make grabbing a pencil a bit more fun with a smiling bitmoji on your pencil display or dispenser. Maybe your (toon) face staring back at them will remind them to take just one? Hey, a teacher can dream!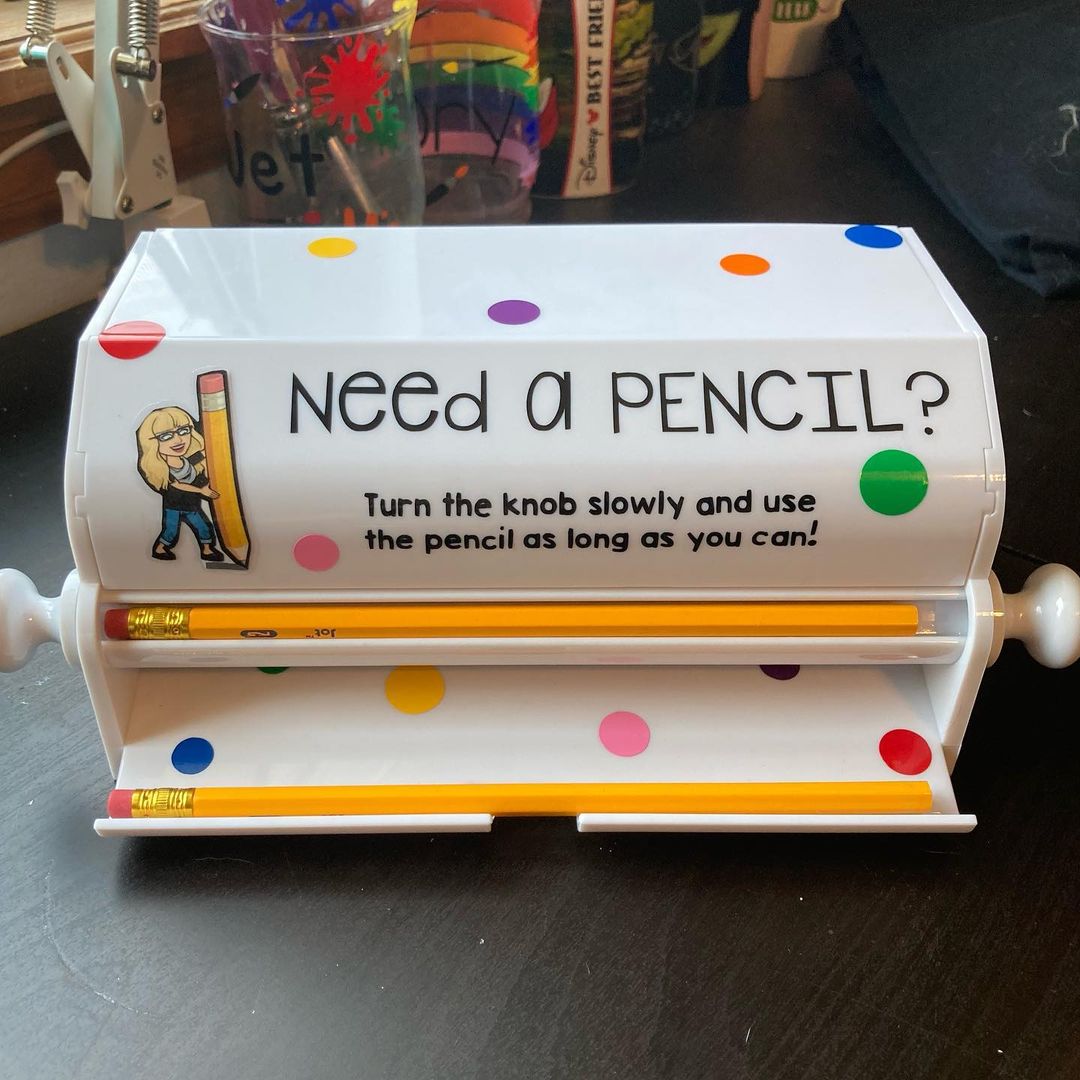 Bitmoji Ketchup Folders
We are suckers for a good pun around here, and ketchup folders tickle our teacher funny bones, but this version from teacher @Calvo_in_the_classroom really made us giggle. Tackling the work you missed when you are absent isn't necessarily "fun," but a bitmoji of your teacher dressed as a ketchup bottle will go a long way toward making the task more pleasant.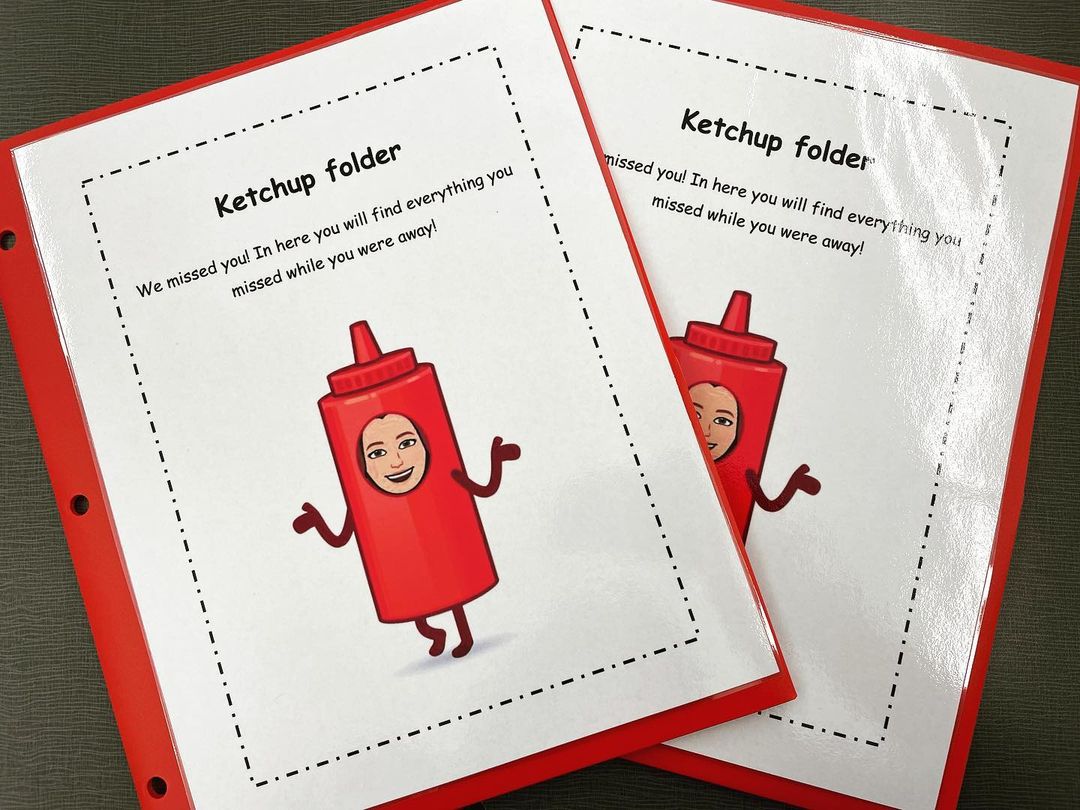 Add Your Bitmoji to Classroom Rules
When you're creating classroom rules or classroom contracts with your students, make it pop with some bitmoji examples of you putting in the work like this one from @teachwithmissgallardo. Not only does it make a contract more fun and approachable, it also reminds your students that you also follow the rules!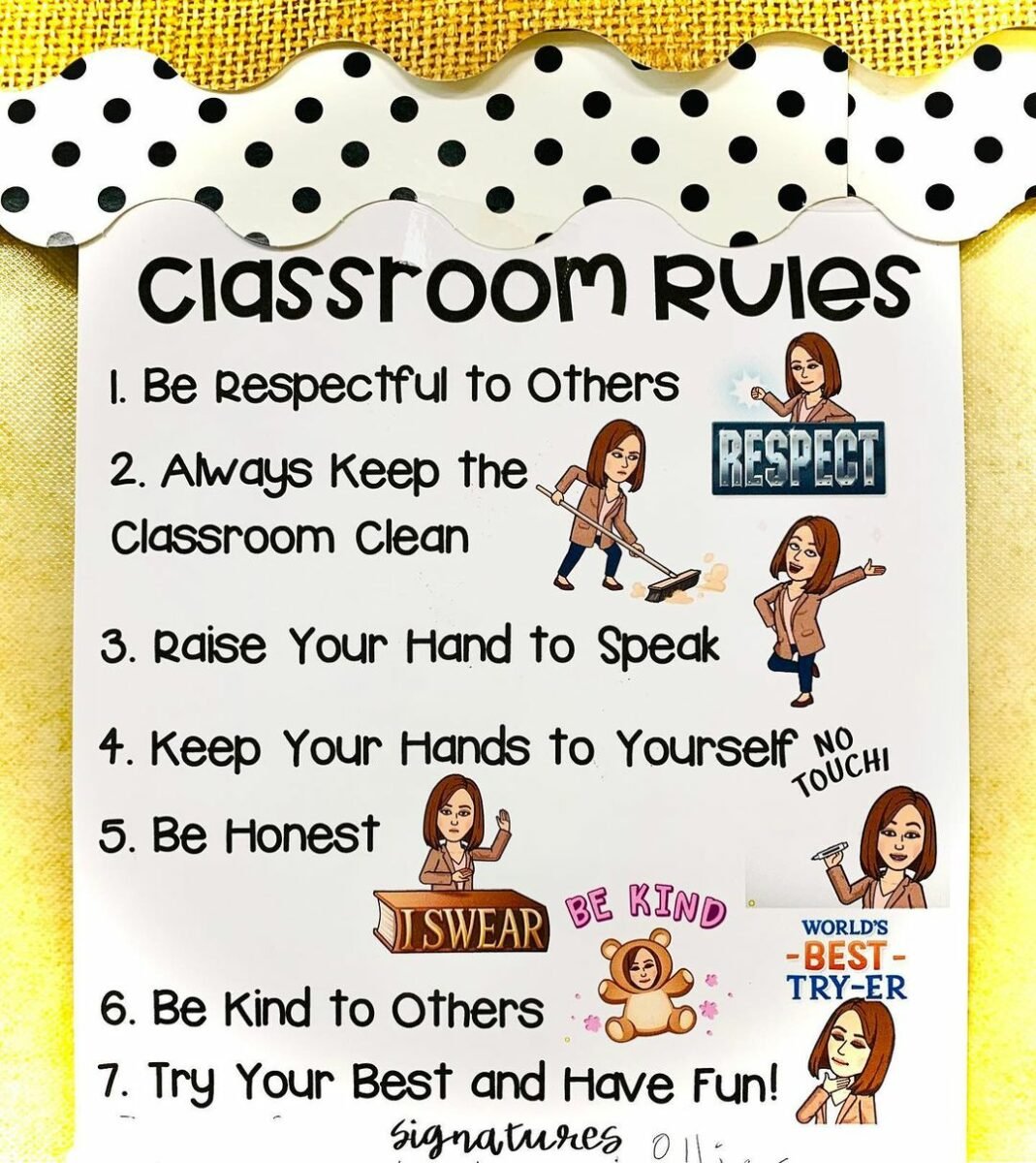 Use Bitmoji in the Virtual Classroom
Add your personal Bitmoji in PowerPoints or in virtual classrooms like Seesaw, Schoology, or Google Classrooms to make the virtual seem more personal like this fun virtual classroom that preschool teacher Miss Braun of  @iteach_yokids has created.

Create a Bitmoji Library
Make it easy for your students to find new books with you as their personal — and virtual — librarian! 
Add Bitmoji to Your Notes for Your Students
Personalize your notes home to parents or your students with your smiling Bitmoji. You can grab and add to a Sticky note (find out how to print on sticky notes with our easy template!), or check out these fun personalized Bitmoji notepads from Little Birdie Papers!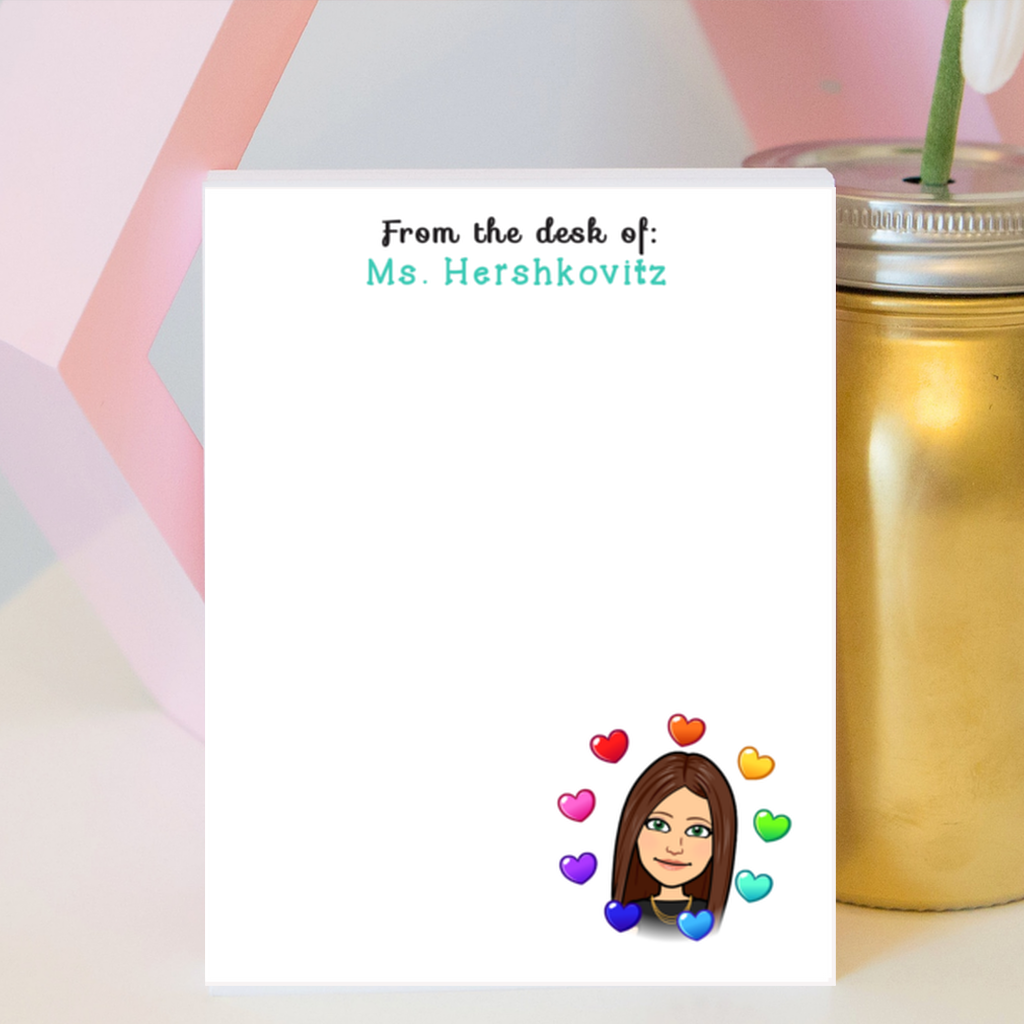 Create Bitmoji Talking Sticks
Printing out your bitmoji and adding them to a popsicle or craft stick works as a visual cue to get students to follow a particular instruction or to give them some non-verbal praise! This fun idea comes from @talesfromaverybusyteacher.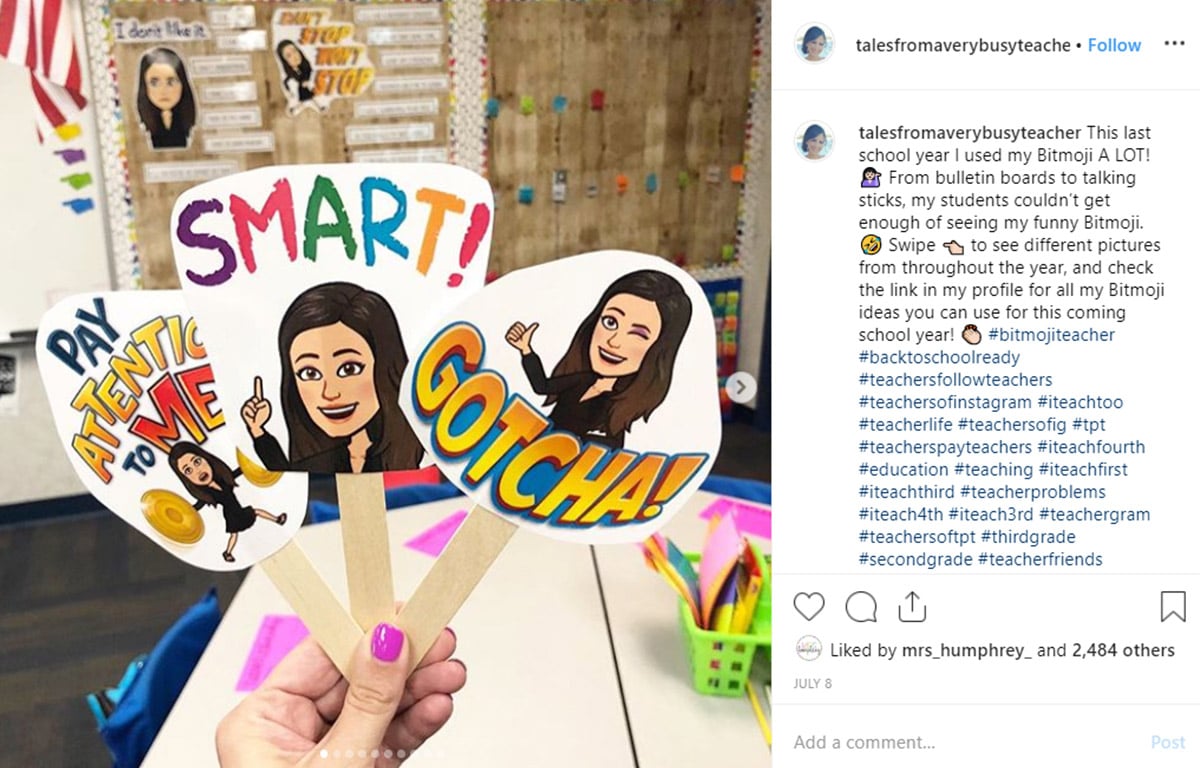 Bitmoji Door Decoration
Put a welcoming version of yourself stuck to the door of your classroom like@k8e.jenkins. We love the addition of the flipbook on display so that you can let others know where you and your class can be found!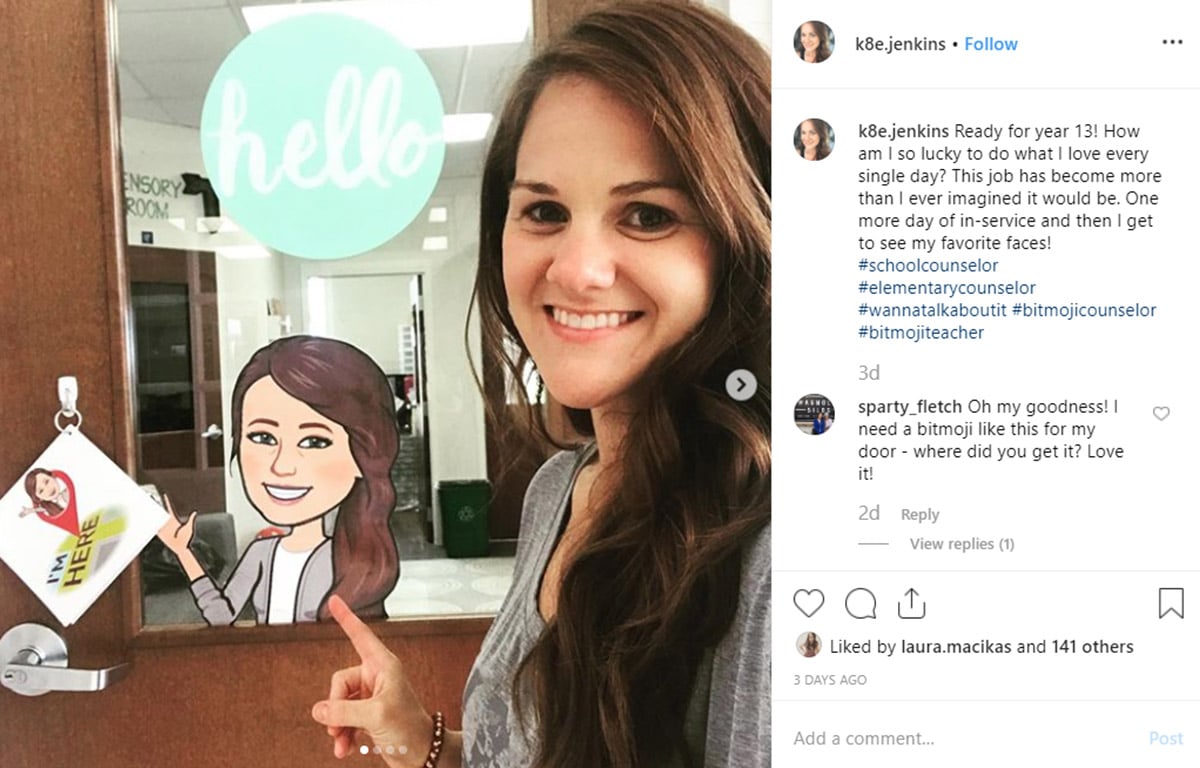 Create Welcome Signs!
This is another take on decorating your classroom door with your own Bitmoji! You can always add an additional decoration at the top like @the_maikeitfun_classroom to add a bit of color.
We love the message on the door too:
Pardon the noise – excited learners inside!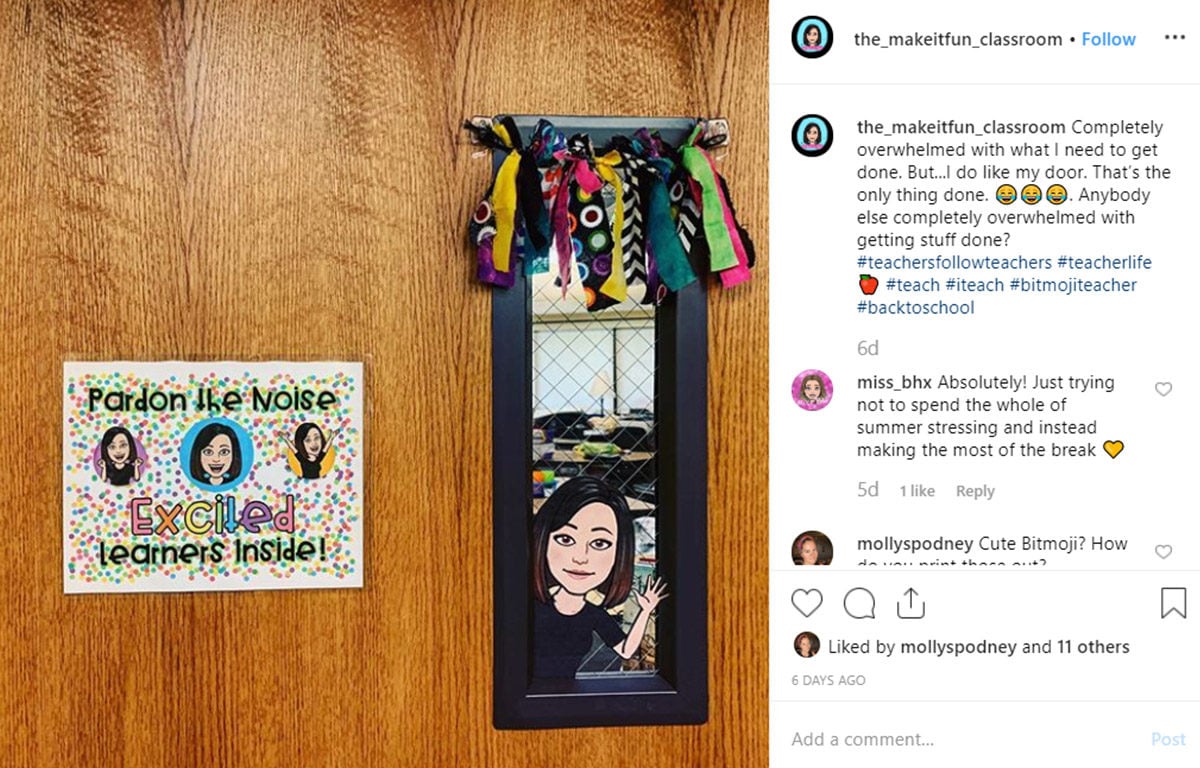 More Welcoming Bitmoji Ideas
Use your Bitmoji to create this classroom welcoming idea that has gone viral. Thanks to @happydaysinfirstgrade who shared this with us! Consider adding some of our Non-Contact Morning Greetings for your posters during this time.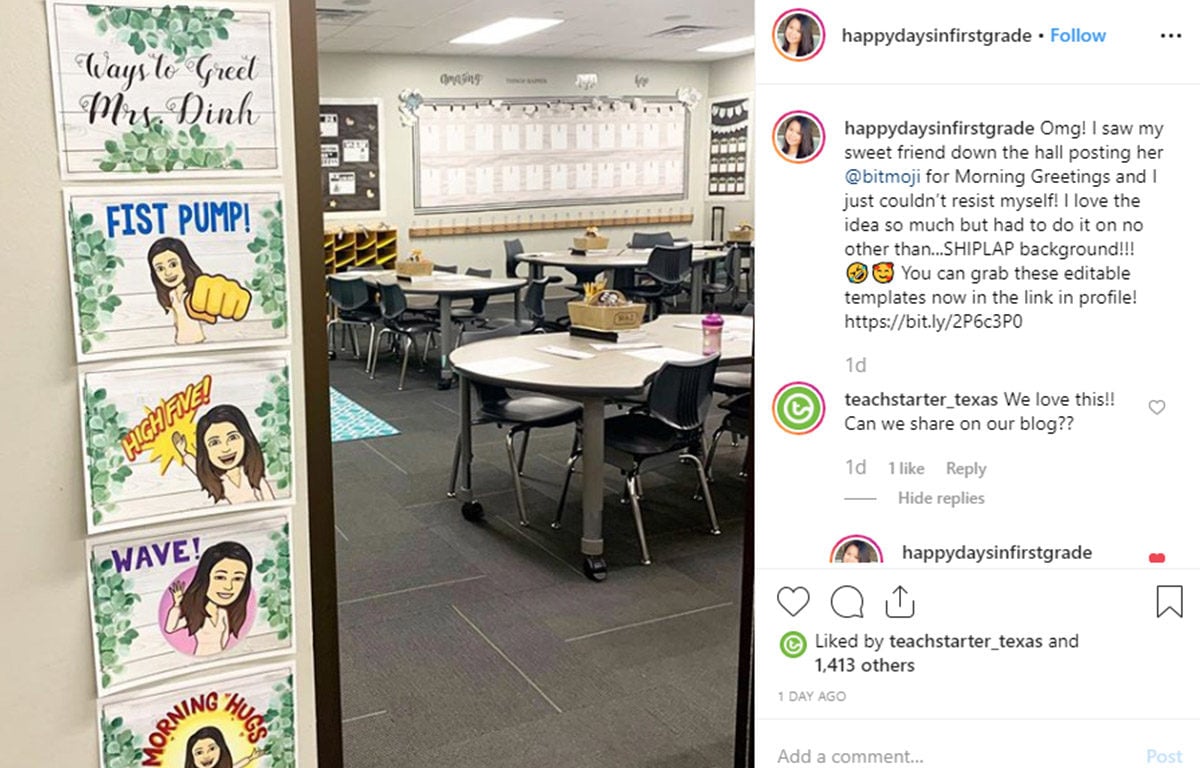 Bitmoji Birthday Presents
Oh my goodness! Imagine the kids' faces when they get this for their birthday? A super cool straw with their Bitmoji version of their teacher stuck to the top! This idea came to us from @thenaturalpeachteach.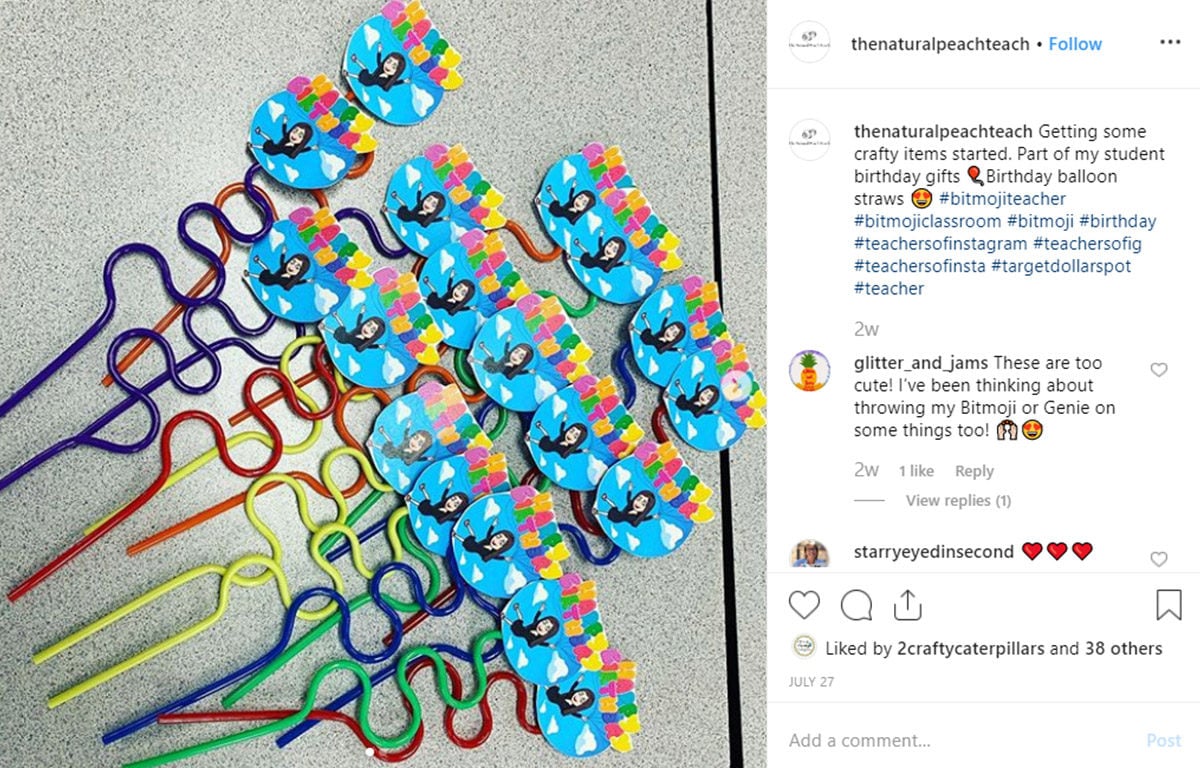 Just Because…
I included this idea in the blog because I think the concept is a lot of fun and important for social and emotional learning. The fact that everyone makes mistakes — even the teacher — is one we all need to acknowledge and a big part of encouraging a positive growth mindset in the classroom.
Thanks for this idea @mrs_hiphiphoo_ray.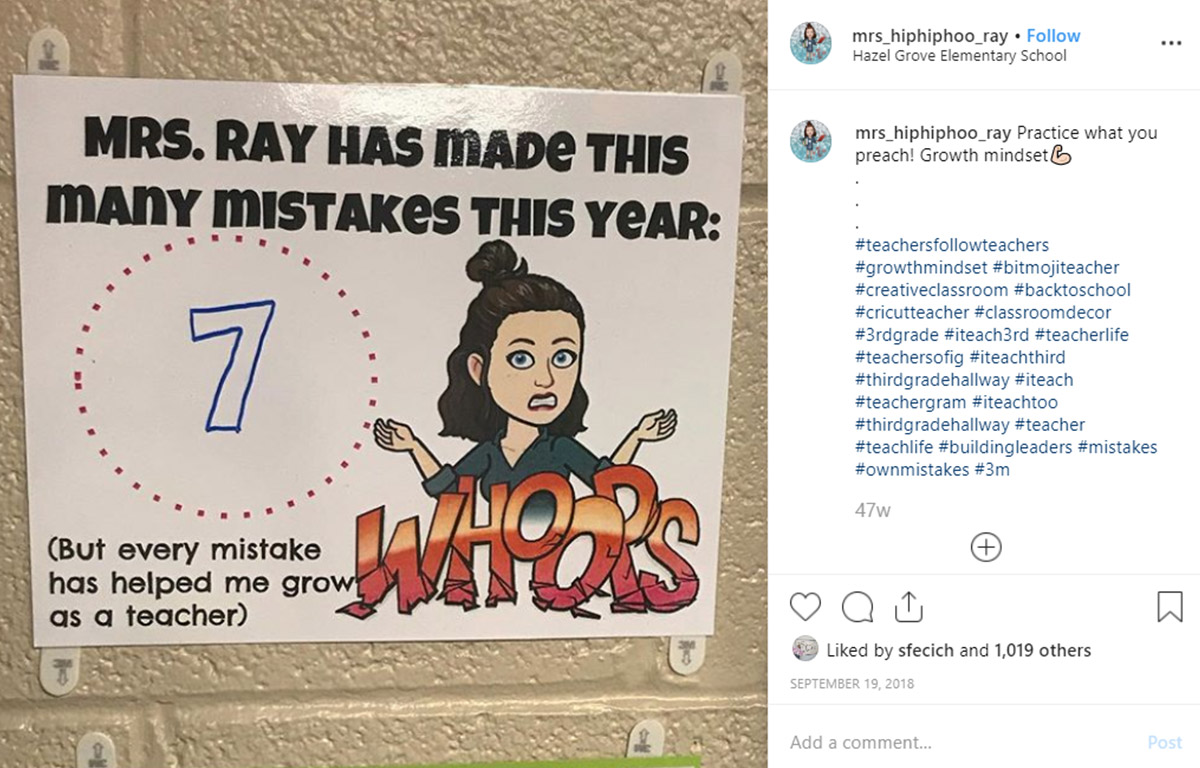 Classroom Signs
Using your Bitmoji in a variety of posters around the classroom will make your student's day! Even @thepirateteacher says she's not a regular teacher, she's a 'cool' teacher! Her kids love it when she incorporates her Bitmoji around the classroom. Every morning when they come in she includes a message posted on the board with her Bitmoji character in a different pose. They get excited to come in and see what she's doing now!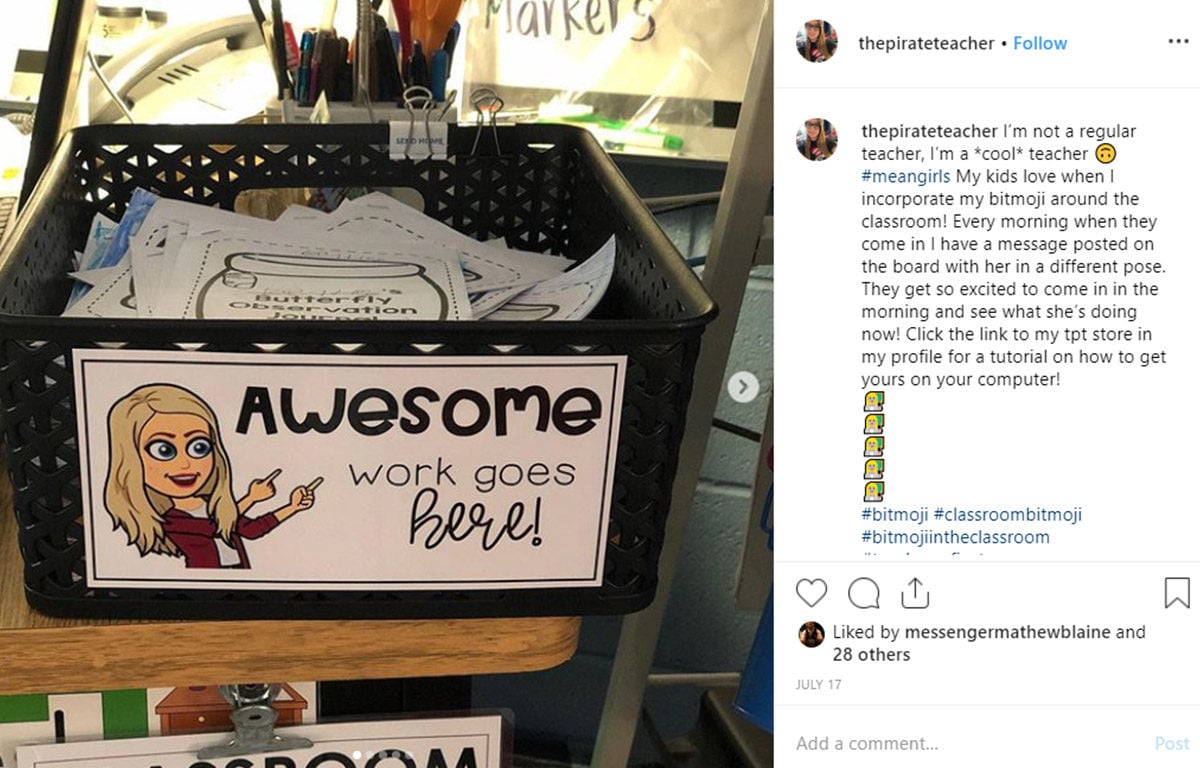 Use Your Bitmoji to Send Home
Will you be doing a Virtual Meet the Teacher? Sending a copy of your personal Bitmoji to your students. You can instruct them to 'cut you out' and take you on a tour around their home, documenting the adventure. Out with the 'Flat Stanley' and in with the Flat Mr or Ms … "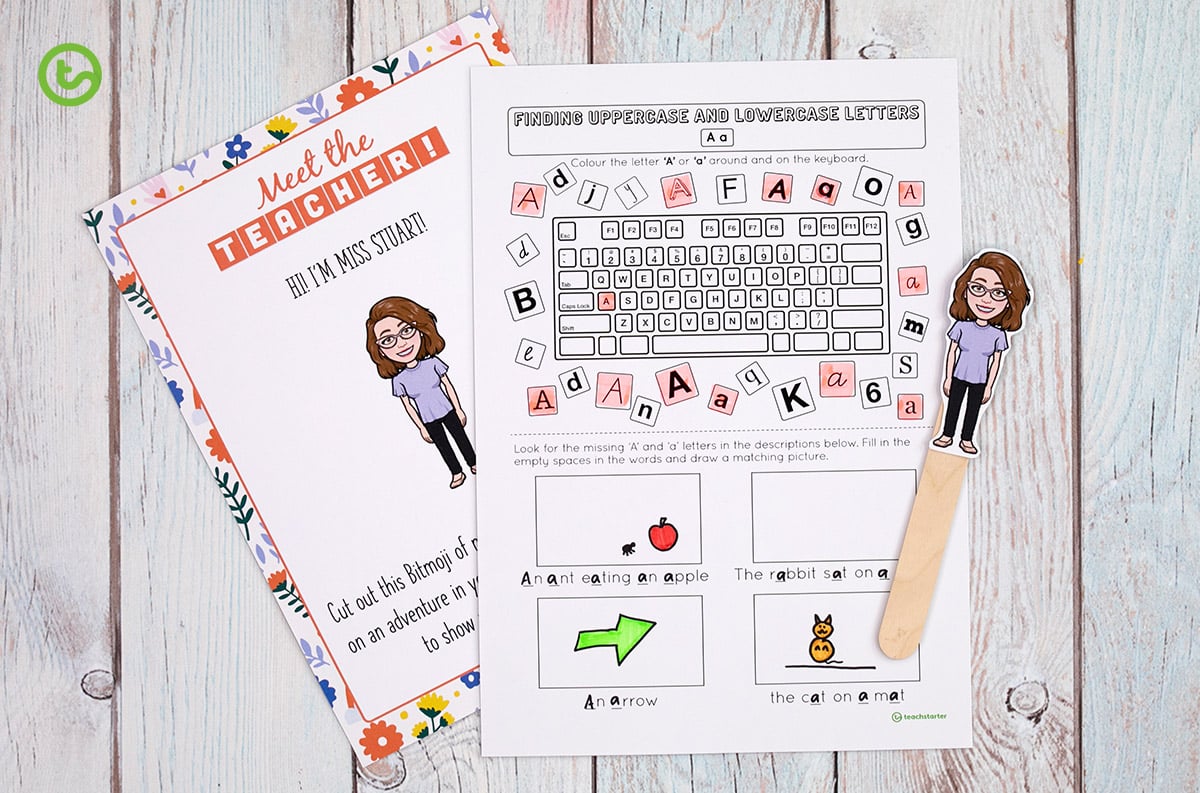 Editable Templates
We have a huge range of editable templates that you may like to use with your Bitmoji to create your own signs and labels. Here are some of our bright and plain templates that may be just what you need!
What are you waiting for? Have some fun and create your own Bitmoji – you'll be surprised by how much fun you can have!