Whether you call it elementary school graduation or stepping up, on the day students officially "graduate" from kindergarten or even elementary school altogether they tend to be filled with a jumble of emotions. There's the excitement that they've reached such a milestone, pride that they're soon to be one of the "big" kids, and, of course, nervousness that the next stage of school would be scary and different to what they are used to!
As a teacher, it's no different. It is so touching to sit back and watch 'your kids' graduate. No, we're not crying … we just have something in our eyes! Honestly! Whether you're a parent, teacher or student, there's no denying elementary school graduation is an emotionally charged event.
How do you make sure that elementary school graduation goes off without a hitch and is a milestone they always remember? We have got you covered with kindergarten graduation and fifth and sixth-grade graduation ideas for teachers!
Elementary School Graduation Celebration Ideas
How best do you prepare for this special day, a day that represents the culmination of efforts of students, parents, and teachers over so many years? Here's how to make sure your final days of school are filled with elementary school graduation activities to help your students reflect on the journey they have just completed. Resources that promote a meaningful transition for your graduating students connect them to their past, help them appreciate all of the growth they have achieved, and build them up to continue their learning journey.
We have put together a list of purposeful activities and a Graduation Resource Pack for you and your students to make graduation day as memorable as possible.
---
 Approaching Elementary School Graduation Day
Plan Your Playlist
You can always go with Elgar's classic Pomp and Circumstance for elementary graduation, but younger students may appreciate something a bit more fun. Give these elementary graduation songs a spot on your playlist:
You've Got a Friend in Me by Randy Newman (well known among younger kids from the Toy Story movie)
 Life is a Highway by Rascal Flatts (students may recall the tune from the Cars soundtrack)
"Celebration" by Kool and the Gang
We Are the Champions – Queen
Best Day of My Life – American Authors
Fly – Avril Lavigne
The Climb – Miley Cyrus
Never Grow Up – Taylor Swift
Graduation (Friends Forever) – Vitamin C
How Far I'll Go – Moana (The Movie)
Photograph – Nickelback
It's Time – Imagine Dragons
Firework – Katy Perry
Whichever songs you choose, do a quick listen before graduation day to ensure there are no lyrics that young ears shouldn't hear.
Look to the Future
If you're a kindergarten teacher looking toward kindergarten graduation, allowing your students to show off the writing skills they have built during this school year will not only channel their excitement into something productive but also provide you with simple decorations for your graduation bulletin board. Print a kindergarten graduation writing activity, have each student color in the little graduate, then allow them to write about their future plans. Each completed activity can be hung up on the walls of your classroom for parents to read on graduation day!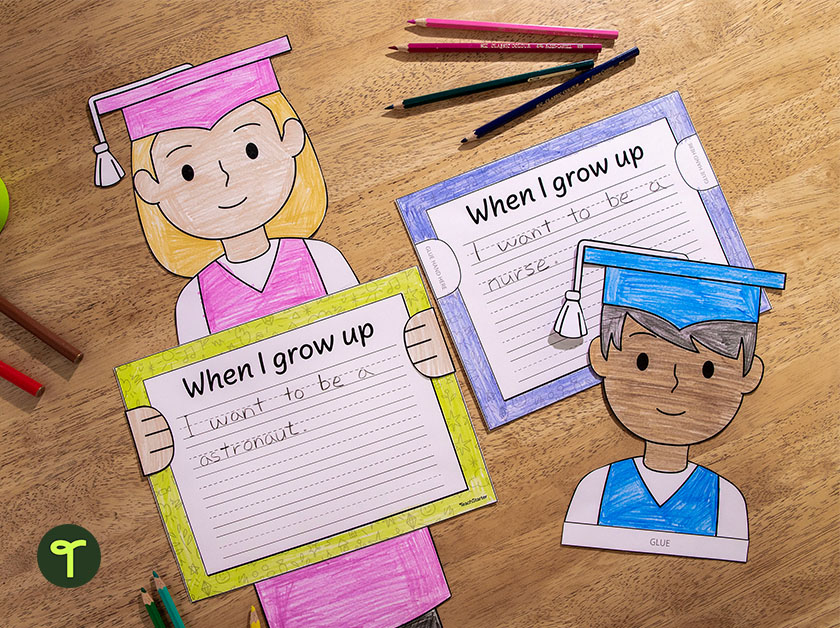 Create a Graduation Mortarboard
Students can create their own graduation hats to wear to their graduation ceremony! Follow these easy steps to create a graduation hat using our Graduation Hat Template and cardboard.
You will need:
Graduation Hat Cut and Assemble Template
two pieces of black cardboard or stiff felt
ribbon matching your school colors.
Or you can keep it simple for younger students with this printable paper promotion cap that kindergarten graduations can decorate before graduation.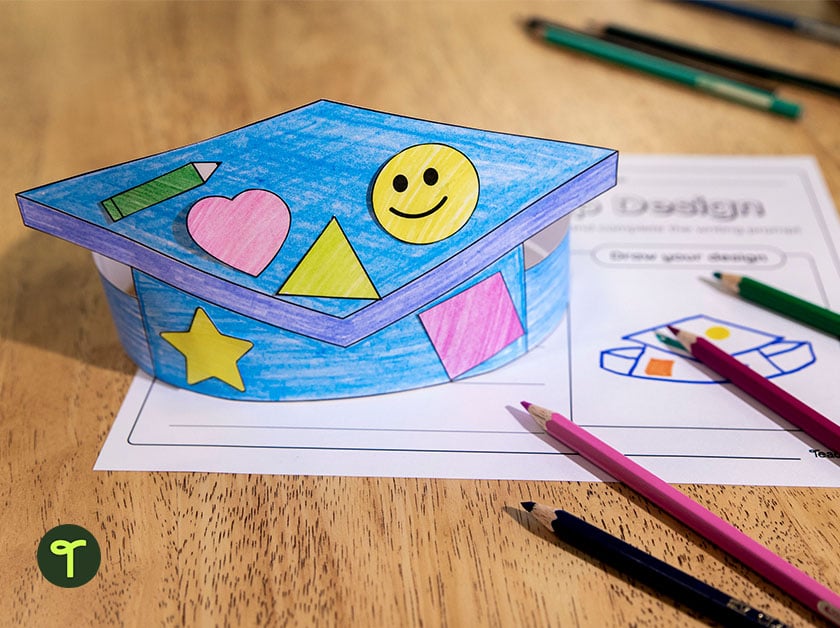 Share One Last Story
Your students may be getting apprehensive about the year following their elementary school graduation ceremony, especially if they are changing schools. Help lay their fears to rest and treat them to one last shared story by reading Dr. Seuss's Oh the Places You'll Go.
Congratulations!
Today is your day.
You're off to Great Places!
You're off and away!
I was gifted this beautiful storybook by my class earlier in the year before I left to work at Teach Starter. It is a truly touching and inspiring story about life and all the twists and turns you'll experience on your journey.
Encourage your students to listen to the book's message. Why not follow up reading by asking your students to unpack the story in our Finding the Main Idea – Blank Template or Viewing Response Template?
Promotion Glyph
Prepare for promotion with a glyph activity for primary students. This can be used for students who are moving from kindergarten to first, first to second, or even with students who have just watched other students graduate and are excited about their turn coming up some day!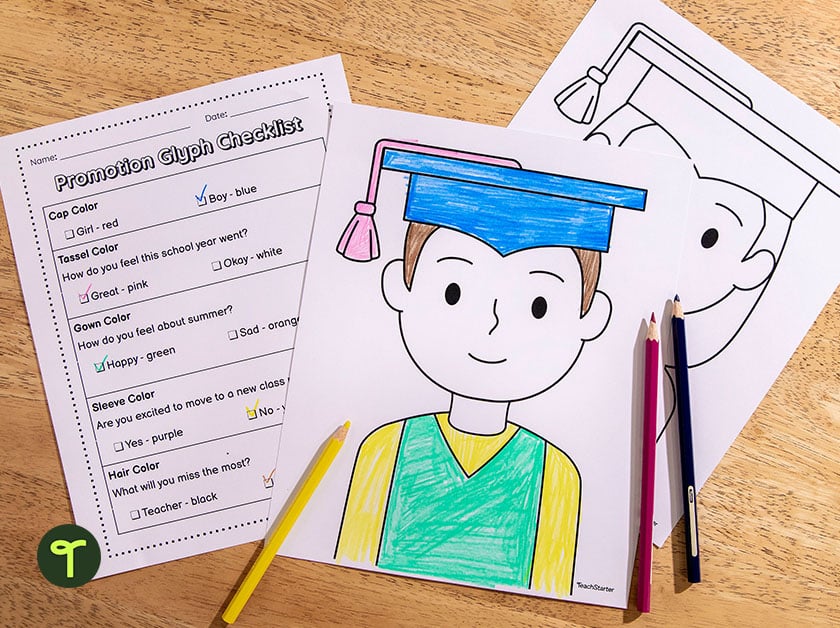 Reflective Activities
While they're relaxing, your students might like to take the time to reflect on the year they've just had. Use our end-of-year memory book to prompt students to think about all that they've experienced in the past year, and what they will remember for years to come. This memory book allows students to reflect on their academic year and create goals for next year.
Elementary School Graduation Letters
Ask students to write their parents a letter to give them on graduation day. They can thank them for all they've done to help them get to where they are now, and tell them their hopes and dreams as they move forward into middle school or junior high. This Graduation Letter Template gives them a starting point.
You can also ask parents if they'd like to take part by writing a return letter —  some would relish the opportunity to write a letter to tell their son or daughter how proud they are of them. Families can swap the letters after the graduation ceremony.
Celebrate Friendships
Sometimes saying goodbye to elementary school friends can seem an incredibly daunting task, especially if students have known each other since they started school!
Ask your students to create a beautiful double-page Final Year of Elementary School – Scrapbook Pages Template to keep the memories of their last year. Autographs and special photos will be cherished for years to come. Take your students right back to where it all began with our My Elementary School Journey – Then and Now Scrapbook Template.
Give them the opportunity to compare their first year and their final year of school with photographs, anecdotes, and memories. They will be filled with nostalgia and delight at the thought of how far they have come!
---
School Graduation Day Has Finally Arrived
Elementary school graduation day can be an incredibly moving time for students and teachers alike. Your students will probably be buzzing with excitement, but there will no doubt also be a few tears.
The Start of the Ceremony
It's a nice touch to have a PowerPoint playing for the graduating class's parents, friends, and peers to watch while they arrive and get themselves settled at the ceremony.
You've got a lot to do, so save some important time with a pre-made Elementary School Graduation – Powerpoint Template.
You can create a slide for each student featuring a photo from their first year and their last year of elementary school. Have a parent committee helping with graduation? Even better! Ask them to take over the slideshow! Students can also help — allow them to personalize the slide with a quote, or ask teachers to volunteer a personal anecdote that each student will love to read.
During the Ceremony
If your elementary school has school leaders or a valedictorian, you may want them to present a speech on their school journey so far. Our public speaking resources can give them a few hints.
Alternatively, let Kid President do the talking!
One of the most emotional moments of the day will no doubt be the final roll call. Call each student's name for the final time, and present each student with an Elementary School Graduation Certificate.
After Elementary School Graduation
You may think the end of the ceremony is the end of the road for your involvement in your students' lives. Think again.
As they return to the classroom one last time, it's a great opportunity to present each student with a special gift. If you're stuck for ideas, we've put together these Student Gift Tags – Elementary School Graduation with a special little message to send your students on their way with everything they could need.
You'll have the yearly class photos, but why not take a snapshot of you and each student in their graduation hats on graduation day? Keep these mementos in a special album for you to look back on with a nostalgic smile. Ask each student to write YOU a special note to remind you of their unique personalities and of all the good times you had together!
Consider suggesting to your principal that the school create a Graduating Class Legacy Mural in your school. Each student can contribute something unique to the mural as a lasting reminder of their time at the school, and it would be perfect for a visit for graduating seniors for a clap-out ceremony!
Banner image via shutterstock/tong_stocker