When it comes to assessing what your students have learned in a lesson, exit tickets are a trick every teacher should have up their sleeve. If you're new to exit tickets, here are fun exit ticket ideas, exit ticket printables, and just about everything you need to know to start using this tool to get effective feedback on lessons and improve retention.
What Are Exit Tickets?
Sometimes called a "ticket to leave," the primary purpose of an exit ticket is to have a quick check-in and see if your students have grasped concepts taught to them in a lesson. Students fill them out after the lesson, and teachers comb through the answers, looking for clues as to how well the lesson was understood, what needs to be reviewed, and how to better teach that lesson and others in the future.
Basically? Exit tickets are like a classroom Yelp review … without all the trolling and screaming capital letters!
Many times, exit tickets focus on the same sorts of questions, such as:
What have you learned today?
Did you find anything difficult?
Would you like to know more about something?
Circle the face that corresponds to how you are feeling about this lesson — like these fun printable monster-themed tickets!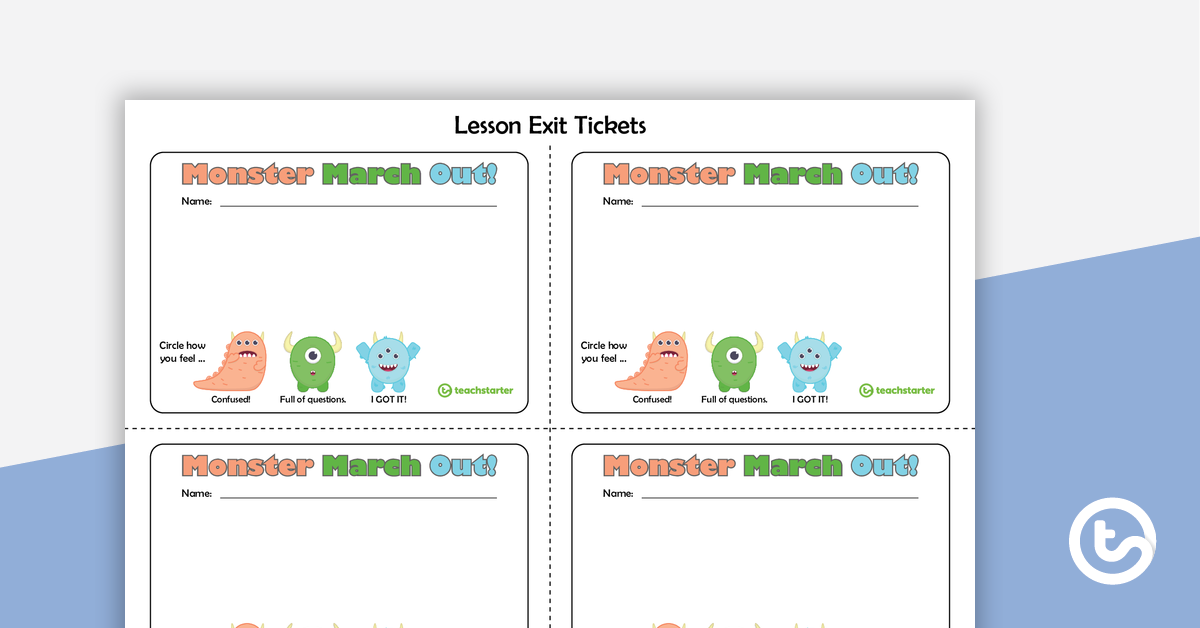 ---
Are Exit Tickets Effective?
Exit tickets can be an incredibly effective classroom assessment tool, but how effective they are really comes down to how you use them! Here are some of the Teach Starter teacher team's best tricks for getting the most out of your exit tickets!
Change Up Your Exit Ticket Questions
Using the same old exit tickets can get repetitive, and you might find students begin to quickly write 'something' down just so they can be done and do a preferred activity! This sometimes means that the purpose of exit tickets becomes distant and they quickly become a bit of a time-waster.
That's why we've created printable exit tickets that are editable, so you can keep your students guessing, and keep getting that valuable assessment data you really need as a teacher!
Each exit ticket contains a goal, simple activity, and a confidence scale for your students to complete. This is the perfect combination of questions to get a quick idea of how each of your students is progressing on their learning journey!
Line Your Exit Ticket Up Directly With the Lesson
Tickets that are generic are fabulous tools that can be used all day long, but sometimes you will want to be a little more precise. Try editing your exit tickets to address specific elements of the lesson — like we did with this exit ticket that's all about verbs!
Make Exit Tickets a Partner Project
Direct your students to fill out their exit tickets, then pair them up with a classmate to discuss their answers together! This can be a great way to get your students talking and thinking differently about the lesson, empowering students to help one another, and it may make things clearer for students who still have questions … or open up brand-new questions!
You may opt to have the pairs create a new ticket together.
Create an Exit Ticket Collection Spot
Create an exit ticket visual display where students have their very own pockets on the wall. Then, when they have completed their exit ticket they can go and pop it in their pocket for the teacher to check when the lesson is finished. This will make filling out exit tickets less of an afterthought and more of a routine.
Alternately, you can use sticky notes as exit tickets – with a designated spot on your whiteboard or wall where students can post their "ticket" on the way out of the room to the cafeteria or specials. See how to print out on a sticky note they can fill out!
Use Your Exit Tickets to Inform Group Work Planning
Knowing which students have fully grasped a lesson and which students could use a little more help can be a powerful tool when you're putting together groups. You certainly don't want to put together a group of the latter as it can be frustrating for them and won't lead to productive group work. Setting up groups that are mixed will empower students to help one another and truly help them move forward.
Make a Verbal Exit Ticket Process
You don't always have to print out your exit tickets. Try posting a question based on the lesson on your whiteboard. On the way out of the classroom, each student can give you what they think is the answer. This will give you a sense of how well the lesson hit!
Use Self-Assessment Cards for Exit Tickets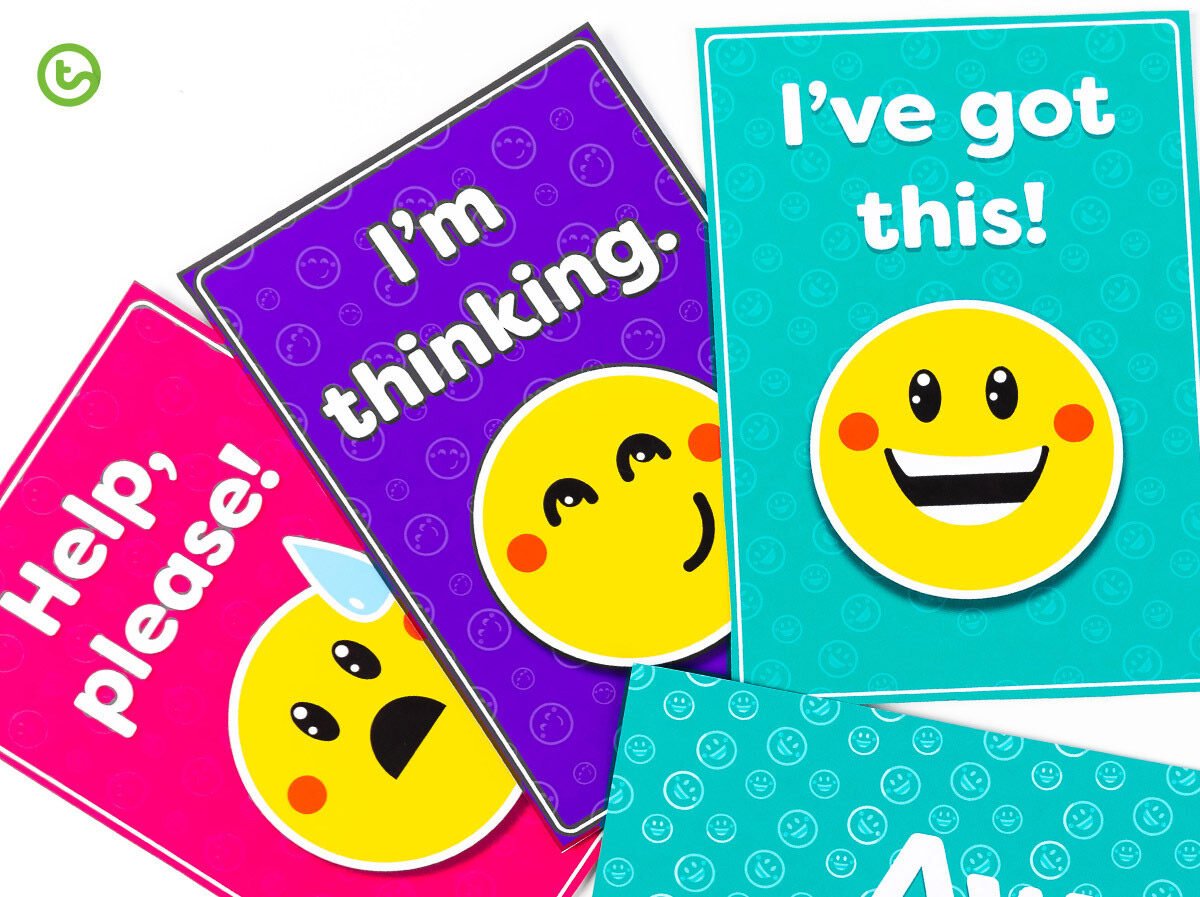 What child doesn't love emoji? With four different emoji faces, these self-assessment cards will make kids smile and are a great way for them to communicate how they're feeling about their grasp on their lesson. Print and hand out a self-assessment pack to each student, and when it's time to close a lesson out, each student can pop one on their desk or drop on YOUR desk on their way out of the classroom. Tip: Make sure students put their names on their emoji exit tickets so you know which one is which and can also hand them back to be used again in the future.
Are you using exit tickets in your classroom? We want to hear your best tips!