When it comes to sensory play, there are plenty of options out there for teachers from using rice to making your own "cloud dough," but one of our absolute favorites to make for a sensory bin is moon sand. Not only does it offer the same textural benefits of kinetic sand, but creating a sensory bin with a moon sand focus has the benefit of inspiring your little astronauts.
Of course, knowing how to make moon sand isn't just a benefit for teachers of younger kids — you can also use this moon sand recipe for your space lessons for older kids! Best of all, you only need two ingredients for the whole thing.
How to Make Moon Sand
Moon sand gets its name because of the color that's similar to the surface of the moon. It's crumbly and easy to compress, perfect for kids' textural explorations. All you need to make moon sand for the classroom is:
baby oil (1/2 a cup)
flour (4 cups)
If you're looking to make a much larger batch, you'll want to keep about an 8:1 ratio of flour to oil. Sprinkle the flour in the tray, and then pour the baby oil over the top. Now it's time to get your hands dirty. Knead the mixture until it is moldable, and voila. You've got moon sand that's ready for your students to pretend they're Buzz Aldrin making steps for mankind!
This two-ingredient moon sand will usually last for a month or two, although it's best stored in an air-tight container when not being used in the classroom. While technically it's non-toxic, we definitely do not recommend this as edible moon sand! Replacing the baby oil with canola oil will make it taste-safe, but again, it's not going to be something kids should be gobbling down.
Can You Put Food Coloring in Moon Sand?
Making moon sand extra fun is easy, but we advise avoiding food coloring — the baby oil won't mix well with the water base of most food coloring.  Instead, opt for adding an oil-based paint to the baby oil to add some color. Be aware, of course, that this can be a problem if you've got younger kids who will put the sand in their mouths.
Adding an essential oil or baking extract can add a pleasant scent to your moon sand to make your classroom smell nice, but beware this may make your moon sand more tempting for students to taste test.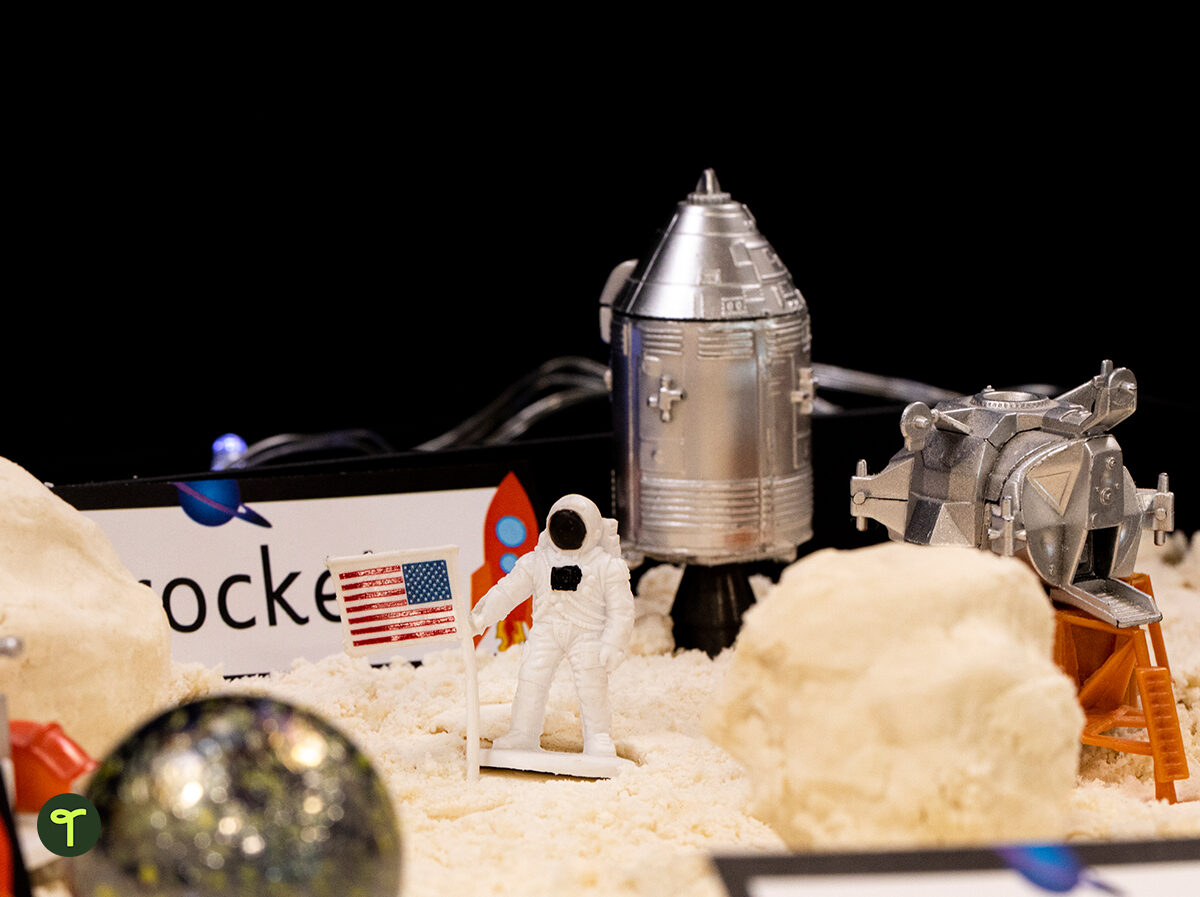 For our moon sand sensory bin, we also added:
colorful marbles
foil scrunched up into balls
space-themed figures
battery operated fairy lights
Here are some other resources you want to include in a display close by: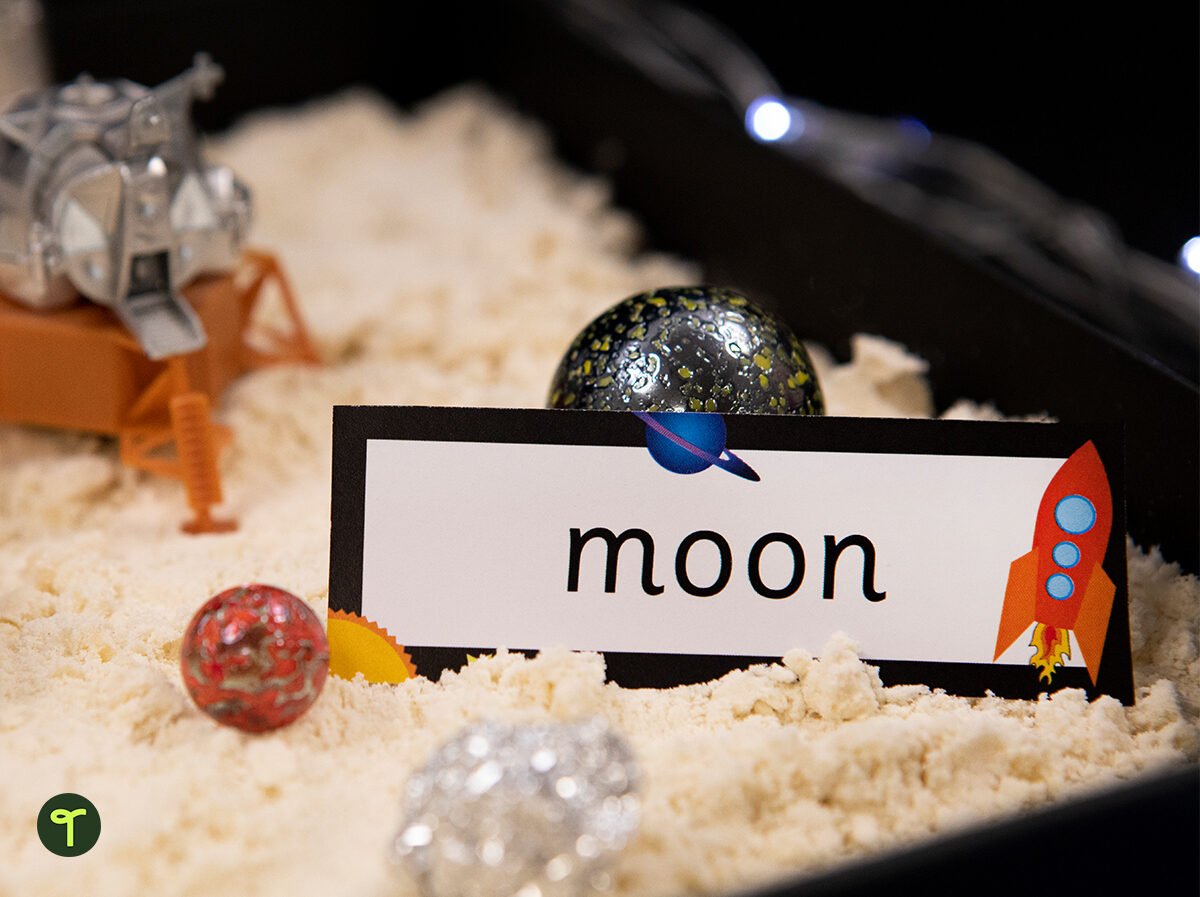 More Space Activities for Kids
Why not explore repeating patterns using this space-inspired resource for pre-school or kindergarten students? Print and cut out these Pattern Activity Cards. Students can then use them to continue the pattern provided or to make their own!
Explore motion and direction with this fun craft activity where students create a Rocket with this Straw Rocket template. Print the Blank Game Board – Space Crusade, and write simple addition problems or even sight words the students need to practice in the spaces.