If you're teaching in a part of the country where school is still in session in late May, Memorial Day may be on your mind. The federal holiday is packed with meaning, but you want to make sure any Memorial Day lessons truly honor the men and women who have died in military service for our country, all while balancing the serious nature of the holiday with your students' ages and abilities to handle tough topics.
Not so easy? We get it! Our teacher team has put together some Memorial Day ideas and lessons for students that are kid-appropriate but also appropriate enough to truly mark this solemn day with the respect it deserves, including important lessons on American history.
When Is Memorial Day?
Celebrated on the last Friday of May every year, Memorial Day is a federal holiday that changes date from year to year, making it extra hard to keep track of! In 2022, Memorial Day will be celebrated on Monday, May 30.
Originally known as Decoration Day, Memorial Day started after the Civil War as a way to honor those who had died in service. At the time, Americans were asked to take the day to decorate the graves of war dead with flowers — hence the name.
In fact, the name didn't actually change to "Memorial Day" until 1967! It became a federal holiday with the approval of Congress in 1938 and was expanded to honor those who have died in all wars. Then in 1968, Congress officially moved the newly named Memorial Day to the last Monday of May — part of the Uniform Holidays Bill of 1968 that moved dates like Presidents' Day to Mondays to give workers more three-day weekends.
Because most schools are closed on the holiday, honoring Memorial Day may be work out better in the days leading up to the three-day weekend, or you may hold off until the days after your break. It's really what works best for your lesson planning!
Memorial Day Activities for Elementary Students
Create Veteran Timelines
Visit the Stories from Veterans History Project — a Library of Congress project — as a class, and direct your students to select one of the interviews that most interests them. Many of the stories come from vets of war in Iraq and Afghanistan — people who may be their parents' age or even the age of older cousins.
Students can take research notes as they listen to the interview and then create a timeline of events described in the interview.
Take a Virtual Tour of the Tomb of the Unknown Soldier
Arlington Cemetery in Virginia is home to the Tomb of the Unknown Soldier, one of the nation's most famous memorials. Students can visit virtually thanks to Arlington's education program, which also offers free materials for teachers for Memorial Day.
Make an American Flag Agamograph
Honor the holiday with a free Memorial Day art activity featuring the American flag and the yellow ribbon. Students can learn about the significance of the ribbon, which has been a symbol of those away at war since the Civil War.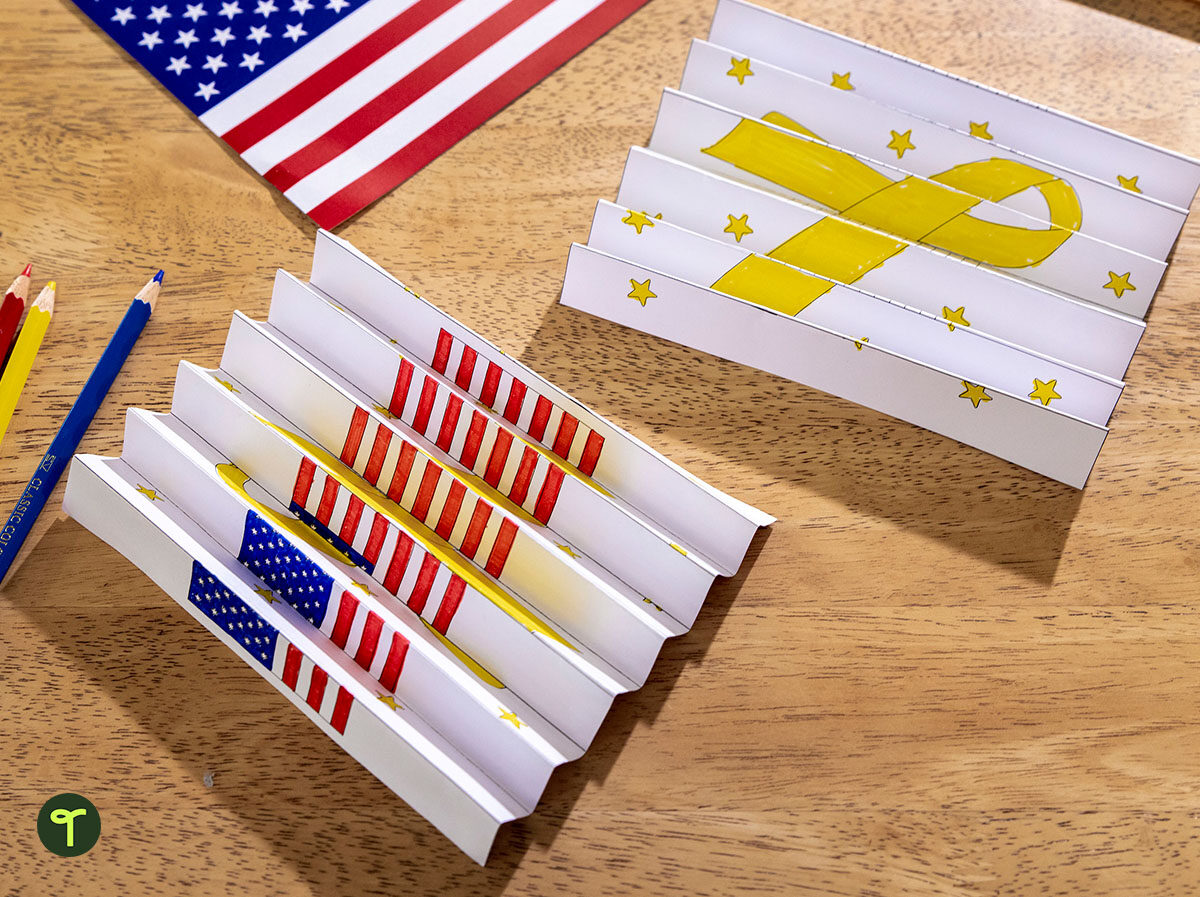 Learn About the American Flag
Flag Day will be celebrated just a few weeks after Memorial Day on June 14, so get your students excited about the flag that our troops serve under. Do your students know why the colors red and blue are chosen? What about the position of the flag flying outside of your school building? On the morning of Memorial Day, for example, the flag is traditionally flown at half-mast rather than being risen to the top of the flag pole. The flag will then be moved to full height at noon, where it remains until sundown.
This American flag poster breaks it all down for an easy visual representation of the lesson.
Memorial Day Poppy Crafts
Poppies have been associated with Memorial Day for decades thanks to the American Legion, which worked with Congress to have the Friday prior to Memorial Day declared National Poppy Day. Because poppies flourished in Europe after the end of World War I, these flowers serve as tributes to soldiers who have fought and died for our country.
Bring the poppy into the classroom with a thoughtful poppy Memorial Day activity that helps them practice pattern recognition while also working on fine motor skills like cutting and pasting.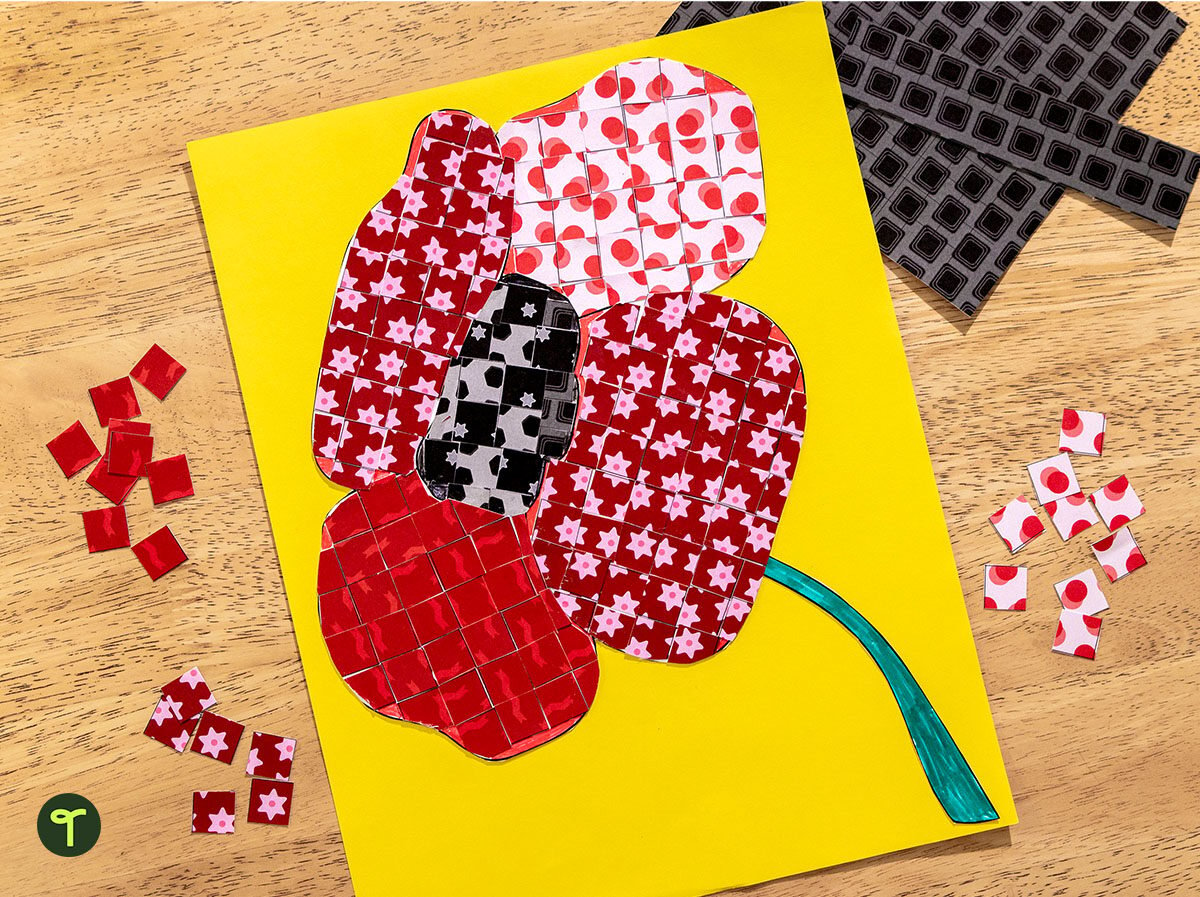 For younger students, try a simpler poppy craft — glue poppies to the tops of craft sticks for something for your students to hold up during your local Memorial Day parade to show the veterans assembled that they are thinking about them.
Students can also practice writing messages to the veterans, thanking them for all they have done for our country, and handing them out. Poppies can be made out of colored cardstock, or you can use the poppy in this Memorial Day activity.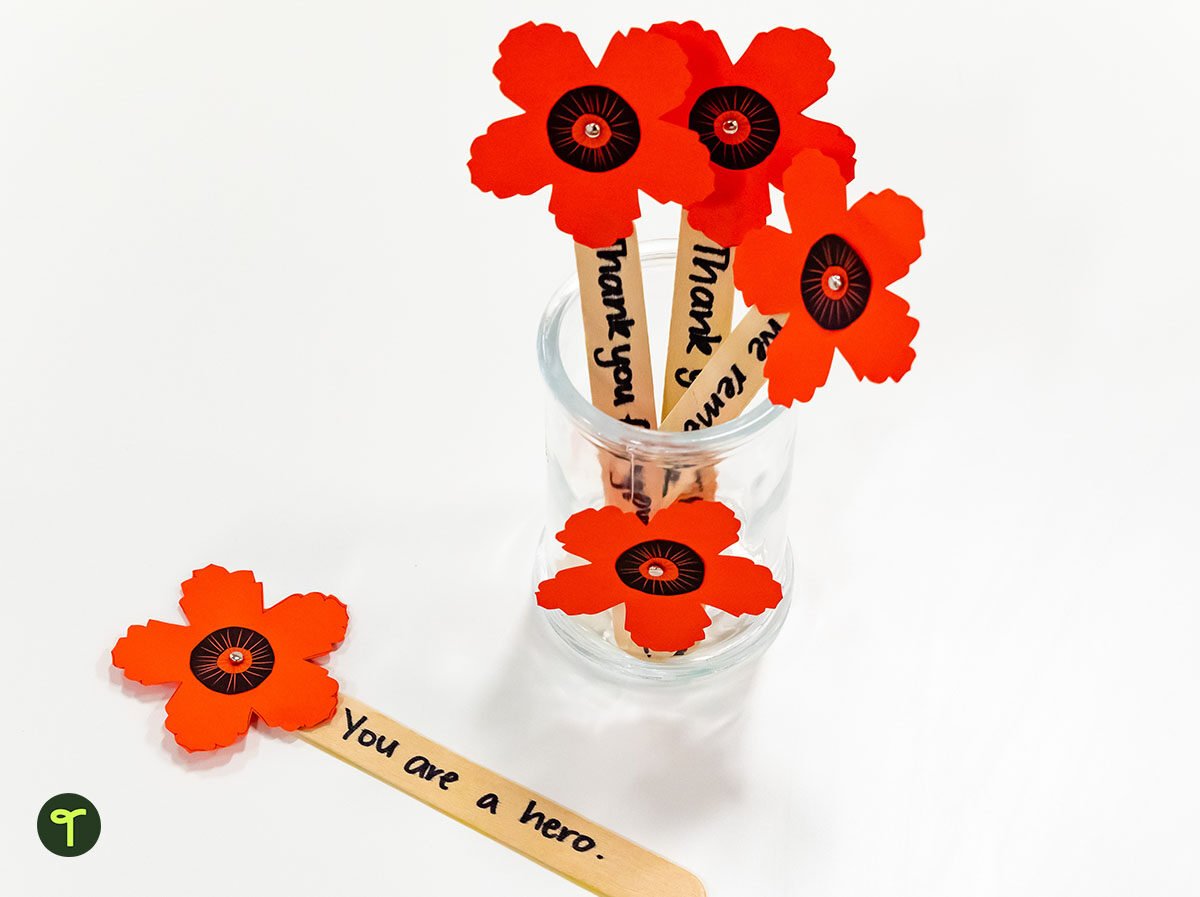 Invite a Veteran to Speak
You've likely taught students that primary sources are often the best to teach us about an event in history. Reach out to your local American Legion post or VFW — they may have a veteran available to be that primary source for your students to learn about serving our country!
Students can use this "interview a veteran" template to develop questions they'd like to ask.
Send Cards to Vets or Active Military
Give students time to practice their letter writing skills with a simple but impactful Memorial Day activity. These organizations can help connect your classroom's cards to veterans or members of the military:
Share What They Know About Soldiers
This simple coloring sheet featuring male and female soldiers can be adapted into a number of Memorial Day activities — encourage students to color it in and share why they will celebrate Memorial Day, use their colored-in soldiers to create the cards mentioned above, or use them as part of any Memorial Day decor in the classroom.
Looking for more Memorial Day activities? Try Memorial Day writing prompts, or learn about American symbols and monuments, including how Uncle Sam was used to help recruit members of the military.
Banner image via shutterstock/wavebreakmedia