Whether you're looking for a way to celebrate World Kindness Day with your class or just some kindness activities for kids to do at school, we've got you covered with fun and meaningful ways to sprinkle kindness all around the classroom … and community plus ways to teach kindness that will stick.
How Do You Celebrate World Kindness Day?
As teachers, we tend to do a lot of kindness celebrating day in and day out in the classroom — helping kids negotiate, guiding their social interactions, troubleshooting friendship issues, and modeling empathy and compassion ourselves.
But here are some of our favorite kindness activities for kids!
Kindness Activities for Kids
Write Kindness Notes
It's easy for kids to take for granted the myriad people all around them who do nice things for them day and in and day out. As adults, we can easily do the same thing. That's why we love this simple idea from third-grade teacher Beverly Kerr. She has her students write encouraging notes to people on staff in the school to brighten their days!
Kerr says she did this on one of those days when things were just not going the way she'd hoped in the classroom, and it was a great way to refocus her students on something positive … plus give other people in the school building a much-needed boost!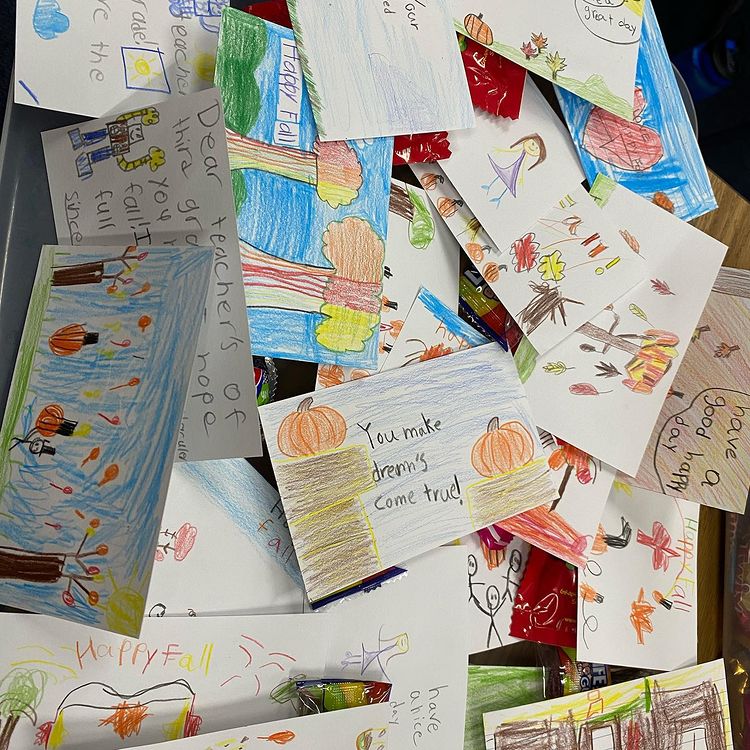 Make Kindness Rocks
This random acts of kindness activity uses rocks to teach kids how to spread kindness. All it takes is some rocks from the playground, plus paint and paintbrushes and Sharpie markers. The goal is for your students to write happy and encouraging messages on the rocks to make others smile, then drop them in spots around the classroom, school, or out in the community to make someone's day.
(You can read more here about teaching kindness one rock at a time).
Make a World Kindness Day Display
You can go funny like Idaho teacher Katie Schwabadissen who made this hilarious "kindness is more contagious than COVID" door display to gently remind her students to be kind!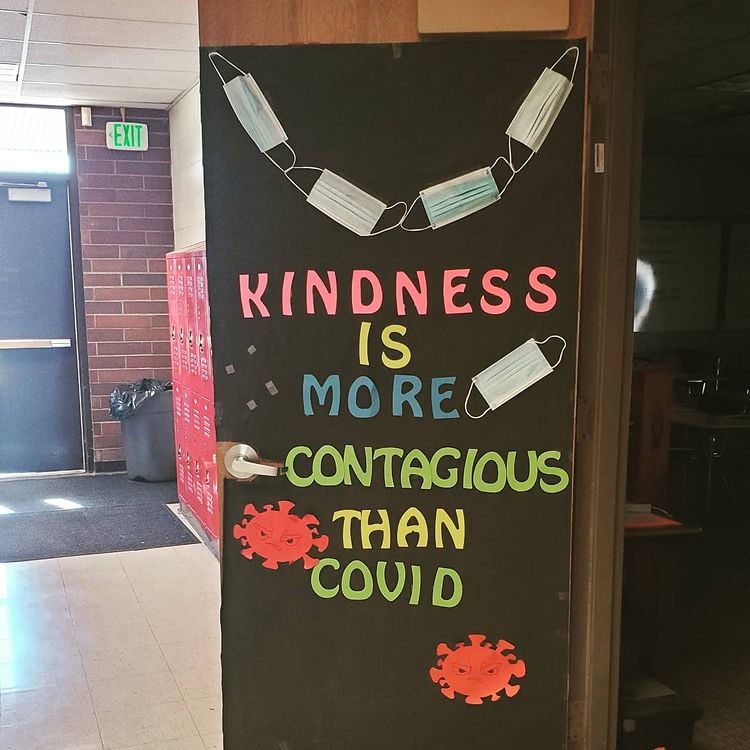 Or grab a positivity poster to keep the reminder up all year!
[resource:13688][resource:11342][resource:51997][resource:15002]
Make It … Less Random!
We know, we know, the whole goal of random acts of kindness is that they're supposed to be random! But there's no reason you can't plan them out a bit … so long as they're still random for the person whose day is completely made by kids doing something kind!  Our downloadable Random Acts of Kindness Calendar encourages students to complete 16 kind tasks over the course of a month and is a great starter for brainstorming kindness ideas your kids can do throughout the school year.
If you want to start off in December, you can also use this random acts of kindness holiday display with ideas for students on ornaments!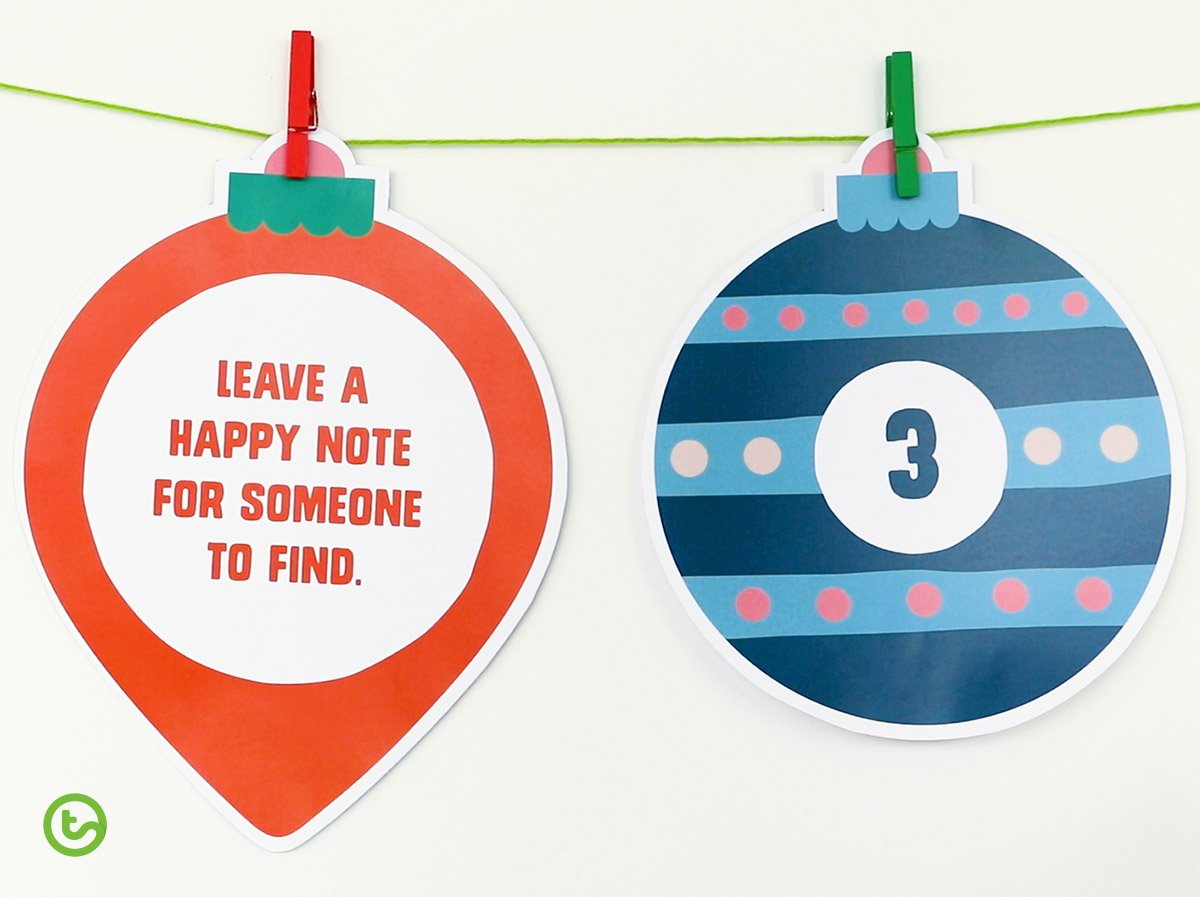 Make a Kindness- Filled Compliments Box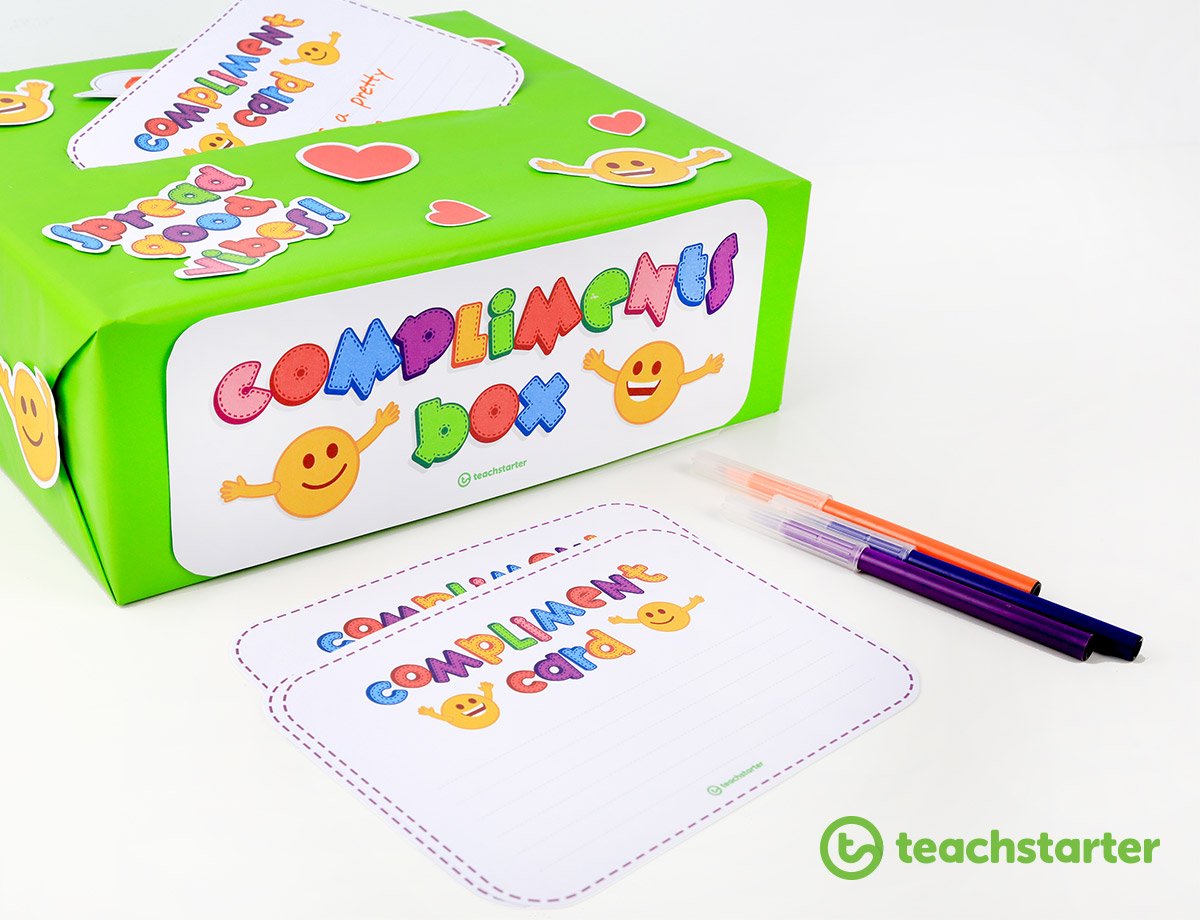 We all know how wonderful it feels to receive an unexpected compliment. A compliment is like a little gift that puts a spring in your step for the rest of the day. Why not encourage your students to give each other some build-ups, and get that good energy flowing through your school? To create your own Compliments Box for your class (or school), download our Compliments Box Decorations and Compliments Cards resource.
Make Kindness Fortune Tellers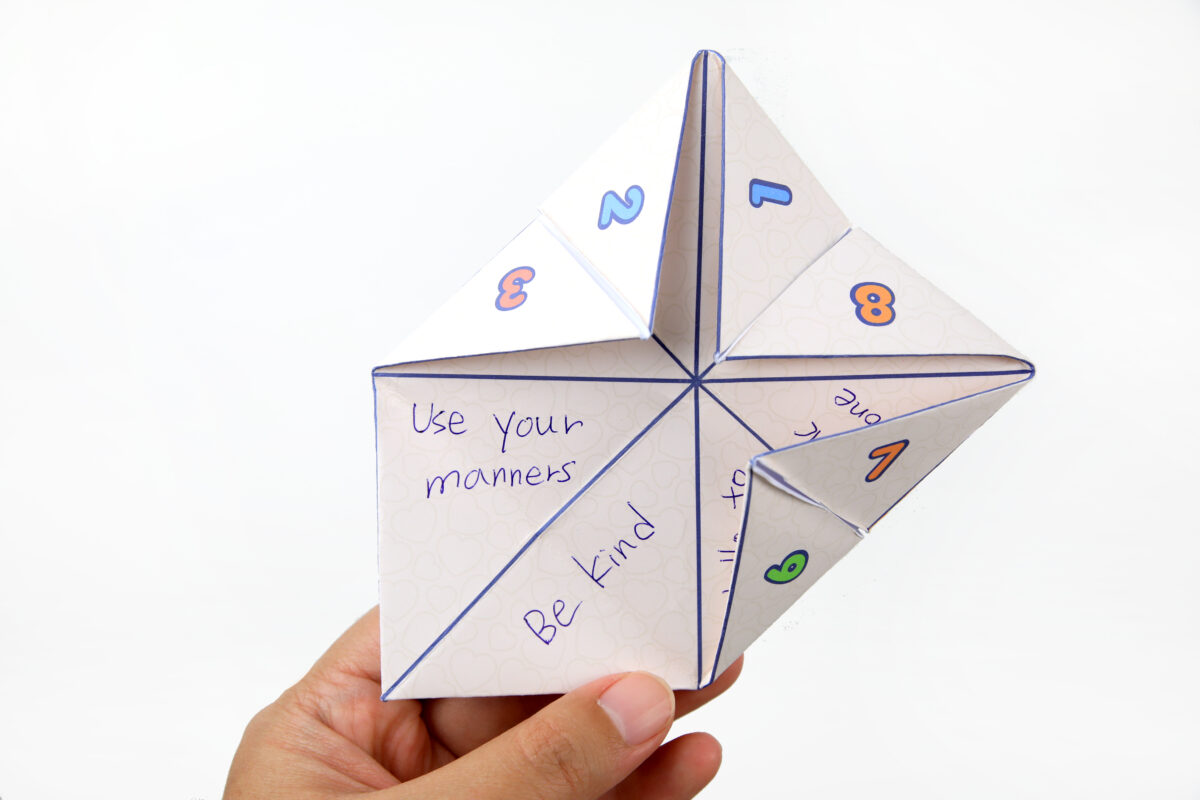 Kids love making fortune tellers, and playing with the folded paper too! Our downloadable paper fortune teller template allows students to write kind acts they wish to complete on the inside, then play the folding game to find kindness activities to perform!
Create Links of Kindness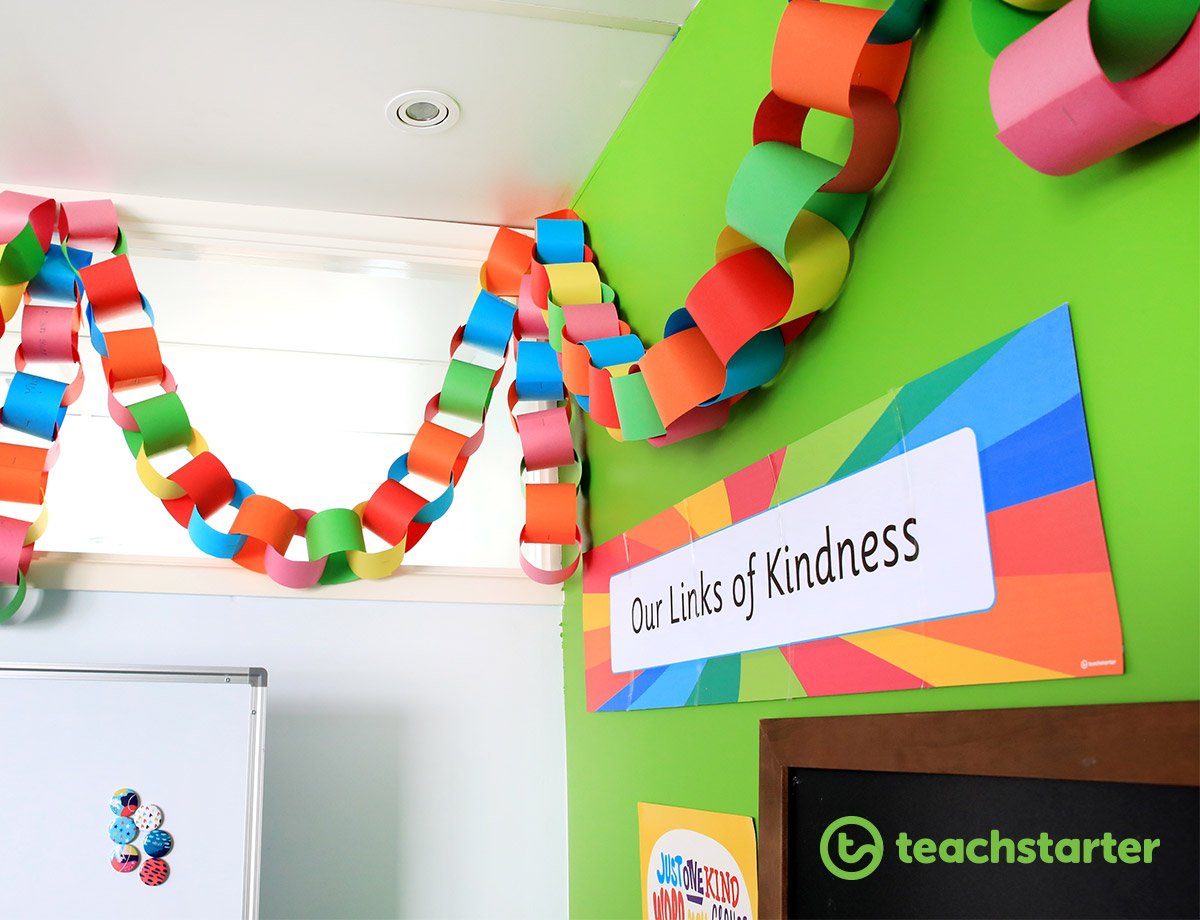 Give your students slips of paper, and have them write something kind about someone else, then add to a paper chain that can be hung up in the school hallway where people can read the notes as they walk by.
Create Kindness Mini Books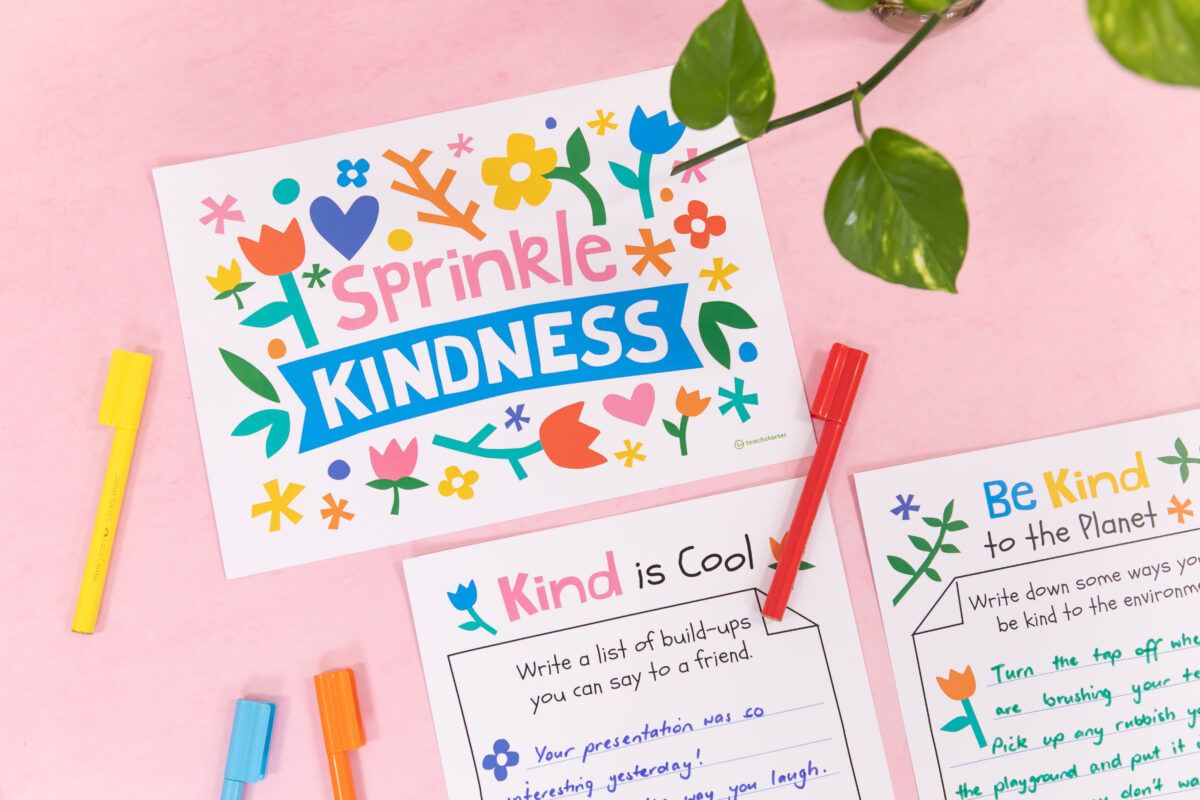 Being kind requires thoughtfulness, and that's exactly what these mini books are all about — there's space to:
list random acts of kindness
draw a picture of what kindness looks like
write a list of build-ups for a friend
write a list of personal affirmations
write down ways you can be kind to the environment.
Kindness in Chalk
Take your kids outside with some sidewalk chalk and let them share the love with everyone who passes by! They can write kind notes or do something more simple like drawing a rainbow just to make people smile.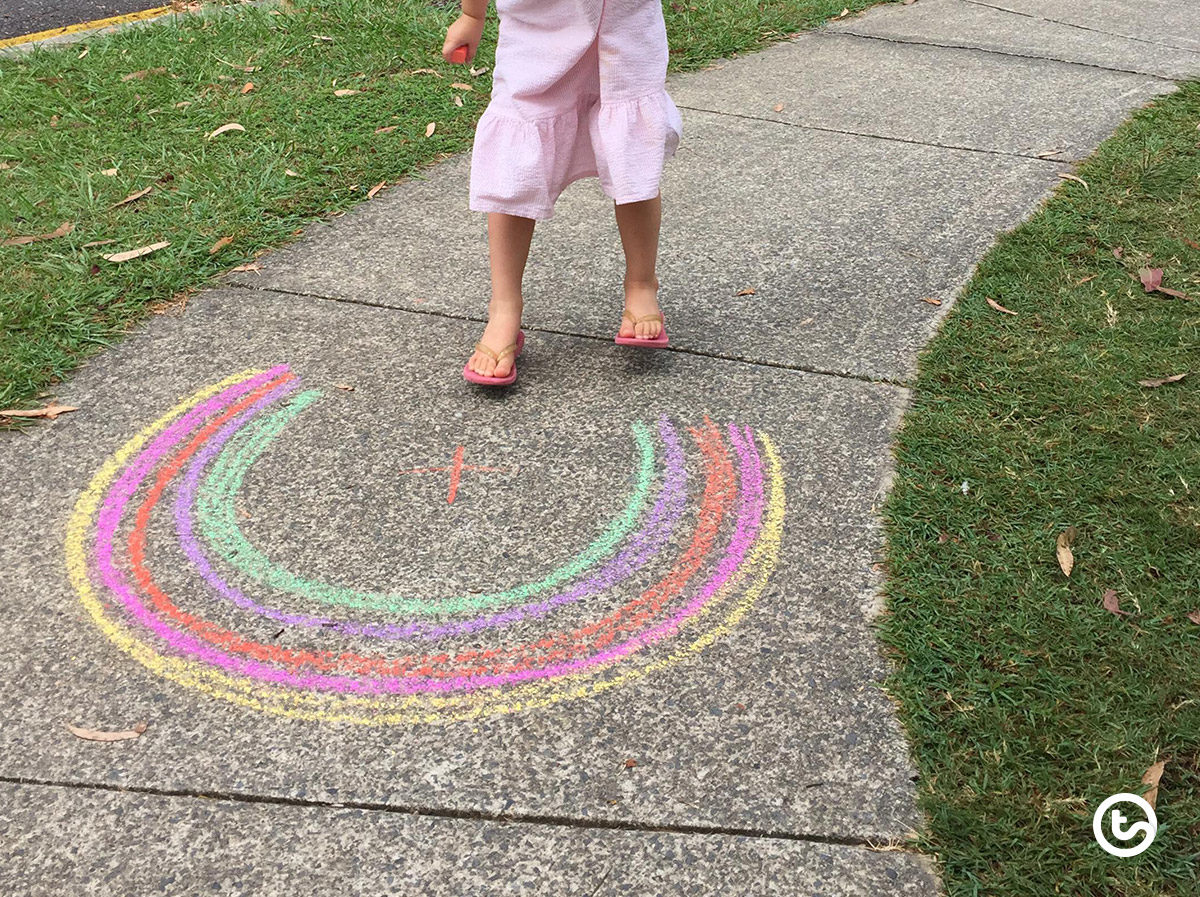 How to Teach Kindness
In addition to these acts of kindness, there are a few methods of teaching kindness we'd be remiss if we ignored!
The Wrinkled Heart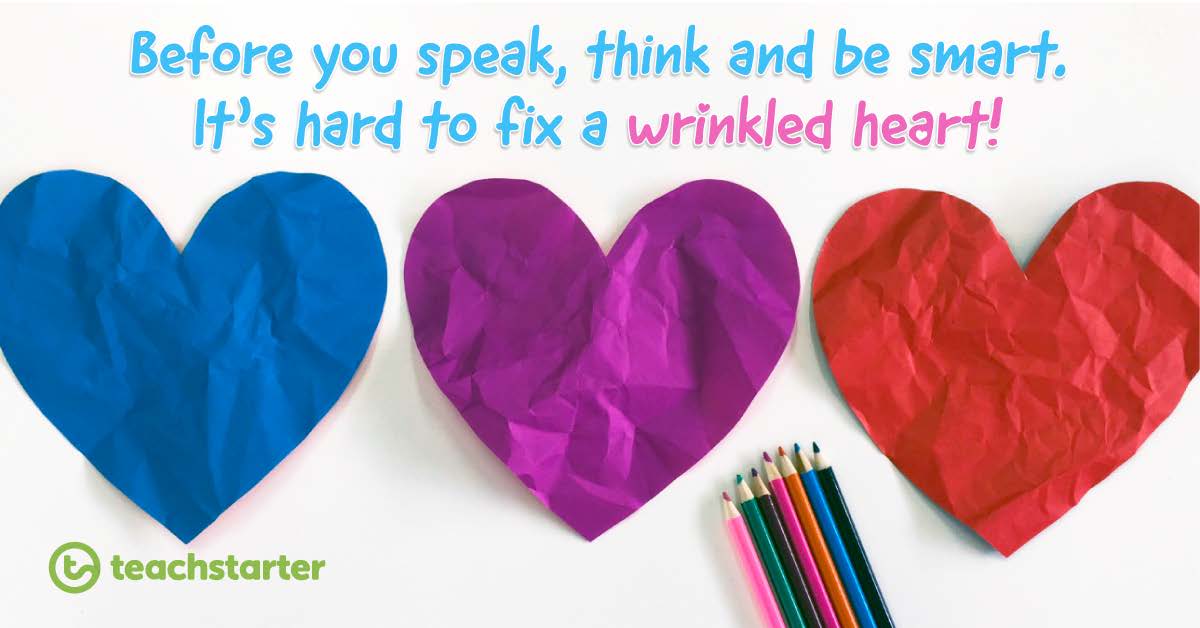 This Wrinkled Heart exercise is an old one but it's got a message that truly sticks.
Print off a class set of paper hearts with the message:
Before you speak, think and be smart. It's hard to fix a wrinkled heart.
Each student receives a pristine heart. You may ask them to cut it out or shade it. Then ask the students to crumple their heart up as tightly as they can. Ask them to unfold the heart and make it flat again, just as it was when they received them.
When your students realize that the damage to the paper cannot be "undone", this is the demonstration that once words are said, the damage they cause to others may not be reversible.
This is a powerful lesson for children of all ages!
Reward Kindness
No matter how (seemingly) small, children's acts of kindness deserve our recognition. Whether it's a verbal build-up or a tangible reward, like one of our gorgeous certificates, children love receiving an acknowledgment.
[resource:52060][resource:9576][resource:52055][resource:9585]
What's your favorite way to spread kindness around your school?
We hope that you have a lovely World Kindness Day with your class this year!