Practice identifying and using antonyms with this 15-piece under the sea picture antonyms puzzle.
Antonyms: A Important Piece Of The Language Puzzle
By identifying antonyms, your students will develop a deeper understanding of word relationships, a necessary building block for an extensive language. 
In addition to growing their vocabulary, understanding antonyms (opposite words) and synonyms (similar words) improves students' ability to describe plus give and follow directions.  
To play this game, students will read the word on each puzzle piece and cover its matching antonym on the game board, completing the puzzle. 
The antonyms students will explore in this activity are:
hot – cold

hate – love

fast – slow

dry – wet

night – day

low – high

neat – messy

cry – laugh

old – young

up – down

short – tall

first – last

go – stop

left – right

quiet – loud
Scaffolding + Extension Tips 
Support students who need help understanding the concepts by referring to an antonym poster or anchor chart for help. 
Challenge fast finishers who already understand the concept to use the words in a sentence (orally or written, depending on proficiency). 
Get our 10 Best Scaffolding Strategies here! 
Use Our Antonyms Puzzle For Even More Activities! 
We created this resource for your reading center as an independent practice activity. We also suggest using it to reinforce your small group and full-class lessons in the following ways: 
👀 Scavenger Hunt
Hide the puzzle pieces around the room when your students are not around and put the picture board in the center of the room. Then set your students loose! As soon as they find a piece, they bring it up to the picture board, read the word on their piece, and put it on the matching antonym. NOTE: You may want to make a rule of only 1 student at a card at one time. If not, things could get a little crazy! 
✏️ Write It Out
To use this activity as a formative assessment, project the picture board and have each student pick 3 words. Students will write their words and their suggestion for an antonym.
👯‍♀️ Puzzle Teamwork
In your small group, divide the puzzle pieces among students. Then, point to a word on the board and read it as a group. The student with the matching antonym piece lays it down on the puzzle.
Easily Prepare This Resource for Your Students
Print on cardstock for added durability and longevity. Place all pieces in a folder or large envelope for easy access. 
Before You Download
Use the dropdown icon on the Download button to choose between the PDF or Google Slides version of this resource. 
---
This resource was created by Lindsey Phillips, a teacher in Michigan and Teach Starter Collaborator. 
Master antonyms with these additional activities and resources we know your students will enjoy!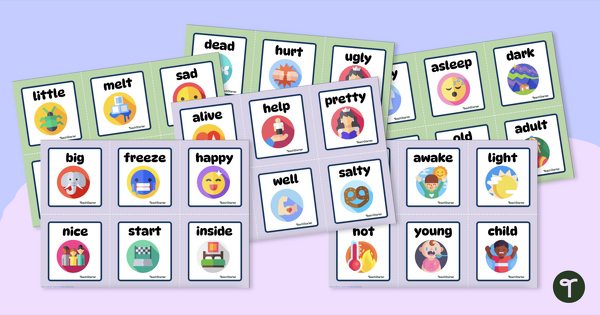 teaching resource
Use flashcards to assist with your students' understanding of antonyms.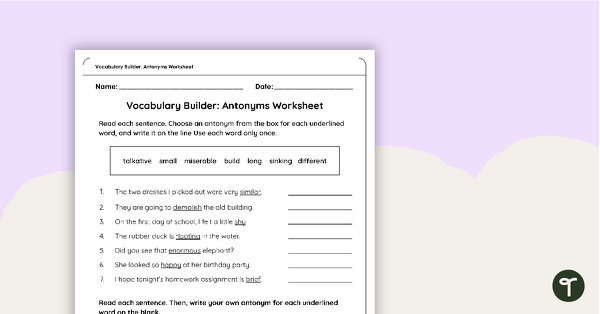 teaching resource
Help students practice identifying and thinking of antonyms with this thought-provoking worksheet.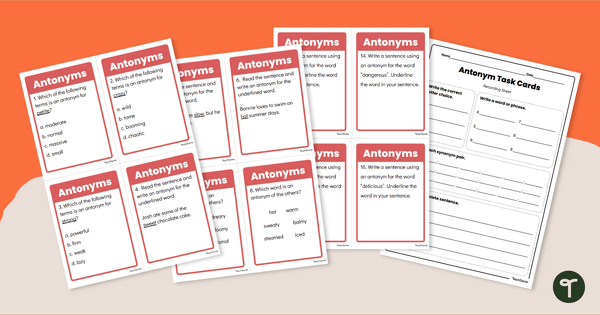 teaching resource
Build vocabulary and recognition of antonyms with a set of 24 task cards.