Print a set of 18 antonym puzzles to practice using opposite words.
Printable Antonym Puzzles Make Learning Fun!
If you're searching for new antonym teaching resources, these self-checking puzzles are a brilliant way to help students understand which word pairs are opposites. Whether it be "start" and "finish" or "day" and "night", these printable puzzles are a clever, hands-on way for children to learn antonyms.
This resource download includes 18 pairs of antonyms for a total of 36 individual puzzle pieces. Each puzzle piece provides students with the written form and a related image to assist them in matching the antonym pairs together.
Download and Print Your Antonym Activities
This resource downloads as a quick-print PDF file. Click the download button to download your new resource. Print, cut, and these puzzles are ready to use!
While you're here, check out more activities and teaching resources that fill your lesson plans and students' brains: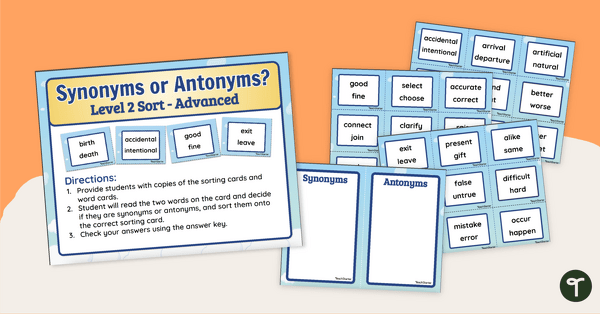 teaching resource
Identify synonyms and antonyms with a sorting activity designed for upper elementary students.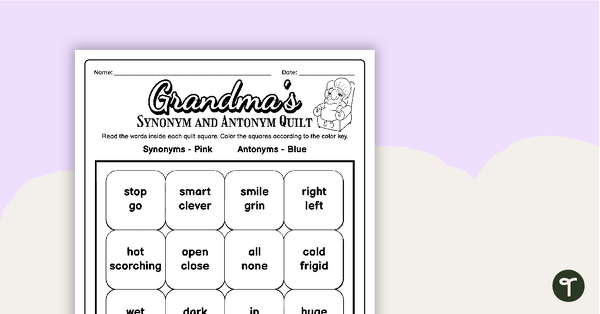 teaching resource
Help Gran choose her next quilt design with a Synonyms and Antonyms Color-by-Code Worksheet.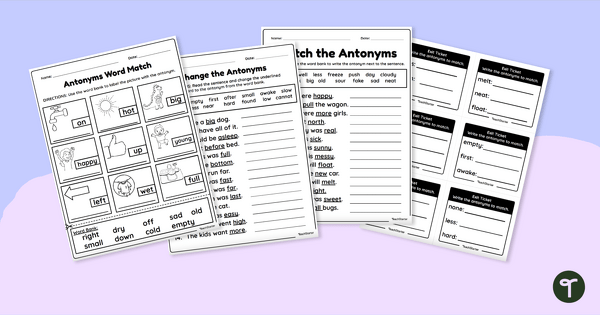 teaching resource
Practice identifying and using antonyms with four antonym worksheets for first grade.