Make your classroom a better "space" with cooperative learning and a fun Cooperation Station craft!
Social Emotional Learning for Elementary Students
Are you seeking ways to develop your student's social and emotional skills while fostering a classroom environment that is positive and supportive? Look no further than Teach Starter! 
What is Cooperation? Social & Emotional Learning Lessons
Cooperative behavior involves:
Working together towards a common goal.

Communicating effectively.

Showing respect and kindness towards one another.
Encouraging teamwork in students is crucial in honing their life skills. By fostering a classroom environment that celebrates inclusivity and support, we can establish a secure and inviting space where everyone feels appreciated and acknowledged. Check out our exciting craft activity that will engage your students in highlighting the fundamental elements of cooperative behavior!
Welcome to the Cooperation Station! SEL Project for Kids
This resource is a fun way to engage your students in mindful and purposeful reflection about what cooperation is and how they can demonstrate cooperative behavior. Using our printable template, students will write to tell what cooperation is, what it looks like, what it shouldn't look like, and how they plan on demonstrating appropriate behaviors. They will then color and cut out the template to create a fun space station craft to display in the hall.
 This resource download includes a printable template in PDF format. We also recommend the following materials.
Scissors

Glue Sticks

Pencils

Crayons or Colored Pencils

Blue or Black construction paper

A white crayon
---
Paired with the right resources, this craft will add to your students' social-emotional toolbox. Grab these while you're here!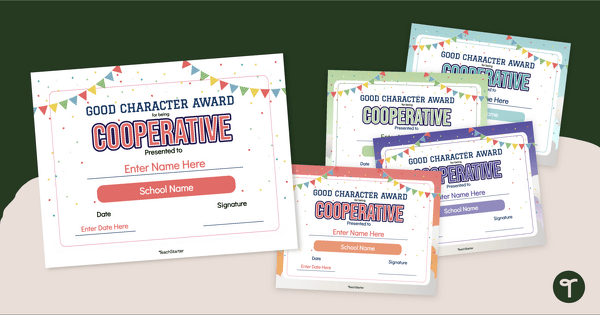 teaching resource
Celebrate your students' cooperative behavior by awarding them with a personalized Cooperation Award.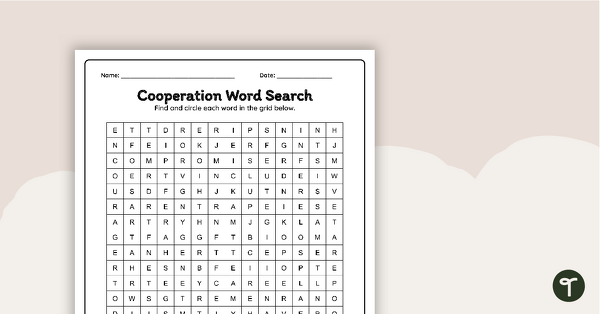 teaching resource
Review vocabulary and boost your students' cooperative interaction skills with a word search worksheet.
teaching resource
Encourage communication and cooperation with this set of 10 team-building games.