Discuss cooperation with your students and write an acrostic poem with a printable word splash worksheet and poem template.
What is Cooperation? Social Emotional Lessons for Kids
Cooperation is a crucial skill that every child should learn and develop. It involves working together with others towards a common goal, respecting and valuing each other's opinions, and communicating effectively. But what does cooperation look like, feel like, and sound like? Furthermore, how can we teach this vital social and emotional skill to our students? 
Morning Meeting Word Splash – Start with a Discussion
This resource is the perfect blend of SEL instruction and curriculum-aligned content. We've designed this resource to give you a jumping-off point for a classroom discussion on what Cooperative behavior is with a printable word splash worksheet and acrostic poem template. 
We recommend gathering your students in a morning meeting and working through the word splash activity. Pose the question, "What is Cooperation" and have the students help you chart or list words that they feel relate to cooperative behavior. Once you have a hefty list of cooperative words, break out your acrostic poem templates and have your students use words and phrases from the word splash worksheet to write their poem about cooperation.
Download and Print Your Social-Emotional Activities
You're just a click away from getting your new resources! Use the dropdown arrow on the Download button to select the Editable Google Slides resource file or the quick-print PDF version.
---
Paired with our other SEL resources, this activity will provide a definite boost to your students' mental wellness. Grab these while you're here!
teaching resource
A social story to remind students of the rules at school.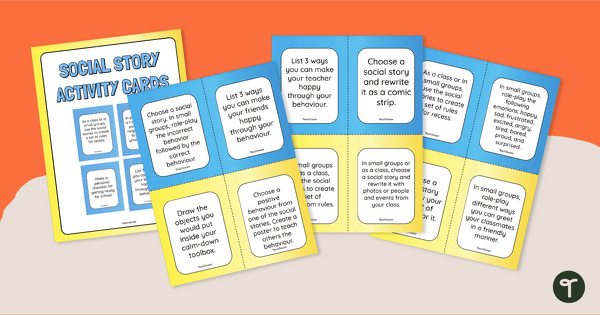 teaching resource
16 activity cards to use in your classroom when developing social skills.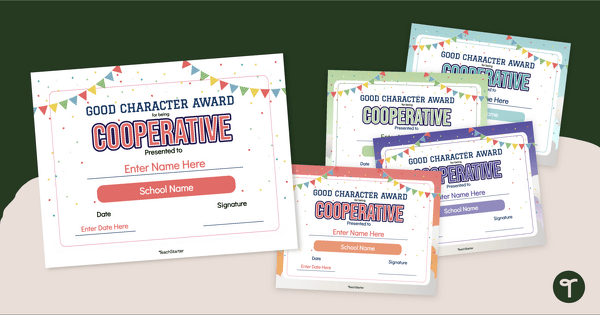 teaching resource
Celebrate your students' cooperative behavior by awarding them with a personalized Cooperation Award.