Use this set of printable worksheets to encourage students to think about the differences between night and day.
Kindergarten and 1st Grade Science Worksheets
Introducing our new set of worksheets designed specifically for kindergarten and first-grade students! With these activity sheets, your students will have a blast learning about the world around them.
Featuring a variety of writing, coloring, and sorting activities, these worksheets will help your child develop important skills such as scientific understanding, writing and fine motor skills. The worksheets in this pack include the following:
Day and Nighttime Writing

The Daytime Sky Writing Activity

The Nighttime Sky Writing Activity

Day and Night Illustrations

Venn Diagram

Cut-and-Paste Activity
With our writing activities, your child will practice their penmanship and spelling as they describe what they see and hear during the day and night. The coloring activities encourage creativity and imagination, while the cut-and-paste sorting activities help your child differentiate when different objects are done or seen.
Through this activity, students will observe, describe, and illustrate objects in the sky, such as the moon, stars, and Sun, while also identifying activities that can be done during the day and night.
Tips for Differentiation + Scaffolding 
In addition to independent student work time, use this worksheet as an activity for:
Science centers

Lesson warm-up

Lesson wrap-up

Fast finishers

 

Homework assignment
For students who need an additional challenge, pose questions such as, "What do you think causes night and day?" While students at this age don't need to know the specifics, it will get your students thinking about the "why" behind something that happens.
Easily Download & Print
Use the dropdown icon on the Download button to choose between the PDF or editable Google Slides version of this resource. 
---
Don't stop there! We've got more activities to shorten your lesson planning time: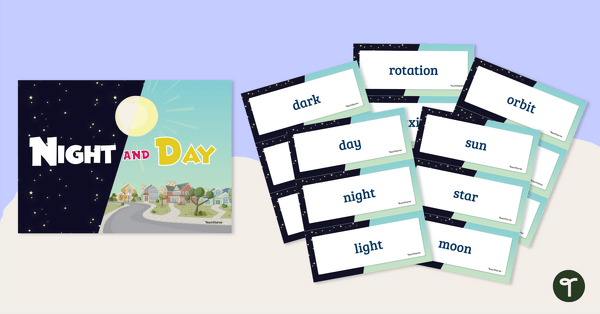 teaching resource
Use this set of word wall cards when teaching concepts and vocabulary related to Earth's day and night cycle.