Practice differentiating between long and short vowel sounds with this interactive PowerPoint.
A Solid Basis for Spelling Development
Are you looking for ways to nurture strong spelling skills in your students? At the heart of confident spelling (and word recognition) lies phonemic awareness.
Phonemic awareness is the ability to identify and manipulate individual sounds in words. Before students can understand the patterns and rules of spelling, they need to be able to HEAR and identify differences. The more opportunities we provide for students to focus on hearing these differences, the more solid the foundation we build for their spelling development.
What Sounds are Explored?
This interactive PowerPoint focuses on the vowel sound in single-syllable words. Students are presented with a picture, e.g. a pan, and are given both the short ă and long ā options to choose from. Audio for each vowel option is heard when you or the students hover over the grapheme. Students name the picture and decide whether they can hear the short or long vowel sound in the word and click on the appropriate button. Once they have chosen the correct vowel sound, the word pops up on the slide along with the audio.
The long vowel sound graphemes explored in this PowerPoint are:
ā:    a_e and ai
ē:    ea and ee
ī:     i_e
ō:    o_e and oa
ū:    u_e and ui and oo
The words included are: pan, cake, kite, pot, nose, sun, bead, nail, lid, red, dive, wag, juice, tap, sad, bee, soap, six, tail, time, moon, hen, jet, rain, mice, hot, seal, jam, zip, tape, run, cube.
Not only is this resource perfect for differentiating between long and short vowel sounds, but it also fosters students' segmenting skills – as they are required to segment words into individual phonemes.
How to Use This Resource
Use this PowerPoint as a whole class, small group, or individual activity to boost your students' phonemic awareness and lay solid foundations for spelling success.
Embedded fonts are used in this Powerpoint. Therefore, when the pop-up box appears, select 'Open Read-Only' to view the PowerPoint.
You will also want to make sure that your volume is on when using the PowerPoint because it includes audio.
---
If you're looking for other interactive PowerPoints that focus on sounds, we've got you covered!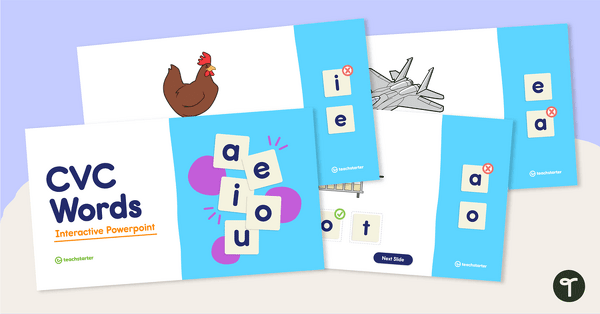 teaching resource
An interactive PowerPoint for students to practice reading CVC words.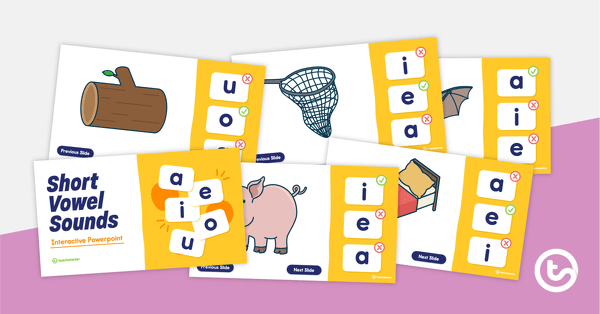 teaching resource
An interactive quiz to practice identifying short vowel sounds in words.