Use our editable instructional slide deck to break down the fundamentals of electricity and circuits for your students.
Download electricity slides ready-made for your classroom! In this science class teaching presentation, you will guide your students in understanding the elements of energy found in electricity and circuits.
You know that helplessness you feel when the power goes out?
Ironically, it's both the literal and figurative powerlessness that makes us realize how often we take electricity for granted.
No lights. No refrigeration. No heat or air conditioning. No hot water.
No comfort.
And if widespread enough, there's no telling how long it will be before it's fixed.
That's because powering up gadgets that use electricity might seem as easy as flipping a switch. But in reality, electrical circuits are an intricate system of electrons and conductors working harmoniously to sustain our modern world.
How to Use Electricity and Circuits Lesson with Your Students
This instructional slide deck was designed for a classroom setting to introduce and discuss the concepts of:
Atoms
Electrons
Electrical energy
Static electricity
Current electricity
Conductors
Insulators
Circuits
Specifically, by looking at examples of electrical energy, students will walk away from this lesson with the ability to:
Define electrical energy
Compare the properties of static and current electricity
Differentiate between conductors and insulators
Describe and identify the parts of a circuit
Explain what happens when a circuit is complete or incomplete
Students can use this presentation as a reference or guide when working on any activity or classwork where students are working to identify the parts used in an electric circuit. For example:
More Ways to Make Explaining Circuits a Blast with Your Students 
Take this presentation even further with more activities to solidify learning about electricity and circuits.
Pre-Lesson Activity
Students can be assigned this instructional slide deck as independent reading, either at home or prior to starting the lesson together as a group. Ask students to provide examples of each of the vocabulary words to assess their understanding.
Turn & Talk
Ask students to write questions on a sticky note as the resource is presented, then put students into groups of 3 or 4 to help each other answer the questions on their sticky notes.
Be the Teacher
As a post-lesson activity, ask students what they would put on a quiz if they were the teacher. Ask students to write their own 5-question quiz using the information in the presentation. Then have them trade papers with another student to take the quiz.
Preparing This Resource for Your Students
Project this presentation on your smartboard or other projection devices.
Before You Download
Use the drop-down icon on the Download button to choose between the PowerPoint or Google Slides version of this resource.
---
This resource was created by Gaby Perez, a teacher in Texas and a Teach Starter Collaborator.
Looking for a way to keep your students engaged throughout the presentation? Download the electricity and circuits guided notes that go along with this PowerPoint, or explore more science resources created by teachers for your classroom!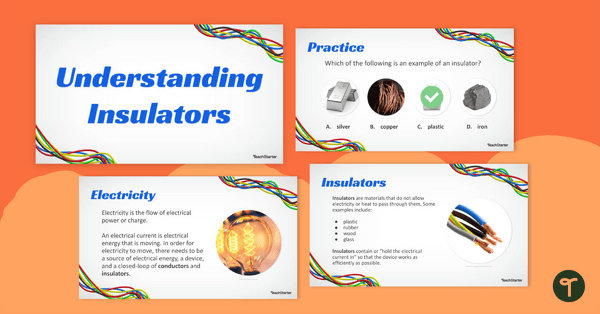 teaching resource
Teach your students about electrical and thermal insulators with this teaching presentation.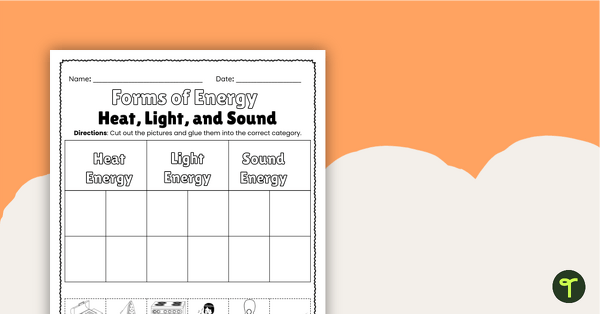 teaching resource
Identify different forms of energy with this cut and paste worksheet.
teaching resource
Explore thermal energy, the movement of particles, and the effect on the state of matter with your students using this guided teaching presentation.