Get a sense of separating fact from opinion in texts with this graphic organizer.
You'll Love This Fact & Opinion Worksheet
And that's a fact! 😉
In studying informational and biographical texts, students will simultaneously be learning to distinguish fact from opinion. 
Students must understand when an author uses evidence to support their ideas, they are facts and must not lean on their own personal beliefs. And as a bonus, this still helps students analyze their own writing! 
Once students finish researching their subject, they will use this template to examine 4 pieces of information from their research, writing one fact in each box. Younger students can draw pictures if they are unable to use words. 
Through this activity, students demonstrate an ability to gather information from print and digital sources and decide whether the content presents verified evidence or subjective interpretation. 
Scaffolding + Extension Tips 
In addition to individual student work time, use this activity as an in-class or homework assignment for:
Additionally, students who need more support with these concepts would benefit from completing this worksheet in a 1:1 setting or guided group. 
Younger students can use pictures to explain their findings. 
How to Prepare This Resource
Please note that this resource will download as a black and white PDF. Just click on the Download button for your template! 
You can also turn this teaching resource into a sustainable activity. Print a few copies on cardstock and slip them into dry-erase sleeves. Students can record their answers with a dry-erase marker, then erase and reuse. 
Additionally, project the worksheet onto a screen and work through it as a class by having students record their answers in their notebooks. 
NEXT: 9 Wrap Up Activities for Lesson Closure That Work Like a Charm
---
Don't stop there! Your lesson plan wouldn't be complete without these activities and teaching resources too: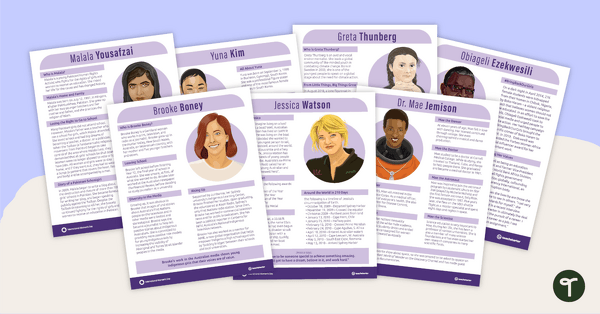 teaching resource
A set of 7 posters profiling inspirational women from around the world.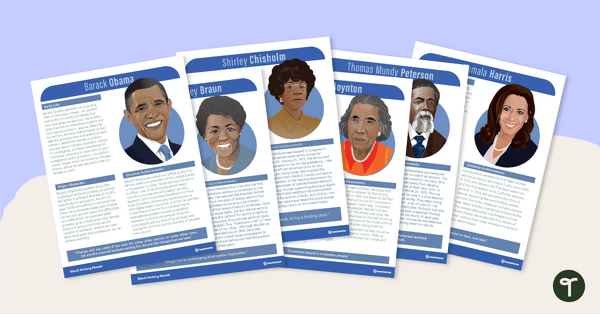 teaching resource
Introduce your students to revered Black icons and the impacts their contributions have made to American history.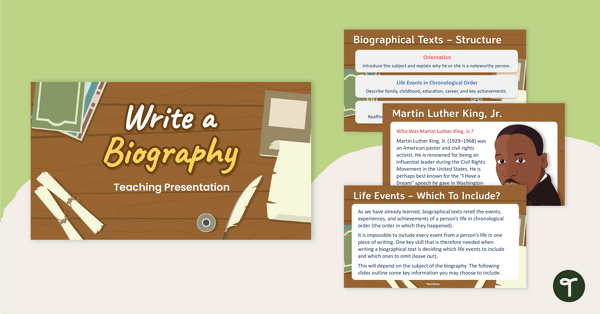 teaching resource
A 29-slide, editable PowerPoint template to use when teaching older students about the structure and language features of biographical texts.