Help students work out the main idea and supporting detail of a text with a handy main idea worksheet.
Buzz Around this Main Idea Worksheet
Use this cute graphic organizer featuring a hive and bees to help students identify the main idea of a text and the bits of supporting detail found in any piece of writing. The hive is the main idea, and the bees are the key bits of detail that make up the main idea. Cute!
How to Find the Main Idea
Our Finding the Main Idea anchor chart is the perfect partner for this graphic organizer. The following explanation is included on this poster and explained in child-friendly language.
The main idea of a text is the most important point that the author makes about the topic.
The details are the key points that support the main idea.
To find the main idea when you are reading, you can:
read the title and look at the cover for clues
think about and identify the important information
look for repeated words, pictures, information, themes or ideas
ask yourself, "What is the text mostly about?"
Download More Main Idea and Supporting Details Worksheets!
Identifying the main idea helps children understand the overall meaning and purpose of a text. It allows them to extract the most important information and grasp the central message that the author is trying to convey.
Use the drop-down menu to choose between the PDF or editable Google slide version of this resource. The editable resource allows you to change the language of the graphic organizer to suit what you are teaching your class.
---
More Finding the Main Idea resources: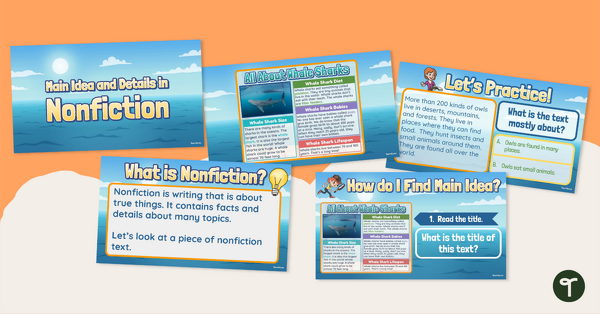 teaching resource
Build skills in identifying main idea and details in nonfiction texts with an instructional slide deck for primary grades.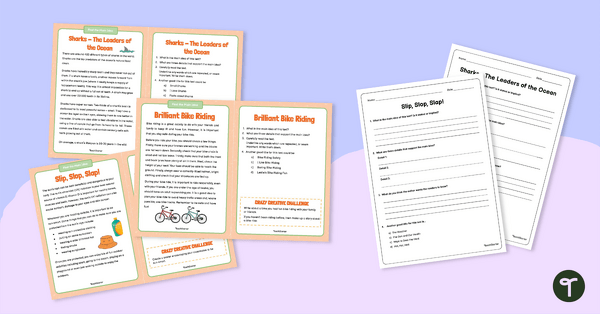 teaching resource
A set of comprehension task cards to help students find the main idea when reading.