Sort pictures according to the season they represent with this cut-and-paste worksheet.
The Four Seasons – Worksheet for Kids!
Are your students learning about the different seasons? While young students don't necessarily learn why the seasons occur, it is important for them to understand that there are different weather conditions with each season, which can affect what we wear, what activities we can do, and what you can observe outside.
With this cut-and-paste worksheet, students will work to identify different symbols that represent each of the four seasons (winter, spring, summer, and fall). The first worksheet requires students to sort between summer and winter, whereas the second worksheet focuses on spring and fall. Students will be presented with 8 pictures on each worksheet that represent different aspects of the season. These symbols may include:
Seasonal activities

Seasonal weather

Types of clothing worn
And more!
An answer key is included with your download to make grading fast and easy!  
Easily Download & Print
Use the dropdown icon on the Download button to choose between the PDF or editable Google Slides version of this resource. 
Because this resource includes an answer sheet, we recommend you print one copy of the entire file. Then, make photocopies of the blank worksheet for students to complete. 
---
This resource was created by Lauren Borst, a teacher in Indiana and a Teach Starter Collaborator. 
Don't stop there! We've got more activities to shorten your lesson planning time: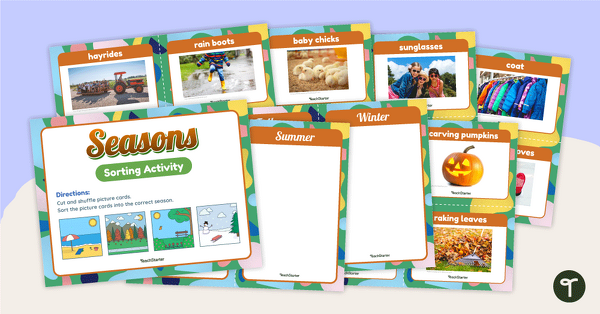 teaching resource
Teach students in K-2 the proper clothing, activities, and objects for different types of weather with this four seasons activity.