A set of flash cards for the first 100 Fry Sight Words.
Sight word instruction is a crucial part of teaching young students to read. Use these flash cards when introducing your students to the first 100 words on the Fry Sight Word List.
Print out the flash cards on colored cardstock for added durability. Cut out the cards along the dotted lines and store them in a resealable bag. Or why not punch a hole in the top right-hand corner of each card and place them on a binder ring for easy access?
Ways to Use These Flash Cards in the Classroom:
Hang the cards near your classroom door for easy access as you are leaving the room. They work great when you arrive at an event early (such as special areas, the cafeteria, or a school assembly) and have a few minutes to wait. Simply flip through the cards with your students and let them practice reading each one!
These are a must-have at any guided reading teacher station! You will want to keep them close by to use as a quick warm-up or wrap-up with your reading groups. Or why not hand a few to a student who has finished early to practice? Not only does it cut down on distractions, but it will have your students reading in no time!
Looking for something easy to send home with your struggling readers for extra practice? These will be perfect! They are an easy yet highly effective resource that parents can use at home! They also work great in a summer packet for students to practice throughout the summer!
Use the drop-down menu to choose between the PDF or Google Slides version.
---
This resource was created by Heather Chambers, a teacher/librarian in Texas and a Teach Starter Collaborator.
Looking for a more engaging way to practice these words with your students? Why not download our Sight Word BINGO resource. Simply click on the link below.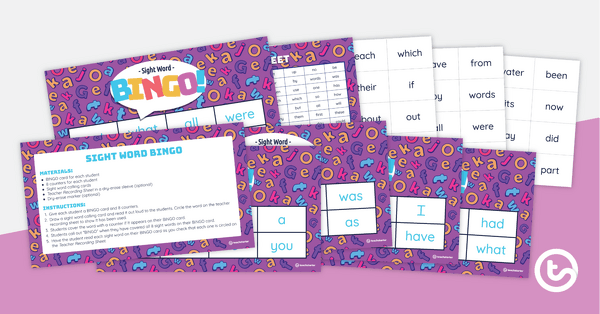 teaching resource
A set of 25 BINGO cards to practice reading the first 100 words on the Fry Sight Word List.