Start spooky season with a hauntingly horrific Halloween crossword puzzle.
Grab a Handful of Halloween Activities for Elementary Grades!
This worksheet is best used during the month of October as an independent practice to support your reading and vocabulary lessons. It is also a great task for fast finishers! 
Students will solve a series of fifteen Halloween word clues to complete the grid and finish the puzzle. Have a bit of fun during the spooky season with a petrifying puzzle!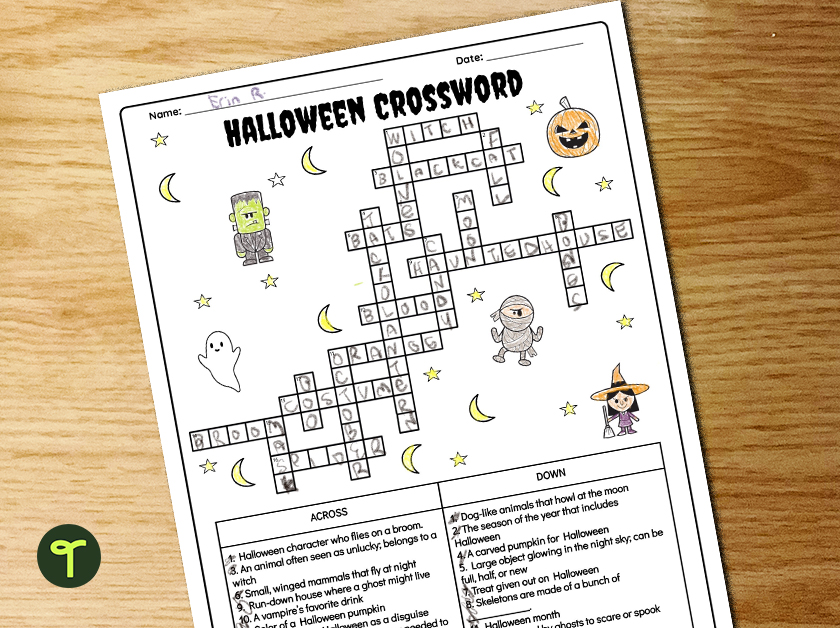 Even More Halloween Vocabulary Activities 
Frankenstein this monster puzzle into extra games and activities your whole class will enjoy! 
💀 Chilling Charades 
Write each word on a piece of scrap paper, fold them up, and put them into a container. To play, divide your class or small group into 2 teams. Teams will take turns sending up 1 student to choose a word from the bowl and get 30 seconds to act out the word soundlessly for their team. If no one guesses the word, it goes back into the bowl, and no point is given. Once every student has had their turn to act out a word, the game is over, and the group with the highest points wins. 
Easily Prepare This Halloween Vocabulary Word Resource 
Because this resource includes an answer sheet, we recommend you print one copy of the entire file. Then, make photocopies of the blank worksheet for students to complete.  
Turn this teaching resource into a sustainable activity! Print a few copies on cardstock and slip them into dry-erase sleeves. Students can circle the words with a dry-erase marker, then erase and reuse. 
Before You Download
Use the dropdown icon on the Download button to choose between the PDF or Google Slides version of this resource. An answer key is also included with this download.
---
We've got more Halloween-themed activities your students won't be able to resist sinking their teeth into!   
[resource:2659010]   [resource:2665402]   [resource:3608974]