Produce confident writers with this helpful handwriting poster.
Ne

at Handwriting Begins with the Basics!
Give your primary learners a quick lesson on the basics of handwriting using our Handwriting Hints Poster. This full-color poster is designed to be used in the classroom to teach those beginning learners the correct posture needed for doing their very best handwriting. It includes the following hints:
Lean your head slightly forward.

Sit up straight and all the way back in your chair.

Hold your pencil correctly. Don't grip it too tightly!

Put both feet flat on the floor.
How to Make the Most of Your Handwriting Poster
Print the color version of the poster on letter paper and display it in your classroom. Refer to it daily when beginning your writing instruction.

Project the poster on a projector or screen during your writing block as a reminder for your writers.
We've also come up with bonus ways to turn posters into interactive tools that really make your lessons stick! 
📂 Place copies in students' homework folders for reference. 
💻 Provide posters as digital resources for virtual students.
Before You Download
This resource prints as a PDF. Click the Download button to download and print your new classroom resource.
Use in conjunction with the Holding Your Pencil Poster.
Fill your classroom with more posters and interactive displays!
---
Spend more time lesson-doing and less time lesson-planning when you grab these activities and teaching resources too!
teaching resource
Practice penmanship by tracing and writing uppercase and lowercase letters.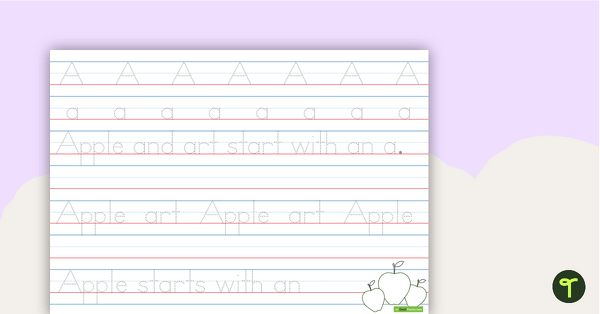 teaching resource
Handwriting sheets for each letter of the alphabet.
widget
These picture writing prompts are a great way to help students develop their writing skills. A visual writing prompt can be generated at random or chosen specifically.