Celebrate Grandparents Day with a pair of Grandparents Day coloring pages.
Be Mindful of Grandparents Day Coloring Pages!
How will your students show their grandparents how much they love them? With this fun Grandparents Day coloring sheet, they'll be able to color a beautiful card and write a note to their grandparent on the inside. This resource encourages students to practice mindfulness and spend some quiet, reflective time coloring a special picture to gift to a grandparent on Grandparents Day.
These printable Grandparents Day coloring activities are easy to prepare and make a heartwarming gift for their grandparents. Your students are going to love creating this meaningful gift for their loved ones.
Easy Grandparents Day Gift Ideas
Grandparents Day in the classroom doesn't always have to be major production. Sometimes simple gifts are the best. Have your students color the picture, mount it to construction paper, and invite the grandparents to school. Let them share stories and pictures. Finally, your students can present their grandma or grandpa with a handmade Grandparents Day craft. Simple, easy, and heartfelt…
Easily Prepare This Resource for Your Students
This resource is a low-prep resource that only requires you to make copies for your students. Provide them with copies of the template and crayons or colored pencils.
Before You Download
Use the Download button to download the PDF version of this resource.
Get more Grandparents Day ideas here!
---
Don't stop there! We've got more Grandparents Day gift ideas!
teaching resource
Celebrate Grandparents Day in the classroom with a Grandparents A to Z Adjectives worksheet.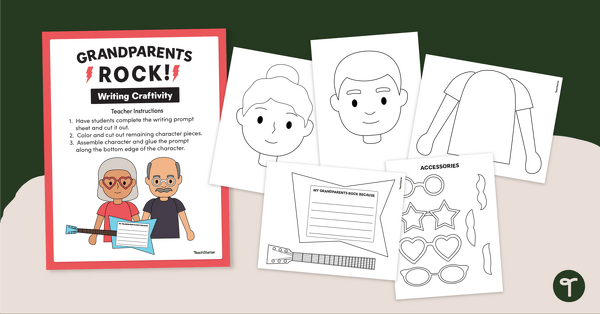 teaching resource
Celebrate National Grandparents Day in the classroom with a rockin' Grandparents Day craft activity and writing prompt.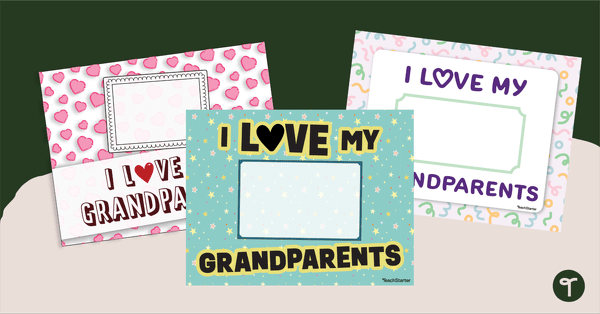 teaching resource
Help your students say Happy Grandparents Day with printable picture frame templates.