A series of car classifieds worksheets to use when teaching your students how to to make inferences when reading.
Inferencing is a valuable skill for students to apply when engaging with and responding to texts.
This worksheet provides five different car classified advertisements, with a sketch area for the students to draw in. The students must decide from the information given what each car looks like by drawing the car in detail, testing their reading comprehension and their ability to make inferences.
Teaching How to Make Inferences
In this fun teaching resource, students are provided with an advertisement for a car that has a rather creative and car-salesy description, but is missing the picture!
Students read the description of the car, using a dictionary to find the meaning of any words they are unsure of.
In the space provided, they draw a picture of the car based on the descriptions in the written text.
An answer sheet is provided for each classified advertisement with a picture of the car as well as a detailed key describing each feature of the vehicle in simpler terms. To differentiate this activity, students can be provided with images of the cars to match them to the description. If using the black and white version, students can decorate the cars according to the description.
This activity works great as a reading center activity or when working on inferencing with your guided reading groups.
There are color and black and white versions available for download.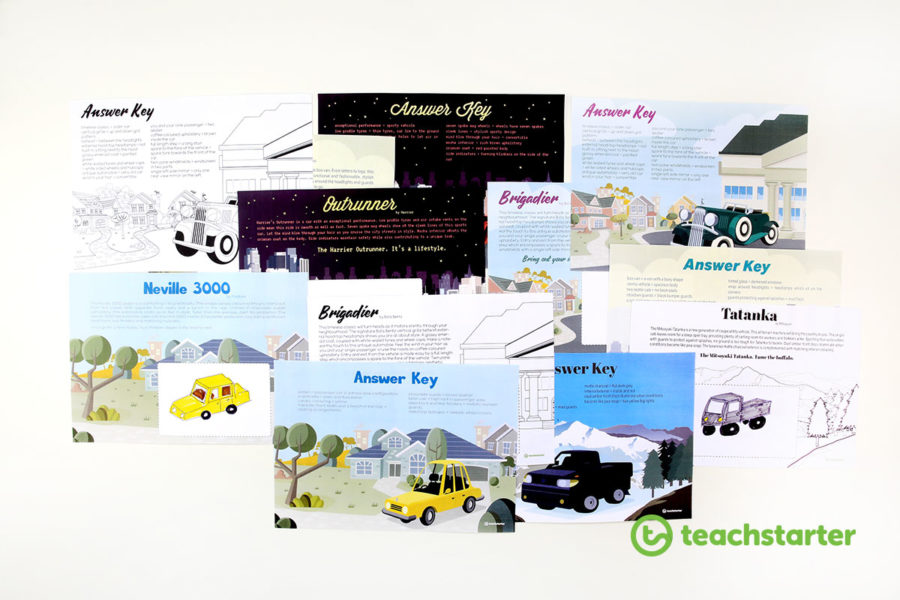 How to Differentiate This Inferences Activity
Want to differentiate this activity? Pair off your students, allowing students of lower abilities to work with students of higher ability. As they decode the text together, students will be able to draw upon their own knowledge of what different vehicles look like in order to draw their 'answer'. For students who might usually struggle with inferring, the conversation they have with a partner, activating their prior knowledge, can help them feel much more successful than in a more traditional inference comprehension activity or worksheet.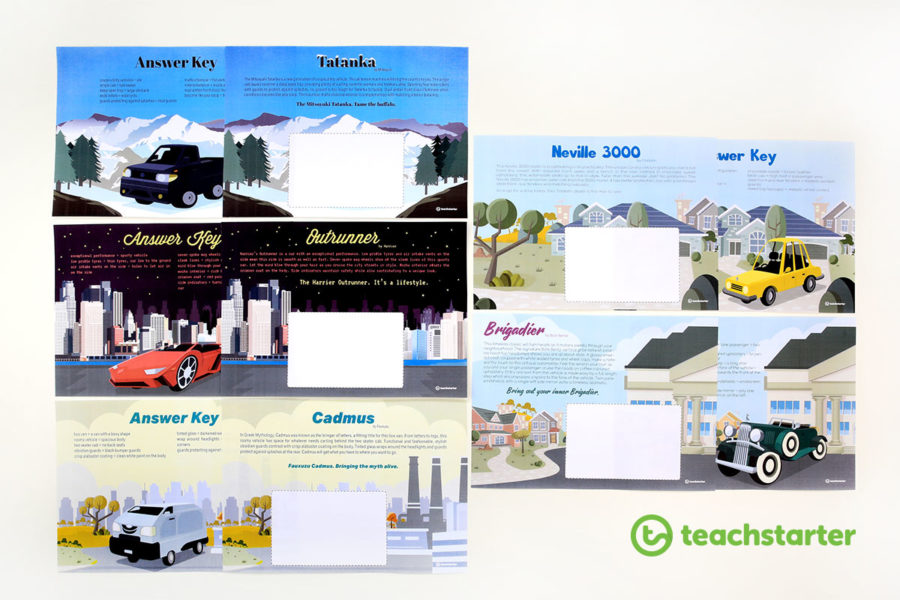 A Creative Inference Comprehension Activity
After students have completed the activity, allow them to share their drawings with the class before revealing the pictures on the answer sheets provided! Students will love seeing how different each interpretation is! This whole-class sharing gives you the opportunity to clarify any lingering vocabulary questions, guided by the answer key that is included in the download.