Challenge your students to show what they know about the characteristics of insulators with this 2-page insulation worksheet.
This worksheet is best used as an independent practice to support your conductors and insulators lesson for students to demonstrate they understand what makes a good insulator of thermal energy. 
In addition to individual student work time, this insulation worksheet can be used for:
whole-class review activity (via smartboard)

partner or small group work
Insulation Worksheet Scaffolding and Extension Tips 
Fast Finishers can show they understand the concept by thinking more about the characteristics of insulators and list other materials they identify as good. 
If students are having trouble with the lesson, display examples of insulators and conductors on the board as a reference point. Students might also benefit from partner work or small group review of the concepts. 
Easily Prepare This Resource for Your Students
Because this download includes the answer sheet, we recommend you print one copy of the entire file. Then, make photocopies of the blank worksheets for students to fill out on their own. 
To make this worksheet more sustainable, print a few copies on cardstock and slip them into dry-erase sleeves to make this worksheet more sustainable. Students can record their answers with a dry-erase marker, then erase and reuse. 
Before You Download
Use the drop-down icon on the Download button to choose between the PDF or Google Slides version of this resource. An answer key is also included with this download.
Get more handy worksheets here!  
This resource was created by Melissa McLaren, a teacher in Massachusetts and a Teach Starter Collaborator. 
Don't stop there! We've got more Force, Motion, & Energy Teaching Resources we know your students will love right here: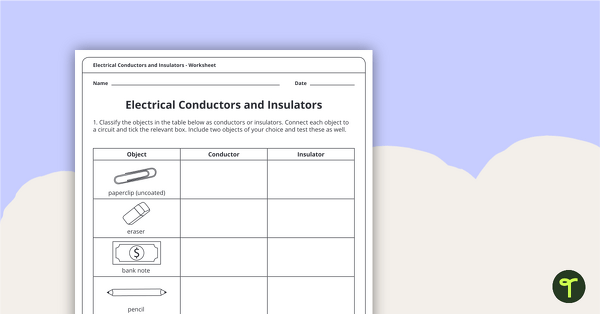 teaching resource
A worksheet that explores conductors and insulators.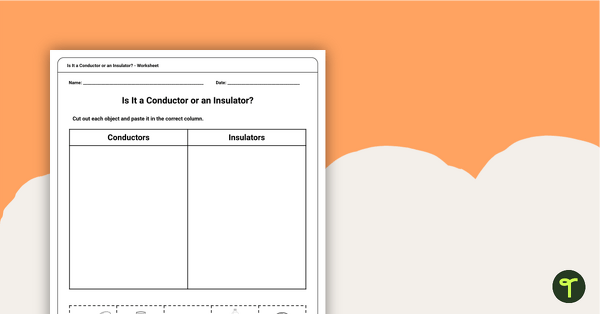 teaching resource
With this hands-on worksheet, students will cut and sort conductors and insulators based on their ability to transfer heat energy.
teaching resource
Use this insulators and conductors worksheet with your students to practice identifying the characteristics of thermal and electrical energy.