Use this insulators and conductors worksheet with your students to practice identifying the characteristics of thermal and electrical energy.
It's getting hot in here!
Using this worksheet, your students will differentiate between insulators and conductors of thermal and electrical energy.
All About This Insulators and Conductors Worksheet
This worksheet can be used as a post-lesson assessment to determine your students' understanding of the characteristics of conductors and insulators. It can be completed independently or in pairs, in the classroom, or as science homework. Because of its design, you can also use this worksheet as a quiz!
This Insulators and Conductors Worksheet is broken into 3 sections:
First, students will match the following thermal energy vocabulary words to their respective definitions:
Thermal Energy
Conduction
Insulator
Conductor
Electrical Energy
Next, students will use their knowledge of thermal heat transference to identify whether each of the following materials is either a conductor or an insulator:
Aluminum can
Rubber duck
Plastic bottle
Wooden spoon
Eraser
Metal spoon
Penny
Paper clip
Finally, students will read a short paragraph and recall their observations about thermal energy to determine which material(s) would make the best conductor within the story, and write their answer in the space provided.
Expand this Insulators and Conductors Worksheet For Extra Learning
We've got a few other ideas for how you can use this download to help your students understand conductors, insulators, and heat energy.
Warm-Up/Exit Activity
Project this worksheet on your smartboard or other devices for the whole class to see. Work through questions 1-13 together, discussing the characteristics of different materials and what makes them conductors or insulators. For question 14, students can write their answers on a separate sheet of paper and turn them in for an easy formative assessment.
Show & Tell
You can turn this worksheet into a review session at the end of your lesson, or right before a test to give students some extra practice. Show each of the items to your class and discuss as a group which are examples of insulators and conductors, and how the electrons might move (or don't move) with the material.
Change the Difficulty Level if Needed
Students who are able to quickly get through this assignment can show they understand the concept by listing other materials and identifying them as good insulators or conductors.
If some students are having trouble with the lesson, you could display an example of an insulator and an example of a conductor on the board as a reference point, and apply their science investigation & reasoning skills throughout the worksheet.
Preparing This Resource for Your Students
Because this download includes the answer sheet, we recommend first printing one copy of the entire file. Then, make photocopies of the blank worksheets for students to fill out on their own.
Before You Download
Please note this resource is available in Google Slides or as a PDF. An Insulators and Conductors Worksheet Answer Key is also included with this download.
---
This resource was created by Colleen Burke, a teacher in New York and a Teach Starter Collaborator.
We didn't stop there! Check out these additional heat energy worksheets and resources found in our Force, Motion, and Energy area: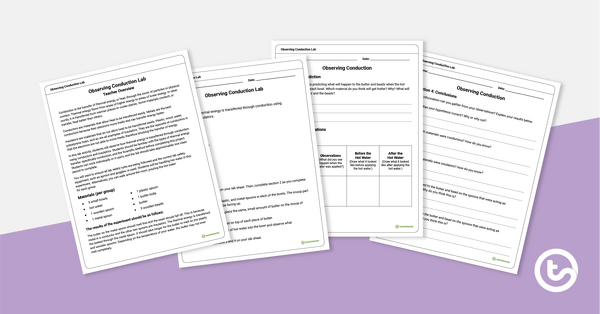 teaching resource
Teach students to make predictions about and observe thermal energy transfer through this conduction experiment.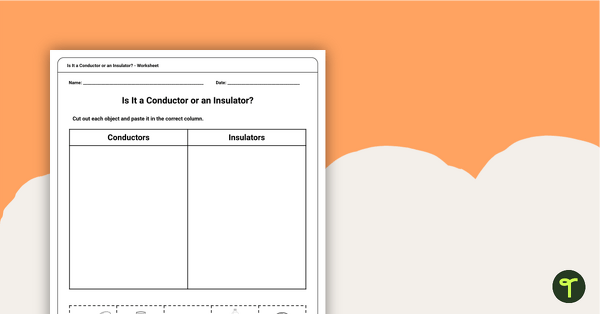 teaching resource
With this hands-on worksheet, students will cut and sort conductors and insulators based on their ability to transfer heat energy.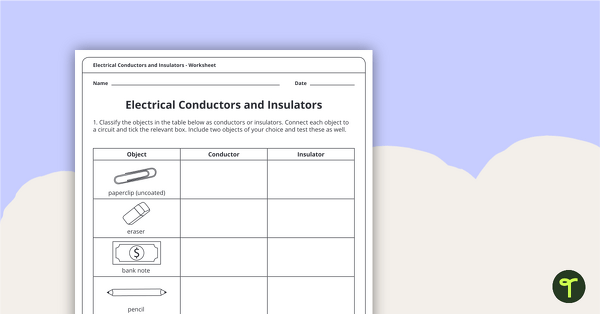 teaching resource
A worksheet that explores conductors and insulators.