Reward kindness in the classroom with four styles of printable kindness certificates that celebrate thoughtful acts among your students and the environment.
Celebrate With Kindness Awards for Students
Recognize kindness among your students—both to each other and the environment—with this set of four printable kindness certificates to hand out when you notice your students are doing something kind for their friends and classmates. Positive behavior reinforcement is an important part of overall classroom management, and these awards have the added benefit of reinforcing the idea that kindness is valued and that students who exhibit kind behavior will be acknowledged and appreciated in your classroom. 
Not only will you give your students motivation to continue engaging in kind behavior, it can inspire others in the class to do the same!
Each editable award template includes a space to put the student's name and the celebratory act. Use these certifications to thank students for their kindnesses any time of year, especially: 
😊 Random Acts of Kindness Day (February 17)
🌈 World Kindness Day (November 13)
💗 Social-emotional learning lessons
❤️ Kindness & compassion exercises
10 Ways Students Can Earn Kindness Awards
Your students can spread kindness like confetti to earn an award for being kind.  These are a few ideas to look out for or even suggest to your class:
Say please and thank you

Assist a peer with an assignment

Help clean up a mess you didn't make

Plant flowers for the bees and butterflies

Hang a bird feeder

Hold a door for someone

Invite a schoolmate to join in a game

Say something nice about someone

Speak up for someone who needs help

Sit with someone you don't usually eat lunch with
The more kindness going on in the classroom, the more your students will feel they're learning in a positive and supportive atmosphere. Not to mention when students see their peers being recognized for acts of kindness, they may feel encouraged to follow their example and strive to be kind themselves.

How to Use These Kindness Awards
Use the dropdown icon on the Download button to choose between the Microsoft Word, PDF, or Google Slides version of this resource. Print on cardstock for durability. 
You can hand these awards out at random when students are caught "doing good," or you can save them up to hand out at your end-of-school class award ceremony or school assembly.
While you're here, check out more activities and teaching resources that fill your lesson plans and students' brains: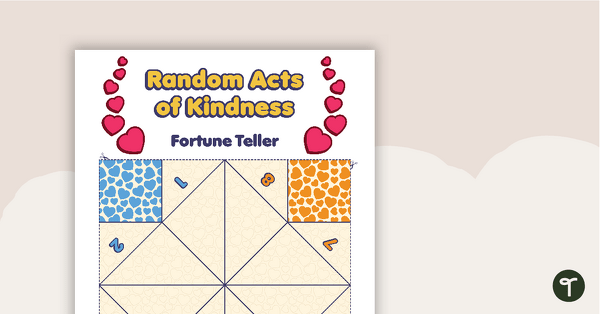 teaching resource
Choosing random acts of kindness couldn't be more fun than with this paper fortune teller template!