Celebrate Kwanzaa with holiday-related vocabulary cards for your word wall.
Joyous Kwanzaa! Introduce your students to the historical and cultural roots of this African and Pan-African "first fruits" festival.  
Immerse Your Students In Holiday-Specific Vocabulary
We hope that a more expansive vocabulary inspires students to become hungry for language. As a result, your students will become thoughtful, articulate speakers and writers who can communicate their ideas effectively and with confidence. 
Our Kwanzaa word wall includes words that will be immediately recognizable AND stretch your student's language skills and vocabulary. 
Your download includes the following vocabulary words: 
Africa

African American

culture

celebration

community

family

festival

harvest

holiday

hope

joyous

karamu

kente

kinara

Kwanzaa

heritage

mishumaa saba

mkeka

Pan-African

people

struggle

The Seven Principles

tradition

​​unity
Keep reading to find out how to add your own list of words.
What Else Can You Do With This Kwanzaa Word Wall? 
Word walls are a fantastic way to expose students to the growing world of language. 
Check out all the ways you can present these words to your students during your English Language Arts lessons: 
🌍  Daily Oral Language and spelling word of the week exercises
🌍  Identifying phonemes—blends, digraphs, vowel teams, silent final e
🌍  Counting syllables 
🌍  Recognizing parts of speech (noun types, verbs, adjectives)
🌍  Creative writing activities
🌍  Alphabetical ordering
🌍  Games like Charades, 20 Questions, Swat, etc.  
You can use your word wall before, during, and after reading with your whole class, small groups, or individualized instruction. 
Here's how to create a fun Word Search too! 
Before You Download
Use the dropdown icon on the Download button to choose between the PDF or Google Slides version of this resource.
Alternatively, you can create a custom, printable word wall:
Select the type of font you would prefer from the drop-down box above.

Click on the blue button and use the

Teach Starter Studio

to add a custom word list to the resource.

Download and print your custom, themed word list.
For more information about Kwanzaa, the Official Kwanzaa Website is a helpful resource. 
---
Looking for more ways to incorporate the season's celebrations into your ELA lessons? We've got more word walls to explore: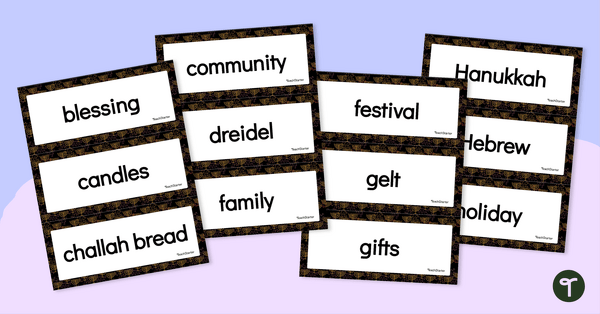 teaching resource
Celebrate the festival of lights with 28 Hanukkah-related vocabulary cards for your word wall.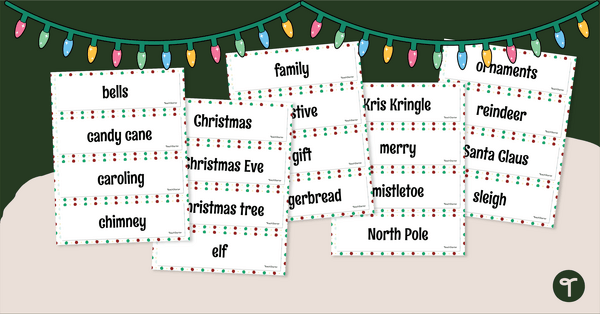 teaching resource
Spread holiday cheer with 60 Christmas-themed vocabulary cards for your word wall.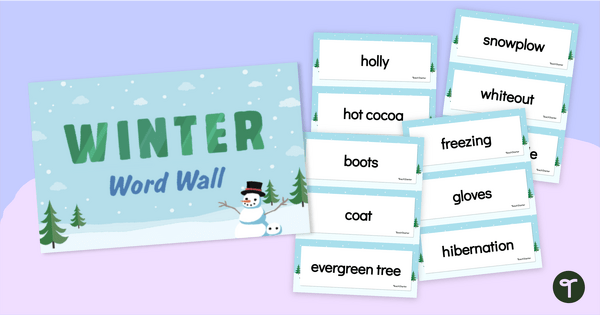 teaching resource
Bring a bit of chill to your classroom with a set of 45 vocabulary cards containing words related to winter.