Experience hands-on STEM concepts with your students with this St. Patrick's Day-themed leprechaun craft activity.
Trap Your Own St. Patrick's Day Leprechaun!
He's green, he's lucky, and he's ready to cause mischief at a moment's notice. 
We're referring to the leprechaun who looks for gold at the end of the rainbow. And if you're lucky enough, you might just catch one! 
Provide students with sustainable or recyclable materials, like cardboard rolls, tissue boxes, shoeboxes, mounting putty, colored paper, craft sticks, string, etc. Students will use their supplies to design and build a simple trap to catch one of these little green mischief-makers. 
In addition to STEM training, through this activity, students will:
☘️ Exercise critical thinking skills 
☘️ Explore creativity
☘️ Strengthen verbal and motor skills
☘️ Consider cause and effect, and
☘️ Have fun! 
Scaffolding + Extension Tips 
Use this holiday craft activity in your classroom in the weeks leading up to St. Patrick's Day and to support science lessons like:
Students who need help understanding the concepts would best benefit from group work that allows them to contribute their unique skills to complete the project.  
Challenge students to explain their trap by sharing their creations with their classmates. They should describe how they constructed their trap and any obstacles they encountered during the process.  
Easily Prepare This Resource for Your Students
We suggest using sustainable resources like reused or recycled paper and other materials that can be repurposed after completing this activity. 
10 St Patrick's Day Activities for Lucky Kids to Try in the Classroom »
---
Put a little luck in your lessons with these St. Patrick's Day activities and teaching resources: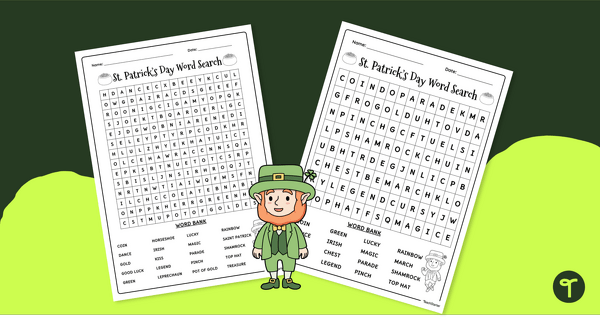 teaching resource
Print a free St. Patrick's Day word search for some holiday word-find fun!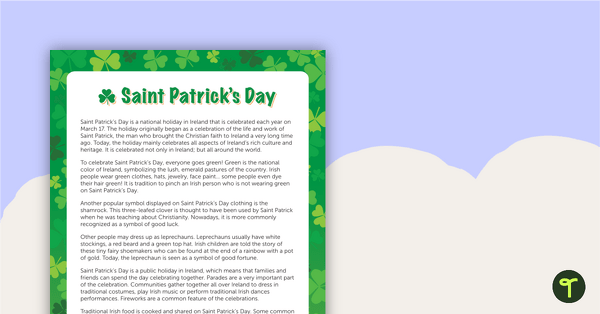 teaching resource
A fact sheet covering important facts and traditions of St Patrick's Day in Ireland.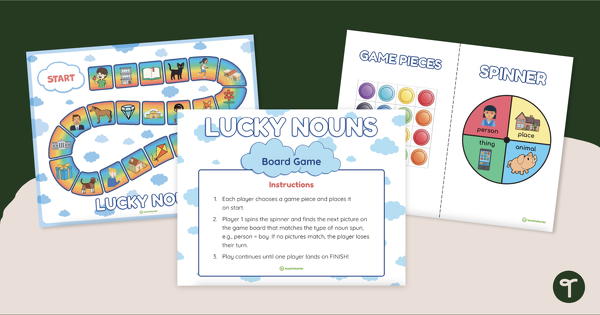 teaching resource
Bring parts of speech into your St. Patrick's Day activities with a printable board game. Indentify pictured nouns as a person, place, thing, or animal on this delightful board game adventure.