Organize, record, and display information about the life cycle of a bean with these activity templates.
Teaching the Green Bean Plant Stages? We Can Help!
Are your students learning about different life cycles in their science class? Good! This makes it a perfect time to jump into some science while integrating fun and exciting experiments into the classroom.  This resource includes a variety of templates and activities for your students to use when learning about the life cycle of a bean plant. These templates cover the six stages in a bean's life cycle:
Seeds 

Bean Pods 

Adult Plant 

Sprout

Flowers 

Seedling
The six included activity templates are:
Beans Can/Have/Are Foldable
Bean Plant Life Cycle Cut & Paste Worksheet
Stages of a Green Bean Plant Spinner (Picture and Writing Versions)
Life Cycle of a Bean Draw and Write Worksheet

Green Bean Plant Stages Writing Template
🖨️ Print the Perfect Bean Life Cycle Activity with Ease
Use the dropdown icon on the Download button to choose between the PDF or editable Google Slides version of this resource. Some activity templates require minimal assembly. The "Life Cycle of a Bean Spinner" template requires cutting, stacking, and securing the middle with a brad or paper fastener. 
---
While you're here, check out more life cycle resources that fill your lesson plans and students' brains: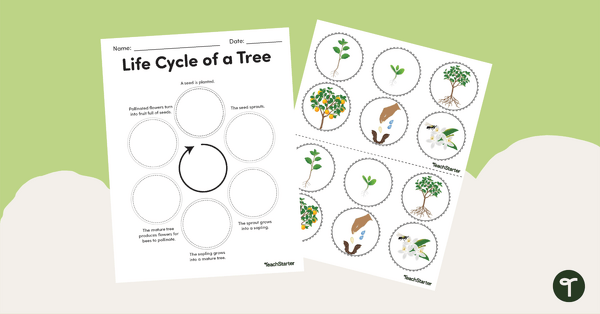 teaching resource
Piece together the life cycle of a tree with this cut-and-paste worksheet.
teaching resource
A cute activity to display the life cycle of a butterfly.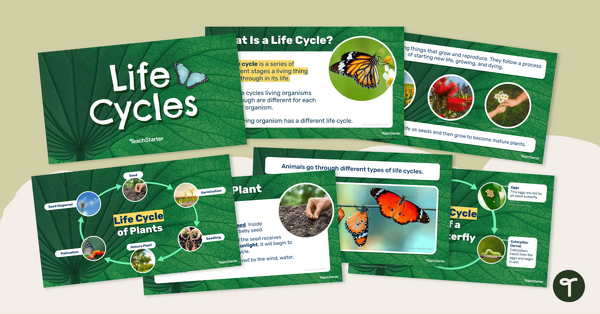 teaching resource
Teach your students about the life cycle of plants and animals with this 19-slide instructional slide deck.