Design a social media profile for civil rights activist Martin Luther King, Jr. in this creative writing activity.
MLK Creative Writing Project — Curriculum Goals
Use this worksheet as independent practice to support your Martin Luther King, Jr. Day lesson.
This is a single-page worksheet in which students will connect their knowledge of social media and creative writing to design a profile for Dr. Martin Luther King, Jr.  
Students will draw pictures and write about Dr. King's life events, including his education, work, and important relationships. In addition, students will include things like MLK's: 
Likes

Posts

Famous quotes

Check-ins
By completing this activity, students demonstrate an ability to describe in detail the actions, thoughts, or feelings of another person to develop real or imagined experiences or events.
Scaffolding + Extension Tips 
In addition to individual student work time, use this creative writing worksheet as a:
Homework assignment

Whole-class review (via smartboard)
Students who need extra support can work on this activity with a partner. 
To Prepare This Resource
Click the download button to save this file as a PDF. 
You can also turn this teaching resource into a sustainable activity! Print a few copies on cardstock and slip them into dry-erase sleeves. Students can record their answers with a dry-erase marker, then erase and reuse. 
Get More Martin Luther King, Jr. Day teaching resources »   
---
Don't stop there! We've got more activities to stimulate engaging MLK lessons: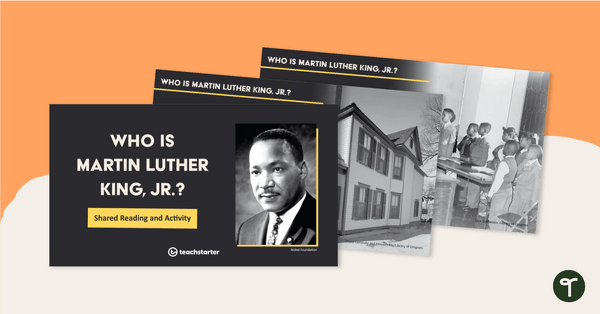 teaching resource
Use this 13-slide PowerPoint as a collaborative reading exercise about Martin Luther King, Jr.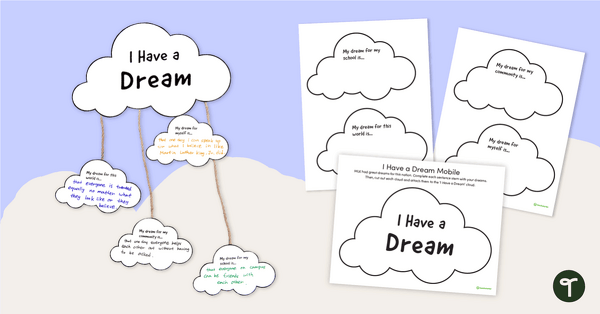 teaching resource
Celebrate the legacy of Martin Luther King, Jr. with this 'I Have a Dream' craft.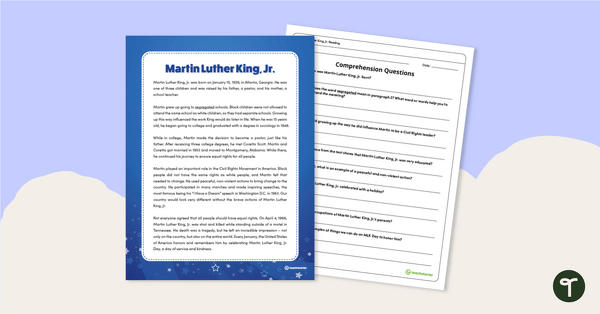 teaching resource
Apply a range of reading comprehension strategies to learn about Martin Luther King, Jr.