Reflect on those who have served our country with a Memorial Day craft and bulletin board kit.
Create a Student-Made Memorial Day Bulletin Board Display
Understanding the meaning behind Memorial Day is so important! Only when they understand why we commemorate, can students fully appreciate the impact of this important day. We've put together a simple, but elegant craft activity and bulletin board kit to help you and your students show your respect for  United States veterans and all those who have given the ultimate sacrifice for our country.
This template not only works as a reflection activity, but also is a great way to create a classroom display to commemorate Memorial Day. Provide students each with two bits of bunting, one that they can decorate full of poppies, and another that they can use to show what they know and remember about Memorial Day. Hang the bunting in your classroom or on your bulletin board for a beautiful Memorial Day bulletin board.
Assembling Your Memorial Day Bulletin Board
Once your students have completed their pieces of bunting, have them cut their two bunting pieces along the dotted lines. It is important that they cut on the dotted lines and not the solid line at the top. Once they've done this, have them to fold over the top flap of their bunting. This is the portion that will drape/fold over string to hang your bunting. These look amazing strung across a classroom, cafeteria, or shared space in the school.
If you choose to create the bunting pieces for a hallway display that will fit entirely on a single bulletin board, consider printing the templates at 50-75% scale to make sure everyone's pieces will fit on the board at the same time.
Download & Print
Once you've downloaded the PDF version, we'd recommend printing on thick cardstock to ensure durability, especially if you're going to hang it up in your classroom!
NEXT: Memorial Day Activities for Kids
---
Don't stop there! We've got more activities and resources that cut down on lesson planning time: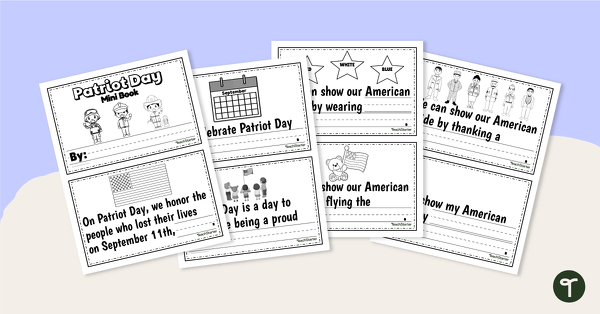 teaching resource
Read, write, and draw to learn about Patriot Day with a printable mini-book.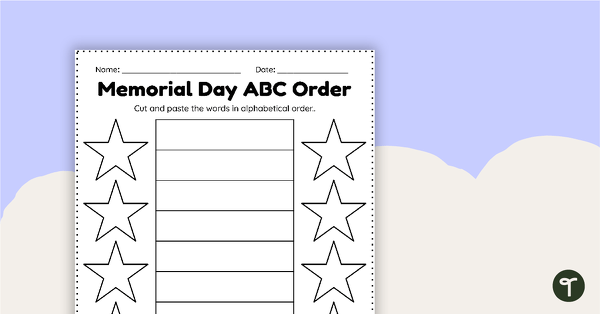 teaching resource
Review terms surrounding Memorial Day with an alphabetical order worksheet.
teaching resource
Help your kindergartners and first graders understand the meaning of Veterans Day with a Veterans Day Vocabulary lesson and Writing Center.