Use this set of 40 vocabulary words related to MLK Day and civil rights to broaden your students' language.
Deepen Your MLK Lesson With 40 Vocabulary Words
What words come to mind when you think of Martin Luther King, Jr.?
Freedom, equality, and peace—these are just a few that remind us of Dr. King's activism and his commitment to social justice for all. 
Our Martin Luther King, Jr. Day Word Wall includes vocabulary that will be immediately recognizable, and words meant to stretch your students' language skills. 
In this way, you'll nurture a classroom full of thoughtful, articulate speakers and writers. 
Your download includes the following MLK Day vocabulary words:
activism

African American

assassinated 

bias

Black

boycott 

change 

civil rights movement 

Civil Rights Act 

courage

discrimination

diversity 

demonstration

Dr. Martin Luther King Jr.  

equality 

fairness 

freedom

government 

honor

human rights 

'I Have a Dream' speech

inequality 

intolerance 

Jim Crow Laws

justice 

leader 

march 

movement 

national holiday 

Nobel Peace Prize 

nonviolent resistance 

peaceful 

political change 

protest 

race

racism 

segregation 

social justice

struggle 

unity
Test your students' knowledge of their new MLK vocabulary words (or any words) with this set of 13 writing task cards! 
What Else Can You Do With This MLK Word Wall? 
Word walls are a fantastic way to expose students to the broader world of language with comprehension activities like:
📣  Daily Oral Language and spelling word of the week exercises
📣  Identifying phonemes—blends, digraphs, vowel teams, silent final-e
📣  Counting syllables 
📣  Recognizing parts of speech (noun types, verbs, adjectives, compound words)
📣  Creative writing 
📣  Alphabetical ordering
📣  Games (Charades, 20 Questions, Swat, etc.)  
You can use your word wall before, during, and after reading with your whole class, in small groups, or with individualized instruction. 
Here's how to create a fun Word Search too! 
Print & Display Your MLK Day Words
Click on the

Customize

button and use the

Teach Starter Studio

to make edits to this resource.

(Optional) Click "Add a new word list" to upload your own list.

Download and print your custom, themed word list.

Display these themed vocabulary word wall cards in your reading center.
---
Discover more about the legacy of Dr. King with these activities and teaching resources: 
teaching resource
Define and discuss vocabulary words associated with diversity and equality using this flip-book writing activity.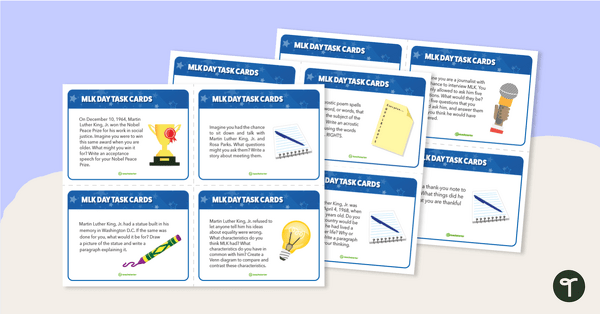 teaching resource
Challenge students to think about the work of Martin Luther King, Jr. with this set of 13 writing task cards.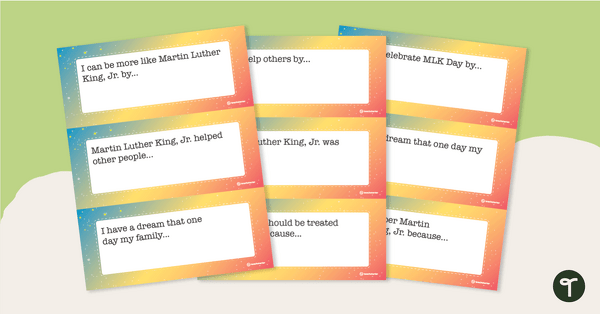 teaching resource
Reflect on the concepts explored near Martin Luther King, Jr. Day with these 15 Martin Luther King writing prompts.