Discuss processed and natural materials and their differences with an instructional slide deck.
What are Natural Materials? What are Processed Materials
As a teacher, have you ever wondered how you can inspire your students to make more sustainable choices in their daily lives? One effective way is to teach them about the fundamental difference between natural and processed materials and the impact that each has on our planet. By exploring the concepts of the origins of materials and how they are used, students can gain a deeper understanding of the importance of choosing materials that are both environmentally friendly and socially responsible.
No-Prep Material World Lesson Plans!
This teaching presentation introduces the students to the differences between natural and processed materials.
This presentation covers the following topics:
what are materials?
types of materials
natural materials
processed materials
components
Class activity and independent investigation have been included at the end of the presentation.
Use this in conjunction with the Manmade vs. Natural Worksheet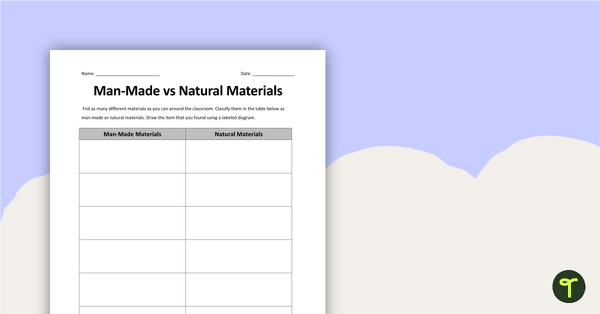 teaching resource
Move around the classroom and identify different examples of manmade and natural materials with a gallery walk worksheet.