Demonstrate an understanding of the sun, moon, stars, and clouds with this interactive activity.
Interactive Science Activities
Have your students been learning about the Earth, sun, moon, stars, and clouds? Recognizing, describing, and illustrating these objects are important concepts to know as a foundation for additional topics that students will learn about later in school. Students learn that objects found in the sky may be different during the day vs. at night.
Teach Starter has put together a set of interactive activities to help your young students show what they know when it comes to the many different objects in the sky!  Students will work to:
Sort items that are/are not seen in the sky

Label pictures

Determine when particular objects are denn (day, night, or both)

Create a day/night sky with provided images

Complete sentences with vocabulary terms relating to the sun, moon, stars, and clouds
Tips for Differentiation + Scaffolding 
A team of dedicated, experienced educators created this resource to support your science lessons.
In addition to individual student work time, use this activity to enhance learning through small groups, whole class lessons, or remote learning assignments. 
If you have a mixture of above and below-level learners, we have a few suggestions for keeping students on track with these concepts: 
🆘 Support Struggling Students
If there are students who require additional support, they can complete the activity with the help of a peer or teacher.
➕ Challenge Fast Finishers
For students who need a bit of a challenge, encourage them to write sentences using some of the vocabulary terms from the activity.
Plan lessons for all ability levels with our 10 Best Scaffolding Strategies! 
Easily Prepare This Resource for Your Students
Use the Download button to access the interactive Google Slides version of this resource. 
Assign this interactive activity in Google Classroom. Please be sure to open in Edit mode, not Presentation mode. Students will drag and drop and type responses to complete the activities.
---
This resource was created by Lindsey Phillips, a teacher in Michigan and a Teach Starter Collaborator. 
While you're here, check out more activities and teaching resources that fill your lesson plans and students' brains: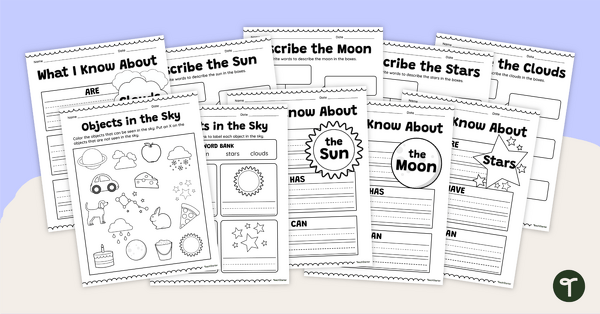 teaching resource
Use this set of worksheets to practice identifying and labeling objects in the sky as well as describing the moon, stars, sun, and clouds.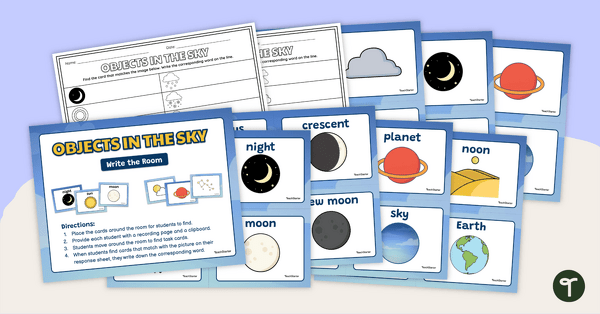 teaching resource
Improve your students' understanding of science vocabulary terms that relate to objects in the sky with this "Write the Room" activity.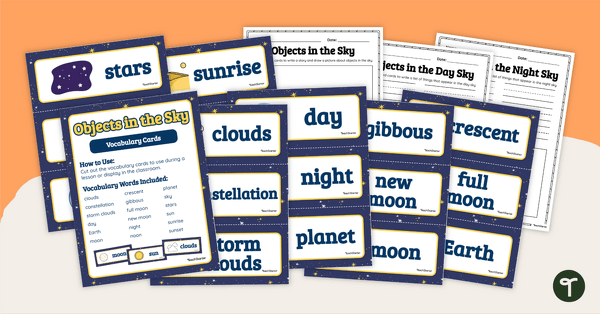 teaching resource
Create a vocabulary and writing center with a word wall and writing templates that cover objects in the sky.