Practice forming words by blending onsets and rimes with this set of 15 rime cards that match their picture/onset card.
What is Onset and Rime?
No, we didn't spell "rhyme" wrong (we promise). 😉
When teaching reading through phonological awareness, the onset is the initial consonant sound, blend, or digraph of a word. Its rime is the string of vowels and consonants that appear after the onset. 
For example, to break the word "big" into its onset and rime:
b = onset
ig = rime 
This action of identifying onsets and rimes helps students decode words by breaking them into easily recognizable chunks, allowing them to sound out words faster and with greater accuracy. 
In this activity, students will construct single-syllable words by looking at pictures and their initial sounds and matching the missing rime to complete the word.  
How Students Can Play and Implement Onset and Rime at the Same Time!
This resource can be used as a reading center activity, or as a guided reading group game to practice blending onsets and rimes to form words.
To play, students will match the picture/onset cards to the rimes cards to form words.
Get More out of This Onset and Rime Activity
Take this game to the next level by including your small group, or your entire class! 
Scoot Activity
Place each of the picture cards around the room. Ask students to stand up and rotate through each of the picture cards (either individually or in pairs), writing the rime for each word on a separate sheet of paper. (NOTE: We suggest printing a second set of cards for this activity that you can number.)
Swat! 
During small group instruction, create a row of 5 cards (each with different rimes) at the top of a table and give each student a fly swatter. Say the missing rime sound from one of the visible picture cards. Students then swat the picture that needs the matching sound to complete the word. The first student to swat correctly takes the picture to keep score. The player with the most picture cards at the end wins!
Match Me If You Can
In your guided reading group, give each student 3 cards that only they can see. Then, show students one picture card and have them say the word as a group. The student (or students) who has the rime card for the missing letter lays it down face up. The first person to have all their cards face up wins.
Change the Difficulty Level if Needed
If your students have progressed through this activity quickly, have them put the completed words in alphabetical order.
If they need it, suggest students use a visual reminder of the letter sounds while playing, like an alphabet display. 
Easily Prepare This Resource for Your Students
Print the game pieces on cardstock for added durability and longevity. Place all game parts in a folder or large envelope for easy access. 
Before You Download
Use the drop-down icon on the Download button to choose between the PDF or Google Slides version of this resource. 
---
This resource was created by Lindsey Phillips, a teacher in Michigan and a Teach Starter Collaborator. 
Train a classroom of construction workers—word construction that is! We've got a lot more games and activities to keep budding readers busy building words.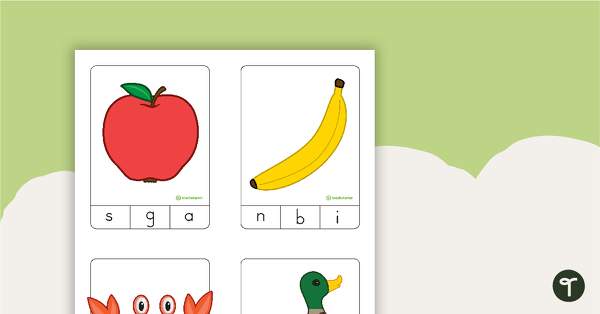 teaching resource
A hands-on activity to practice initial sounds.
teaching resource
A set of 30 task cards to practice segmenting one-syllable words into their individual phonemes.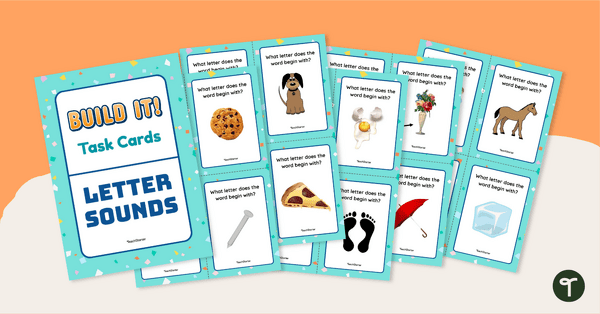 teaching resource
Practice identifying and writing the beginning sounds of words with this set of 28 task cards.