A set of opinion prompt cards that can be used in a multitude of ways.
Use this set of 20 topic cards when teaching your students the craft of writing opinion or argumentative text.
These topic cards can be used in a variety of ways:
Use in the beginning of your opinion/argumentative writing unit by having students simply decide if they are for or against the given topic. Dedicate one wall in your room 'For' the cause and the opposite wall 'Against' the cause. Show the class a topic card and have students silently walk to their wall of choice. Then, have your students clearly state (or write) their opinion using a list of introductory words/phrases and academic language.
Create a class mind map. Give each student a sticky note, and present a topic card to the class. Students must write one reason they are for the given topic. Tape the topic card in the center of your whiteboard and have your students arrange their reasons around it. Then together, as a class, group like reasons together and do a model think-aloud of how to take a brainstorm and turn it into a writing plan.
Use as an exit ticket quick-write. Show the class a topic card and have them write an opinion statement and give three reasons to support their opinion.
Have a class debate! Give the class a topic card and split them into 2 groups. One group is 'for' the topic, the other 'against'. Give the groups time to research the topic and develop a plan, then let the debate begin. Invite administration or another class to come and listen and choose a winner.
Use a topic card and write a class opinion/argumentative writing piece to model the procedure.
The ideas are endless! They can be used whole group, while working with your writing small groups, or use them in your writing center activities.
Worried you might run out? Why not download our Opinion Prompt Cards – Set 2 while you are at it!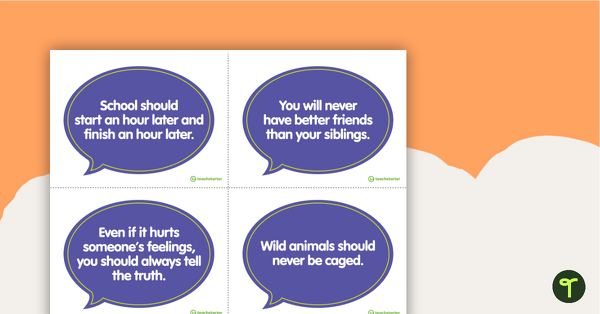 teaching resource
A set of opinion prompt cards that can be used in a multitude of ways.