Display the names and uses for 6 kinds of punctuation marks.
Printable Punctuation Anchor Charts are Perfect!
No sentence is complete without proper punctuation.
But it's common for early writers and readers to forget which to use—and what they're called!
This set of 6 posters include the names and purposes of each kind of punctuation mark:
Period
Comma
Question mark
Exclamation point
Apostrophe
Quotation marks
Plus, you'll get an example of each punctuation's usage so that students can put the mark in context.
Use these posters as a visual reference to help students with worksheets, teaching presentations, games, and other writing activities, like these:
teaching resource
Eighteen editing worksheets for spelling, grammar, and punctuation.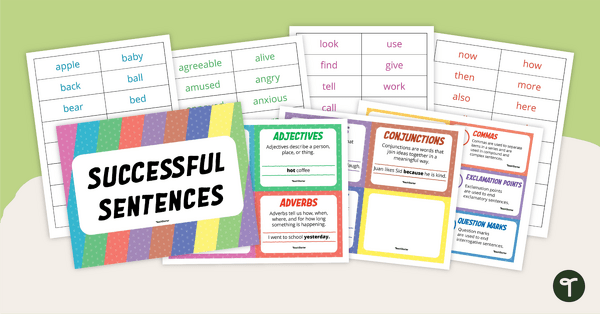 teaching resource
Word cards for constructing complex sentences.
teaching resource
Practice recognizing and using end punctuation with this set of pizza game boards and pepperoni phrase cards with missing punctuation.