Practice reading, defining, and using words with the Re- prefix with a morphology reading passage worksheet.
Read, Write, and Define Words with the Prefix Re-
As a teacher, you know that vocabulary is crucial to reading comprehension and overall academic success. However, teaching students new words can be challenging, especially when they don't have a strong foundation in prefixes. That's where our printable prefix reading worksheets come in! 
This resource is best used as an independent or homework activity. The following skills are required on this worksheet
Read a grade-level passage, identifying words with the prefix RE-

Determine the meaning of a word containing the RE- prefix.

Answer comprehension questions about a grade-level text.

Complete sentences using context clues and words that contain the prefix RE-
Using Your Re- Prefixes Worksheet 
In addition to individual student work time, use this worksheet as a:
Homework assignment

Whole-class review (via smartboard)
Students who need extra support can work in cooperative groups to help support them in understanding the concept. 
No-Prep Prefix Worksheets for Kids
Because this resource includes an answer sheet, we recommend you print one copy of the entire file. Then, make photocopies of the blank worksheet for students to complete.  
To save paper, we suggest printing this 2-page worksheet double-sided. 
You can also turn this teaching resource into a sustainable activity! Print a few copies on cardstock and slip them into dry-erase sleeves. Students can record their answers with a dry-erase marker, and then erase and reuse them. 
Additionally, project the worksheet onto a screen and work through it as a class by having students record their answers in their notebooks.
Before You Download
Use the dropdown icon on the Download button to choose between the PDF or Google Slides version of this resource. An answer key is also included with this download.
Get more handy worksheets here!  
---
Paired with the right resources, this worksheet will provide a definite boost to your student's vocabularies. Grab these while you're here!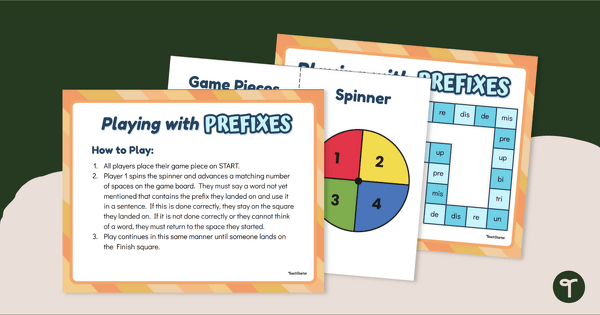 teaching resource
Practice building and using words with common prefixes with a fun prefix board game.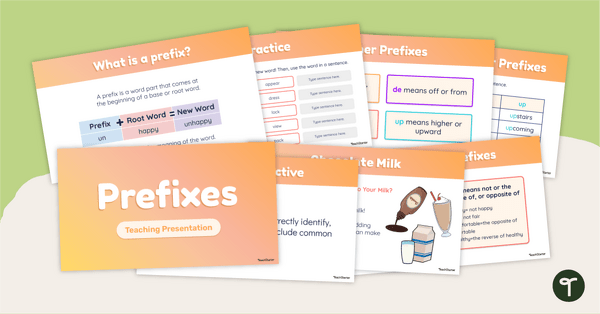 teaching resource
Teach your students to correctly identify, define, and spell words that include common prefixes with an interactive teaching presentation.