Use these Red Ribbon Week mindful coloring bookmarks as a fun art activity with your students.
🖍️ Red Ribbon Week  Activities on Deck!
Red Ribbon Week is an annual celebration of a drug-free life and helping to reduce underage drug use. As teachers, we want to convey the message that drug use comes with serious consequences, not only for you but also for those around you. Red Ribbon Week is a great time to remind students that good health includes healthy choices about drugs.
Available in a PDF format, this printable Red Ribbon Week bookmark is a great way to remind students of the important message to Celebrate Life and Life Drug Free. Sudents will practice mindful coloring and create a daily reminder to say no to drugs and alcohol.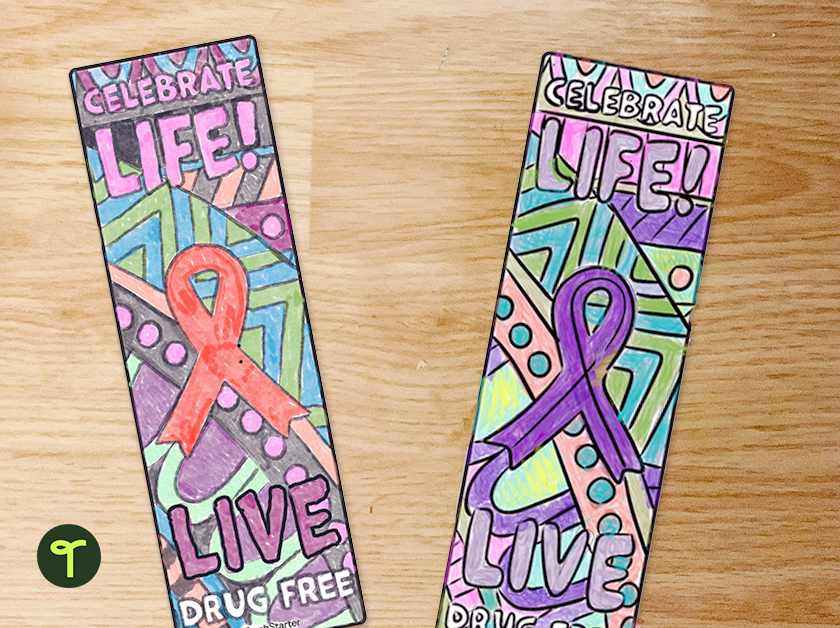 Through this activity, students will put their creativity to work to create a beautiful piece of artwork and a handy, reusable bookmark that reminds them of its anti-drug message each time they curl up with a book.
How to Use These Printable Bookmarks in Your Classroom
Mindful coloring has been proven to reduce stress and anxiety in children (and adults!). These printable bookmarks can help calm students who may struggle with anxiety.
✏️ Drawing Inspiration
Do you have students who are hesitant to participate in drawing activities? They either don't think they're good enough at drawing or can't think of anything to create!
The funky designs on these bookmarks are not just good for filling with color, and they're also great for providing your students with some drawing inspiration!
Easily Prepare This Resource for Your Students
Use the Download button to access the black and white PDF version of this resource. 
---
Don't stop there! We've got more Red Ribbon week activities that cut down on lesson planning time:  
[resource:4841676]   [resource:4841607]   [resource:4840501]