Craft an illustrated timeline for students to visually explore 6 events in Rosa Parks's life.
Explore Rosa Parks's Timeline with Your Students
Through this social studies activity, students will organize events relating to the life of Black American civil rights activist Rosa Parks. 
This timeline was influenced by Rosa's history-making kickoff to the Montgomery bus boycott and includes her: 
📣 Birth and death 
📣 Marriage 
📣 Defining moments
📣 Civil rights contributions
Through this timeline activity, students will learn that Rosa Parks was a Black civil rights activist who, in 1955, refused to give up her seat on a bus to a white person in Montgomery, Alabama. This act of defiance, known as the Montgomery Bus Boycott, sparked a movement to end segregation on public buses and was a major event in the civil rights movement of the 1950s and 1960s. They will learn about her role as a symbol of resistance to racial inequality and her contribution to the Civil Rights Movement.
Display this resource in your classroom for students to reference during discussions around the civil rights movement, Black History Month, or Women's History Month.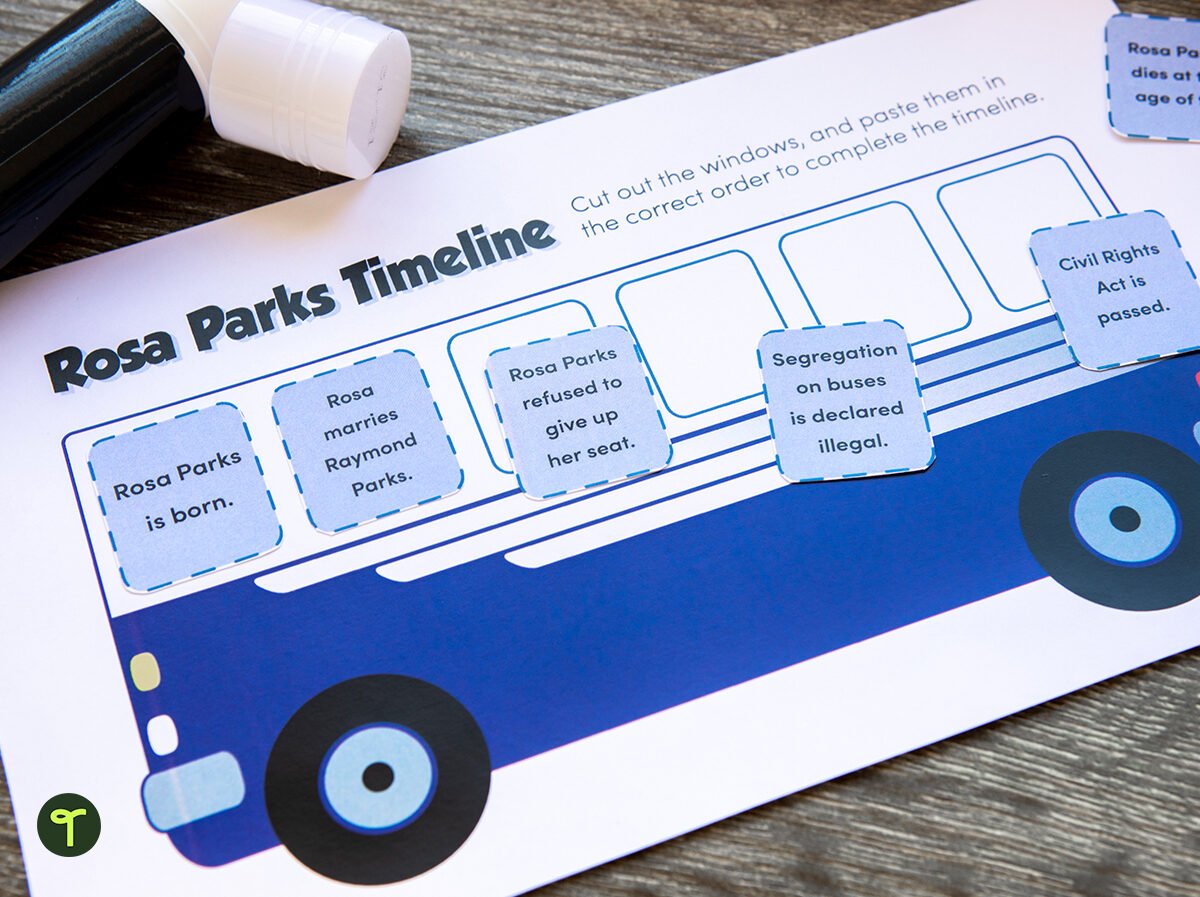 Rosa Parks Facts for Kids
Looking for more ways to introduce your students to Rosa Parks and the civil rights heroine's impact on American history? Here are a few Rosa Parks facts to share with the kids in your classroom:
Rosa Parks was born on February 4, 1913, in Tuskegee, Alabama.
She was arrested on December 1, 1955, for refusing to give up her seat on a bus to a white person in Montgomery, Alabama.
The Montgomery Bus Boycott, a protest against the arrest and the bus company's discriminatory policies, lasted for more than a year and was a major event in the Civil Rights Movement.
Parks was not the first to refuse to give up her seat on a bus. Still, her arrest and the boycott that followed it received national attention and helped to bring about a Supreme Court ruling that declared the bus company's segregation policy to be unconstitutional.
Parks' role in the civil rights movement earned her the nickname "the first lady of civil rights" and "the mother of the freedom movement."
In 1996, President Bill Clinton awarded Parks the Presidential Medal of Freedom, the nation's highest civilian honor.
On October 24, 2005, Rosa Parks passed away at the age of 92.
Ways To Prepare This History Resource
Use the dropdown icon on the Download button to choose between the color and black and white PDF versions. 
NEXT: Meaningful Black History Month Activities for Kids
---
Don't stop there! We've got more inspiring activities to fill your lesson plans:
[resource:3993990]   [resource:4559690]   [resource:3803054]