Practice writing simple sentences with these 16 sentence starter task cards.
Sentence Writing Prompts
Use this resource in your writing center, as a guided writing activity, or a whole class exercise (see below) to write simple sentences.
Students will look at the small visual prompt and read the first word of the sentence. Then, they will complete the simple sentence about the visual.
Through this activity, students will demonstrate they can write a complete sentence with subject-verb agreement.
More Ways to Use Our Sentence Starter Task Cards
Check out a few extra ideas for activities that get your students excited about sentence writing.
Gallery Walk (Scoot Activity)
Mix the cards up and hang all 16 around the room with a piece of chart paper to have your students complete a gallery walk. Working either alone or in pairs, assign a task card to each and have them rotate around the cards (on your signal "Scoot!"), writing a complete sentence on the chart paper until they have completed each one.
Writing Lesson Recap 
Using your smartboard or another projection device, work through the sentence starters as a class or with a small group. Students can write their sentences on a sheet of paper or on their mini-whiteboards.
Exit Activity
After you go through your sentence writing lesson, pass out cards to students as a sentence starter they will complete on their own. Provide them with their own notecard or half sheet of paper so that they can turn in their sentence as a formative assessment, making sure to write their name on their paper.
Easily Prepare This Resource for Your Students
Print the task cards on cardstock for added durability and longevity. To make this game more sustainable, slip each one into a dry-erase sleeve. Students can record their answers with a dry-erase marker, then erase and reuse.
As a writing center activity, cut out the task cards and punch a hole in the corner of each to place them on a binder ring.
---
Don't stop there! We've got more activities your kids will enjoy:
teaching resource
A fun and engaging card game that focuses on building simple sentences that include a subject, verb, and object.
teaching resource
A set of 10 cut and paste worksheets for making short sentences.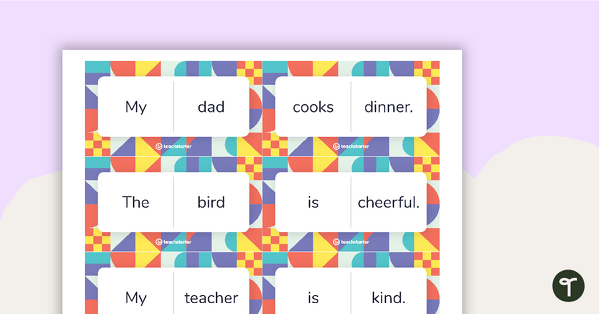 teaching resource
A set of 30 dominoes to assist younger students with building simple sentences.