Practice telling time to the nearest minute and calculating elapsed time with this 18-slide teaching presentation.
⏰ Telling Time to the Nearest Minute & Elapsed Time Practice
Reading analog clocks and determining elapsed time can be a challenging task for some students. This presentation aims to step through the process and give students opportunities to practice their time-telling skills.
Students will practice looking at the hour hand and the minute hand on a variety of analog clocks to determine the time. Additionally, students will practice using a number line to calculate how much time has passed when given a start time and an end time.
How to Use Our Teaching Presentation in Your Classroom
A team of dedicated, experienced educators created this resource to support your math instruction in the classroom. 
🧑‍🏫 Group Lesson
Project the slides onto a screen and work through them as a class by having students record their answers in their notebooks or mini whiteboards.
🗣️ Turn & Talk
Invite students to pair up with someone in the seat nearest to them for a 5-minute Turn & Talk. Keep students engaged and on task by directing them to focus on a specific topic, or let them freely discuss the content. Use this Turn & Talk session to encourage students to make space for each other by actively listening, asking questions, and practicing empathy. 
Easily Prepare This Resource for Your Students
Use the Download button to view the Google Slides version of this resource. 
---
This resource was created by Colleen Burke, a teacher in New York and a Teach Starter Collaborator. 
Don't stop there! We've got more activities and resources that cut down on lesson planning time: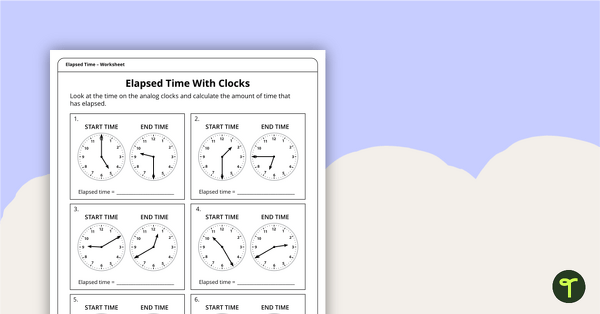 teaching resource
A worksheet for students to practice calculating elapsed time.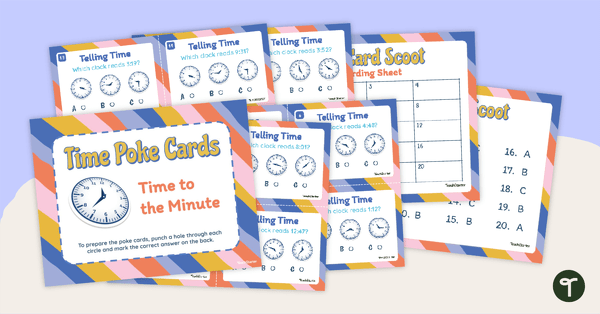 teaching resource
Practice reading analog clocks and telling time to the minute with this set of self-checking poke cards.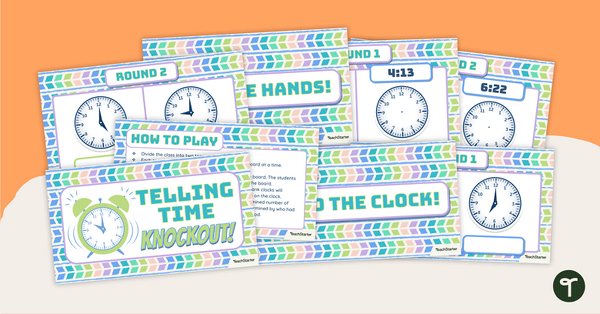 teaching resource
Practice telling time to the minute by reading analog and digital clocks with this competitive whole-class game.