Practice identifying different types of soil with this 18-slide teaching presentation.
Investigate Different Types of Soil With Our Teaching Presentation
Soil is soil… right? Not quite! Do your students know the difference between the different types of soil? This presentation aims to highlight the differences between different types of soil and give students an opportunity to understand why soil is important.
During this presentation, students will explore different types of soil, such as sand, silt, clay, and loam.
How to Use Our Teaching Presentation in Your Classroom
A team of dedicated, experienced educators created this resource to support your science instruction in the classroom.
🧑‍🏫 Group Lesson 
Project the slides onto a screen and work through them as a class. Encourage students to respond to the questions in their notebooks or on a mini whiteboard.
🗣️ Turn & Talk
Invite students to pair up with someone in the seat nearest to them for a 5-minute Turn & Talk. Keep students engaged and on task by directing them to focus on a specific topic, or let them freely discuss the content. Use this Turn & Talk session to encourage students to make space for each other by actively listening, asking questions, and practicing empathy.
Easily Prepare This Resource for Your Students
Use the Download button to access the Google slides version of this resource.
---
This resource was created by Melissa McLaren, a teacher in Massachusetts and Teach Starter Collaborator. 
Don't stop there! We've got more activities and resources that cut down on lesson planning time:  
teaching resource
A science experiment which explores the growth and change of a seedling.
teaching resource
A poster highlighting the weathering and erosion process.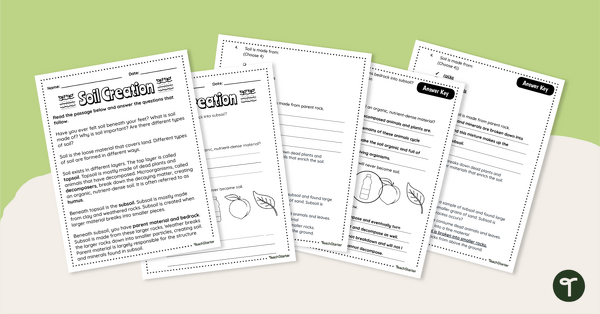 teaching resource
Integrate reading and science with this 7-question comprehension worksheet about soil.